Cinema always has been viewed as one of the most potential media to transport audiences to new landscapes, characters, identities and truths. With the addition of virtual reality, the individual audience member is immersed in a different person's world that compels an intensified sense of empathetic connection. The Camden International Film Festival, for example, has screened short documentaries that magnify the artistic possibilities of an even more immersive emotional experience of empathy. Examples include films about life in Kiribati, the tiny island nation in the central Pacific Ocean region, and the impacts of rising sea waters and climate change. Another virtual reality short documentary (Bloodless by Gina Kim) uses creative nonfiction to recreate the life of a Korean sex worker who was murdered by an American soldier in the 1990s. In virtual reality, the viewer steps into the life routine of the murder victim. Another brings full force to the interactive effects by allowing viewers to use controllers to discover what it might be like to live with bipolar disorder.
For this weekend's 16th annual Damn These Heels LGTBQ+ Film Festival, the Utah Film Center has tapped the Interspatial Collective team of Dane Christensen and Carol Dalrymple to bring the virtual reality experience to festival goers.
The result is Sanctuary, an immersive art installation – combining elements of virtual reality, augmented reality and depth sensing cameras – in which visitors can experience the stories of four individuals (rendered either in audio recordings or documentary film), who have made their journeys to seek their personal truths. Christensen and Dalrymple will transform the Mezzanine Studio, the rehearsal space of Ririe-Woodbury Dance Company, in the Rose Wagner Center for Performing Arts, into a space of sanctuary, complete with pews recovered from an old church, a dresser with a mirror and other props.
At a demonstration for media, it was apparent just how invigorating the possibilities are for virtual reality in this context. Christensen and Dalrymple have shown a new artistic format that adds even more punch to the powerful testimonies of LGBTQ+ individuals who step out bravely so that others are inspired to find their own sanctuary spaces. As Dalrymple notes, "the spaces that hold the expression of our identities are our personal sanctuaries. They must be held sacred."
The intimacy of scenes, in some instances, brings the effect of fantasy to anchoring the realistic account being related. One story is Judith Mehr, a well-known Utah painter who created more than 30 artworks for The Church of Jesus Christ of Latter-Day Saints. Mehr came out and her career relationship with the church, which covered more than 25 years, ended.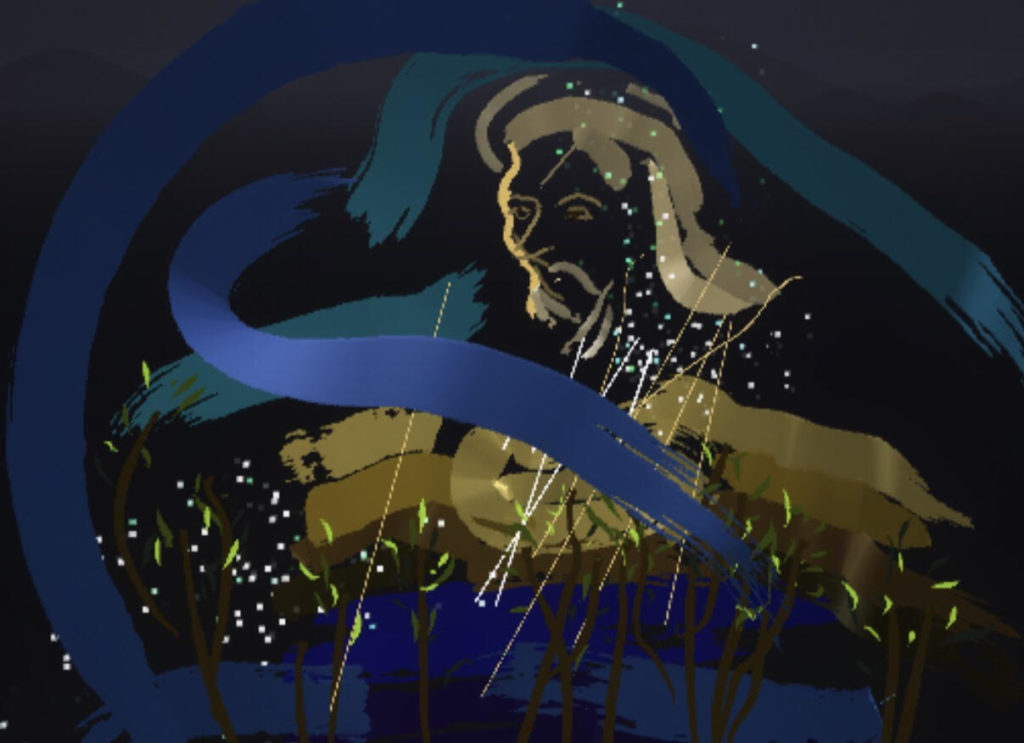 The viewer places the virtual viewer on their head and is given a pair of game controllers before stepping into an exhilarating space in which they can add their own strokes, dots and colors, while they listen to Mehr's story. Viewers will be stunned by the 3-D artwork Mehr has created as they go through this VR experience.
In a 2016 Salt Lake Tribune opinion piece, Mehr wrote, "My parents and family always encouraged me to develop, nurture and express my talents. I never believed that because of my nature I would be compelled, as I am now by recent circumstances, to re-evaluate my intrinsic worth in a society that I have loved and served and where now I might be shunned." In the Sanctuary installation, Mehr's story resonates in a deeply touching way.
In the Savannah piece, viewers wearing VR goggles watch a scene that should have been allowed to occur but was stymied. Two years ago, Savannah, then 13, came out as a lesbian before the congregation in her Eagle Mountain LDS ward but was not allowed to finish her testimony. The story spread quickly around the world, generating enormous amounts of press. Later in 2017, she was one of eight recipients of the Channel Kindness award from the Born This Way Foundation, established by Lady Gaga and the singer's mother, Cynthia Germanotta.
The other stories include Marylu and Lauralie, who live together and remain active Mormons. Their story focuses on finding mutual connections that allow them to be authentic to themselves and their religious faith in which they believe. Jenny's story is about finding her true self as a transwoman and the sacrifices of near-total ostracizing from those whom she believed had truly loved her. In both stories, viewers are transported to a fascinating dimension of metafiction incorporated into the genre of documentary story-telling. The setting becomes friendly, leading to perhaps surprising outcomes in the viewer's mindset.
Dalrymple is an Emmy-award winning filmmaker and Oculus fellow. Christensen is an immersive media specialist and documentary filmmaker.
The festival runs this evening through Sunday, July 14. Sanctuary will be open throughout the afternoons on July 13 and 14. For tickets and more information about Damn These Heels, see the Utah Film Center's website.