Editor's Note: This is the second of a two-part series of reviews from the 2021 Great Salt Lake Fringe Festival. For the first part, see here.
With the first weekend of the 2021 Great Salt Lake Fringe (GSLF) at The Gateway now in the books, organizers say that ticket sales for live performances are close to and will likely exceed 2018 and 2019 levels. In addition, GSLF has a slate of virtually streamed shows available. The festival resumes this weekend at The Gateway with performances running Aug.5-8. Tickets and more information are available here along with The Utah Review preview.
Four more shows are reviewed below: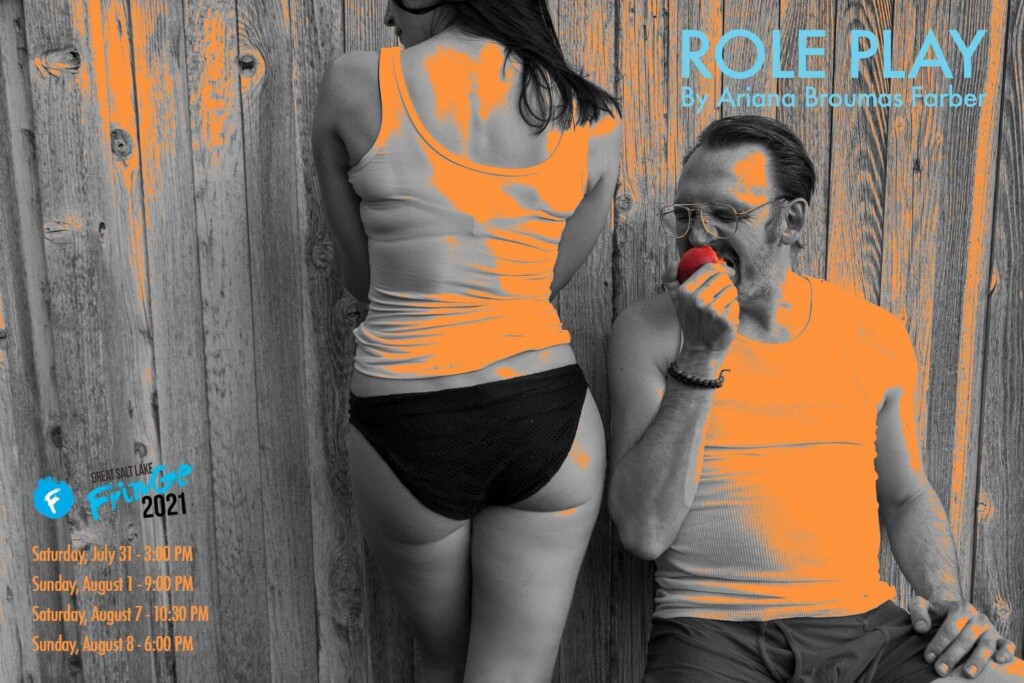 Role Play (Immigrant Daughter's Theatre)
Immigrant Daughter's Theatre is a marvelous new creative entrepreneurship for Salt Lake City. True to its name, it comprises both the literal and artistic dimensions of its principals: Ariana Farber, Brenda Hattingh and Morag Shepherd. Their inaugural production is gobsmackingly good: Farber's Role Play.
Directed by Shepherd, the play is a two-hander enveloped in devilish, sexy entropy featuring Farber and Tyson Baker, in respective roles as an actor and playwright who engage in a clever, all-morality-be-damned approach to having an affair. The whole sense of abandon comes through on the stage from the awkward moments at the outset to the equally clumsy turmoil that temporarily interrupts the affair before it resumes with more impropriety than before. The rules of engagement, so to speak, are similar to what this anonymous contributor wrote in an essay for The Guardian in 2016, outlining how she kept her affair secret for nine years: "I want no drama disrupting my family. I want to stay happily married and carry on my affair and I never, ever want anyone else to know, so I have every detail planned and covered. My husband doesn't suspect, my sisters and my best friends have no idea and I make sure there's no evidence at all that can trip me up."
Indeed, there is no room in this Fringe space for prim demeanor or self-righteous propriety. But, it also is a lesson about acknowledging the risks and the complexities of the realities of having such affairs, especially when the individuals involved overlap professionally. Nevertheless, both accept the godforsaken mess, to quote Taylor Swift's Illicit Affair song. Or, Swift's lines: "For you, I would ruin myself. A million little times."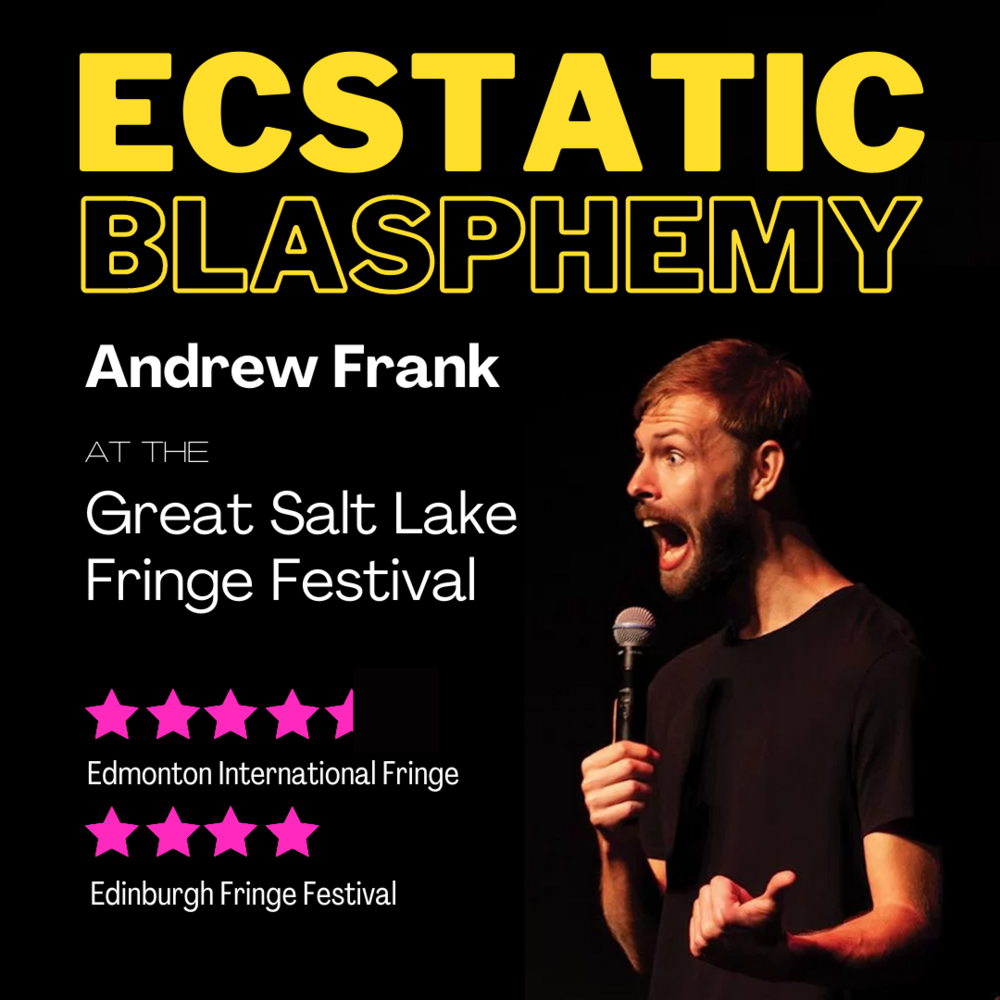 Ecstatic Blasphemy (Andrew Frank)
While many of this year's GSLF shows originate from Utah, there are notable selections from out-of-state performers with solid portfolios including appearances at other Fringe festivals. From Seattle, comedian Andrew Frank brings his one-hour standup comedy show Ecstatic Blasphemy, cynical in moments while in others the jokes are brutally honest but all the while infused with an intelligent preroration about who really are the perpetrators of blasphemy.
Frank recalls his background, growing up in a family where his father was pastor in an isolated Fundamentalist Christian community in Missouri. He mentions that the school he attended was so out of normal expectations that it was not even accredited by the state. Some of the humor certainly discomfits people, such as one about Anne Frank realizing she is standing next to Hitler in hell. Other irreverent moments pop with sexual references but these are occasional at best. He adds that God probably does not like the songs that have been composed praising Him. Frank anchors his jokes in a forthright philosophical presentation about a whole bundle of religious contradictions but in a refreshingly tempered, dispassionate tone that sparks the audience to think seriously about the themes underlying his comedy. In sum, Frank effectively reclaims the critique of blasphemy, turning it appropriately back to the focus which merits it the most.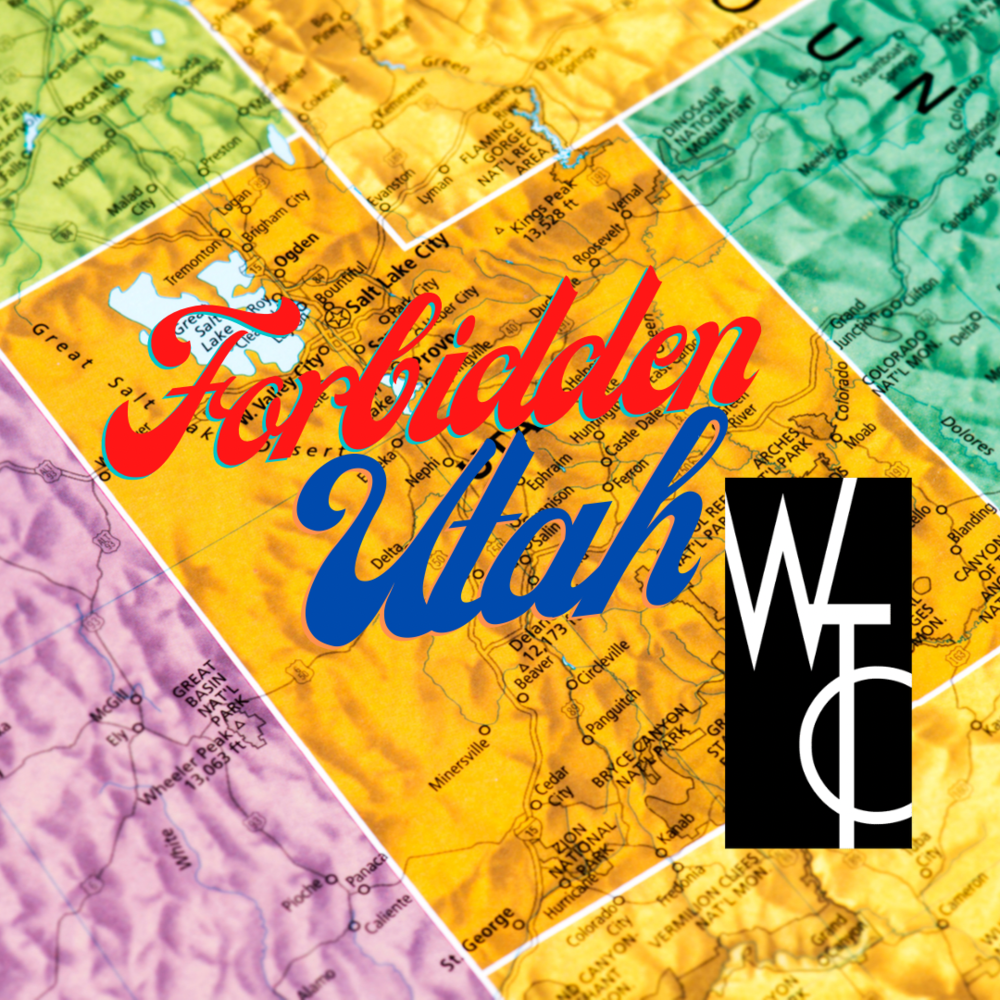 Forbidden Utah: A Satiric Revue (Wasatch Theatre Company)
Presented by the Wasatch Theatre Company, which has its home at The Gateway, Forbidden Utah offers some strong moments in a cabaret show of song-and-dance parodies that spoof the Utah theatrical scene along with some of the state's politics. Fortunately, those successful moments rescue some wobbly bits that do not work as effective satire,
There are numbers poking fun at the safe conventions of Hale Theatre and Tuachan Center for the Arts, the avalanche of white actors and performers who audition for roles that are intended to represent culturally diverse characters and the unquenchable thirst for the musical Joseph and the Amazing Technicolor Dreamcoat. There is a brutal stinging yet effective reference to the discovery of the Pioneer Theatre Company's former managing director who was caught falsifying his credentials on his CV. Yet, some of the numbers seem less effective satirically. One number is built solely on the fact that Plan-B Theatre's shows always run 90 minutes (not true): Five thousand, four hundred seconds, as adapted from the song Seasons of Love from the musical Rent. And, that's the entire song.
The best moment comes through regarding Utah Governor Spencer Cox's handling of the drought and pandemic. Hey, Big Spencer, based on Sweet Charity's Big Spender. Directed by George Plautz with music and choreography directed by Melody Baugh, the show features Valerie Ahanonu, Baugh, Plautz, Sallie Cooper, Jim Dale and Daniel Torrance.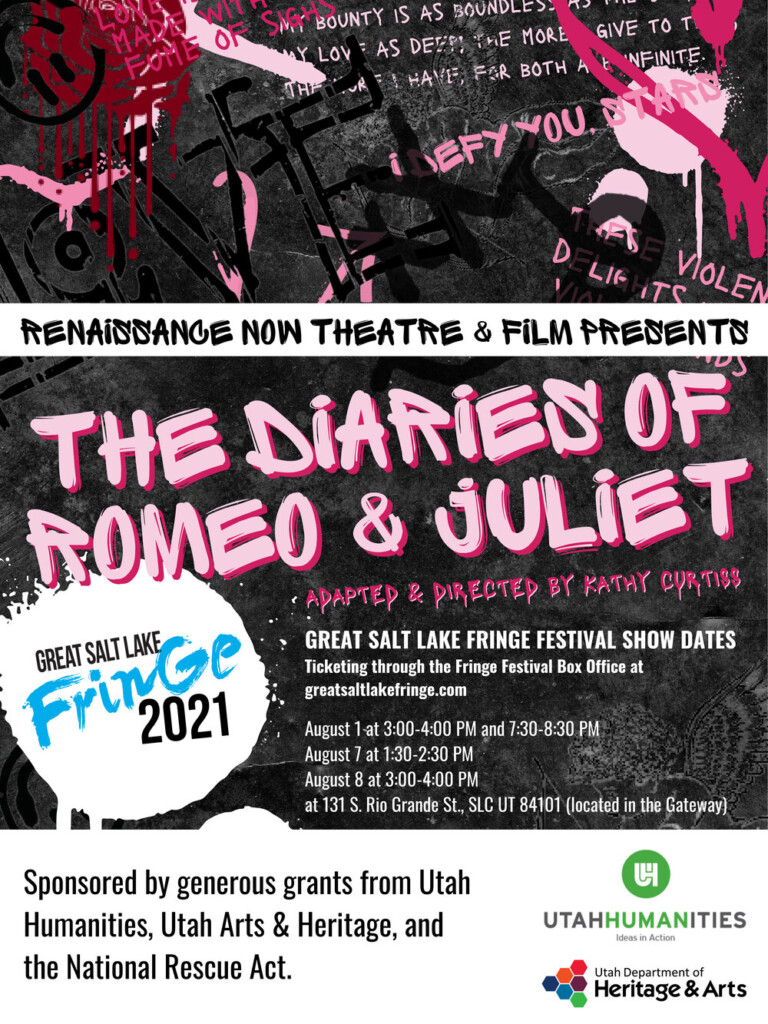 The Diaries of Romeo & Juliet (Renaissance Now Theatre and Film)
Directed by Kathy Curtiss, this production features an excerpt from the full 90-minute production that bas been seen elsewhere in Utah this year. The Shakespeare classic is amenable to numerous treatments recently, such as SONDERimmersive's character-driven treatment Through Yonder Window.
The first half, as presented at Fringe, blends quite well the language of the original with contemporary diction and syntax. The story morphs nicely with elements of organized crime, the priest transformed into a neighborhood beat police officer (as well as pharmacist) and gender fluid character representations (Peter as the nanny). Can love withstand not only the societal conventions arising from class status and family reputation but also the dynamics of street life, partying and enforcement of traditional identities. Likewise, Mercutio's own sexual paradoxes and dilemmas, as subtle as they might be in the original, are pushed just a bit with measured nuance in this modern take. The cast is convincing in making this classic immediately accessible to audiences who might be quite pleased to discover they can relate to centuries-old classics in their own millennial perspectives.