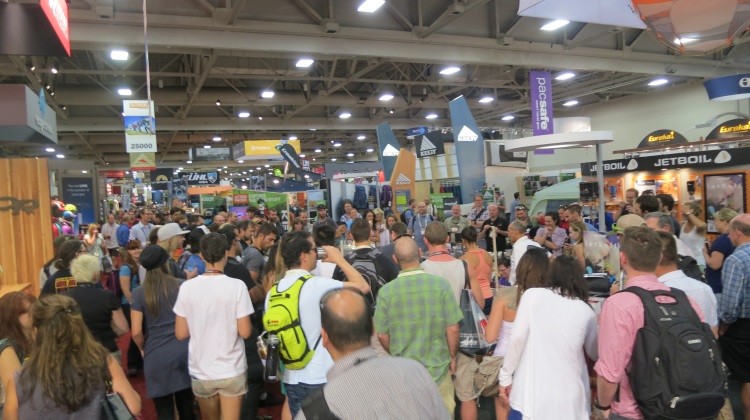 Want to be the envy of your camping, hiking, techy friends all in one go? Want a chance at winning over $1000 worth of gear goodies—direct from the Summer Outdoor Retailer 2014 show floor? No, it's not a trick question, we really are giving away the whole kit and kaboodle from our latest OR Show roundup. For a full review of each and every item we're giving away, be sure to check out our story from the Summer Outdoor Retailer, last week.
We're sure any one of these prize packs will make someone's holiday season that extra bit special:
Package 1:
One pair of Rockport loafers ($110)
Sawyer mini filter ($25)
One pair of 180s All-Touch gloves ($55)
Kestrel DROP D2 ($150)
Guideline 'Swift' shades ($80)
Coghlan's PowerPack ($50)
Total value: $465
Package 2:
One pair Blundstone 510 boots ($150)
FitTop filter and bottle ($25)
Timex Ironman Move X20 ($130)
Klymit Intertia O Zone ($100)
Enerplex Jumpr Slate 5K ($60)
Wallaroo Jasper ($39.95) and Naples ($44.00) hats
Total value: $548
Package 3:
Enerplex Kickr IV ($130)
Jabra wireless headphones ($100)
EZ-Fit insoles ($40)
2X Body Glide ($12)
180s head warmer ($80)
Vapor microfilter and anti-bottle ($70)
Total value: $437
To enter all you have to do is leave a comment below this post. When you leave your comment, let us know, "what helps get you the most out of your Utah?". For a second bonus entry, make sure you're also signed up to our email newsletter (top right of site).
Good luck! Three winners will be selected randomly on Monday, December 1, 2014.
* Please leave only one 'comment entry', further comments will be deleted. A 'comment entry' is required to be eligible for a second 'mailing list entry'.
* Prizes have been donated by individual vendors and may be a combination of on-hand items and size/color/gender specific products which will be ordered and shipped directly from the awarding vendor(s).
* Winner/s must be able to collect prize package in person (Salt Lake County), most prizes cannot be mailed.
* The Utah Review will not be held responsible for items shipping directly from awarding companies.
* Winners are responsible for all tax implications related to this prize giveaway.
* Some items subject to change or removal from prize packages entirely, dependent on vendor.