EDITOR'S NOTE: Part I is an overview of the Utah film industry in the current moment. Part II (tomorrow) will offer a summary preview of the Sundance 2021 feature-length and short films, which The Utah Review will cover.
In several hopeful signs, given its size, Utah's film industry has weathered the pandemic with enough resilience to stabilize the shocks resulting from the near-total ground stop that hit the arts and entertainment industries in terms of live performances and in-person theatrical releases. For example, Spy Hop, the nationally acclaimed youth media center, has moved all of its programming, classes and workshops online until it can move into its new headquarters in the Central Ninth neighborhood of Salt Lake City. Construction has been completed on the facilities, which will be key in preparing the next generation of Utah creative producers in film, music, video and game development.
Likewise, in its unprecedented adaptation, this year's edition of Sundance Film Festival debuts Jan. 28 in a smaller, shorter, near-total digital format. The Salt Lake Film Society, for example, will have a presence on the virtual Festival Village on Main Street platform with accessible programs about screendance filmmaking, animation filmmaking, women and Mexican cinema and theatrical release strategies. There are options for satellite screenings (which include online and in-person presentations, depending upon local public health orders) in cities around the country.
Last year, there were more than 120 films debuting over an 11-day period. This year's festival, which will run through Feb. 3, features 73 feature-length films (with only five not being world premieres), representing 30 countries and 39 first-time feature filmmakers. The list is curated as rigorously as ever: there were 14,092 submissions including 3,500 feature-length films. Virtual premieres will also include the talkback sessions following the screenings, which often are an important gauge for potential distribution and release decisions often based on how films resonate with audiences. How effectively the dynamics of the in-person experience translates to the virtual setting remains to be seen.
While Sundance officials make it clear that this year's festival is a singular response to an extraordinary set of circumstances, the lack of in-person events and activities in Park City and Salt Lake City will be felt, especially in economic impact terms for Utah. Last year's Sundance, incidentally the last major film festival to take place in person before shutdowns cascaded in late February and early March around the world, generated $167.5 million in Utah GDP, 2,730 jobs for Utah residents, $88 million in Utah wages and $17.8 million in state and local tax revenue. With some 38 percent of the attendees coming from out of state, those visitors spent an estimated $135 million during the festival.
UTAH FILM ACTIVITY CONTINUES TO THRIVE
Films, television series and other video projects made in Utah continue to thrive and gain visibility outside of the state. Two films made in Utah and supported by the Utah Film Commission that premiered at Sundance last year are set for wider distribution deals in 2021. The Killing of Two Lovers, directed by Brigham Young University faculty member Robert Machoian, has been picked up by Neon for release on Feb. 23. Neon is the independent distributor that propelled Parasite, the Academy Award-winning film by Korean director Bong Joon Ho. As The Utah Review noted last year, The Killing of Two Lovers offers a superbly crafted, beautifully filmed story about how the difficulties of asking for space to sort things out in a marriage are magnified enormously in a town as small as the one the director chose for the film's production. In December, MOMA (the Museum of Modern Art) and Film at Lincoln Center cited Machoian's work as one of the most exciting offerings in its New Directors/New Films program.
Nine Days, an extraordinary narrative of science fiction, metaphysics and spirituality by Edson Oda, has been picked up by Sony Pictures Classics but its original release date of Jan. 22 has been pushed back to the summer in the hopes that it will open in theaters around the world. Nine Days was filmed in various Utah locations including Salt Lake City and the surrounding area, with the main destinations more than 80 miles west of the state capital in the Knolls recreation area and the nearby Bonneville Salt Flats. The film was supported by the commission's Motion Picture Incentive Program (MBIP), which offers a tax credit of between 20 percent and 25 percent where at least $500,000 is spent to make a film.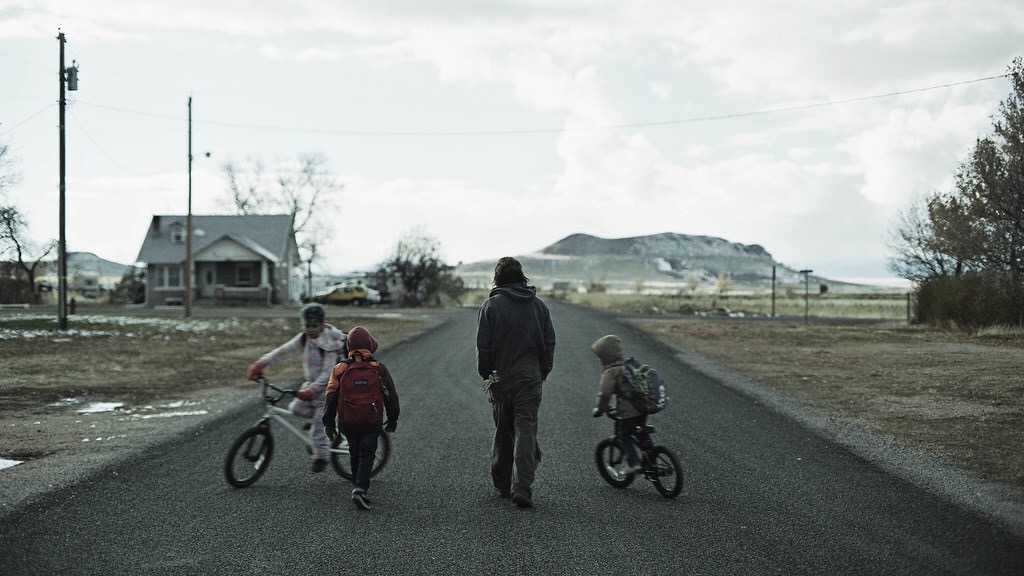 Other recent releases include Love, Lost & Found (Jan. 6 on Amazon Prime) and Mira Mira (Jan. 15 on Crypt TV's Facebook Watch @CryptMonsters) as well as a select theatrical debut for Our Friend (Jan. 22).
Currently, the Utah Film Commission estimates that about 65 percent of people in the state who identify as part of the film industry have returned to work while following strict protocols for social distancing and testing as well as limiting the number of people allowed on set at a particular time. Virginia Pearce, who heads up the Utah Film Commission, says that productions were halted in March and April but gradually reopened in May and by October, most of the productions had resumed. "We were making sure that we followed all testing guidelines, including those of unions in the industry," she adds. Many local filmmakers also have adapted their production schedules to account for pandemic-related contingencies, as this short news article about Brigham Young University film studies majors indicates, which was recently published in the school's student newspaper The Daily Universe.
Logistically, Utah makes sense for a producer or director, especially from the more densely populated areas surrounding Hollywood in California, who sees opportunity to capitalize on the state's access to open spaces for the purposes of meeting social distance guidelines. Pearce says that more producers have been interested in bringing television series and other projects for virtual on-demand streaming platforms to Utah for filming. "Once people come with one project, they return with others," she explains. "The pandemic has introduced Utah to a whole new group of producers." Producers came to Utah to film commercials for Oreo cookies (which was shot in Tooele and Vernon) and Bose's Sport Open earbuds (filmed in Salt Lake City and Brighton). Another project was the music video for the song drivers license by Olivia Rodrigo, 17 (seen below).
Also, as The Utah Review has covered arts programming during the pandemic, some locally based production crews have been hired to produce concert films and streaming videos of performances by local musical, theatrical and dance institutions. These include Plan-B Theatre,, Salt Lake Acting Company, NOVA Chamber Music Series, Ririe-Woodbury Dance Theatre, Repertory Dance Theatre and the Rose Wagner Center for Performing Arts.
INCENTIVES FOR LOCAL AND OUT-OF-STATE FILMMAKERS
In 2020, the Commission continued to approve state-funded incentives for numerous local and out-of-state projects including television series. Recent projects approved for state film incentives include the fourth season of the popular CW series The Outpost (with an estimated spend of $1.7 million in the state), along with two Hallmark Channel holiday season features that aired late last year: Holly and Ivy and The Christmas Concert. Utah also has drawn the attention of filmmakers and producers for horror stories including Crypt TV series Kinderfanger and Mira Mira.
Vanessa and Joseph Winter, locally based writers and directors, received approval from the Community Film Incentive Program (CFIP) for their new horror feature Deadstream, which is described by the filmmakers as a "love letter to Eighties horror cinema." CFIP initiatives cover films with production budgets ranging from $20,000 to $50,000. Local filmmakers Boston McConnaughey and Renny Grames received approval as well from the Community Film Incentive Program for Alien Country, a science fiction feature playing up the location dynamics of the state's desert and recreational destinations. Utah native Savannah Ostler also was approved under the same program for a new feature to be shot in Utah County, Twice Upon A Song, a sequel to her 2019 film Twice the Dream.
Although the commission had to suspend temporarily its Next Level Grant program, several Utah filmmakers who received grants prior to budget cuts proceeded cautiously on their production schedules, while following pandemic guidelines. They include Lucy and Max Nebeker, who are completing the narrative short The Dowager. This short film is part of a Rocky Mountain Mythology Trilogy, which seeks to reposition the lens on how we imagine, interpret and contextualize the storytelling roots of a region in the American West that are more authentic and pertinent than popularized tropes that have cemented specific stereotypes. The latest film is about a farmer's wife in northern Utah who will do anything to stop her dead husband from abandoning her and ascending to heaven. The first short in the series was The Pallbearer, a thrilling rendition of magical realism on the theme of retributive justice, told with the literary heft of a Chaucer tale. The second, which was an Artist Foundry project at the Utah Film Center, is The Angler, a short with no spoken text about a wholly obsessed fisherman. The film conveys a distinctive macabre sense associated with myth and the moral epiphany integral to a tale being told and handed down over generations.
Another Next Level grant recipient is Arthur Veenema, who was approved for funds to complete the post-production process, including stop-motion visual effects and sound design, for his short film The Atomic Spawn. The fictional film features a nuclear scientist who maps the fallout in the desert, when he finds an egg that survives an atomic blast but ends up hatching into a mutated monster. Veenema is working with local artist Patrick Charles to create a stop-motion puppet for his story which is set in 1952 on the grounds of a nuclear test site.
Pearce says that efforts promoting Utah's contributions to the history of filmmaking as well as the state's connections to Sundance are bolstering film tourism as a promising sector for attracting visitors. In collaboration with the Utah Office Tourism, the Commission has created a virtual page for this year's Sundance highlighting the state's role.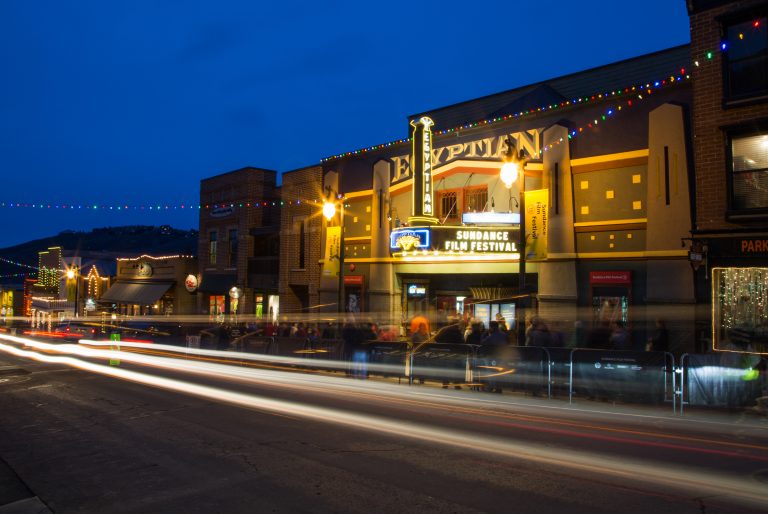 UTAH FILM CENTER
When the pandemic shutdowns hit last March, the Utah Film Center was in the midst of its ninth Tumbleweeds Film Festival for Kids. Subsequently, the center moved all of its regular programming online, including nearly all elements of the 17th annual queer film festival Damn These Heels. During the festival, it experimented with a drive-in event that was a sold-out success. Continuing for the remainder of the summer and going well into the fall, the center revived and elevated the drive-in platform, drawing capacity crowds, while adhering strictly to prudent pandemic safety measures.
This year's Sundance would have been the eighth for the Sundance Kids program, which Patrick Hubley, the Utah Film Center's executive director, has curated since its inception. Tumbleweeds is the Intermountain West region's longest-running film festival dedicated to youth audiences. While Sundance Kids is on hiatus until the 2022 festival, the Utah Film Center decided to make Tumbleweeds (which would be celebrating its 10th anniversary) a year-round event for 2021.
The center will present a selection of new and past Tumbleweeds favorite films (in English as well as foreign languages with subtitles in English) at the beginning of each month, along with virtual editions of workshops that have been a part of the festival. The first selection of six films (see Part II tomorrow in The Utah Review) will be available for streaming, beginning Jan. 29 at noon on Sundance's virtual Festival Village on Main Street platform. Tickets are available at the Tumbleweeds page.
"As Sundance has made major changes to its festival this year, we also accepted the challenges of difficult choices about the size and the scope of the program," Hubley says. "We already were thinking about changes for 2021 for Tumbleweeds and decided that a year-round program at this time would be the most realistic expectation. And, we learned a lot from our experiment last year with virtual programs about making them as successful as possible."
The virtual streaming program has hit its stride. Earlier this month, the regular Tuesday program saw all 500 spaces fill up on its virtual platform with the screening of the documentary The Unfinished Fight of Seldom Seen Sleight, directed by Chris Simon and Susette Weisheit. An additional 300 people rented the film immediately afterward for streaming. The event also featured a talkback, moderated by KUER-FM RadioWest host Doug Fabrizio, with the filmmakers and Ken Sleight, who has fought for decades to remove the Glen Canyon dam along the Colorado River. Once fees are accounted for, the remainder of the revenue goes to the filmmakers.
As in previous years, Utah Film's Center fiscal sponsorship program (discussed in Part II along with the films) is well represented at this year's Sundance. These include three documentary premieres, which also include Geralyn Dreyfous, one of the founders of the Utah Film Center, as executive producer. Dreyfous, who is with Impact Partners and Gamechanger Films, also is connected to two other documentaries (see part II) making their world premiere at Sundance. Two of the filmmakers — Lucy Walker (Bring Your Own Brigade) and Pedro Kos (Rebel Hearts) — are veterans of the fiscal sponsorship program.
"Documentary films do not seem to have been hit as hard during the pandemic as projects in other genres," Hubley says, adding that documentary film crews have been vigilant about following social distancing precautions. "Our sponsorship program has a long history with many successes and is widely acknowledged as a valuable resource for filmmakers," he adds. The center receives between two and four applications each month for sponsorship and the list of approved projects is approaching 200.
Meanwhile, the center has put on hold its other main branch of creative support for filmmakers — the Artist Foundry. It was impractical to overcome logistical challenges in a program where collaborative working spaces were not possible during the pandemic. The program will resume with some changes once the community is in the clear. The center is building spaces for editing suites and workplaces in its downtown headquarters.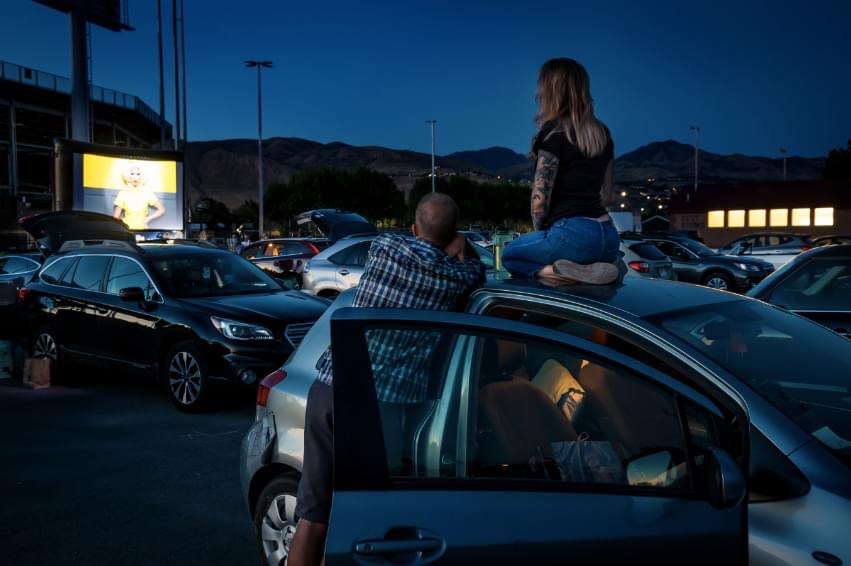 Hubley cites several outcomes from the experiences of programming during the past year. He sees future hybrid arrangements for audience presentations with in-person screenings and streaming options for participants who might not be comfortable at the moment to be in a larger venue. The emphasis on booking virtual exhibition of films also will force changes in perspectives between distributors and the holders of creative rights for film. Access to virtual platforms has allowed the center to reach new audiences beyond Utah and tap audiences who share interests in topics such as public lands management and environmental rights. Also, as the center invested in the infrastructure and hardware to offer drive-in options, Hubley says that drive-ins will become part of the core programming in the post-pandemic period. The impact is twofold. One is enjoying access in communities outside of downtown Salt Lake City, including Taylorsville, Sandy, West Jordan and beyond. The second relates to community groups and nonprofit organizations interested in hosting screenings of films relevant to their focus and mission. "We're confident about proving that we can adapt to difficult circumstances that restricted our normal programming," he adds, "while finding new opportunities for reaching new audience segments."
For complete details about Sundance films and tickets, see the festival website.
Follow The Utah Review daily for reviews and interviews on films through the festival, which ends on Feb. 3.