I've always thought of our local mountains, the Wasatch Range, as an extension of Salt Lake City. A city park, if you will. Group picnics, campgrounds and seven ski resorts take up a fair amount of real estate. Not to say you can't get lost and have a wilderness experience a few short miles from 7-11 in each of northern Utah's four seasons, you just cannot walk for miles on end and not expect to run into other users.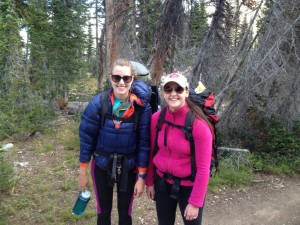 An hour or so to the east, however, lies a wilder and more spacious wilderness experience, in one of the few east-to-west running mountain ranges in the lower 48: The High Uintas Wilderness. Head past Park City and into the sprawling metropolis of Kamas, Utah, aiming for the Mirror Lake Highway. Along this scenic route, you are whisked from our usual desert environs to a place of pine trees, lakes, ponds and in summer, mosquitos. We went Labor Day weekend when the bugs are gone, the nights are cool and the days are perfect.
Growing up on the east coast, the peaks of the Adirondacks in upstate New York was where I learned to appreciate wild places. Around many corners, the Uintas remind me of my boyhood fishing holes, cabins and sappy pines. Along Mirror Lake Highway, there are ample car camping spots, picnic grounds and shoreline fishing opportunities. While not exactly the wilderness I described a few short paragraphs ago, it is incredibly easy to find the backcountry. We were aiming for something off the beaten path, but that would include additional adventure options than simply hiking and camping: namely rock climbing. Ropes and their associated safety gear are heavy, so we weren't up for a death march, especially since this was originally signed off as a couples trip with comfort food and ample uhhh provisions, packed in cans, bottles (fine, bags) and flasks.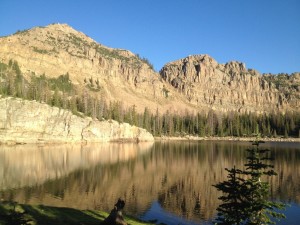 Glancing at the map after picking up the necessities from the farmer's market (more on the menu later) we set a goal: Bald Mountain Pass, with camp spots at Notch Lake, featuring crag climbing a few steps from camp. I had a fair amount of gear to test from the Outdoor Retailer show, so this would be ideal clocking in under five miles round-trip with minimal elevation gain.
Arriving at the trailhead, the wind had picked up and the temps dropped so low we scrambled to pull on puffy coats and winter hats. Our companions immediately questioned the plan we devised; this could be a long night. Once we got hiking and our blood flowing, things warmed up a bit. The half mug of coffee I had began sipping on the way up was kept accessible in my hand for the first few miles and provided an extra measure of warmth.
By the time we reached the first of three lakes we would pass (Clegg Lake), the sun was shining and high peaks soared high above, protecting us from the wind and consequences of windchill. The most scenic and visually appealing peak in the distance was Notch Peak, our destination for the evening. With spirits lifted, our paces quickened towards the lake at the base of this wide and jagged massif.
Once our packs were emptied of tents, sleeping bags and camp was set up, hiking shoes gave way to slippers. Hey, it's only a few miles — comfort is a must! With our beers safely cooling off in the lake, it was time to climb! The lure of the hammock I strung up minutes ago would have to wait.
Notch reminds me a lot of Wall Lake, also in the Uintas — just a few miles west. In fact, if one were to continue hiking around Notch Peak, Wall Lake would be about eight miles in on the loop back towards the highway (mental note: longer backpack/climbing trips idea). The walk from the road to both lakes is short, the routes are single pitch and usually bolted, with a variety of difficulty and considerable camp spots ringing each shore. I brought a full sport gear plus a light trad rack to save weight, but still have the option to climb routes with longer runouts between bolts. The climbs at Notch face east, so by the time we jumped on belay, things were in the shade. We got our money's worth quickly and opted for fishing in the sun instead.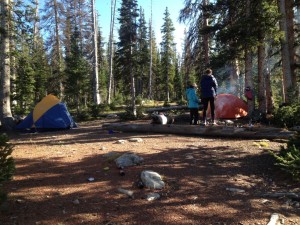 Back at camp, hammock time, lazy flyfishing casts and victory cigars were the reward for walking here with our homes for the evening literally attached to our backs. Our bounty from Pioneer Park that morning was Creminelli Whisky salami and some local cheddar sliced on a plate precariously perched on a log, plus some smoked trout from a neighbor. Camping is fun! Beers thoroughly chilled paired with our apps well, but then again, all food tastes great in the wilderness. I've tried to recreate PB&Js ad infinitum that tasted amazing on a distant peak that are quite lackluster in my home kitchen.
The night's firewood gathering was quite an adventure and the dogs were quite amused at us dragging logs around and alternating breaking them over knees or by stepping on them. Or should I say, attempting to break them. We suck at this! With the fire going, brews switched to the backpackers friend: Bota Box. The equivalent of four bottles of vino are neatly packaged in a plastic bladder for easy transport. Don't ask me what the vintage or blend is: my response would be a blend of convenience and price. Two miles from the nearest road, with sore muscles and a fire blazing, it tasted like $90 bottle of Napa Cab. Our resident sommelier expertly paired Mac N' Cheese for dinner as the Milky Way became slowly visible overhead, signaling tent time.
Most mornings at home begin with a cup of coffee, and the woods offer the same routine. Once the sun (c'mon you slow mofo!) makes it's way over the horizon and above the peaks and warms up camp, the first thing to do is fire up the stove. I went three-for-three on huge flare ups and luckily escaped unscathed and with eyebrows intact. Safety third, kids! The routine of a stove hissing, water boiling and pour-over coffee takes on a new meaning on these cool mountain mornings. Sipping a piping hot cup in a hammock can be a near out-of-body experience — no yoga moves required.
Breakfast featured house cured speck from Caputo's, which is an Italian-cured meat, similar to bacon and pancetta, plus an array of peppers sauteed in the fat rendered from the speck. Adding a dozen scrambled eggs from Clifford Farms and breakfast was served!
Just a few short miles from a trailhead and less than two hours from SLC, pavement and people gives way to wilderness and the whisper of the wind. There was only one other group camped on the entire lake and a mere handful of day hikers we happened upon in the last 24 hours.
With full stomachs and an extra pep in our step from recharged spirits, we began the climb back to Bald Mountain Pass. Perhaps the best aspect of this trip is that all the elevation is gained on the way back to the car — perfect for hikers who load their packs full of gourmet food and heavy beverages. Light(er) packs on the return haul were a welcome bonus. Once back to the vehicle, another game-time decision was made: the long way home, via Evanston. The outpost in Wyoming offers a selection of items many Utahns are fond of, and I am not referring to fireworks. Cheers!