JONI BALLIF, BOHO CHIC SKULLS
The great artist Georgia O'Keeffe never completed a trip in the New Mexico desert without collecting the skulls of animals – horse, mule, deer and steer – that had been bleached by the sun and forgotten. She used skulls to depict in her paintings, such as Summer Days (1936), showing an animal skull with flowers indigenous to the Southwest suspended above the desert landscape.
The animal skulls are not discarded relics but potent signifiers of the cycle of life, reminding us that deserts are as lively and vital in their barrenness as in any other flourishing, lush setting.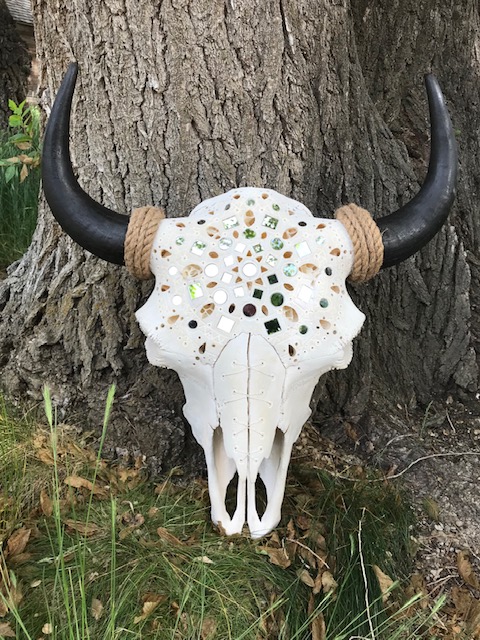 There is something just as instinctual in the artwork of Joni Ballif, of South Jordan, Utah (Booth 84), one of the 68 new artists in this year's Artists Marketplace at the Utah Arts Festival. In a relatively short period, Ballif's remarkable sculptures created from animal skulls have attracted such enthusiastic attention that she has launched her own artistic business with Boho Chic Skulls.
While Ballif always has tried her hands at arts and crafts, including painting and holiday items, she initially was stymied when her daughter decided to redecorate her room and she wanted to have an animal skull decorated to hang in her refurnished surroundings. "I mean we don't even hunt," Ballif says in an interview with The Utah Review, adding that the skull of a whitetail deer came from a family member who is a hunter. "She showed me an image from Pinterest and I commented that it was really pretty."
Ballif told her daughter that if she didn't want to carve it, she would do so. Thus, she taught herself how to carve. "I was completely hooked," she recalls. Her daughter, who was going for a Bohemian flair in redecorating her room, loved it.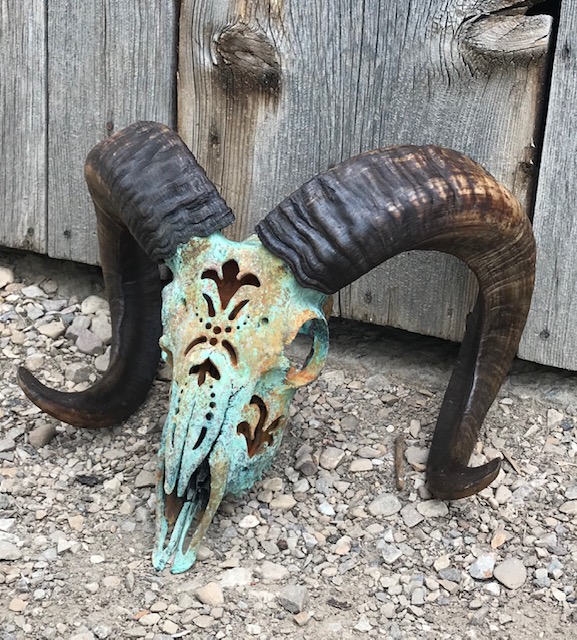 Hence, Ballif decided to go with Boho Chic as the name for her business, which took off rather quickly as people discovered her art on Facebook. "It's humbling and mind blowing," she says, "that people would want to buy something I've made and hang it on their wall." Visitors at the Park Silly Sunday Market encouraged her to apply for the Utah Arts Festival.
Creating a skull sculpture is labor intensive. Ballif works only with skulls that are scrupulously clean and bleached thoroughly before she starts the intricate carvings and decoration with paint and stains. She ensures there is no remaining flesh on the bone and she places the skull in a cauldron to degrease and clean it. Sometimes, it takes three or four times before the skull is clean enough to be ready for decoration.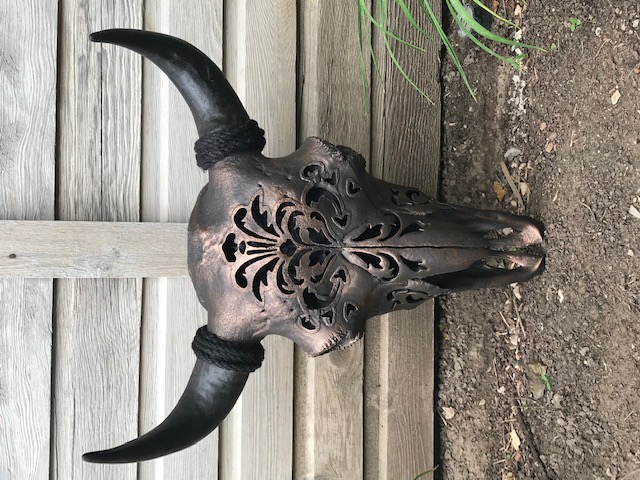 Many of her skulls come from area hunters including sheep, bison, beaver and raccoon. Her favorite so far was a donated skull of a Chinese water deer, "which looked like a dragon," she says. A single sculpture can entail between 10 and 40 hours of work. As expected, Ballif has been working virtually nonstop to prepare for the festival.
Ballif echoes the sentiments that O'Keeffe expressed in her work. "It is a humbling experience because so many skulls are wasted in the desert or left as trash by hunters," she explains. "These animals gave their lives for food and sustenance and I believe what better way to pay homage and respect to the animal than to give it a second life. It reminds me that we should not waste anything to erase its life and spirit."
AMY FLYNN, FOBOTS
From Raleigh, North Carolina, Amy Flynn (Booth 148) creates FOBOTS (Found Object Robots) with upcycled parts of a vintage nature and then solders and bolts them together to create unique whimsical robots. Flynn gives each creation a name, number, date of birth and a heart – just like the Tin Man from The Wizard of Oz. Flynn answered a few questions from The Utah Review in a tone just as whimsical as her art.
TUR: How have you used art media forms in helping to create an holistic body of artistic work that searches for a more complete expression of your own innermost and most powerful states of emotion, inspiration, contemplation, and self-identity?
AF: You're WAAAAAAY overthinking this. My goal is to make people happy. It's as simple as that. My robots make everyone smile. And that makes me happy.
TUR: What is your training as an artist? Who do you consider your most significant influences and inspirations? Do these influences shift as you progress both in your work and life?
AF: My training is as an illustrator. I did that for 27 years, before the economy tanked. The robots are purely self-taught, and my only influences have been the cool parts I find.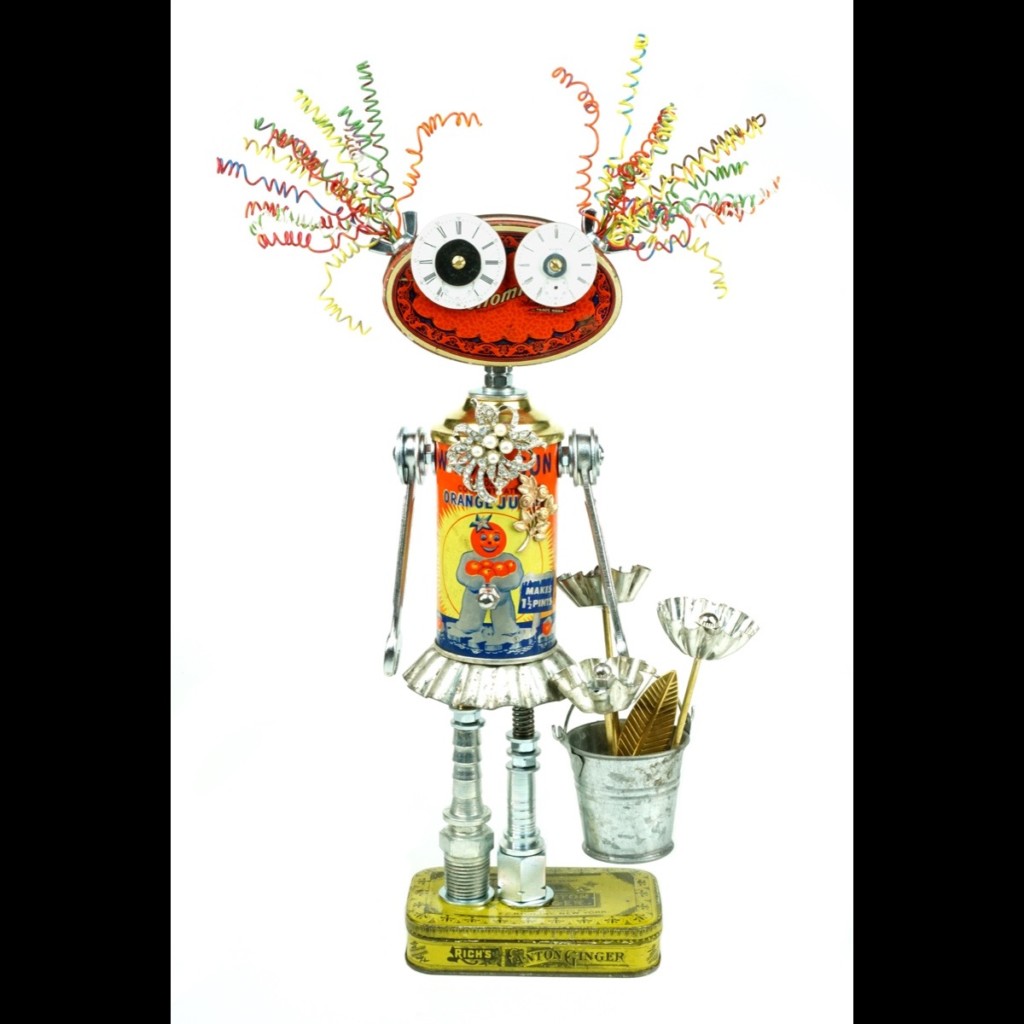 TUR: Do you work full-time exclusively as an artist? Or, how do you augment your work as an artist?
AF: All art, all robots, all the time! I'd say full-time, but it's really more like double-time.
TUR: Do you find it easy or difficult to start new work? And, typically, how do you prepare yourself to handle both the creative and physical demands of creating your art?
AF: A bit of both. When I find a great piece of junk to work with, I can barely wait to get into my workshop to play with it and see what it will become. But with new prototypes that are more complex, I'm usually terrified for days, until I can see if it will work out.
TUR: With regard to participating in the Utah Arts Festival, please share your feelings about being a part of this enterprise? Have you been in other festivals and do you plan to explore other festival venues?
AF: You know, I was supposed to do this show a few years ago, but my van broke down on the way. Let's hope for better luck this time. As for other festivals, I've done around 130 since I started in 2009.
For more information about all events, see the Utah Arts Festival website. Ticket information can be found here.