Dina, a documentary film about a middle-aged woman with Asperger's Syndrome who marries her boyfriend (Scott), is a perfectly timed selection for the 7th Peek Award for Disability in Film by the Utah Film Center.
The film, which took the Grand Jury Prize in documentaries at the 2017 Sundance Film Festival, continues an evolving narrative arc of love, relationships and communication that have been the central themes of the most recent Peek Award winners — Autism in Love, directed by Matt Fuller and produced by Carolina Groppa, and Life Animated, directed by Roger Ross Williams.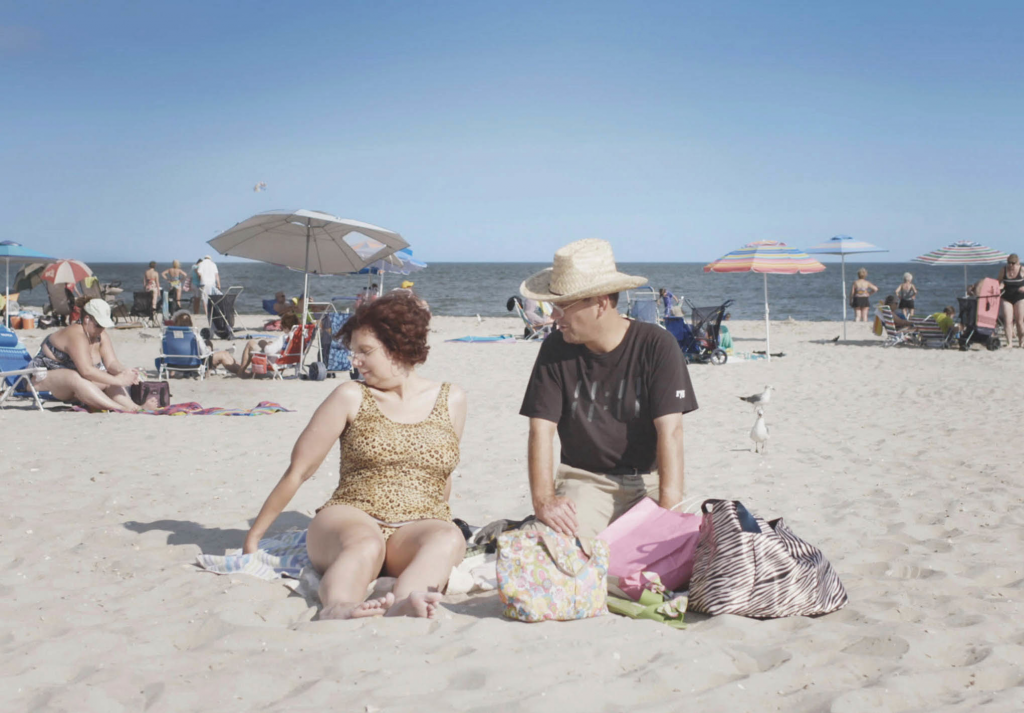 Dina Buno, the subject of the film, and directors Antonio Santini and Dan Sickles will attend the award presentation, which includes a free, public screening of the film along with a Q&A discussion moderated by KUED-TV's Mary Dickson, and including Barry Morrow, the Emmy and Academy Award winning writer/producer best known for his original story and screenplay for the 1988 Best Picture, Rain Man. The presentation takes place March 22 at 7 p.m. in the Jeanne Wagner Theatre at the Rose Wagner Center for Performing Arts.
In utmost candor that is handled with exquisite sensitivity by the directors, Dina synthesizes the positive elements and the frustrating challenges of making an intimate relationship work and the plainspoken resilience of a woman confident in her independence. And, as Dina makes wedding preparations with her boyfriend, Scott, who also has Asperger's, works at a local Walmart and still lives at home with his parents, the audience is introduced to a character counterpoint that is as rich in substance (or even more so) than the leading characters in a fictional comedy-drama story about finding fulfillment in love.
The film has sustained its visibility long after the 2017 Sundance premiere, when both main characters joined the directors on stage after its screenings. In a Skype interview with The Utah Review, Sickles says the film is growing its global presence, with its premiere in Spain happening next month and soon in China, once government censors have given their approval.
"Dina has been ecstatic," Sickles adds. Her appearances at screenings amplify the personality shown in the film. "When the film played at the Rose Wagner during Sundance, Dina wanted to stay because so many people had so many questions. I really had to push her into leaving because we had to be back in Park City for another screening." As for Scott, Sickles says he is happy to remain home, go to work, participate in his bowling league, tend to their cat and enjoy periodic dinners with his parents. "Dina loves the spotlight but Scott also is very happy to let her enjoy it," he adds. Dina is definitely more pragmatic than sentimental. After a public appearance, she says, "'Okay, what's the next thing?'" he says.
Dina's backstory is presented throughout the film effortlessly and naturally in the best sense of cinematic realism. The result shows how her unconditionally clear, astute sense of the tragic and joyful circumstances she has endured signal the utter ridiculousness of those who would mitigate or compromise any individual's humanistic capabilities by reducing them to a convenient category or label. Sickles says the 103-minute film came from more than 500 hours of footage.
While Dina does not work, she lives in her own place situated in a working-class neighborhood a good distance from the most urbanized corridors of Philadelphia. She also contends with anxiety and obsessive-compulsive disorder, along with a "smorgasbord" of other issues, as her mother mentions in classic straight-faced humor. Sickles' family has known Dina for a long time and as a result, they also knew Scott. "Both of them granted us full access and we treated them as two collaborators for the film," he says.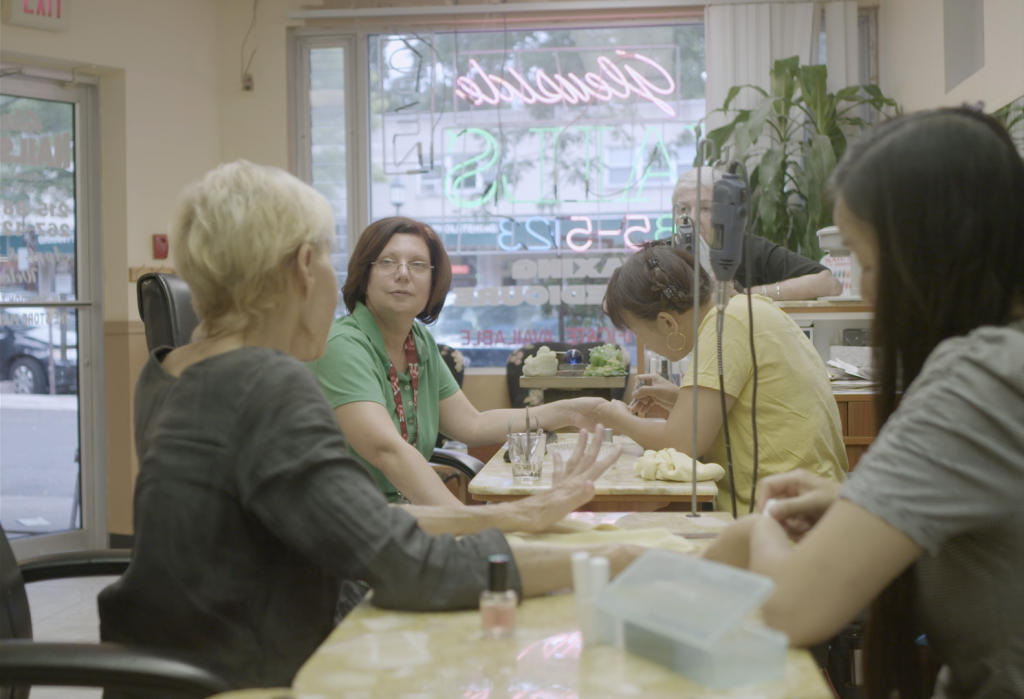 Dina enjoys reality television and has a good-sized circle of friends and acquaintances. She is always gregarious and always determined. She rides the bus, whether to pick up a full Thanksgiving turkey dinner with all of the trimmings from a local Boston Market for her and her boyfriend or when she is on her way to make final preparations for the wedding ceremony. It's a simple but important foreshadowing point about how Dina doesn't see obstacles in deterring what she needs to do.
The biggest challenges, of course, come in the relationship with Scott, who enjoys his music, especially classic Top 40 hits, but is definitely less worldly in the gestures, actions and words of romance. There are awkward moments, as one frankly would expect in any relationship. Dina, who has had good and bad experiences in love, is patient, even as she tries to nudge Scott toward ways of expressing his love sexually.
She is articulate and adept in her directness. When the couple spend the day on a New Jersey beach and boardwalk, she mentions matter-of-factly but honestly that she has "been around." Dina gives Scott a gift, The Joy of Sex by Alex Comfort, a 1972 classic updated 10 years ago for the 21st century. She talks intelligently about masturbation and sensual touching. Sickles says some thought that he and Santini had recommended the book to her. In footage not included in the final version, there was a scene where Scott's mother talked about his reluctance in being intimate. "The book idea really came from Dina and Scott," Sickle says.
But, Scott also was upfront about what he is comfortable with and what he isn't. An important scene is his bachelor party where one typically would not expect to hear men talk about their insecurities but would instead mask them. "Scott was in the opposite camp," Sickles explains. "He talked about being really nervous he was about doing something wrong." Meanwhile, Dina and her friends are enjoying the male stripper who entertains them at her pre-wedding party.
Even cuddling is a major challenge for Scott. However, Scott's most comfortable way of expressing his love for Dina comes through songs, such as Bryan Adams' I Will Be Right Here Waiting For You. In fact, many of the film's scenes dealing with the preparations and talks leading to the wedding incorporate songs that amplify the sincere tenderness Dina and Scott feel for each other, even if Scott cannot express it as generously as Dina is capable of doing. "I feel like the benefit of watching the two of them is showing how we can learn to be honest with ourselves when we are going into a relationship," Sickles explains.
We learn the most detail about Dina's most traumatic event near the end of the film. In earlier moments, there are scenes of Dina partially undressing and putting on a shirt. She has scars on her back but we never see them clearly. At the New Jersey beach, Dina points to her scars and tells Scott, "Aren't they amazing?" — a line that accentuates Dina's rock-solid sense of self empowerment.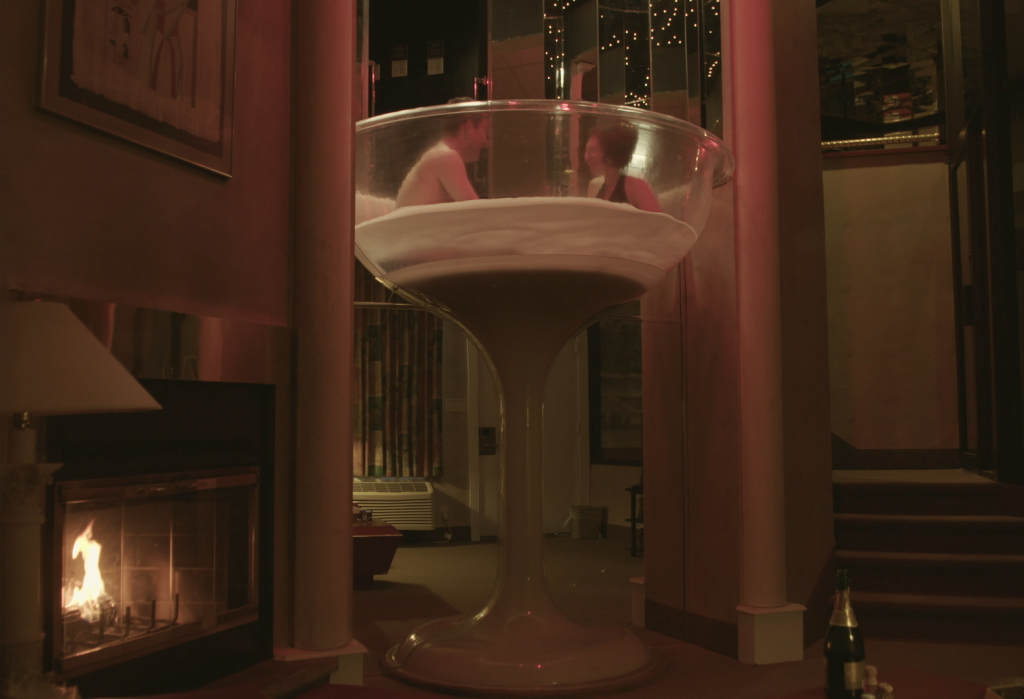 Later, the audience hears the audio of a 9-1-1 call from eight years ago when she was stabbed numerous times by an ex-boyfriend. The directors obtained the recording early in their research along with many court documents, with the exception of crime scene photographs, from the district attorney's office that handled the case.
The audio is played against an astonishing, visceral and painful scene comprising a silhouette of an empty bench on a gentle hill, as the day's final light fades into darkness. Earlier, that same bench was the scene as Dina and Scott talked about their relationship. The audio's placement at that point of the film is a wise choice. The directors reinforce Dina's story not about redemption or survival but about carrying on with her life on her own terms and in her full control. It also is a striking reminder to audiences that individuals living in a neuro-diverse environment also are subjected to the threats of violence and abuse and accordingly their humanity should never be viewed in a patronizing, condescending, limiting, or diminishing way.
"It hadn't occurred to us at all how we were going to use it," Sickles recalls. The decision of how to use it came from Sofía Subercaseaux, who edited the film. "It really was the piece that completed the puzzle," Sickles says, adding that it portrayed Dina as a complex human being who always has been fighting for her life and her dignity and overcoming barriers on her own. This stretched to her childhood days when she was told that she would never learn how to read but she defied everyone. Dina's bold dreams continue, as Sickles mentions that she is interested in writing her biography.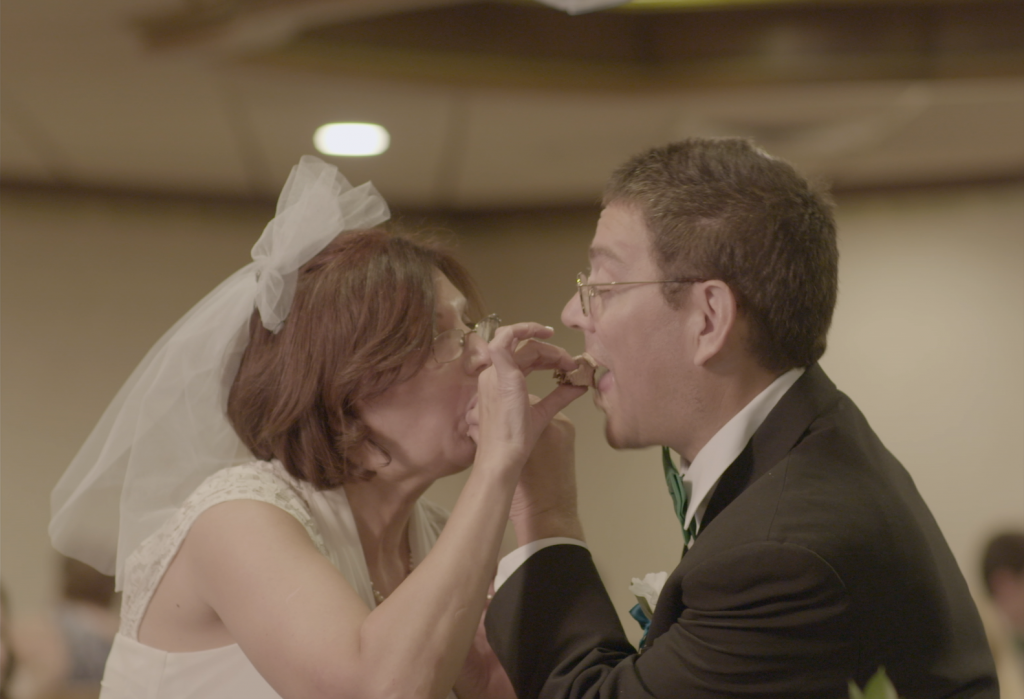 The Peek Award honors the legacy of Kim Peek of Salt Lake City, the savant about whom the film Rain Man is based. Peek, who died nine years ago and was misdiagnosed as autistic during his formative years, stood out for his encyclopedic knowledge of subjects on an unprecedentedly broad scale of intellectual knowledge and pursuits. As noted in his 2009 obituary which appeared in The New York Times, Peek "was the Mount Everest of memory," as Dr. Darold A. Treffert, an expert on savants who knew Mr. Peek for 20 years, described him.
Previous Peek Award recipients includer Dr. Temple Grandin, Carrie Fisher, Sean Fine and Andrea Nix Fine, Sam Berns, Jason DaSilva, Matt Fuller and Carolina Groppa and Roger Ross Williams.
The Peek Award is sponsored by the Sorenson Legacy Foundation, Columbus Entrepreneurs of the Human Spirit, Intermountain Healthcare and George S. and Dolores Doré Eccles Foundation, among others.
A symposium titled Bottom Line of Disabilities will be held Friday, March 23, from 8 a.m. to 3 p.m. at the Columbus Community Center. For more information, see here.