'The most striking thing about the crowd is their ordinariness: just a bunch of earnest suburban moms and dads, accompanied by young children still so androgynous-looking that the trans kids are indistinguishable from their non-trans siblings.' — Sabrina Rubin Erdely, Rolling Stone Magazine, Nov. 7, 2013
Eri Hayward, the young Utah woman at the heart of the short film 'Transmormon' – a magnificently understated statement of human sincerity and spirituality – articulates perfectly the epiphany of her story. 'I don't think I succumbed to my body. I think I succumbed to my spirit and what it needed.'
'Transmormon,' an OHO Media production directed by Torben Bernhard and featuring the work of collaborators Travis Low and Marissa Lila, received the Artistic Vision Award at this year's Big Sky Documentary Film Festival in Missoula, Montana, which ends Sunday (Feb. 23).
The film emerges as a prominent piece of story-telling as the transgender movement has reached a watershed moment of awareness throughout the entire nation. Filmed last summer in Orem, Utah, 'Transmormon' features Hayward, a woman in her twenties, just days before she traveled to Thailand for her sexual reassignment surgery.
The film was produced under the auspices of the VideoWest venture sponsored by the KUER public broadcasting station in Salt Lake City and Doug Fabrizio's RadioWest program.
However, as central as Eri's journey from male to female matters in the 15-minute film, the pure demonstration of unconditional, affirmative love and the aspiration for spiritual acceptance within the Mormon faith from Eri's parents and loved ones envelops and deepens the takeaway themes from 'Transmormon.'
The film is disarming in its naturally unfolding capacity to change mindsets. On one hand, it stands to unsettle and certainly frighten the keepers of the status quo who are determined to take a divisive, increasingly ugly cultural war to a bitter end. On the other hand, the film brings forward the stories of Eri and other transgender individuals as real loving people that eradicate the once mainstream yet absurd stereotypes that The Atlantic's Conor Friedersdorf described once as serving to frame 'abstract others who are easily stigmatized and demonized by virtue of being made into untested caricatures.'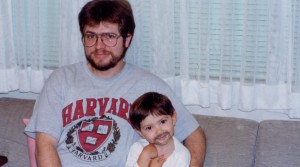 Prior to filming, which began during last year's Independence Day holiday period, Bernhard had read an extended blog post by Eri's father [Ed Hayward] along with a recently published interview with Eri. 'The comfort in telling their story is partly a product of the struggles they have faced as a family,' Bernhard explains. 'Our fifteen-minute film shares a small fraction of a multiple-year process to come to acceptance with Eri's gender.'
He adds: 'When people have confronted misunderstanding for years, yet have the desire to communicate their experiences, I think they learn to relate their stories to those who will listen. I knew they had clearly articulated their stories before, so I saw my job as simply making them feel comfortable and trust us enough to freely share their experiences with the cameras on. They were extremely warm and opened up to us almost immediately all while preparing to leave the country in a matter of days for Thailand.'
The making of 'Transmormon' coincided with numerous development in the transgender movement. Last summer, California Gov. Jerry Brown signed the nation's first statewide law dealing exclusively with rights for transgender students, which went into effect last month. Likewise, legislation or court cases in at least three other states – Maine, Massachusetts and Oregon – extended similar sorts of rights protections. Also, in a case followed across the country, the Colorado Civil Rights Division ruled a Colorado Springs school district had violated six-year-old Coy Mathis' rights by denying her access to the girls' restroom. Focusing on the growing number of pre-teen children who are going through gender transitioning, the American Psychological Association and the American Academy of Pediatrics disavowed the previously accepted forced-conformity approach for gender-dysphoric children.
However, 'Transmormon' transcends the sociopolitical boundaries, becoming an outstanding example of how art truly can be transformative on a major social issue without injecting politics. In the film's last five minutes, the more elemental lesson comes into focus. A family seeks to sustain its allegiance of faith, hoping the church will reconsider its stance barring some members from participating fully in the rights accorded to all Mormons of good standing. Eri's story, of course, comes from courage – not just from her but also quite impressively from her family.
The most compelling undercurrent in 'Transmormon' arising without explicit articulation but more powerfully through the story of Eri and her family is that the bloc of diehard sincere traditionalists is shrinking at an accelerating pace. The fight to block acceptance has ended because an exceptionally overwhelming majority of families now readily identify with Eri's family as a loving, faith-abiding example that would be welcomed in any denomination.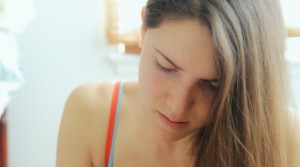 'I believe that the most powerful stories are already charged, by their very nature, with the richness of the broader political dialogue,' Bernhard explains. 'I think the greater challenge is finding the stories that innately illustrate the existing tension. The stories that most interest me, and the one's I aspire to tell, are the ones that are packed with meaning otherwise contrived. The camera is an excuse to invite myself into their lives so I can learn from them. Once I'm there, it's important for me to attempt to approach the stories people share without judgment. I want to understand what their experiences are like for them.'
Bernhard, Lila, and Low were assisted by Andrew James, a Salt Lake City filmmaker who is completing the much anticipated feature-length "Street Fighting Man' documentary about residents in a Detroit neighborhood. Music for the short was provided by Ryan Morse, Gillicuddy, Bill Wolford, and Pitx. The score is full of smart choices – a crisp, clean, minimalistic collage with an especially appealing bit of acoustic guitar.
This is the fourth straight Big Sky appearance for the OHO Media creative team. In each of the three previous appearances, films from the forthcoming Lost and Found Series were featured – a collection of five short films representing stories from Missouri, Utah, and Thailand.