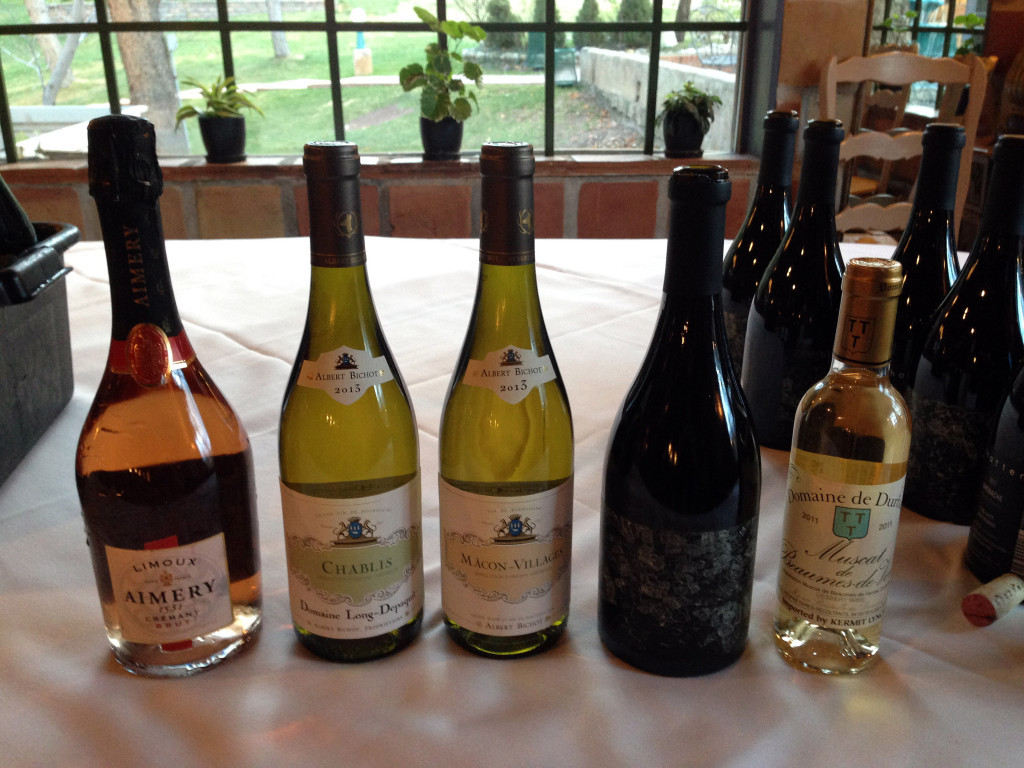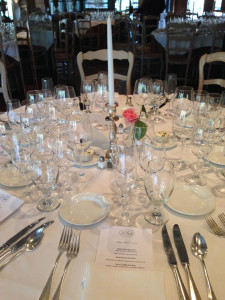 The spring French Wine Scholar class drew to a close after a series of ten weeks of classes with 13 students sitting for the post nominal test. Congratulations to Coy, Andrea, Lansin, Marianne, Rebecca and Neal for becoming Utah's newest French Wine Scholars!
Following the test, students and their families and invited guests enjoyed a five-course paired wine dinner at La Caille. Chef Billy Sotelo worked with Wasatch Academy of Wine's Sheral Schowe to craft a seasonal meal highlighting the best of French food and wine available in Utah.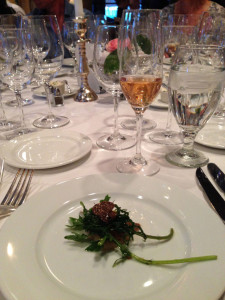 Perhaps my favorite dish of the evening, meaty diver scallops were lightly seared and topped with baby kale and a delectable, earthy soy truffle dressing. Paired with an Aimery Crémant Brut Limoux NV, the bubbles were the perfect complement to the slightly sweet seafood.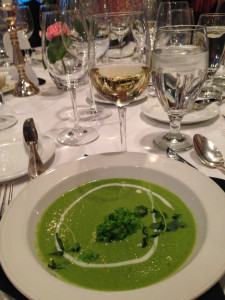 Gorgeous bowls of fresh English pea soup with a flourish of crème fraiche arrived next at the table paired with a delightful Albert Bichot Domain Long-Depaquit Chablis 2013. I found this to be the best wine and food pairing of the evening with the crisp notes of vegetable matter aligning in all the right ways.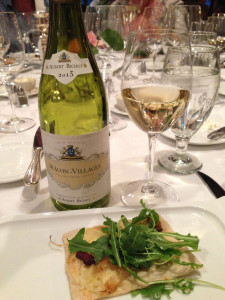 A wine highlight for me, the Albert Bichot Macon-Villages 2013 was beautiful although the tarte Flambée d'Alsace was slightly on the dry side. Fresh arugula, crispy lardons, Vidalia onion and fromager d'Affinois played up the peppery, fatty and sweet elements when paired with the wine.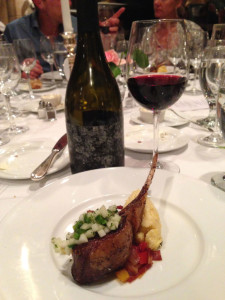 The entrée course for the evening was a thick, roasted lamb chop resting atop a tangy red and yellow pepper stew and creamy corn polenta. A fresh mélange of jalapeno, apple and mint slaw countered the meat nicely. The dark fruits and spices of the Shatter Grenache Maury Cotes Catalanes 2012 wine heightened this dish dramatically when enjoyed together.
Closing out the evening, La Caille's new pastry chef Rebecca Millican delighted with a duo of apple desserts. The spectacular apple tart tatin was wrapped in a buttery puff pastry and drizzled with caramel while a refreshing apple cider granité cooled us all down on the warm spring evening. The Domaine de Durban Muscat de Beaumes-de-Venise 2011 these were paired with was a delightful dessert wine on its own, although it was not the most successful pairing of the evening with the sweetness of the tart overpowering the muscat.
Wasatch Academy of Wine's French Wine Scholar program is available for both wine hobbyists and food and wine professionals. The highlight of the final wine dinner was experiencing how wine enhances the food it's served with and finding new and exciting pairings to savor and enjoy.
Read the full series of articles for the Wasatch Academy of Wine's French Wine Scholar program.