Saturday's headliners present many options for what historically are the largest crowds for single-day attendance at the Utah Arts Festival. And, with sunny skies and temperatures expected to be in the comfortable range of the mid-80s, every festival music stage will be packed.
The Arts Fest Amplified Concert Series continues with People Under The Stairs (9:45 p.m.), a hip hop music fixture for more than two decades who are based in Los Angeles. They have nine albums (and a 10th coming soon titled Shot & Cut) and have toured more than 40 countries on six continents. The pair—Double K (Michael Turner) and Thes One (Christopher Portugal)—started collaborating in high school. The opener will be House of Lewis (8:25 p.m.). Regarding the Amplified concerts, festivalgoers can upgrade their regular admission tickets to the performance at just $10. Also, $25 tickets are available for purchase at the door, which include admission to the festival and concert.
BANDALOOP (5:30 p.m. and 7 p.m., Library Square plaza) and The Bboy Federation (6 p.m., The Round) continue their daily performances.
The festival's chamber music commission premiere featuring Azwaj by composer Saad Haddad will take place at 4 p.m. in the City Library auditorium in a program performed by Sinfonia Salt Lake, directed by Robert Baldwin, and including works by Utah composers Ethan Wickman, Chad Cannon and Stephen Jones.
The Big Mouth Stage (noon) will feature six previous winners of the Susanne Millsaps Performing Songwriter Showcase, sponsored by the Intermountain Acoustic Music Association, for an in the round performance. Peter Danzig, Carla Halversen Eskelsen, Rob Harmon, Josh Harmon, Chris Orrock and Alicia Stockman will perform original songs. In addition readings by local and national poets throughout the afternoon and early evening and the second preliminary bout of team poetry slam competition (10 p.m.) will take place at the stage.
The University of Utah Tanner Dance Children's Dance Theatre and SALT Contemporary Dance will take the Festival Stage, respectively, at 5:30 p.m. and 7 p.m.
Other headliners include the following: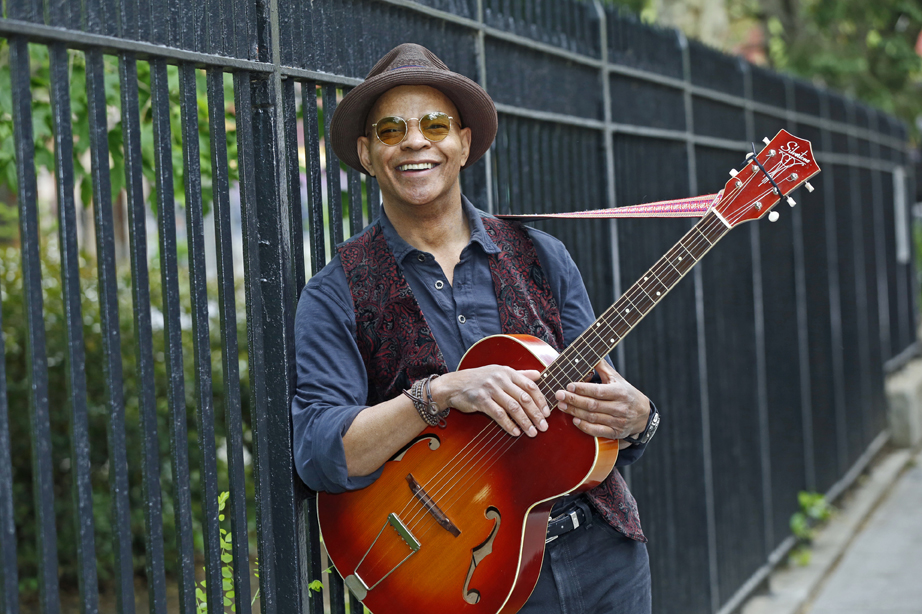 Guy Davis (8:45 p.m., Festival Stage)
With Guy Davis, the honorific title as "ambassador of the blues" means much more than ceremonial value. In his long career, he has brought the American blues to many locations around the world from the Arctic to some of the most remote areas in the Southern Hemipshere. Appearing at the festival on the day members of the Intermountain Acoustic Music Association celebrate various acoustic styles, Davis' show is one of the most anticipated blues performances in recent years at the event.
More importantly, his last album Sonny & Brownie's Last Train—A Look Back at Brownie McGhee and Sonny Terry released year is a cosmopolitan joy. He revived and revitalized the blues music that characterized the Piedmont region of the Carolinas. Brownie McGhee (1915-1986) was famous for his jaunty guitar picking style while Sonny Terry (1911-1986) rounded out the Piedmont feel with incredible harmonica effects augmented by vocal hollering and whooping along with realistic imitations of running train and fox hunts.
Davis resurrected McGhee's musicianship, joined by Fabrizio Poggi, the harmonic virtuoso from Italy, who also produced and played on Juba Dance.
Recorded in Milan, the album featured the title track which Guy wrote along with many songs McGhee and Terry on which they collaborated. The album earned Davis' first Grammy nomination in the traditional blues category.
The son of the late Ruby Dee and Ossie Davis, one of the great American acting families, Davis also has been an actor. One of his earliest roles was a doctor for one year in the middle 1980s on the One Life to Live soap opera. In addition to a few movies, Davis made his Broadway debut in 1991 with Mulebone, a musical created with the collaboration of Zora Neale Hurston and Langston Hughes. His one-man Off-Broadway show In Bed with the Blues: The Adventures of Fishy Waters was well received as an excellent rendering of the classic blues tradition when it premiered in 1994. Fishy Waters, Davis's alternate persona in the show, was the son of a sharecropper who decides that music will be his career – a story that resembles broadly the life of the real blues legend Muddy Waters.
In an interview with The Utah Review, Davis, now 66, says it was natural that acting would be so important in his formative years. "My folks being actors loved seeing actors and as a kid, I found so many people who knew who I was because of my folks," he explains. "And I understood the expectation, pulling myself a little further into the theater world at the time."
Growing up, his parents at home often listened to light jazz and music by singers such as Harry Belafonte. His first exposure to blues occurred when he went to college. "In college, it was something quite spectacular which unlocked something in me. I heard white college boys playing the blues, who didn't know it was specifically black music," he recalls. Passionate about feeding his newly instilled muse, Davis immersed himself in every bit of the blues. He just took five guitar lessons but he was a quick learner, first on the guitar and then on the banjo.
While touring, he was fascinated by instruments unique to many countries, most prominently in Adelaide, where he heard the didgeridoo, the wind instrument of the Indigenous peoples from northern Australia. He studied the history and the technique exhaustively, discovering the parallels between the didgeridoo and the harmonica. The instrument was heard, for example, in his song Layla, Layla.
Davis inhabits many roles but one that he is particularly proud of is as a teacher. Many members of his families – "my sisters, my aunts, my mother's mother, as he notes – were teachers. New York City's Lincoln Center has called upon him frequently for developing children's programming and Davis has produced extensive study guides in Adobe Acrobat format which are easily accessed. For many years, he has participated in Common Ground, a two-week series of classes focusing on arts, music and culture held yearly at McDaniel College in Maryland. He covers Mississippi Delta and Piedmont blues and demonstrates how to incorporate telling stories into music, along with master classes in the harmonica and six- and 12-string guitars.
Davis says the interest in learning blues as well as other classic acoustic styles is strong, especially as young musicians, no longer bothered or hemmed in by expectations of staying on one particular style or genre, look to ways of finding all and any musical elements that best suit their creative expression. Davis cites Gangstagrass as one example, the group credited with the Emmy-nominated music theme to the crime drama series Justified on the FX network, which ran for six seasons.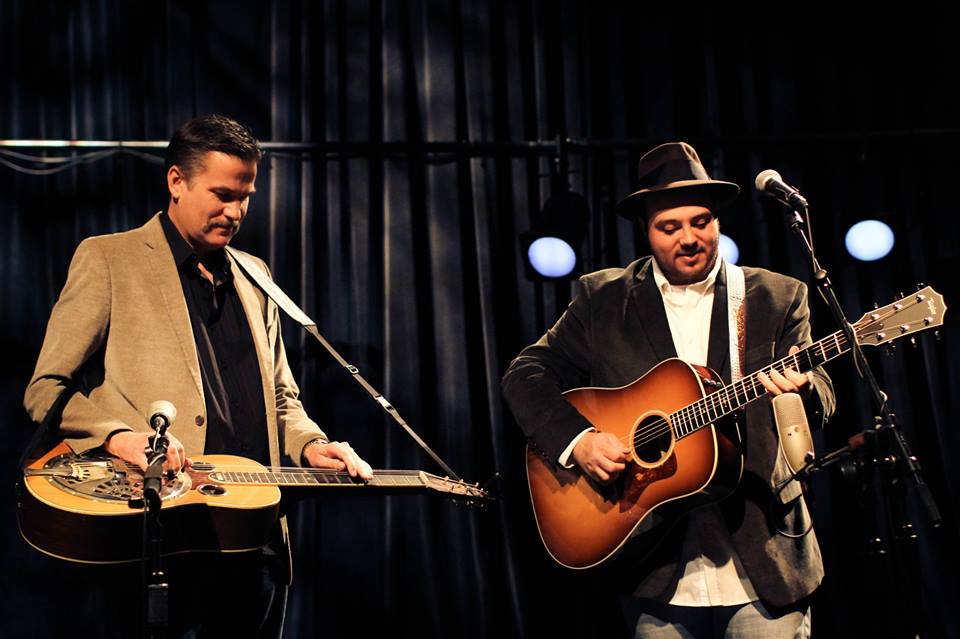 Rob Ickes and Trey Hensley (9:45 p.m., Festival Stage)
Before Rob Ickes and Trey Hensley decided to establish their musical partnership, both performers already had carved out impressive niches as artists. In Nashville, Ickes, a consummate touring and sessions musician, has been the master of the dobro (resophonic) guitar – taking the honors as Dobro Player of the Year 15 times from the International Bluegrass Music Association. He also was a founding member of the Blue Highway bluegrass band for more than two decades.
Meanwhile, Trey Hensley's reputation as a vocalist with a versatile baritone range and songwriter reached deep into the industry but it also matched up with how strong and diverse his instrumental chops are – blues, rhythm and blues and western swing on acoustic and electric guitar, most specifically. At the age of 11, Hensley, who grew up in eastern Tennessee, was asked by Marty Stuart to play with him and Earl Scruggs at the home temple of acoustic and bluegrass music, the Grand Ole Opry.
Several years ago, Ickes and Hensley, who had just moved to Nashville, met at a jam session party featuring many of the city's best musicians. Hensley brought along acoustic and electric guitars. "There was an uptempo song and he just crushed it," Ickes says in an interview with The Utah Review, which included Hensley. "I said to myself, 'Holy crap! It's good.'"
Everything fell smoothly and naturally into place, as both musicians decided initially to take on a side project. "The crowd response was good and it really was a no-brainer," Hensley says. "We were on the same page and we could be honest with each other when deciding what would work or wouldn't in a song. It's been really fun for both us. OOur performances are relaxed and we really enjoy the adrenaline."
It is a master case study of synergy. Since the collaboration began in 2015, the duo has recorded two albums, played on other major recordings, and have toured Europe four times along with many U.S. festivals. And, crowds respond to the constant, visible musical kinetic vibe of their performances. "Trust is really important when any group plays on stage but knowing that we're always on the same page, we can throw that energy to the audience nonstop," Ickes adds. "This also means we can improvise so we never feel like we're playing the exact same thing every time " Earlier this month, Ickes and Hensley played at the arts and music festival in Pagosa Springs, Colorado. "Late Friday, we played a smaller stage and it felt super relaxed," Ickes says. "And, then on Saturday, we played on the main stage and did our rock 'n' roll show and there were five standing ovation."
Also on various stages:
The Park Stage opens at noon with The Sardines, followed by Herban Empire (1:15 p.m.), Sister Wives (2:30 p.m.), Blues on First (3:45 p.m.), The Jackson Jills (5 p.m.) Kate MacLeod-Utah Music Review (6:15 p.m.) and Mokie (7:30 p.m.), one of Utah's best known tribute bands which performs the songs of The Grateful Dead.
Mary Kaye (noon) opens The Garden Stage lineup, followed by The Slickrock Stranger (1:15 p.m.), Earthestra (2:30 p.m.), QuicksandSoup (4 p.m.), Susan Bush (5:15 p.m.), Peter Breinholt (6:30 p.m.), The Grey Hounds (8 p.m.) and Tycoon Machete (9:30 p.m.).
The Pizzicato Strings will perform at 2 p.m. and 4 p.m. in the Kids' Art Yard.