Garden City, UT, the gateway town to Bear Lake's emerald blue water spanning the Idaho/Utah border is known for its world-famous raspberry shakes and…well, not much else. It's simply the town you drive through on your way to access the lake or your accommodations, but that's about to change.
The newly opened Conestoga Ranch has introduced the concept of glamping (glamorous camping, if you will) to the area. Forget pitching flimsy fabric held together by bent aluminum poles and think quaint covered wagons with real beds and expansive canvas-covered structures that are more house than they are tent.
From comfy Adirondack chairs to expertly crafted fire rings and full service bathrooms with custom toiletries, the Conestoga folks have re-imagined a family camping experience. One of the major focuses evident on our July trip was the food options at the Campfire Grill, located on-site at the ranch.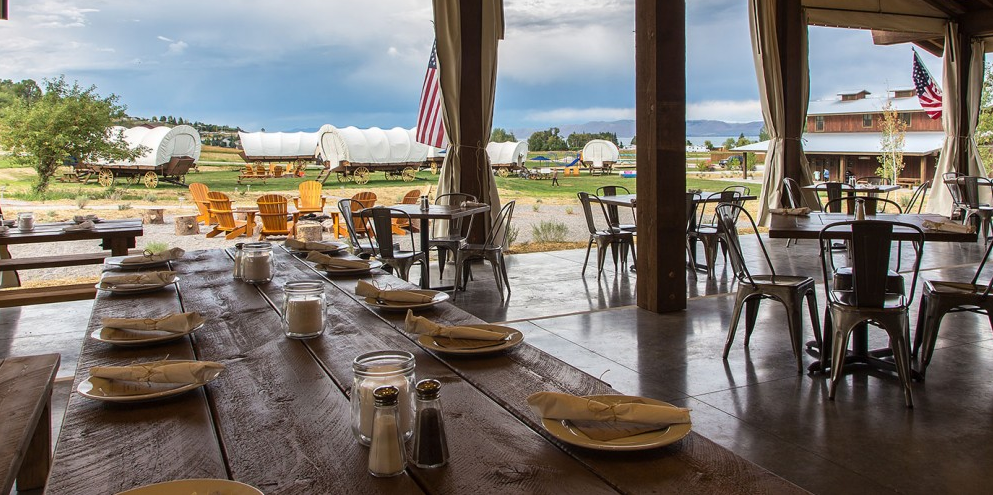 Breakfast:
Simple breakfast options include pancakes, eggs and the usual sides of bacon and sausage, as well as fruit and cereal. And yes, they do have coffee. I always have heart palpitations when traveling to rural Utah that coffee won't be available. I was pleased to leave my emergency travel french press in the car. Our goal is to get out on the lake as soon as possible, so having breakfast made to order steps away from our wagon accommodations is a welcome way to begin the day. Travelling with my in-laws and their two children, avoiding the restaurant shuffle in town can easily save an hour in the morning, plus the food here was significantly better than many roadside stops in town. Breaking camp with young kids can be a challenge; the Campfire Grill makes for a stress-free start to the day.
Lunch/Dinner:
The space itself is beautiful: timber-frames with a bright and airy canvas roof and adjustable walls. Counter seating is available to watch the chefs bake pizzas in the wood-burning oven, as well as several dozen tables for small or large groups. Families are the chief aim at Conestoga Ranch, but the experience manages to feel both refined and casual at the same time. White tablecloths, a solid beer menu (Lagunitas IPA!!), multiple wine options and attentive servers made us quickly forget we were camping. Glamping really is the way forward!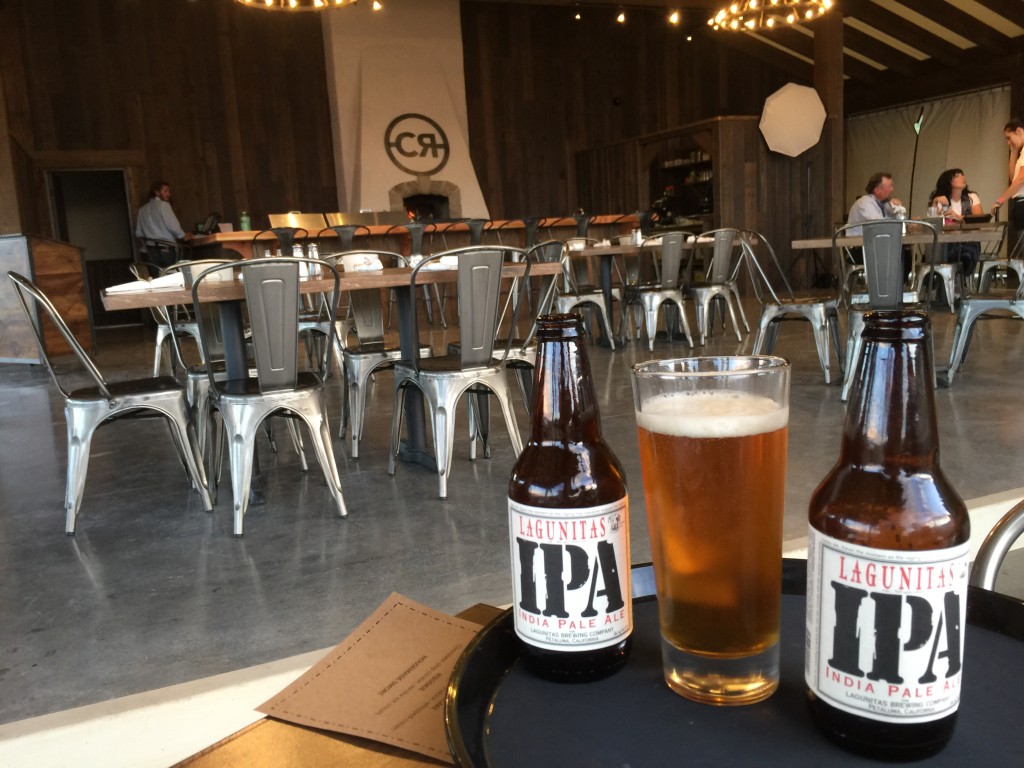 The kitchen begins to shine for lunch and dinner, with near identical menus (see below). The mac & cheese ($9.95) is a great entree that can easily double as an appetizer, which we opted to start with. Hey, the lake's cold water works up an appetite! Over sized pasta noodles were generously covered with melted cheddar, gouda and provolone – a far cry from the typical boxed offerings.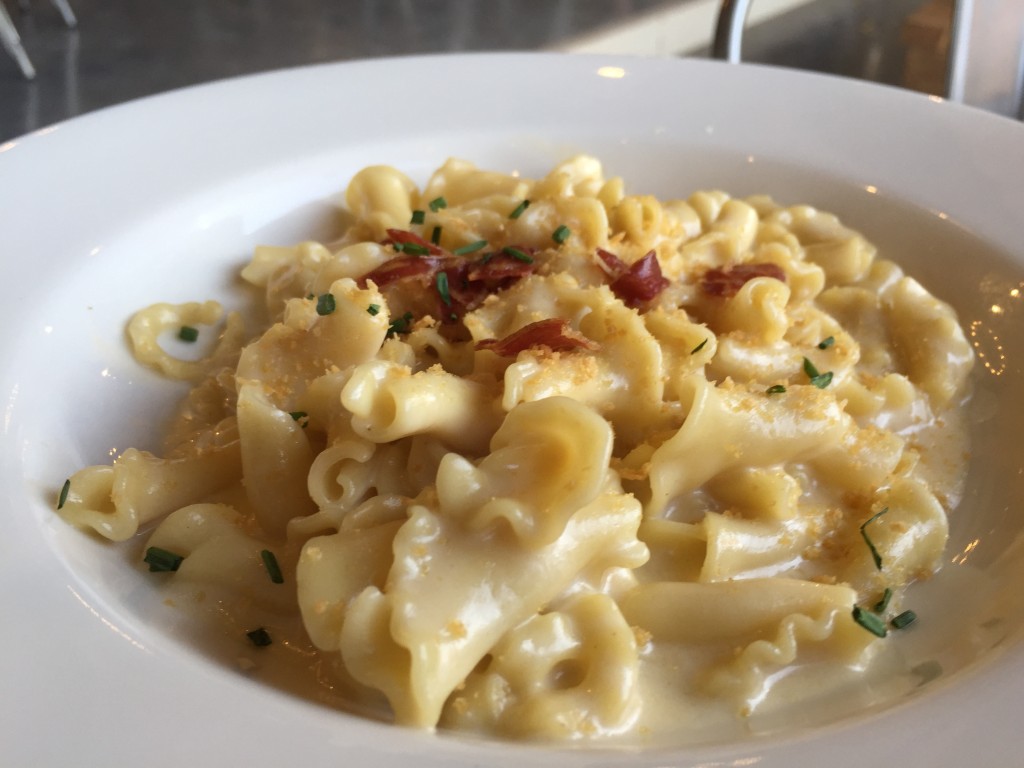 I'm typically reluctant (read: flat-out refuse) to order pizza at most places west of the George Washington Bridge (connecting NYC with New Jersey).  The large brick oven is the centerpiece of the restaurant which convinced me to give the Prosciutto & Arugula ($12.95) a try. The thin and charred crust, bubbly cheese topped with wilted greens and sprinkled parmesan disappeared as quickly as it appeared. I would order it again, which is the best compliment a true New Yorker can give a pizza. A three cheese, margherita and pepperoni pie options are also available ($9.95-11.95).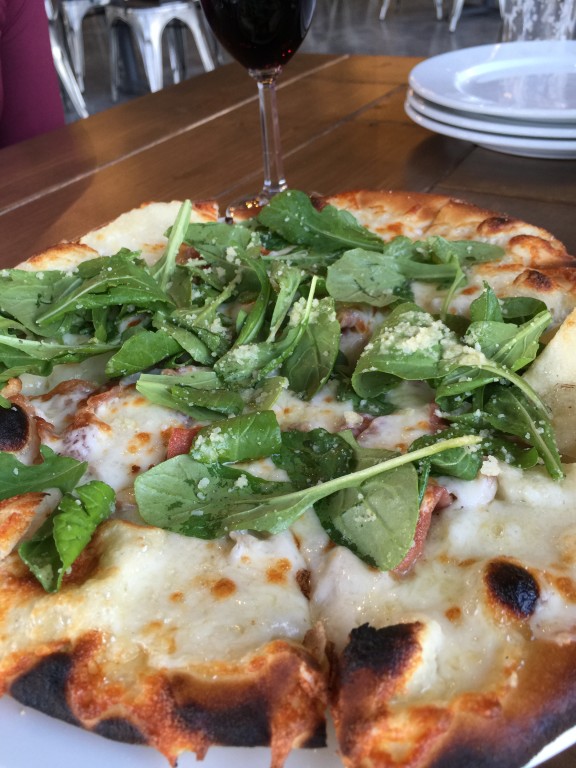 Three salads, a Caprese ($9.95), as well as a Garden ($7.95) and Hearts of Romaine ($7.95), are options for those looking to go healthy. While we didn't order any salads the plates I saw leaving the kitchen looked to be fresh and bright.
The Campfire burger ($14.95) was piled-high with a half-pound of Wagyu on a fresh bun holding together fresh lettuce, tomato and crispy smoked bacon. Served with fries on the side, camping never tasted better.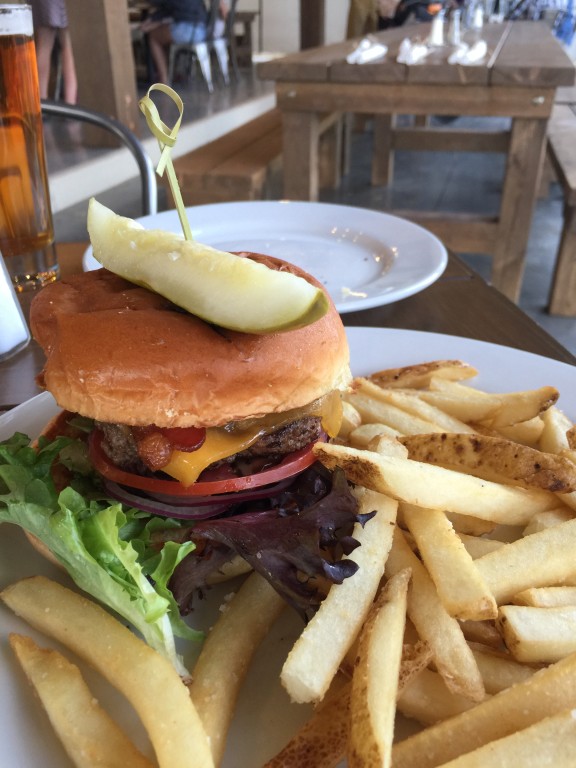 Each of the dishes we ordered are approachable options kids will enjoy, and the fresh ingredients and elegant presentations should appeal to adults as well. However, if any dish was a metaphor for the Conestoga Ranch experience, it's the S'mores. A campfire favorite is "glamped-up" with a cast iron presentation baked to gooey perfection in the oven. Our fingers still got sticky, of course!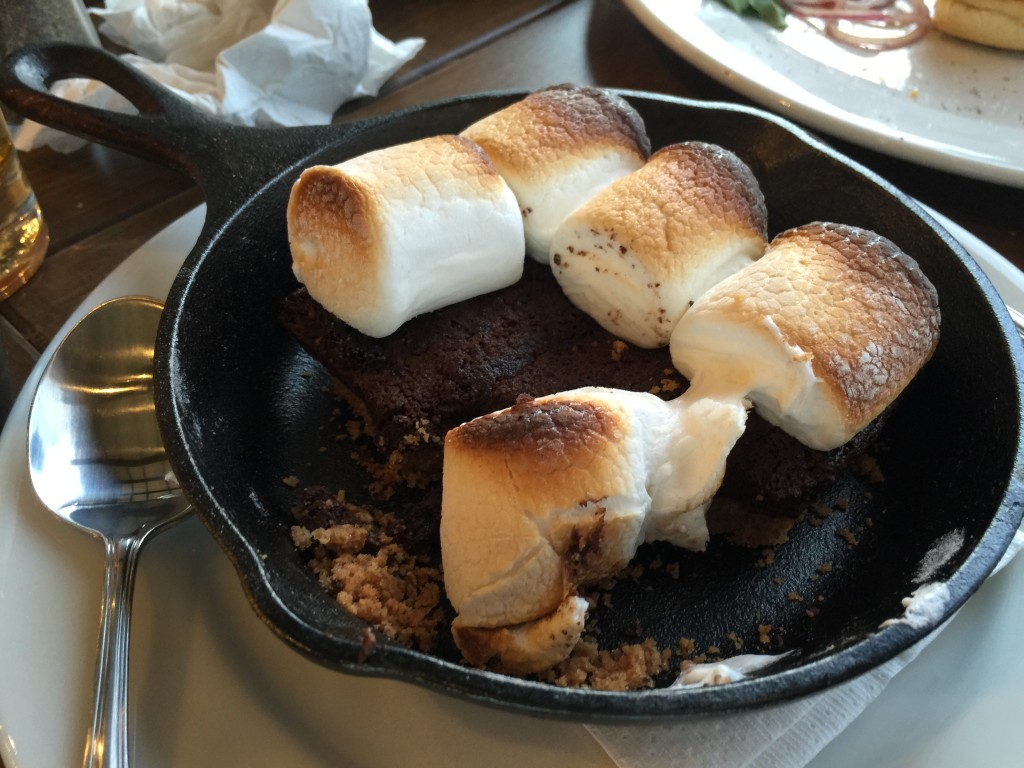 There are several gourmet options on the menu that I'm looking forward to trying next visit: Shrimp Basil Pesto Pasta, Ballard Farms Pork Chops, Steak Frites and a Wood Roasted Half Chicken ($14.95-$24.95).
Bottom line:
Minus the scenery and aforementioned Garden City is wholly forgettable, and most dining options lack imagination, service and quality. The best bets I've found on previous trips were greasy burger and fries at one of the 50's style drive-in's and shacks. I'm all for a slice of Americana in my summer vacation diet as much as the next person once or twice, but no more than that. Campfire Grill is a welcome addition to the dining "scene" in the Bear Lake area. Convenient and affordable, these meals are best enjoyed staying as a guest on the ranch, but is open to the public as well.