Expressing the art of dance in painting is among the most difficult challenges artists attempt. Many know of Edgar Degas, who practically lived at the Paris Opera in the 1870s, watching ballet rehearsals and performances, often from backstage, so that his paintings would be as true to representing the intensity of movement and focus of the dancers. From the 1880s, John Singer Sargent's El Jaleo portrays a Spanish Roma dancer with musicians and the theatrical flamboyance of the performance is captured with large shadows and a strong light effect. Leonor Fini, a surrealist painter from Argentina during the middle 20th century, was hired by Paris Opera to design a George Balanchine ballet, and the muscular figures of dancers were accentuated by her skilled use of pure lines. More recently, Trisha Brown has combined painting with performance art, by using her body to create the artworks.
In Salt Lake City, Karen Horne has translated her distinctive style of creating visual effects with colors, light and shadows into a continuously expanding series of paintings for an exhibition that she calls Ballet to Tango – Exploring The Art of Dance®. Horne, a lifelong devotee of ballet and a practitioner of classic ballroom and elegant dance styles, has created paintings – in pastel and oil media – that capture numerous dance settings. They include the Ballet West Academy, University of Utah's ballet program, Tablado Flamenco, Ballroom Utah, Tango West and swing.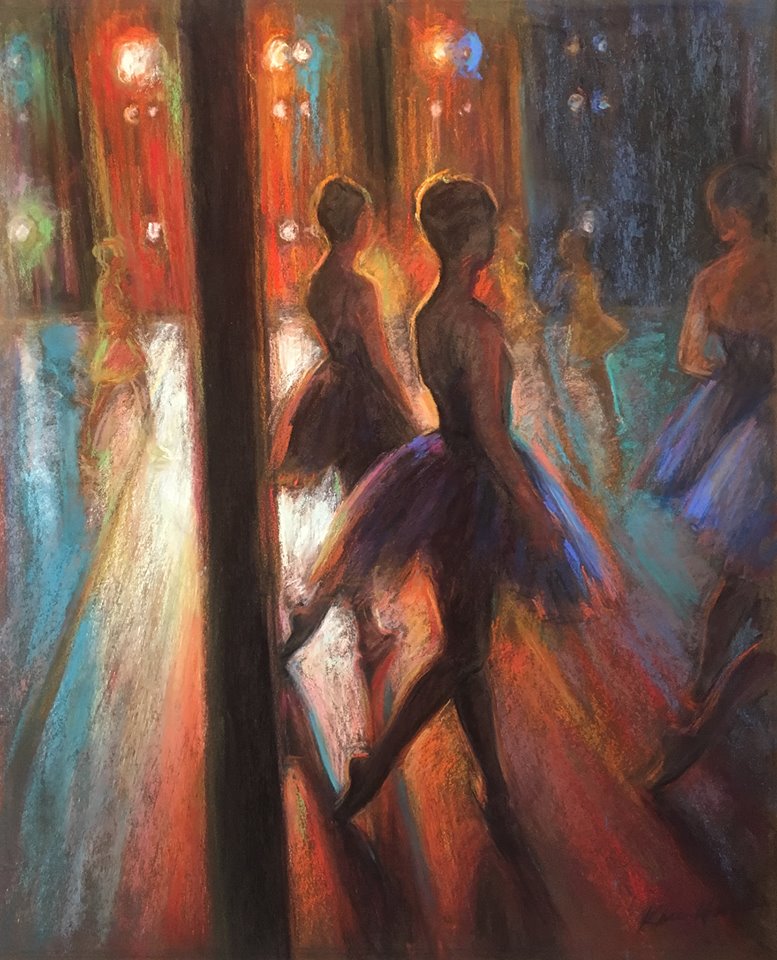 Her paintings reflect a confident and extensive command of dance movement and the atmosphere of the setting, whether it is in a classical ballet performance or rehearsal or in a ballroom or public venue. A key secondary thematic element in her work comes in the costumes and attire represented in the dance moment.
In an interview with The Utah Review, Horne says even her earliest memories were her fascination with dance along with costumes and accessories, including shoes and stockings. Dance also found its way into earlier generations of her family. Recently, on Facebook, Horne posted details about her father (Robert Horne), who studied ballet for a couple of years in the 1940s with William Christensen (1902-2001), the founder of Ballet West as well as San Francisco Ballet. The ballet training helped him as a youngster, when he was recovering from an accident injury and had to wear a cast and use crutches for a long time.Later, after winning a state wrestling title in high school, her father also studied ballroom dance at the University of Utah (before continuing his education on way to becoming an orthopedic and hand surgeon).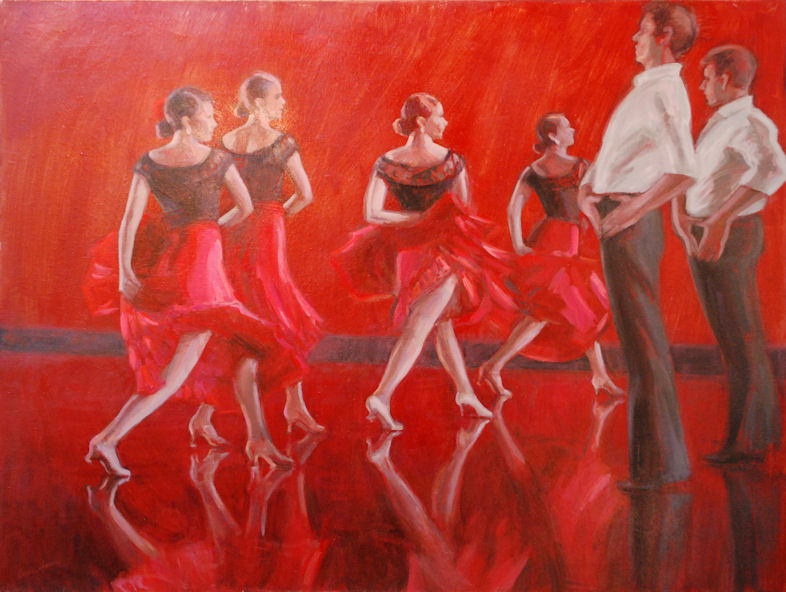 Horne studied ballet during her childhood and still knows all of the fundamental steps and positions by heart. More recently, she looks forward to events such as a Viennese waltz ball with "all the gorgeous gowns and white-tie tuxedos." Just recently,she and her husband attended The San Francisco Waltzing Society's 61st annual Autumn Gala and Viennese Waltzing Ball, where they waltzed and did other classics including the tango and foxtrot.
This has prepared Horne for capturing specific dance traditions in their most iconic environments. In paintings either of young ballet school dancers waiting for their stage cues or in the fully absorbed performing moment of a professional Flamenco dancer or a couple in an intimate embrace while dancing the tango, one can trace how Horne's attention to the dancer's costume and attire dictate the defining colors, lighting effects and shadows of mood. There are subtle suggestions of the sashay of an evening gown, the symmetrical spread of a ballet tutu, and the bravura and flirty swish of skirts in Flamenco.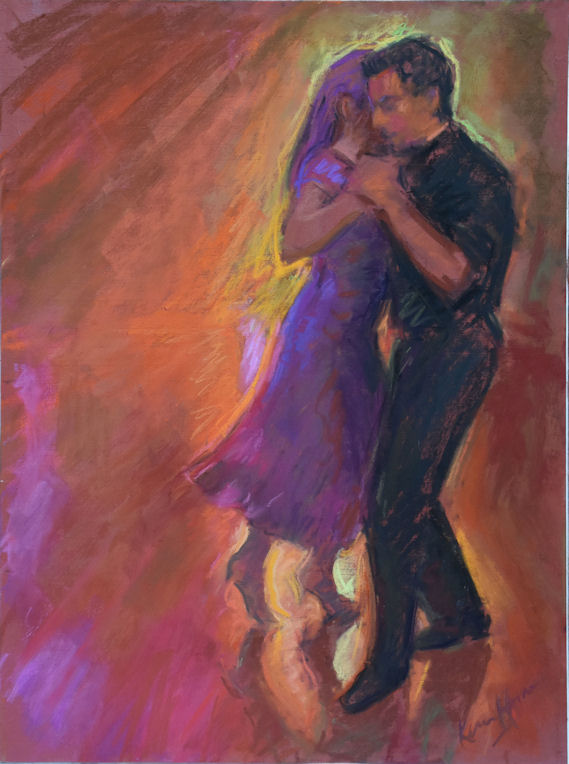 Horne does not choreograph her work or stage a painting. She snaps numerous images with a camera to help her set the scenic mood for a painting. This is the essential preliminary step before she decides how to express the full depth and value of shadows, which are integrated into the objects and figures represented in the painting.
A good number of her paintings are rendered in pastel – a semi-transparent medium she believes is widely misunderstood. Degas used pastel extensively to create finished work. Many often mistake pastel as colored chalk but it really is pure pigment, the same used to produce all fine art paints, as she notes in a handout that she gives to visitors at her gallery. A significant advantage is the artist can create in a spontaneous approach, as pastels do not need time to dry, according to the Pastel Society of America.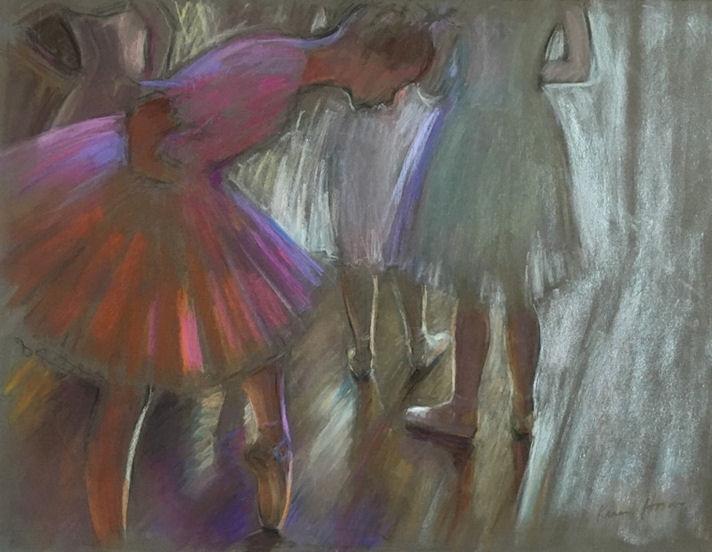 And, it is with pastel where artists can maximize the exquisite transparencies of shadows. Horne's dance paintings also are classic examples of technique in how lights of warm or cool colors cast shadows in various depths and textures. Examine one of Horne's dance paintings long enough and note the edges around shadows and suggested halos of complementary color along them, which enrich and deepen the overall visual sensation of the dance scene.
Horne, who was born in New York City and raised in California and Utah, comes from a family with deep roots in the Utah art scene. Her great-grandmother Alice Merrill Horne founded the Utah Arts Council in 1899 and was one of the greatest champions of local and public art in Utah's history. Her mother, Phyllis Horne, is well known for her landscape paintings. Horne earned college degrees at Yale University and at Indiana University before heading back to New York City where she worked on paintings of many scenes of urban and street activity, along with working at the famous Frick Collection. In 1996, she and her husband returned to Salt Lake City and seven years later they opened the Horne Fine Art Gallery, just minutes away from downtown.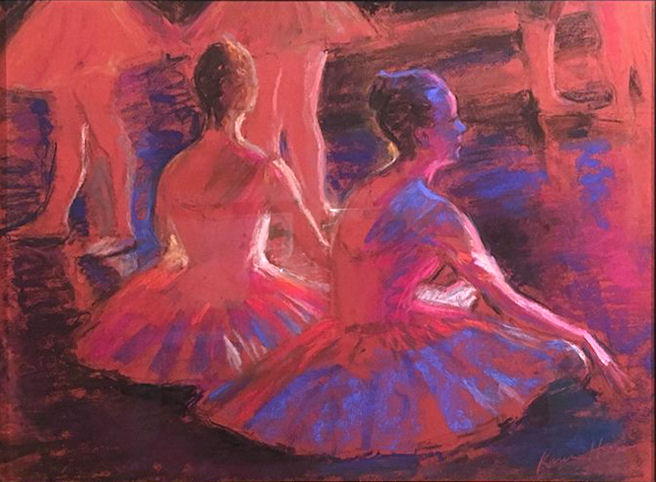 Ballet West commissioned Horne to create a dance cover to commemorate the diamond anniversary (60th year) of the company's tradition of presenting the Nutcracker. One of the series paintings — Radiant Repose, a pastel featuring dancers of the Ballet West Academy – is being sold with proceeds going to the Ballet West Nutcracker Costume Campaign. This donation will help cover the costs of the new costume for Mother Buffoon, one of the most popular characters in the annual performance of this classic holiday season ballet.
The Art of Dance series exhibition continues at her gallery through Dec. 23, with receptions scheduled for Nov. 17 and Dec. 1, beginning at 6 p.m. For more information, see Horne Fine Art Gallery's website.