The Utah Museum of Contemporary Art (UMOCA)'s Artist-in-Residence program (A-I-R) has recently produced a fascinating string of exhibitions by artists who are pushing out of the conventional boundaries of discipline, medium and display forms. Mitsu Salmon is continuing this emerging trend as the program's first performance artist with Somatic Tracing, which will continue through June 4 in the A-I-R Space.
Salmon works from the premises of two postwar Japanese creative movements — Gutai (which translates to concreteness) and Butoh (also known as ankoku butoh, which translates as the 'dance of total darkness').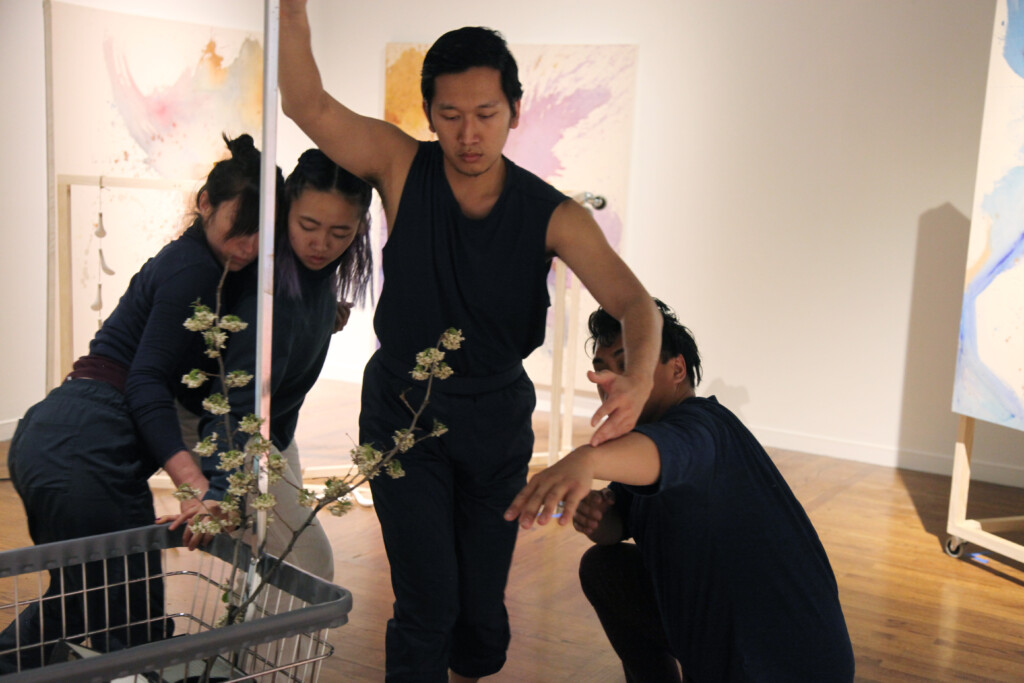 In Gutai, artists create their works by using their body movement in direct contact with materials that can include paint, clay, tar, soil, water and chemicals. Salmon, who was recently named one of six Utah Performing Art Fellows by the Utah Division of Arts and Museums (which also named six visual arts fellows), created a series of canvases, in part using paints derived from brown and yellow pigments found in the soil she collected from abandoned railroad track lines in Utah. As Salmon explains, water also was used to cleanse the paintings, which is integral to the exhibition's theme.
The historical theme at the center of Salmon's show points to the recently resurrected chronicles of Asian labor in the U.S., which was first responsible for the rapid western expansion of transcontinental railroad lines as the country grew during the 19th century. But, Salmon also incorporates the stories of her own family, including that of the laundromat her grandparents operated. For instance, in 1870, one-fourth of California's workforce comprised Chinese immigrant laborers but this did not neutralize the intense racism and discrimination that immigrants faced. This culminated in 1882 with the Chinese Exclusion Act, the only law enacted in U.S. history that banned a particular country for immigration purposes. Meanwhile, Japanese, Korean, Filipino and other Asian ethnic immigrants who made up for the decline in the numbers of Chinese immigrants also would experience similar acts of racism and discrimination.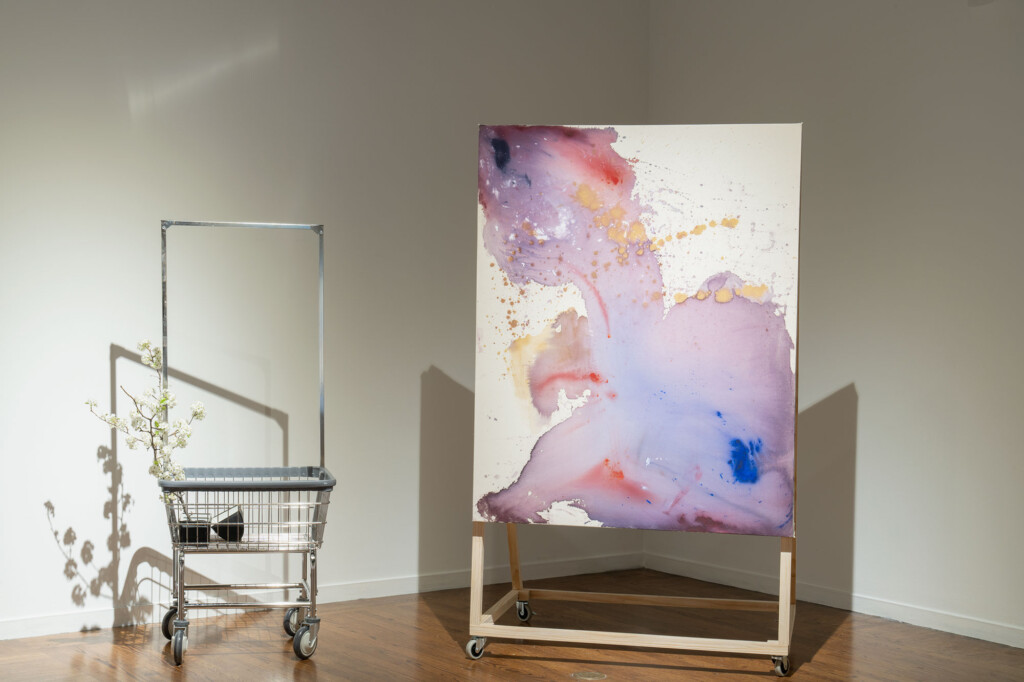 On its own, Salmon's gallery show of paintings primes the viewer for these considerations. The specific placement of works in the gallery space serves a strategic purpose for the dance movement performance, as evoked by the Butoh aesthetic technique. Some paintings are hung on the walls but are placed lower than usual, which compel a more direct interaction from the gallery viewer. Two paintings are movable on wheels. There also is a cart just like one might find in a laundromat. There are strings of soup spoons one would find in an Asian restaurant. There is soil collected from abandoned railroad lines strewn on a platform. Working with Kikù Hibino, Salmon has designed sound loops by tapping on old railroad tracks that are layered with synthesized effects as well as recorded vocals.
When Salmon and four Asian American dance artists (Hannah Huang, Jonathan Kim, Joshua Mora and Kellie St. Pierre) begin the performance in the gallery space, the holistic visual experience immediately is clarified and the show evinces an elucidating cohesion. The dance performance highlights the unique character of Butoh. It is a deliberately slow yet organic procession of excruciatingly determined movement that parallels the stages of acknowledging, comprehending, accepting, reclaiming, affirming and healing a historical legacy that should never again be sanitized nor forgotten.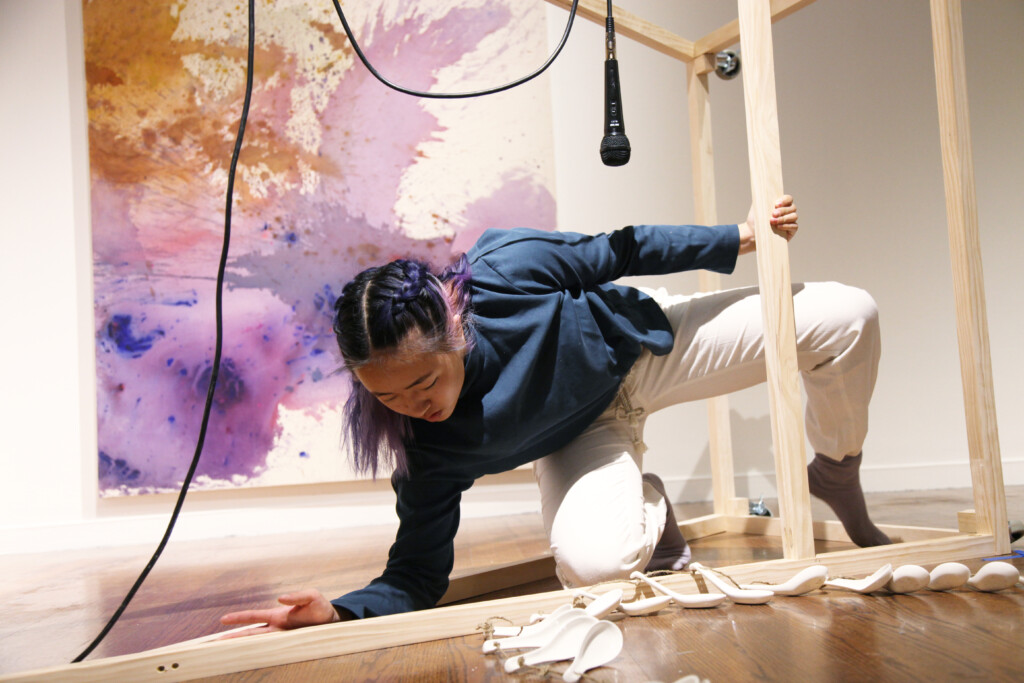 Eventually, the dance artists move from the gallery space into the larger space of UMOCA's current main exhibition, Our Wake Up Call For Freedoms. That exhibition title also springs from the call to continue the spirit of an earlier movement in U.S. history. Wide Awakes was a 19th century antebellum youth movement that used art, song, and public rallies to push for the abolition of slavery. Salmon's ingenious performance art show gracefully integrates the historical chronicle of Asian American labor into that larger exhibition's fabric.
Each performance is intended to be different, as the dance artists work autonomously and collectively with how they identify and respond to Salmon's work and the space in which it is presented. Near the end of the performance, various dance artists offer their own spoken text and recollections, as based on Salmon's theme. There also will be performances on May 21 at 4 p.m. and on June 4 at 3 p.m. The May 21 performance also will bring together members of the Asian and Asian American communities in Utah.
For more information, see the UMOCA website.