There is no doubt that Utah's population, especially within the Salt Lake City metropolitan area, is becoming more diverse and cosmopolitan. In the 2020 census, one out of every three individuals in Salt Lake County identified their ethnicity as other than white. And, a large majority of the state's current population of more than 60,000 refugees representing countries including Somalia, the Democratic Republic of Congo, Syria, Iraq, Vietnam, the republics of the former Soviet Union and Burma live in the SLC metro area. In some of the city's schools, one can find more than 30 languages spoken.
As evidence of that growing cosmopolitanism, a panoply of more than 90 cultural groups offering music, dance, arts and crafts, workshops and examples of their culinary traditions will be on hand for this year's Living Traditions Festival. The event, which returns to its classic three-day format at the downtown civic plaza encompassing Washington and Library Square, will take place Friday through Sunday, May 20-22.
Now well into its fourth decade, the festival has become a prized springboard for local businesses, nonprofits, and community groups to gain visibility as well as use proceeds they earn from the festival to invest in their programming, classes, workshops, performances and their own festivals. There will be artisans displaying examples of their crafts, which will be available for sale.
Performing arts groups will represent many countries, including Chile, Mexico, Polynesian nations, Ireland, Bolivia, Greece, Japan, Cambodia, China, Philippines, Scandinavian lands, Iran, Nepal, Brazil, Hopi Nation, Bengali, Peruvian, Utah Indigenous Tribes, Venezuela and others.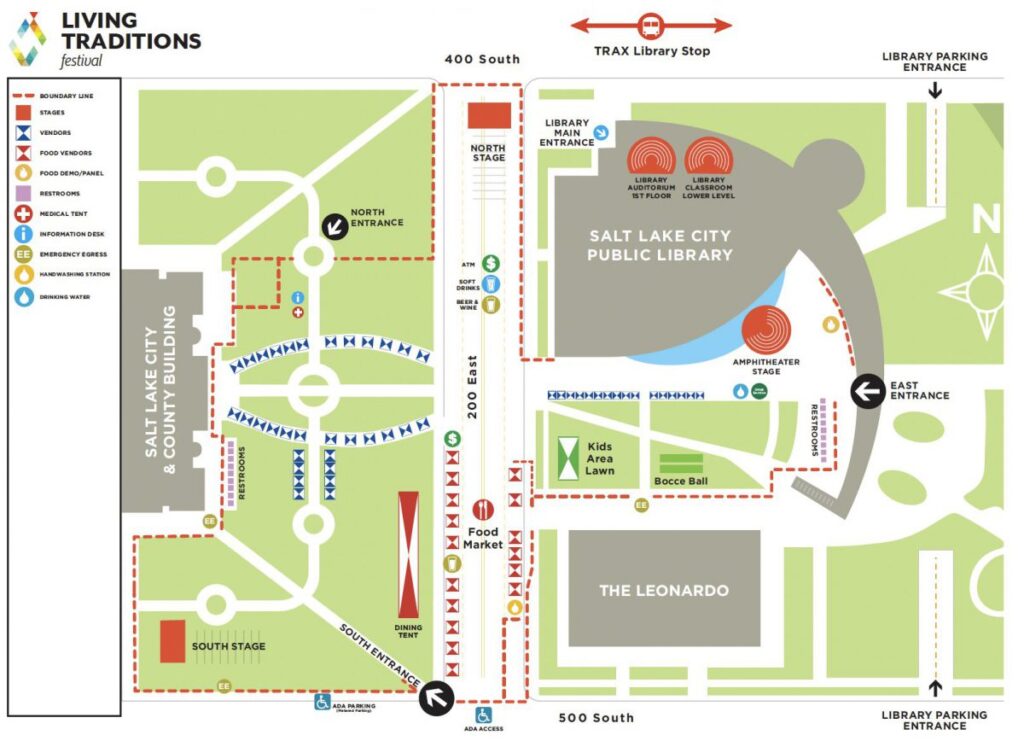 There also will be several workshops, with pre-registration required, which will be held in the rooms on the lower level of the City Library. They include Mexican paper crafts featuring flowers, candy-filled papier-mâché piñatas, confetti-filled cascarones, and design-filled banners (banderole). The workshop will be led by Frances Rogers, who learned the craft from her aunt and now has passed down the tradition to her daughter and granddaughter (Living Traditions Workshop: Mexican Paper Flowers Tickets, Sat, May 21, 2022 at 12:30 PM | Eventbrite). From the local Ukrainian community, Kateryna Zelensky will provide materials for participants to construct and decorate their own traditional fabric doll (Living Traditions Workshop: Ukrainian Dolls Tickets, Sat, May 21, 2022 at 1:30 PM | Eventbrite).

The folk art of Vejigante masks from Puerto Rico will be the focus of a workshop led by Alli Arocho, an artist and folklorist from Borikén (Puerto Rico). Arocho works with acrylic paints, and uses coconuts and clay to construct masks. The Vegigante culture predates the colonial period and Arocho has augmented her folk art with the study of Bomba music and dance (Living Traditions Workshop: Puerto Rican Vejigante Masks Tickets, Sun, May 22, 2022 at 12:30 PM | Eventbrite).
There also will be a two-part workshop featuring capoeira instruction in the first hour and Brazilian dance fusion in the second hour. Coming from São Paulo, Carla Locatelli, also known as Mandingueira, and who leads the Bora Vadiar Collective, will lead the capoeira portion of the workshop. Alexia Medeiros will lead the dance fusion portion of the workshop, which will include samba, axé, samba reggae, samba rock and other dance forms. No experience is necessary but participants should be dressed for the invirograting physical movement sessions (Living Traditions Workshop: Capoeira & Brazilian Dance Fusion Tickets, Sat, May 21, 2022 at 2:30 PM | Eventbrite).
Two new elements are film and video offerings. On Friday at 6 p.m., in the City Library theater auditorium, the festival's 35-year celebration video will premiere with some additional Living Legacy series videos. The second is a partnership with the Sundance Institute's Local Lens initiative.
Four short films that were screened at the Sundance Film Festival either in 2020 or 2021 will be presented in an hour-long program in the City Library's theater auditorium on Saturday and Sunday at 4 p.m. They include Precious Hair & Beauty (2021), directed by Nigerian-born filmmaker John Ogunmuyiwa, which offers a lens onto the urban landscape through the window of an African hair salon. Bereka (2020) is a family history piece, shot on Super 8 film in Los Angeles and Gondar, Ethiopia, featuring the Ethiopian coffee ceremony. The film was directed by Nesanet Teshager Abegaze, co-founder of Azla Ethiopian Eatery, and Mamush Studios. This Is the Way We Rise (2021), directed by Ciara Leina`ala Lacy, follows Native Hawai`ian slam poet Jamaica Heolimeleikalani Osorio, whose work is focused on protecting sacred sites on the top of Maunakea, Hawai`i. A short from Canada, Now Is The Time (2020), directed by Christopher Auchter, retraces the story celebrating the 50th anniversary of the first new totem pole raising on British Columbia's Haida Gwaii in almost a century,
The Living Traditions Festival has led to many new international arts festivals dedicated to a specific cultural heritage. For instance, Festa Italiana now has expanded to a weekend event held in September at The Gateway, with excellent attendance. The International Rescue Committee (IRC) has been a major facilitator as well with its micro enterprise grant programs, which helps members of the refugee community start their own businesses and groups celebrating their culinary and cultural heritage. With New Roots, IRC has facilitated farmers markets and the community supported agriculture weekly produce pick-up program. Finally, and of interest to festival visitors hoping to sample foods from many different culinary traditions, many food vendors received their start through IRC's Spice Kitchen Incubator program, which provides comprehensive assistance to low-to-moderate income entrepreneurs working to start, grow or expand their small food businesses.
There will be 17 food vendors at the festival. They represent culinary traditions from European nations including Greece, Italy, Serbia and the Basque Country in northern Spain to Mexico, Argentina, Colombia, Peru, Venezuela and Indigenous cultures. Others include Sierra Leone, Ghana and The Democratic Republic of the Congo, as well as Tonga, Oceania, Nepal, Pakistan, Tibet and Vietnam.
The festival will be free and open to the public on Friday (May 20), 5 p.m. to 10 p.m.; Saturday, noon to 10 p.m., and Sunday, noon to 7 p.m. For more information, see the Living Traditions website.