The Head and The Heart concert to close out NOVA Chamber Music Series' 41st season was a kinetic, galvanizing and sensational barn-burner.
The concert was a celebration from the first moments of J. S. Bach's Chaconne, originally written for solo violin, in an arrangement for cello quartet by Laszlo Varga (1924-2014). Varga, a Hungarian émigré who became principal cellist for the New York Philharmonic in the 1950s, often talked about being a "decomposer," not a composer; and "the lone arranger."
His standard for arranging a particular work for four cellists was, simply, that he loved the piece. His Chaconne arrangement is sensitive to each cellist's unique sound, style and technical virtuosity. And, he distributed the best bits to each quartet member.
For NOVA, the quartet of Utah Symphony cellists (Matthew Johnson, Andrew Larson, Anne Lee and Louis Phillipe Robillard) raised the roof with a passionate performance that exudes all the complexities of Bach's original music. It was a meaty, muscular, stirring and sexy reading. And, that glorious last note resonated in Libby Gardner Hall. The only regret was that the audience could have waited a moment or two longer to let the full effect of that incredible eargasm seep into our memories.
For the last concert of her season as NOVA's music director, Madeline Adkins, Utah Symphony concertmaster, assembled a veritable all-star lineup. Leading the way for György Ligeti's (1923-2006) Chamber Concerto, a 1970 work for 13 players, was conductor Thierry Fischer, Utah Symphony's music director.
Fifty years ago, music critics at many major newspapers and magazines around the country disagreed about the longevity of new music composed at the time. Today, Ligeti's Chamber Concerto stands as an outstanding vindication. Indeed, Ligeti's music continues to rise in reputation and respect.
The performance was so delightful that, at least from the audience's perspective, the music was absorbed so naturally to nearly forget just how damn complex it really is. It was perhaps the most technically challenging work for musicians featured on any NOVA chamber music concert this season – nevertheless, a debatable point given performances of works by Andrew Norman earlier in the season or the Unsuk Chin piece that followed the Chamber Concerto in this concert.
Ligeti's musical language, which relies heavily on pitch to achieve multiple layers of texture, blends clusters and pure intervals so deftly as to be welcomed by listeners. The conventional concept of meter almost is nonexistent except for a few instances. For those who listen closely, the music never sounds disorganized, especially in the first three movements which are propelled by canon-like lines. The fourth movement blends everything preceding it nicely.
The musicians for the NOVA performance elucidated all of those subtle changes, as they were continuously contrasted and blended anew. It was a dream team, of sorts: Adkins and Laura Ha on violin; Elizabeth Beilman on viola; Anne Lee on cello; Jenn Tenbroek on bass; Mercedes Smith on flute and piccolo; James Hall on oboe, oboe d'amore and English horn; Nicholas Morrison on clarinet; Daron Bradford on clarinet and bass clarinet; Edmund Rollett on horn; Mark Davidson on trombone; Jason Hardink (NOVA's artistic director emeritus) and Kimi Kawashima on piano, celeste, harpsichord and Hammond organ. All of the musicians came from the Utah Symphony with the exception of Bradford (Brigham Young University), Morrison (Utah State University) and Kawashima (Westminster College).
Just as irrepressible in performance quality was Unsuk Chin's (1961-) Fantaisie mécanique (1994). In some respects, one easily can discern Ligeti's mentoring impact on Chin, who moved to Germany in the mid-1980s to study with him, as mentioned previously in The Utah Review.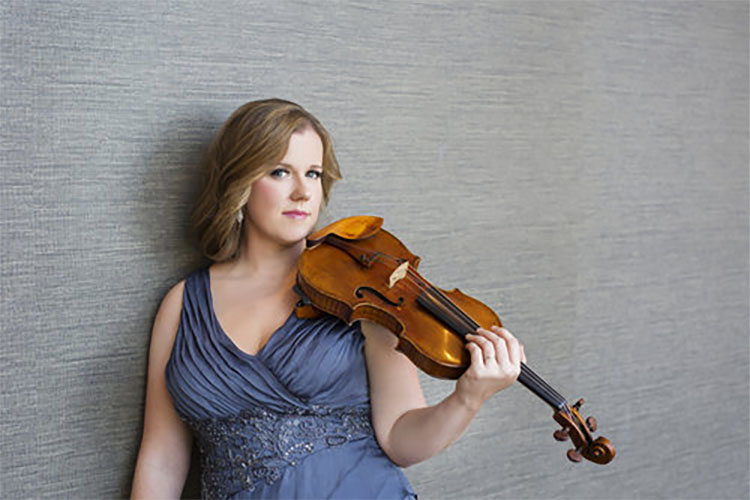 However, Chin is snappier and razor-sharp in articulating her musical ideas in this raucously exuberant work and the ensemble gave a skyrocketing performance. No surprise given the lineup for this performance: Tage Larsen on trumpet (from Chicago Symphony with a legendary reputation for having one of the world's finest trumpet sections); Davidson on trombone (Utah Symphony principal); Hardink on piano, and Eric Hopkins (Utah Symphony acting principal) and Michael Pape on percussion (Utah Symphony acting associate principal). Icing the cake was Hopkins' lithophone, similar to a xylophone but with rock bars, which he built from scratch for the performance.
The work is a wonderful hybrid, as Chin blends her interpretation of Ligeti's cagey, sometimes mysterious style with her skilled handling of polyrhythms, timbres and textures that alternate so well between improvisation and an underlying sense of structure. It's a fun exploration with the trombone always teasing and tempting the fellow musicians to bend and move in a different direction but managing never to let it lapse into disorganization.
Closing the concert and season was Adkins' personal valedictory as NOVA music director, as she led Felix Mendelssohn's (1809-1847) Octet, op. 20. The performance percolated with sharp, incisive tempos along with crisp, sparkling articulation and a rarefied youthful sense of soul. Adkins led the way, as all eight musicians kept their sights high and clear. The work bubbled continuously as miniature choirs within the larger ensemble chatted like loving friends, tossing gossamer phrases playfully across the performing space. Joining Adkins on violin were Laura Ha, Hannah Linz and David Porter; on viola, Elizabeth Beilman and Joel Gibbs, and on cello, Matthew Johnson and Andrew Larson.
NOVA's 42nd season, with the Fry Street Quartet as the new music directors, will open Sept. 15 with the Night Music concert, the first of its Libby Gardner Series. Season subscriptions for NOVA, including the Libby Gardner Series and Gallery Series, are now available at the website.