Now that all four new short plays from Plan-B Theatre's Radio Slam have premiered in KUAA (99.9 FM) broadcasts, the company is making available recordings of them free and open to the public via its new mobile app, which can be downloaded here. Each play runs approximately 10 minutes.
The project was coordinated with KUAA (99.9 FM) and the Utah Arts Alliance. The plays are geared toward audiences of ages 12 and up. The company also has created a concise study guide about writing and producing podcasts of short plays as an instructional resource for teachers and students. Later, Plan-B will share work created by students inspired by Radio Slam. Also, interested individuals can contact Sharah Meservy, the company's educational coordinator, to obtain the scripts of the Radio Slam plays for those wishing to create their own performances.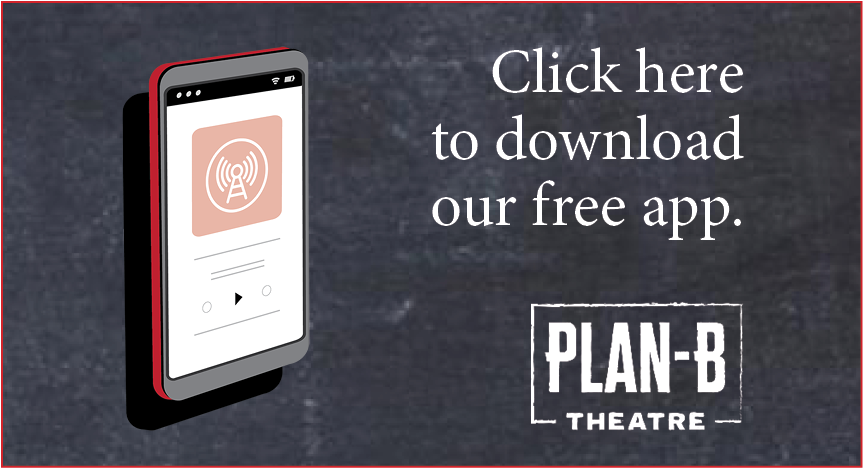 The Utah Review offers reviews of all four plays:
RADIO SLAM PLAYS
Elaine Jarvik, My Eyes Are Closed So Don't Text Me: Creative team: Morag Shepherd, director; Kallie Filanda, actor; Jennifer Jackson, sound designer.
Stranded on a Ferris wheel at an amusement park, Syd is down to eight percent battery life on her phone. As she frantically tries to text and call her friends, Syd goes into full drama mode. She wonders if she'll die of thirst. First, she is 100 feet off the ground, and then when finally her friend calls her back, she says, "I'm 500 feet off the ground in a folding chair or whatever." (For the record: the tallest Ferris wheel is at the High Roller in Las Vegas and clocks in at 550 feet but Syd is definitely not in Sin City.) And, poor Syd says her anxiety is being exacerbated by her twin phobias: claustrophobia and acrophobia.
Kallie Filanda sounds absolutely convincing as the panicked Syd in Elaine Jarvik's My Eyes Are Closed So Don't Text Me. The bells and whistles in Jennifer Jackson's sound design stimulate the listener's imagination for visualizing what it could be like to be stranded on a Ferris wheel far above the park plaza. In ten minutes, the play packs a lot of palpable nervous energy.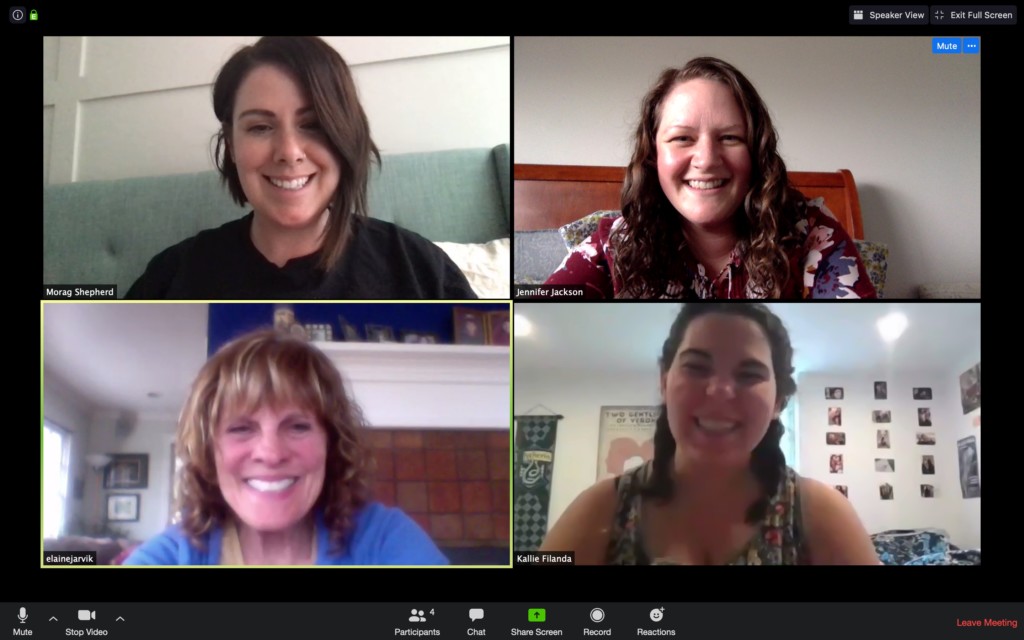 Jarvik accomplishes her personal challenge of generating a generously credible sense of panic in thinking about her story that can be amplified through sounds rather than visual directions and cues on a performing stage. Meanwhile, director Morag Shepherd and Filanda respond with the right energy.
Likely, there are many people like Syd who have been panicking and feeling anxious during the COVID-19 pandemic. Isolation can heighten one's preexisting fears and worries about trying to find social connection during a time when physical distancing measures are the most socially responsible thing to do. For many Utahns, the sense of panic also has been pitched higher by weeks of aftershocks following the Magna earthquake of 5.7 magnitude in mid-March, which occurred just as the impact of stay-at-home orders during the pandemic was being felt. Jarvik's short play smartly frames timely concerns in a story that also transcends into a timeless, ubiquitously relevant rendering.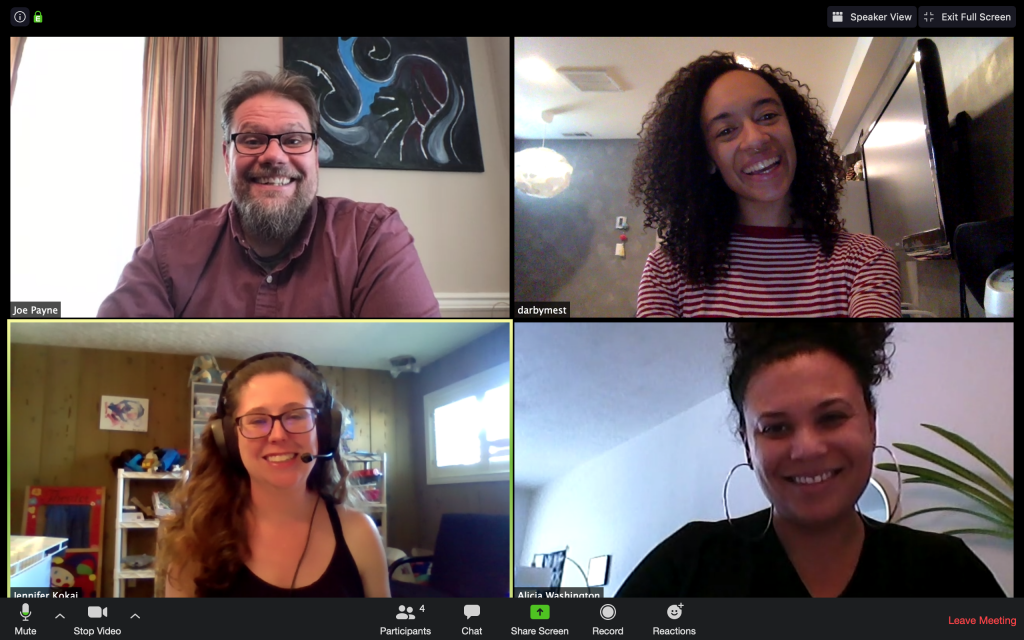 Jenny Kokai, Reacting to Myself in an Apocalypse!!!! (Not Clickbait) (Gone Wrong): Creative team: Alicia Washington, director; Darby Mest, actor; Joe Payne, sound designer.
Even wildly successful social media stars (imagine pony-tailed JoJo Siwa, 16, selling more than 40 million hair bows around the world) who have made fortunes on platforms such as YouTube, Instagram and TikTok are not pandemic proof. As the world has been disrupted, many social media stars have struggled to recast their content as sensitized toward current events and circumstances.
Dark comedy has been a successful part of the signature Radio Hour series in the hands of playwright Matthew Ivan Bennett, And, for Radio Slam, Jenny Kokai offers her own outstanding take on this approach with Reacting to Myself in an Apocalypse!!!! (Not Clickbait) (Gone Wrong), directed by Alicia Washington.
With devastatingly accurate tone and pitch, actor Darby Mest channels the character of Lola, a teen social media star with her own annoying ditty as her theme and her fans known as the "Lolarmy." Determined to give the impression that all is normal at least from her vantage, Lola is preparing content but unlike everything else she has ever done, this one can only be audio.
Kokai's script frames the scene in an apocalyptic pandemic, even far more dire and dystopic than the actual crisis billions of humans currently are experiencing. Joe Payne's sound design rounds out the crescendo of surreal dread—the right accompaniment to poor Lola who is oblivious to the fact that her new normal is barren, frightening and largely devoid of human presence.
The diction and syntax are perfect, especially when Lola rattles off her five suggestions for dealing with the apocalypse. Kokai dials up Lola's utter lack of awareness for a good lesson that suits our actual pandemic circumstances. There has been a bit of a backlash against social media stars who do not get the point that in times like these, the better option for creating content underscores sounding authentic, tasteful and sensitively relevant. The feeling of being left alone can be a terrifying experience. The play reminds us of the wise opportunity to adapt accordingly and avoid sounding tone deaf like Lola.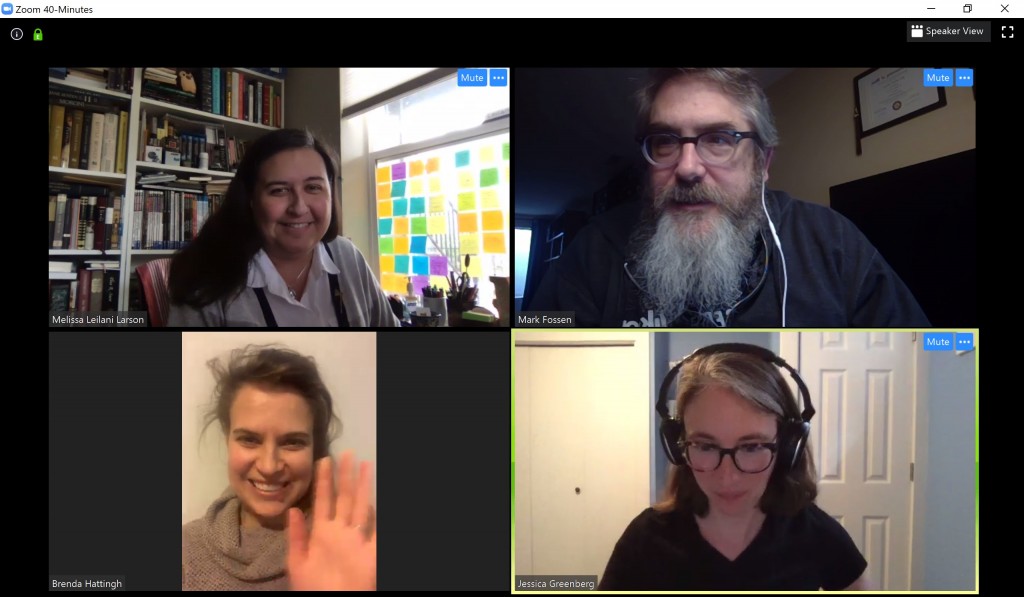 Melissa Leilani Larson, Little Karl: Creative team: Mark Fossen, director; Brenda Hattingh, actor, and Jess Greenberg, sound designer.
Little Karl is a master class of radio storytelling in the short form. Melissa Leilani Larson, as previously noted in The Utah Review, had written a short story several years ago, based on a true story involving her great-great-grandparents who were Mormon settlers and which had been retold for generations in her family. In its radio script format, directed by Mark Fossen, actor Brenda Hattingh narrates the story with impressive cadence along with vocal shifts in tone that foreshadow the original's literary elements, accompanied by the meticulously placed moments of sound design, as created by Jess Greenberg. Larson's translation to radio sustains the original short story's integrity but also reconfigures the subtleties to gather the full listening impact of radio drama. Meanwhile, Fossen, Hattingh and Greenberg collectively fulfill Larson's creative ambitions in her script.
While this is story based on 19th century Swedish immigrants who also were Mormon and had just settled with their two-year-old son, Karl, Larson sets up nuances that amplify the story's universal connections. Shortly after setting the scene, Hattingh the narrator says, " Andrew and Annie didn't speak a stick of English between them. It's a marvel that they accomplished what they did; some might even call it a miracle. It did not feel miraculous to Annie; life in a new place was rough and strange. But she and Andrew had each other, and little Karl; and they weren't afraid of work."
As demonstrated previously in her translation of Rabindranath Tagore's original Bengali drama The Post Office, Larson has a well-honed gift to frame her story with a profound sense of historical relevance and timelessness. The vicious antagonism, even demonization, that threatens Andrew and Annie also is being experienced by young immigrant families whose lives have been upended by separation, detention and isolation of loved ones. The true story behind Little Karl is as terrifying and unsettling as the scariest ghost story could ever be.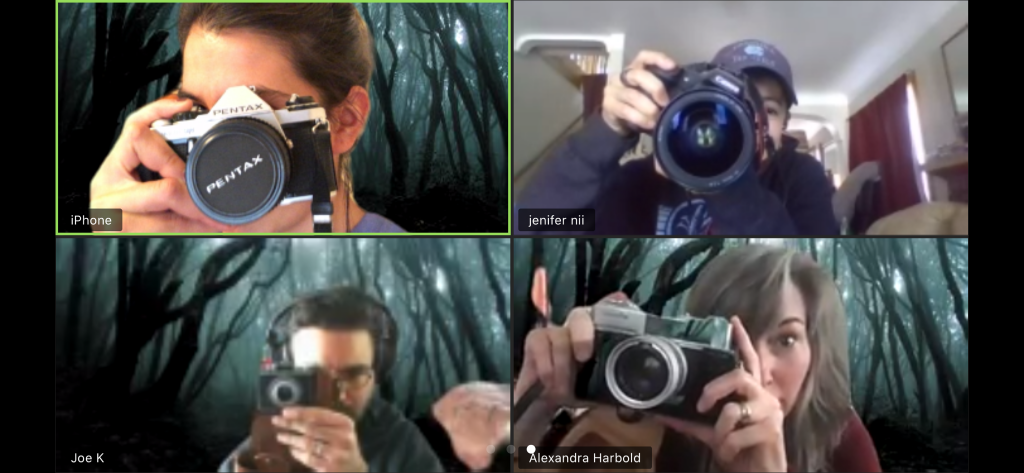 Jenifer Nii, Influencer: Creative team: Alexandra Harbold, director; Isabella Reeder, actor; Joe Killian, sound designer.
During the pandemic, social media platforms have become simultaneous curses and blessings. Without the benefits of interacting freely with people face to face and immersing ourselves in realities outside our confinement at home, many use social media to stay in touch during mandated isolation or as a reflex to feelings of intense boredom. And, those who often anoint themselves as influencers believe they have mastered the value of what they see as the essential currency of human interaction and communication.
Jenifer Nii's Influencer, directed by Alexandra Harbold, rings through with the same straightforward suspenseful action vibe of the classic science fiction television series The Outer Limits from the 1960s. Caramel, rendered with spot-on credibility by actor Isabella Reeder, is out to document her adventure as she sets out to discover those who truly are off the grid. "But this is the 21st Century, you know? This is who we ARE. It's how we bond and stay CONNECTED. As PEOPLE. And if you're nowhere, if you're just…nowhere? Am I NOT supposed to be suspicious? No thank you. Ghosts are ghosts for a reason, and the reasons are never good. Am I right?"
Meanwhile, Joe Killian's sound design caps the mood expertly, especially as Caramel, breathing harder as she runs, stumbles into thick foliage, with branches and twigs snapping and the sounds of a mysterious figure smacking her. Dark existential forces are at work here and Killian's contributions set the right mood.
One might ponder how anyone could endure the isolating impact of the pandemic without the benefit of social media. However, even before anyone had heard of COVID-19, a few have looked in the rear-view mirror during their lifetime travels and determined that they have had enough of the digital presence. Some welcome an anonymous existence without the need to heed the advice or suggestions of anyone proclaiming to be an influencer. In fact, the European Union has a process where people can earn the right to be forgotten by scrubbing their digital presence away completely.
Thus, Nii's deliciously creepy nightcap to Radio Slam reminds that being a ghost sometimes is not so bad.