Note: This is a two-part series about Plan-B Theatre's unconventional approach to holiday entertainment in two world premiere productions.
In the critically acclaimed box office success of the 2003 movie 'Bad Santa,' there were 300 profanities uttered, Santa is a small-time criminal and alcoholic, and the kid, as the late film critic Roger Ebert recalled, doesn't "redeem the loser with his sweetness and simplicity, but attaches himself like those leeches on Bogart in 'The African Queen'?"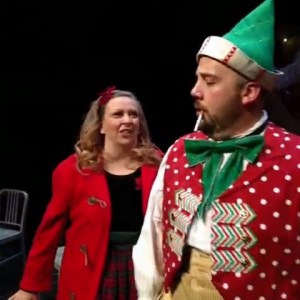 The award-winning, well-acted 1999 French drama-comedy 'La Bûche,' named after the classic French Noel treat and with the American title of 'Season's Beatings,' is scant in terms of holiday cheer. A woman's second husband dies five days before Christmas and her three daughters join her at the funeral for support. However, the sisters have their own contentious relationships with each other, as memories of disappointing Christmases flood back along with the sense of alienation because the women are part of an extended family with some Jewish roots who happen to live in a heavily Catholic country.
Who says misfits can't be mingled with the mistletoe? Or, more pointedly, as Canadian journalist Jeet Heer suggests, virtually every traditional Christmas television special is about "our attempt, often futile, to stave off the meaninglessness of existence." In his words, the theme of Rudolph the Red-Nosed Reindeer is: "Anyone who is different will be shunned and destroyed unless they accidentally demonstrate social utility."
Indeed, a pair of Plan-B Theatre's holiday season productions suggest Christmas entertainment can shed its cliched traditional ornaments and even confront directly the season's existential dread. First up is the ten-day run, starting Dec. 11, featuring one of playwright Julie Jensen's newest plays, 'Christmas with Misfits,' a collection of four fast-paced short stories, each of which challenge a conventional truth about the holiday. Opening on the day before 'Christmas with Misfits' closes will be Elaine Jarvik's 'Marry Christmas,' a celebratory docudrama heralding the first anniversary of the Kitchen decision which legalized same-sex marriage in Utah.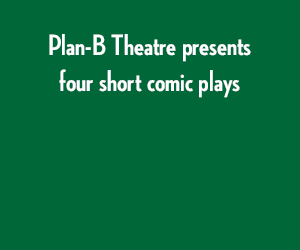 For most of its 24 years, Plan-B has been dark throughout the month of December but in the last two years, the company produced two critically successful holiday-themed episodes for its Radio Hour series different than traditional Christmas fare. Matthew Ivan Bennett adapted Sir Arthur Conan Doyle's Sherlock Holmes and The Blue Carbuncle in a faithful tribute to the only story of the Holmes series set at Christmas. Last year, Eric Samuelsen's original 'Fairyana' was a wickedly good story in the vein of the Bad Santa darker comedy genre about the cast for a children's television show gearing up for a holiday episode.
A gifted playwright who has had more work produced outside of Utah than any local writer, Jensen, who quickly confesses her disdain for the holiday, builds the stories around dismantling artificial truths about Christmas, which she says long ago was uncoupled from any meaningful religious significance. Jensen says the play is a sort of "coming out" about expressing displeasure about the holiday. And, at more than a few points in the various stories, audience members, too, might be wondering why they insist on having selective amnesia as another holiday season approaches, forgetting about the previous experiences of disappointed gift recipients, insensitive family members, chaotic parties and dinners, and the unfulfilled expectations of striving to have the perfect Christmas.
The first one to go is 'Christmas is a holiday about magic,' which Jensen slyly and tastefully dismantles in the opening piece titled 'The Girl and The Elf,' a story that goes against perhaps every imaginable parameter of what a traditional Christmas tale with this title would be like. A young girl, whose parents are away at a holiday party, is trying to hold onto the holiday magic at least one more year by being enchanted with her guest, a 49-year-old elf from the Macy's department store Santa display who happens to be small enough to sit comfortably in the children's chairs at the end of the coffee table.
She tells the elf, "That's about my favorite thing about you, how you know so many great things about Santa. And they're all true, so that means that Santa is also true." In the next breath, she announces that she has to pee, and asks him if he wants to join her. The elf wisely, of course, declines, even as the girl says, "Don't you think it's fun to pee together?" He responds, "I'm growing out of that, I think." The girl says without missing a beat, "I don't think I'll ever grow out of it," before switching subjects abruptly: "Do you know your nine times tables yet?"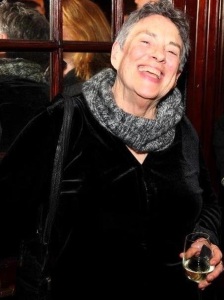 Despite the hint of creepiness here, there is something unexpectedly sensitive in this little story, which is funny in the most appropriate frame but also most definitely intended for adult audiences. The girl tells the elf her father is an alcoholic and that her mother is chiding her for not watching her weight. She is desperately lonely and somehow the elf is helping this little seven-year-old girl begin to make the transition into a lifetime of holidays that unfortunately will always fall short of magical expectations.
In 'Him and Her on Christmas Eve,' Jensen ties down the second truth: "Christmas is intended for traditional American children in traditional American families. If you're outside that group, Christmas is not for you. And you'll be either uncomfortable or invisible." The story takes place on Christmas Eve in the backseat of a car where two gay teens – a boy and a girl – decide to give sex to each other as a present. Both are nerds, friends since childhood and who match each other in appearance and attire. And, as we learn, both are attracted to people who likely have never noticed them seriously.
The gift, of course, is hardly magical for either of them. She admits that it was "not special enough for me to wanna do it again," even as she confesses that she liked the first part, "the horny part." He asks, "Well, I might do it again if you begged me." She answers that she would never beg him and he responds, "Not for anything?" She says, "Well maybe, if I was hit by a car and I'd get hit by another car if my body wasn't moved, maybe then I'd beg you for that."
As awkward as these teens are, they share what it might be like if they were with their own same-sex partners. At least, they can share the gift of their long friendship during a holiday where many young people must contend with alienation to the point of deciding at some point, as Joanna Brooks of the 'Ask Mormon Girl' blog, has described as, choosing "between the family they came from and the family they want to create." One can only honor an alienating tradition for so long.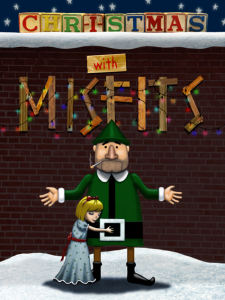 In 'The Baby Jesus Collection,' Jensen focuses on the third truth: "Christmas was invented by women. Examine the aesthetics of it: it's got female fingerprints all over it. It was invented by women to kill the women. Which it is doing." Set in a church basement bazaar, the story opens with two women, one filled with positive holiday spirit and the other a disenchanted cranky soul, setting up their tables. The positively cheerful woman is selling hand-knitted booties while her friend, who has little visible hints of the 'Christmas spirit', is selling racially offensive Aunt Jemina pin cushions. The first woman tells her friend, "No, the Christmas colors are red, white, and green. Black has nothing to do with it. I don't think you should sell those things. Someone's gonna come by and take offense." The cranky friend replies, "They won't either, not unless you stand over there coaching them."
Testing conventional barriers is a man, aptly named Heber Creeper, who enters with a display board showing "one thousand, one hundred and twenty-one examples of the infant Jesus." The cranky woman is bothered that he doesn't intend to sell anything because he is looking to be certified for the Guinness Book of World Records for the largest collection of its kind. The man explains how he curates his collection: "I do rob cradles, though. But only if the Babies ain't otherwise for sale. Because I am not interested in the Josephs, the Marys, the wisemen, the sheep. It's Baby Jesus and nothing but Baby Jesus, wall to wall, and from pillow to post. That's my specialization." He leaves money for whatever he takes, while, as he says, "drop the Baby Jesus down my pants." The story captures the oneupmanship that dominates the holiday and the frustrations that arise when someone unexpectedly trumps the usual game.
Rounding out the series is 'Christmas in Meadows Manor' set in a nursing home located in a sunny, warm desert with two wheelchair bound patients, a straight elderly man and a gay elderly woman who take the day in stride with neat tequila. While the truth at focus here is that Christmas always is a disappointment, the story is about being emancipated from the holiday's social and cultural binds and not having to feel sorry or explain the decision.
The man, dreading to see his family come pick him up for holiday dinner says, "I'm hoping it will snow so much that they won't be able to get through." The woman tells him, "We are in the desert, you know. And it's 68 degrees out there today." Undeterred, he says, "But anything is possible. It's Christmas." In this setting, the music from the Beatles' 'Abbey Road' album suddenly becomes the most appropriate music for the holiday. The group recorded perhaps its most superb album in 1969, coming together one final time after a disastrous, angry, frustrating time in trying to record its previous release ('Get Back'). 'Let It Be' may have been the Beatles' last release but 'Abbey Road' was really the group's true good-bye.
'Christmas with Misfits,' which runs barely an hour, features three actors — Kirt Bateman, Colleen Baum & Jeanette Puhich – handling all of the roles in the four short stories. Cheryl Ann Cluff, the play's director, says, the collection of stories create an arc spanning the "death and rebirth of magic." Likewise, the staging reflects an overflowing bounty of the tasteless kitsch and blatant commercial decorations and trimmings of the season. Setting the mood for the play will be alternative Christmas music selections by Sufjan Stevens, 'Zombie Christmas' by Emmy The Great and Tim Wheeler, and songs by the English indie pop duo The Boy Least Like To.
Performances will run Dec. 11-21, with shows Thursdays, Fridays, and Saturdays at 8 p.m., Saturdays at 4 p.m., and Sundays at 2 p.m. in the Studio Theatre at Rose Wagner Center for Performing Arts in downtown Salt Lake City.
As for Jensen, she plans to spend the holidays in Washington, D.C., where she will be joining rehearsals for her adaptation of Kathryn Erskine's novel 'Mockingbird.' Commissioned by the Kennedy Center's Theatre for Young Audiences, 'Mockingbird,' which will premiere next month at the Kennedy Center, is about a young girl on the autistic spectrum who is coping with her brother's death and is trying to handle her relationships with family members and friends at school.
Ticket information for 'Christmas with Misfits' is here.