In many traditional perspectives – political, cultural, environmental, anthropological – sanctuary often is articulated in terms of its physical preservation and distinct integrity. But, as we contemplate the issues of public lands, national monuments, and the vitality of cultural legacies, we also are learning that sanctuary is not just ecclesiastical, physical, political and anthropological. Sanctuary is essentially sacred. It is ecumenical, cosmopolitan, egalitarian and universal in defining the spiritual core of basic human decency and dignity. Sanctuary's meaning and purpose also are organic – sometimes changing unexpectedly in the face of urgent news and disasters.
In full-throttle audaciousness, Repertory Dance Theatre (RDT) will open its 52nd season next week with three works that expand the interpretive vistas of sanctuary. The company has set the bar of artistic significance quite high in its promise of lasting performance impact for this concert.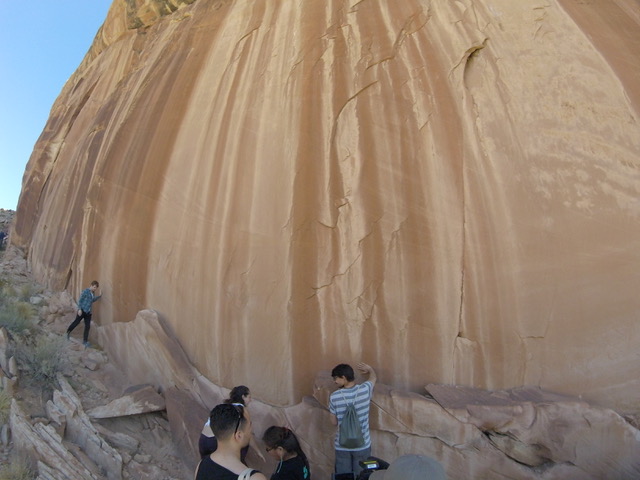 The Sanctuary concert will open with a world premiere of Zvi Gotheiner's Dancing The Bears Ears, a 31-minute work about the instinctive sacred nature of land cultivated throughout many centuries by many tribal nations as well as contemporary communities which see the land beyond its allure as a scene photographic backdrop. In the second half, works by two RDT alumni exemplify the expansive interpretation of sanctuary in visually thrilling presentations – Eric Handman's Ghost Ship, featuring dancers performing under a torrent of rice grains, and Andy Noble's Tower, a veritable 15-minute approaching storm with onstage rain and 33 dancers.
The program will be performed daily, Oct. 5-7, at 7:30 p.m. in the Jeanne Wagner Theatre of the Rose Wagner Center for Performing Arts.
In many respects, Dancing The Bears Ears is a recent apotheosis in a 25-year project of choreographed works inspired by Utah's unique geography and environmental challenges that RDT has commissioned and which have included Gotheiner's artistic vision. Last May, the RDT company, along with Gotheiner and dancers from his New York-based company (ZviDances), traveled to the Bears Ears National Monument as the opening workshop for the creative process. Their stops included the Fry Canyon Ruin, the steep switchbacks of Moki Dugway, a kiva at the Cave Tower Ruin, a hike at the Procession Panel and a community gathering in Bluff Utah. They also were accompanied by Navajo and Diné guides. The work is made possible through a crowdfunding campaign earlier this year with more than 45 donors and contributions of more than $8,200.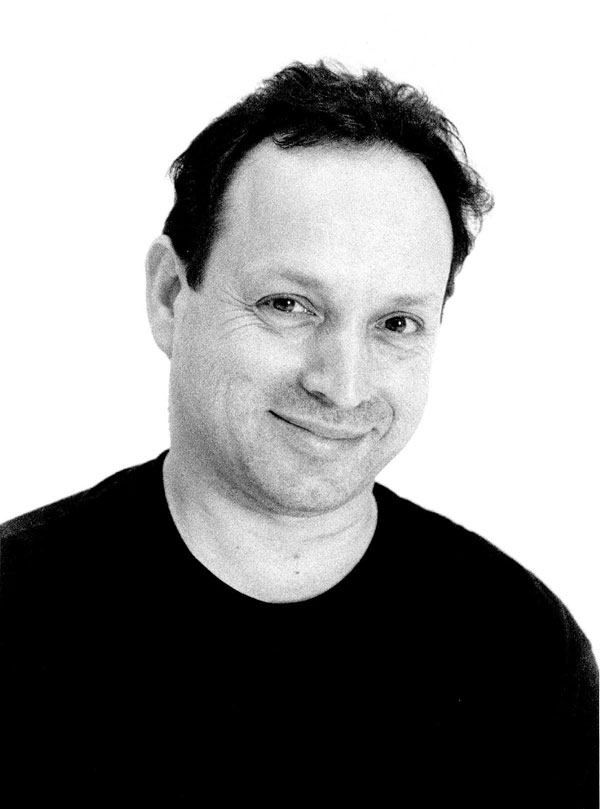 As mentioned in an earlier article at The Utah Review, Linda Smith, RDT's artistic director, the dancers talked on the first day of their workshop how they already were being changed in understanding why this land is sacred. Gotheiner, who has regularly visited many of the state's natural sites ever since his first collaboration with RDT in 1993, recalls that Scott Killian, his frequent music collaborator who provides the score for the new work, was unable to accompany the group but arrived as everybody was returning. "He interviewed my company members and then later the RDT dancers and he was so touched by how everyone described their experience. It was phenomenal," Gotheiner explains. "He got it immediately."
Gotheiner is visibly passionate about the instinctive sacredness of land. In an interview with The Utah Review following a rehearsal where the dancers worked for the first time with Killian's impressively authentic musical score, he talked about his own transition from a "farm boy" (born in an Israeli kibbutz) to "city mouse," living in New York City, "a different kind of jungle," he adds. Gotheiner welcomed the opportunity to come here, "because I know how it touches the soul."
At Bears Ears, perhaps Gotheiner's most centralized epiphany for the new work came unexpectedly. The group had planned to hike up the canyon and observe petroglyphs but he knew that his knees were not up to the rigors of an uphill hike. "I knew I wasn't going to make it so I went down alone into the canyon and to meditate," he recalls. "I felt truly alone in nature and I thought to myself that I am complete with my life. If I would have suffered a snake bit then, I wouldn't have minded it. I fell asleep, as soundly as a baby."
It also allowed him to reconnect to the "farm boy" side of his experience. Creating dance in New York City necessitates accessing different cultural references, he explains, but in Utah, Gotheiner could see how the dancers individually crafted their own relationship to nature and the existential realities of that in their own lives. Prior to the premiere, the program will open with a short documentary about the group's experiences at the Bears Ears National monument. The work also features an image installation backdrop created by Josh Higgason.
While the work sidesteps the political battle over the extent and size of the national monument, Dancing The Bears Ears reflects the spectrum of the various sacred relationships that have come and gone over a long time. The campaign for designating the national monument has been an unprecedented effort, as a coalition of five tribal governments – Navajo, Hopi, Ute Indian Tribe, Ute Mountain Ute, and Zuni – have been centrally involved. Previously, Native American tribes had been consistently excluded or relegated to the back bench when it comes to discussing public lands.
As for other contemporary voices, Michael Brune, Sierra Club's executive director, recently wrote, "As I think about the future of our public lands, I keep going back to those summer trips with my family. My kids got it. They understood instinctively the value of special places, our connection to them, and why it's important to preserve them."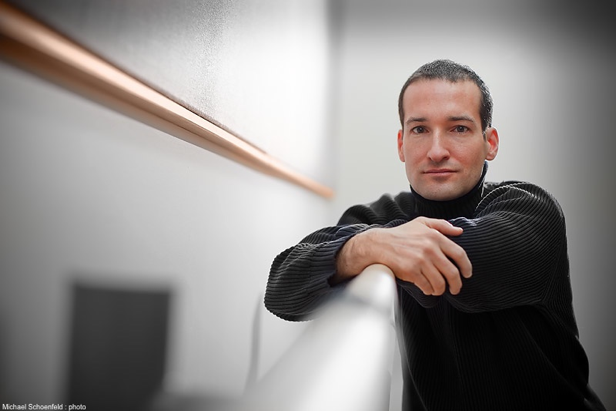 Smith and Gotheiner prepared extensively for the project, which included reading two recently published books by Torrey House Press about public lands and, more specifically, Bears Ears: Red Rock Stories and Edge of Morning. They also consulted Daniel McCool, a University of Utah political science faculty member, to pinpoint the most significant land and water issues.
Smith recalls that McCool summarized it simply as two kinds of people when it comes to these issues: those who see land for its utilitarian purposes and those who regard it as sacred. "We wanted to then explore why do some people see this land as sacred," Smith adds. Gotheiner is even more pointed: "Only when some disconnect from some part of their humanity can they think about abusing or disrespecting nature."
Along with Utah Humanities and Impact Hub Salt Lake, RDT will hold a panel discussion on the subject of Sacred Lands/Sacred Waters: Dancing the Bears Ears, a day prior to the opening concert. Native American elders Mary Benally (Diné), Regina Lopez White Skunk (Ute) and Willie Gray Eyes (Diné) will join historian Sara Dant and Ann Hannibal of the Natural History Museum of Utah in the discussion, which McCool will moderate. The panel, which is free and open to the public, will be convened on Wednesday, Oct. 4, at 7 p.m. at Impact Hub Salt Lake (150 S. State Street in downtown Salt Lake City).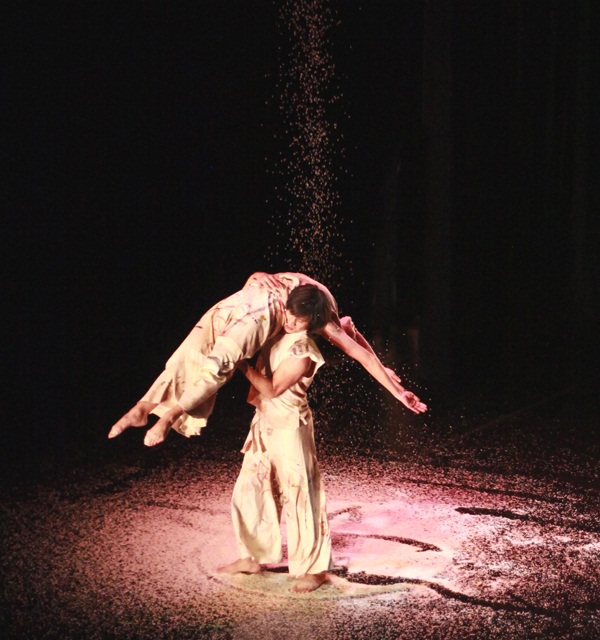 In Handman's work, a ghost ship sets the interpretive path for sanctuary of memory and legacy, especially when a memory or legacy is vulnerable for being ephemeral or to be forever lost. Handman created the work in 2007, and RDT last performed it five years ago. "It's been exciting to see it again and see how well it holds up," he says in an interview with The Utah Review. Choreographers see dance for how it allows performers to work individually and collectively in solving the physical problems that come with new work. Likewise, for Handman, "there is that aspect of turbulence and how teamwork is so essential in overcoming it."
He recalls that he struggled with how to conceive and situate the piece, which he wanted to touch on the idea of memory. Representing time's progress is easy enough: alternate sections of slow and fast dance movements. In an abstract piece still though, one wants to hint at storytelling impact even if a narrative is not necessarily involved. He read a 2007 news article about a catamaran bearing the name of Kaz II, which was found off the northeastern coast of Australia. When authorities boarded the craft, there were no persons but everything else seemed normal: the engine and monitoring equipment were operating as usual, a laptop was running and food and tableware had been set out in preparation for a meal. A year later, a coroner concluded that forensic evidence from the popularly dubbed 'ghost yacht' indicated that the passengers, who apparently were inexperienced boat enthusiasts, had drowned in a freak accident. Ghost ships have inspired many fantasy tales, thanks to the story of the Mary Celeste American merchant ship which was abandoned in 1872 and the reasons for the crew's disappearance have never been ascertained.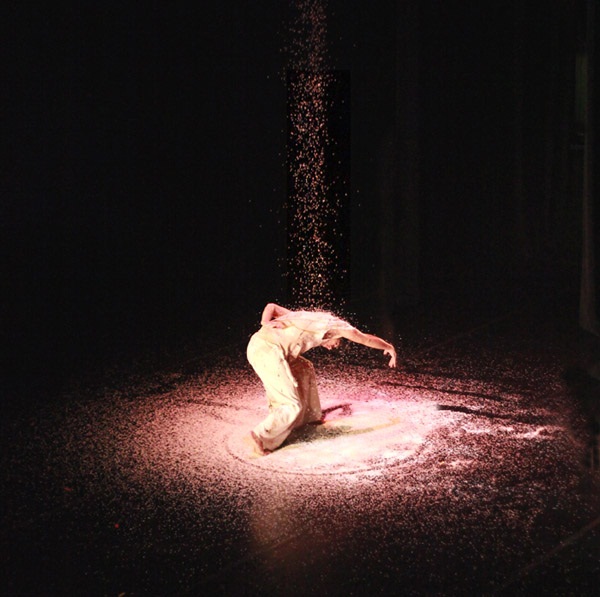 Working with his emerging work's inherent element of mystery, Handman settled first on the sound score before setting the piece. Attracted to the essence of film scores, he was inspired particularly by the music for the 2006 film Perfume: The Story of a Murderer (directed by Tom Tykwer), which included an Italian-style aria and was performed by the Berlin Philharmonic. Soon, Handman conceived the work with an operatic sense but then he also wanted to dramatize the imagery of the traces of memory that are left behind. He followed one of Stephen Sondheim's three simple rules as a lyricist: 'content dictates form,' which came from the composer's 2010 memoir Finishing The Hat.
Handman settled on dropping 120 pounds of rice grains, a comprehensible and effective metaphor. It also is a pragmatic solution that does not interfere with dancers' movements. Rice grains can drop on the stage without creating a cloud of dust which might otherwise obscure the audience's line of sight. And, there is that percussive effect of small pellet drums. In fact, the overall effect resembles an hourglass being emptied of its contents – a perfect metaphor for time and memory.
Ghost Ship becomes a meditation on the value of legacy and how we begin to make it so that it can endure and be appreciated by others, especially the ones we love and those we hope to inspire. "In 2007, when I created the work, I was a new father and the idea of legacy was starting to matter," he says. "And, 10 years later, it still matters and even more so."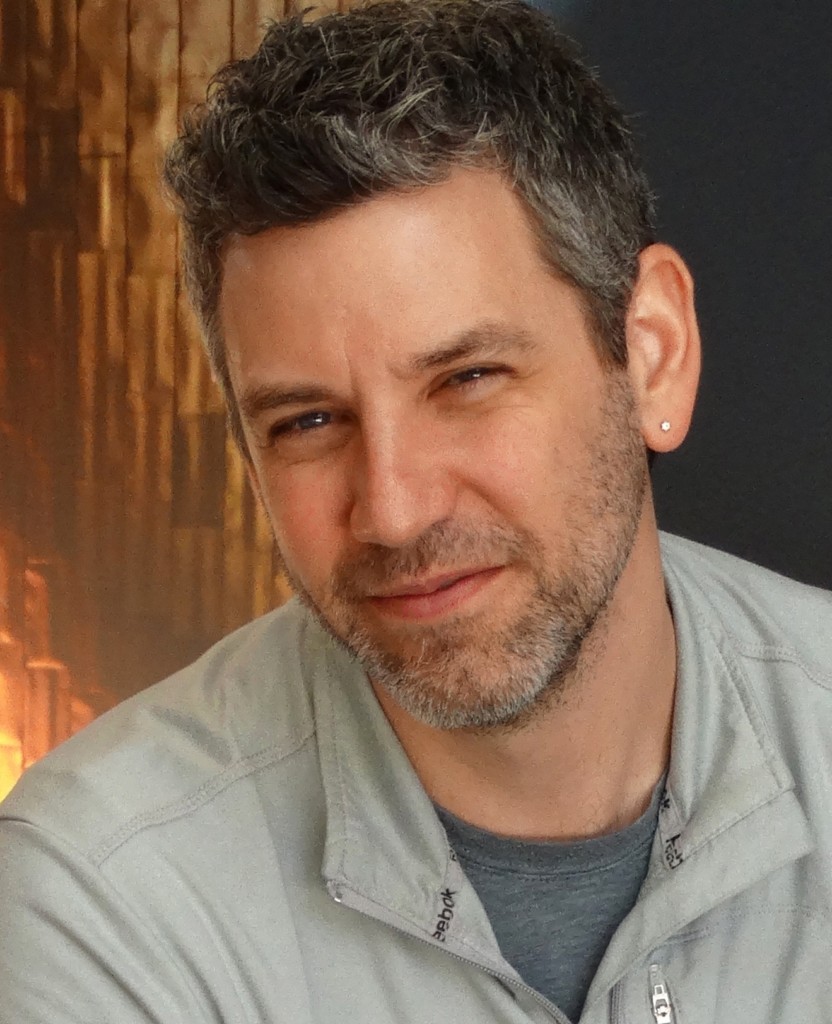 When Andy Noble, also an RDT alumnus who is on the dance faculty at Sam Houston State University, created Tower in 2015 with former student Laura Harrell, it drew praise for its unrelenting tension and epic scale. The work is scored for 33 dancers that starts with an approaching storm front – a tower of clouds — and culminates in an exhilarating and liberating display with a system of soakers, hoses and pumps from backstage generating rain onstage. Joining RDT's dancers will be colleagues from Utah Valley University.
Now, as RDT readies the Utah premiere of Tower, Noble sees the work anew as a sanctuary of community resilience and relief. Noble lives in Houston, which is still recovering from the enormous impact of Hurricane Harvey's record-setting rains. NobleMotion Dance, in which he serves as co-artistic director with his wife Dionne, postponed its opening Catapult concert for its fall season, which now has been rescheduled for this weekend. "Many of our dancers lost everything in the storm," Noble says in an interview with The Utah Review, adding that it was uncertain for a while when the company would be able to perform or if the community would be ready to attend and support a performing arts event.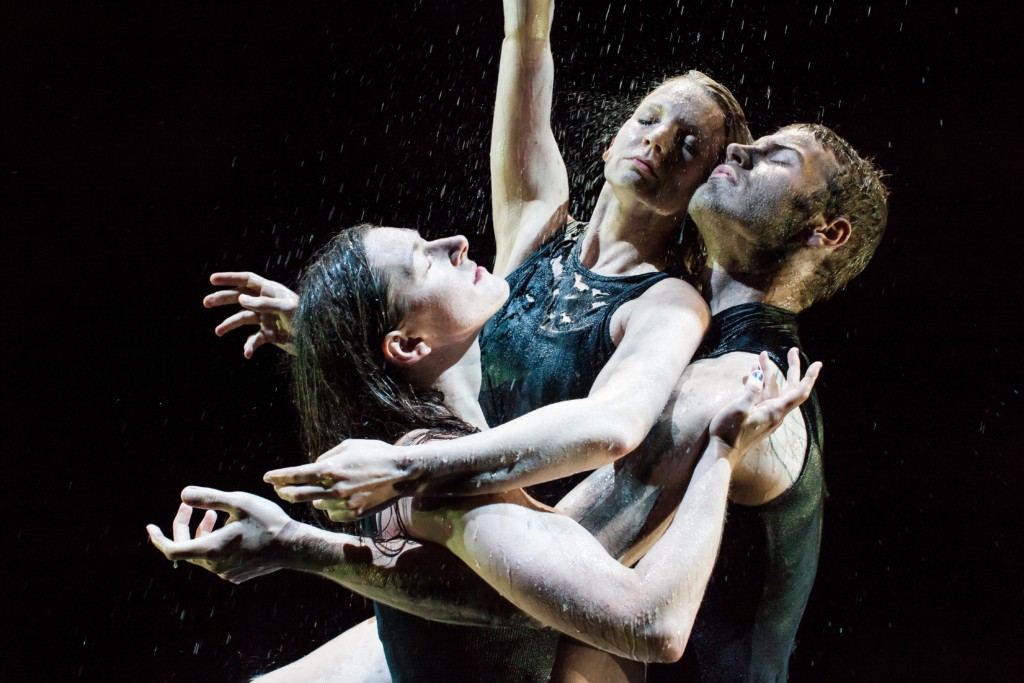 Tower is intriguing for how it triggers various interpretations, all which Noble accepts as valid, depending upon an individual audience member's perspective. Some see it as a rejuvenating response against the intimidation, fears and discomforts experienced after the 9/11 attacks which destroyed the twin towers of the World Trade Center in New York City. Others see it as a positive statement of a community unifying against violence and hatred in its neighborhood, or of the effects of uncivil or disparaging social and political discourse. In any key interpretation, Tower unleashes many accessible images and metaphors about how individuals and communities try to hold themselves together as threats approach and build.
Noble acknowledges the current irony in seeing Tower come alive on stage, even hundreds of miles away from its Houston premiere two years earlier. "We definitely live in really interesting times that sometimes also can be scary," he says. "Harvey was such an awful event but it has been deeply reassuring to see the community of Houston come together."
The work opens with dancers moving in militaristic precision as the storm front nears and then it metamorphoses into a pitched frenzy, as dancers perform with grueling athleticism. The mood changes into calm as rain breaks the storm's tension. Noble says he asked Harrell to work on the piece because controlling the bodies of so many dancers onstage at one time is uniquely challenging without making it seem so crowded that the dance movement is constricted.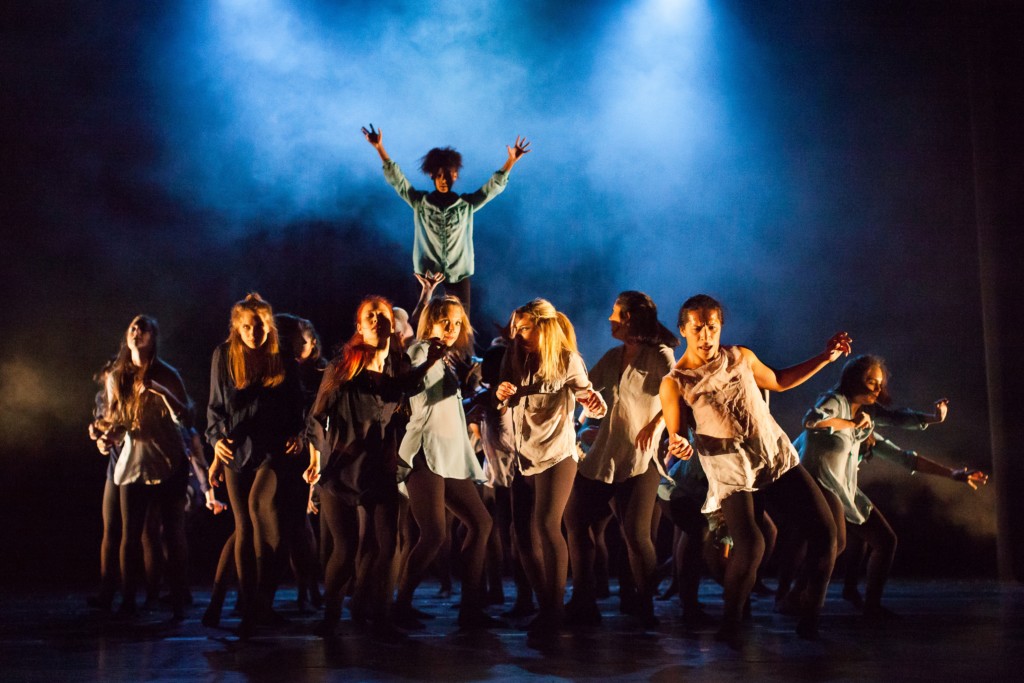 Noble is drawn to epic-looking choreography with an aggressive, physically demanding movement language. In last year's opening concert of RDT's 51st season, he created Filament, which incorporated surfaces (essentially 4' x 8' Styrofoam boards) on stage upon which images of the dancers' various movements were projected onto and the performers reacted, responded and interacted accordingly. The work, with music by Nils Frahm that punctuated accordingly the grand power of the choreography, was among The Utah Review's top 10 moments of Utah Enlightenment in 2016.
"Tower is definitely epic: Think Charlton Heston and The Ten Commandments movie," Noble says, adding that creating rain onstage and using the proper backlighting is not as complicated as it sounds and it is reasonably affordable for ensuring the audience experiences the full impact of Tower's exciting finish.