NOTE: This is the first of a two-part series about Plan-B Theatre, which just completed its 26th anniversary. Part 2 will preview the company's 2017-2018 season.
As audaciously experimental as Plan-B Theatre's silver anniversary season was last year, the small theatre company in Salt Lake City set forth in its 26th season an original, rare, essential framework that enlightened audiences and illuminated a path toward finding a common spiritual community that can supersede many differences and perhaps even thrive in a chaotic world that has recently served a heap of cruel ironies and eyepopping disappointments.
"It unfolded as I expected," Jerry Rapier, artistic director, says in an interview with The Utah Review. With characteristic understatement he adds, "and as far as it goes, we definitely hit a nerve." Part of Plan-B's consistently effective creative genius, as evidenced in productions that garner justified critical acclaim and performance runs that are selling out even before their premieres, is the gracious humility of the company's two leaders, Rapier and Cheryl Cluff, co-founder and Plan-B's current managing director.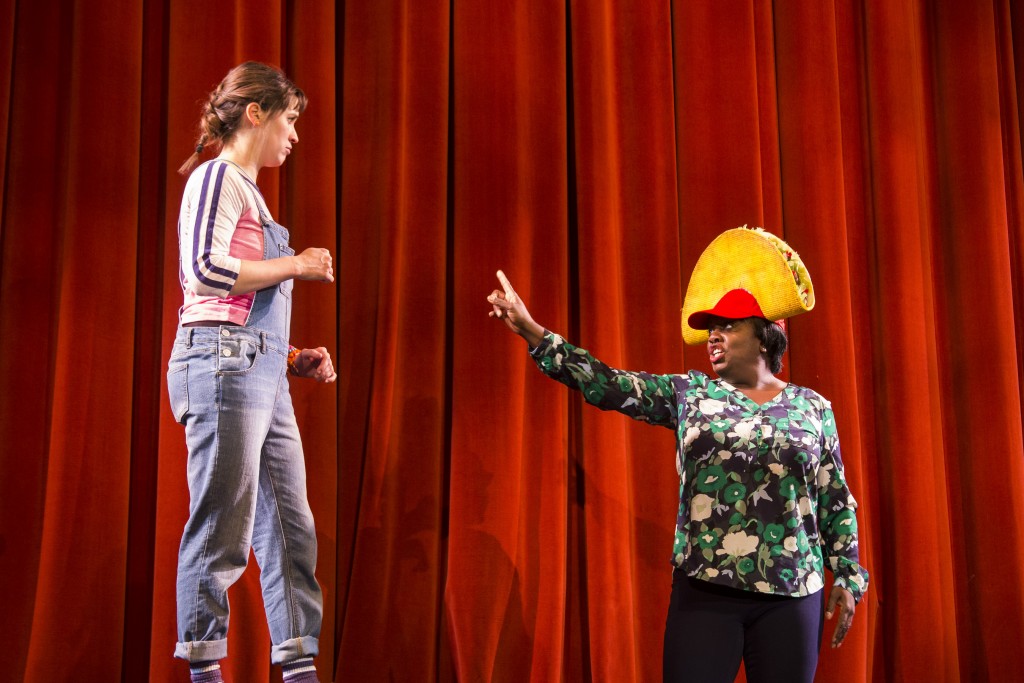 It was a season that virtually any theatrical company (and not just small institutions with modest budgets) in any community would envy. Every production delivered exceptional performances that percolated intensely in emotional connection, set designs that were stunning in how minimalism and economy could convey a sense of place with dramatic effectiveness and original plays that cultivate new cultural responses to the most entrenched sociopolitical issues and tensions of the day.
Plan-B has practiced its craft and promise in the most diligent ways – marking its 90th world premiere this past season and giving voice to new works, particularly by female playwrights. One-half of the works presented by Plan-B since 2010 have been by female writers. Three of the five premieres this past season were by women.
The season's first premiere was The Edible Complex by Melissa Leilani Larson, the fourth annual installment in Plan-B Theatre's Free Elementary School Tour (FEST). A sincere, humorous yet serious play that respects children's intellect and the importance of their emotional responses, Larson's story features Anna, a 10-year-old child who is talented in the kitchen and aspires to be a chef. However, after her mother passes on having a sandwich the girl is planning to make, Anna wonders if she is dissatisfied with her own body image and is confused about how that would reconcile her dream to become a successful, famous chef.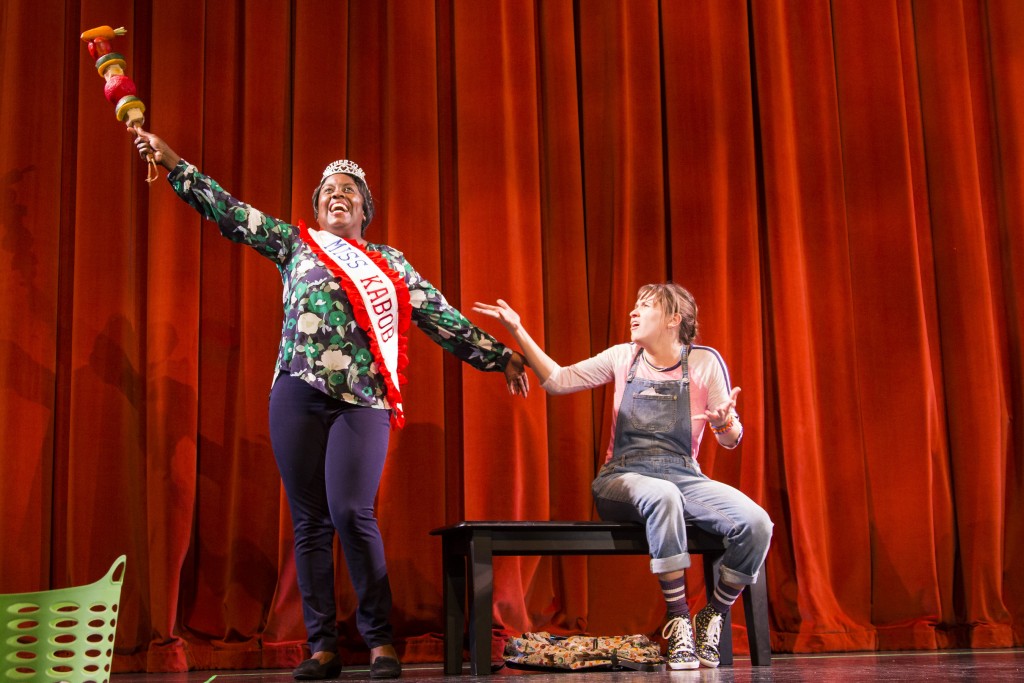 Larson's play conveys practical, credible information and insights without being preachy and actors Anne Louise Brings and Dee-Dee Darby-Duffin animated the script with the right emotional tone. The production was a huge crowd pleaser, thanks to designer Aaron Swenson who offered up a genius set of colorful costumes and props to represent every food item mentioned in the 35-minute play.
Larson's work drives home the point that theatrical works for younger audiences can be as artistically rewarding and substantial as those for adult audiences. One of Utah's most important and active writers, Larson is winning awards for her plays (which include Pilot Program that Plan-B produced in 2015) as well as for her screenplay for Freetown. She also has written the screenplay for the film Jane and Emma which is in pre-production.
In November, just 48 hours after a presidential election that shocked the world, Debora Threedy's newest work One Big Union premiered with a theatrical wallop that will stand out for many years in Plan-B's history.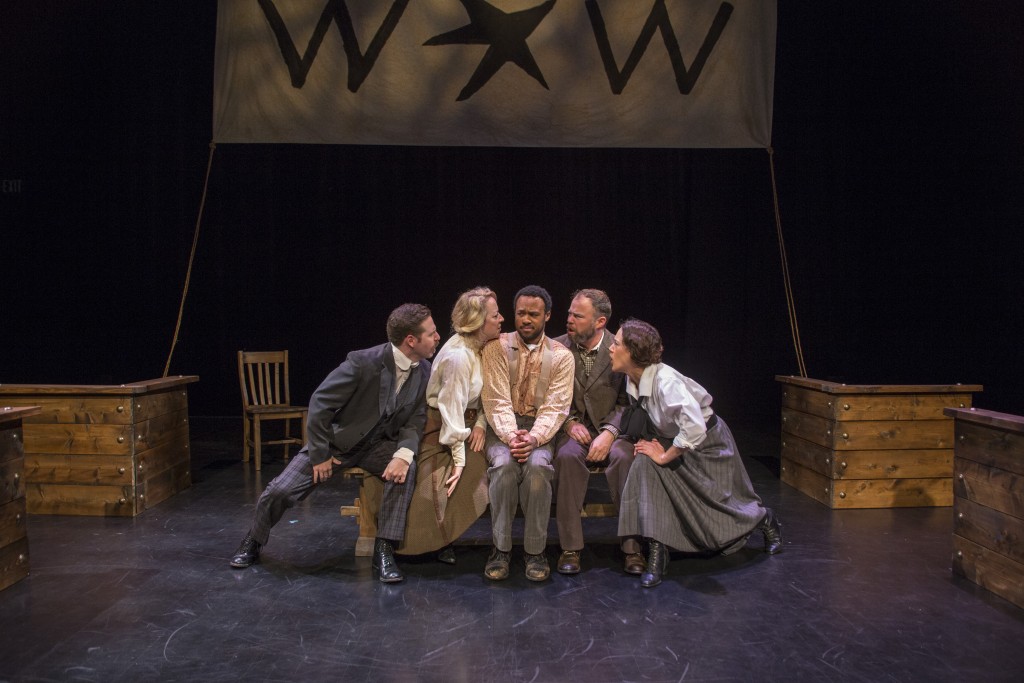 Threedy, a recently retired University of Utah law professor, enriches the story of Utah's Joe Hill (1879-1915), a folk hero of the American labor movement who was executed 101 years ago for a murder that authorities claimed he committed although the evidence never confirmed this. Threedy's work, which was directed by Jason Bowcutt, succeeds because of her ability to bring historical figures and themes to the stage with credible impact as fictional treatments, thanks to deep research that highlights primary archival sources.
One Big Union, presented in an ingeniously imagined union hall, was a marvelous ensemble piece not only for its acting but for its musical performances highlighting the songs that have embedded Hill's memory in the sociocultural history of the nation. Even as the legal travesties of Hill's story make good material for theater, Threedy's play reminds of the power of the protest song that animated the growth of unions.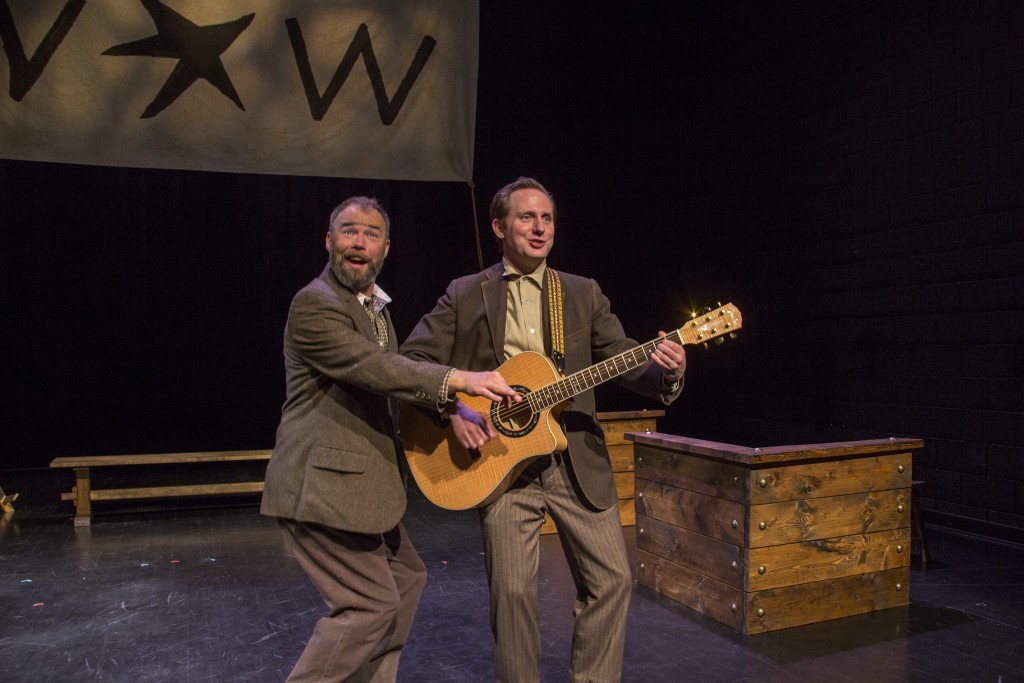 One Big Union's premiere also comforted aggrieved audience members who only had begun to grasp the realities of the election results from two days prior. When the cast of six actors walked through the audience, welcoming members to the evening's gathering in the minimalistic yet unmistakable setting of a union hall, the gesture emphasized Threedy's point about why Hill's story was not just a historical triviality but a revitalizing reminder of history's unfailing and omnipresent relevance and the need to organize, not mourn.
For December, Plan-B demonstrated its excellence in the short radio hour format with the premiere on KUER-FM's RadioWest program of Yuletide, a trio of adapted stories including O. Henry's The Gift of The Magi and Hans Christian Andersen's The Little Match Girl along with the adaptation of an 'anti-Santa' character from French and German folklore.
Written by Matthew Ivan Bennett, his eighth Radio Hour play – the production, which Cluff directed, featured the classic, supremely well-tuned core of performers including actors Jay Perry and Teresa Sanderson, along with host and actor Doug Fabrizio, and music by Dave Evanoff.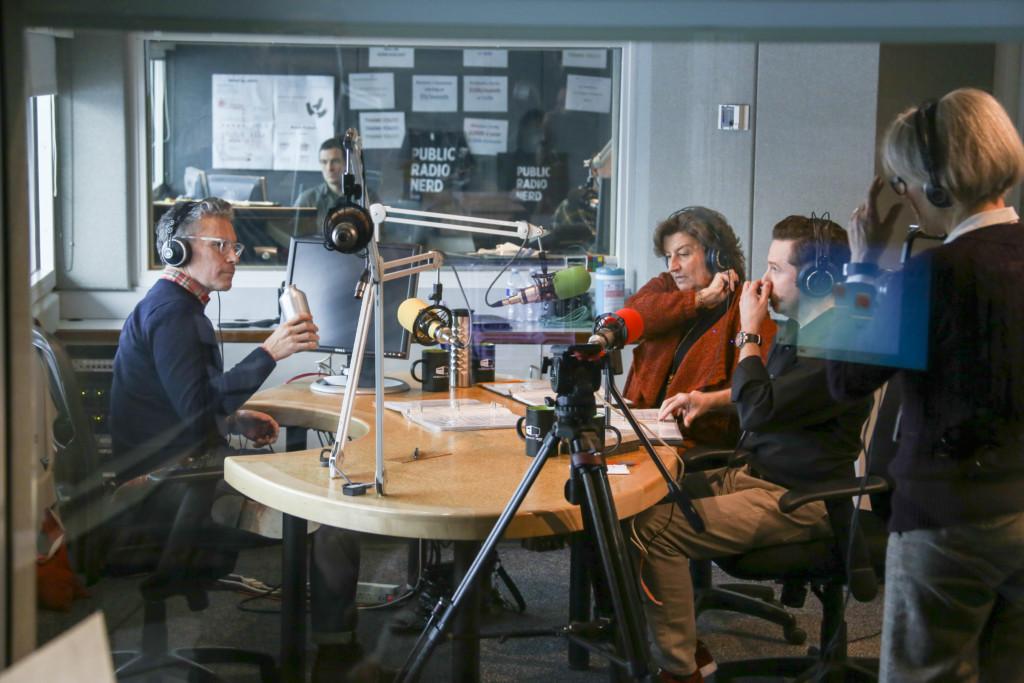 The Radio Hour series, 11 episodes in total, is no mere novelty. The adaptations and original stories have highlighted the timeless prestige not only of great, familiar literary classics but also of the demanding craft that propelled what was once the most dominating form of mass communication and entertainment for millions of listeners. Bennett's sensitive fidelity to tales and characters elevates the emotional and dramatic impact of the radio medium. Yuletide captivated radio listeners as it moved from the pure charm of O. Henry's classic tale to Andersen's poignantly tragic elements of a young girl who dies trying to stay warm and to the devilish, dark humor of the Hans Trapp legend.
In the 2017 half of the 26th season, Plan-B challenged audiences with two works that pierce echo chambers and consoling bubbles of groupthink while liberating audience members to explore a world where there really are no cosmic guarantees.
Tim Slover's Virtue is an engrossing interpretation of an important transitional period in the life of St. Hildegard of Bingen (1098-1179) whose creative genius touched on music, theater, science, theology, medicine and mysticism. Slover situates the play in June of 1146 at various locations in the Monastery of St. Disibod at the junction of the Rhine and Nahe Rivers. At this point, Hildegard is well into her forties and she is the prioress of 18 sisters. She has nearly completed the work on Scivias, a compilation of 14 extended poems in which she describes 26 revelations that came in visions.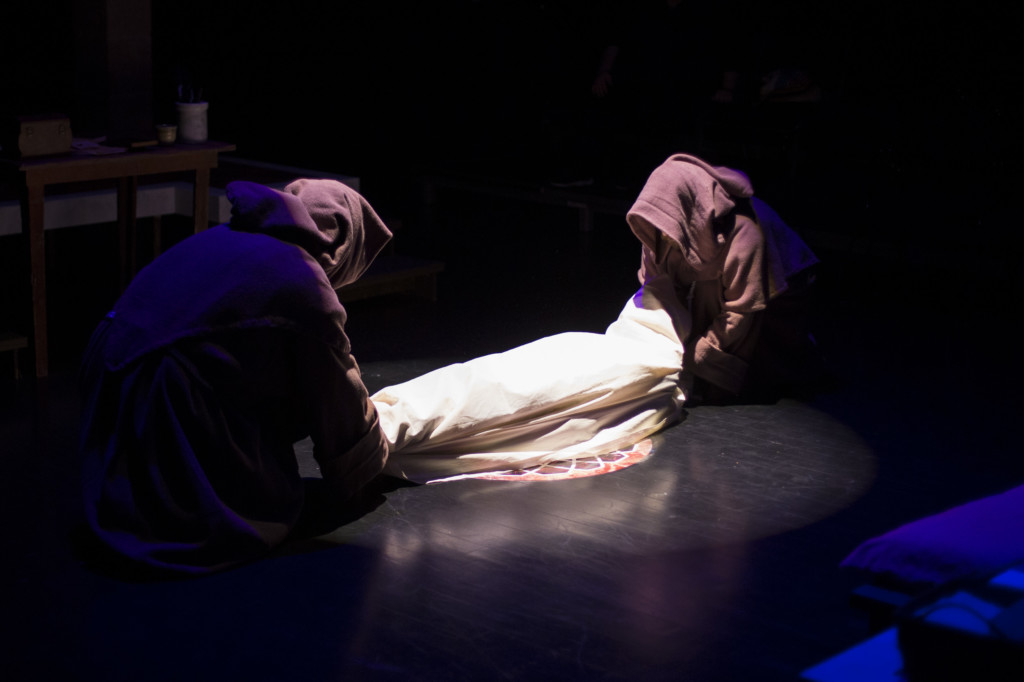 Slover's play casts two characters, based on the historical details, that are drawn passionately to Hildegard's formidable presence: Volmar, a cleric, who serves as the story's rational catalyst and worries that Hildegard might be venturing into the territory of paganism and blasphemy in her visions. And, then there is Richardis de Stade, a younger woman no older than her late 20s who has arrived at St. Disibod as a penitent novice. She is the daughter of a noble family and her brother is the Bremen archbishop.
In the play's second act, the tension grows as Volmar confronts Hildegard and her relationship with Richardis. The scene, brilliantly acted by Christy Summerhays as Hildegard and S. A. Rogers as Volmar, is a profound emotional statement about the dualities of love and pain as well as spirituality and sexual desire in their synonymous, most intense circumstances. Both dedicated, sincerely pious servants to their church, Volmar and Hildegard discover that to be in deep, or pure, love would mean being emancipated from the darkened cloisters of their service and piety. Neither can solve the other's crisis of conscience.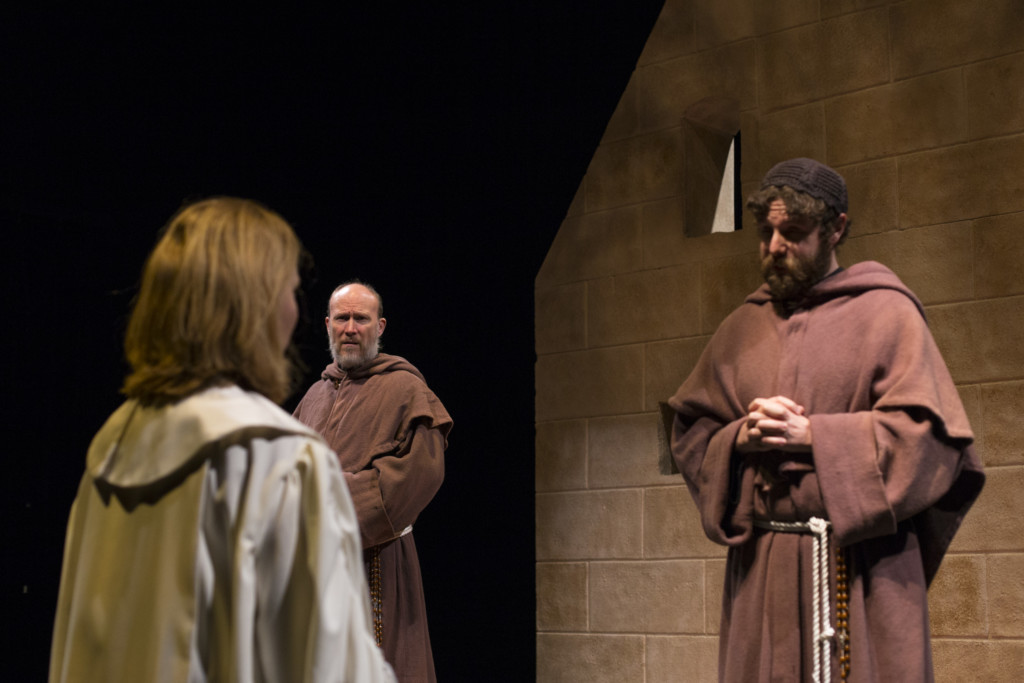 Slover's enlightened (and, most notably, historically appropriate and accurate) rendition of Hildegard parallels the modern crisis many contend with in trying to reconcile their own love and faith of spirituality with the relentless pain of obligation demanded vigorously by their respective confessional communities. It is one that certainly has confounded thousands upon thousands in Utah who wonder what spiritual price must be paid to secure the status quo of a church's disjointed, distant leadership.
Virtue's premiere production shone gloriously in all aspects. The environs of a 12th century religious site were imagined convincingly in Thomas George's set design. The snippets of Hildegard's music animated many scenes, signaling the forthcoming light of the Renaissance. The cast conveyed the historical contours of Slover's rendering with ample credibility. Jay Perry as Cuno precisely emphasizes the temporal ambitions of Cuno who sees the monastery as a stepping stone to a prominent church position of leadership and as a cupboard for filling the church's treasury. He sees Hildegard positively only in the sense that her brilliant work will enhance his ecclesiastical prospects. Summerhays as Hildegard conveys the authoritative religious status of a woman who senses rightly the spiritual zeal of her sister predecessors who were vital in the church's venerable traditions. Emilie Starr's chemistry with Hildegard emerges solidly in her role as the young Richardis, whose own musical talents become evident as her presence triggers envy and jealousy in Volmar, a role that Rogers interprets so effectively.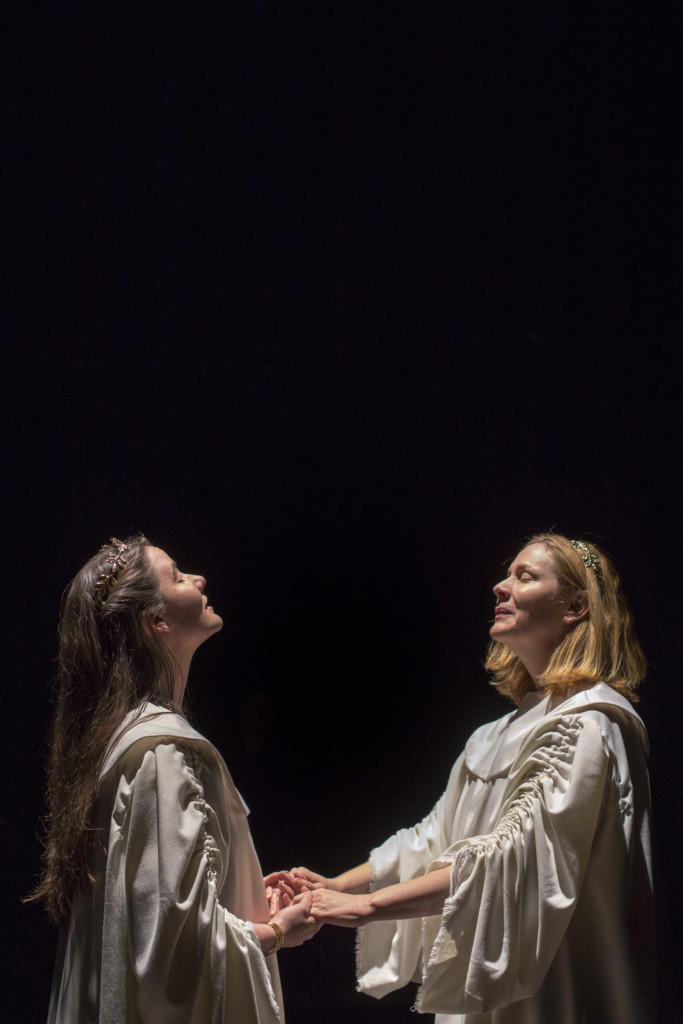 In 1999, William Connolly, a philosopher who studies neuropolitics and whose 1999 book Why I Am Not A Secularist is highly recommended, wrote that suffering is ubiquitous. He explained that "it resides on the underside of agency, mastery, wholeness, joy and comfort." Connolly's remarks come to mind in Morag Shepherd's Not One Drop, the final premiere of Plan-B's season which also was the third in the series of works by Utah playwrights 35 and younger, who were tapped as commission winners by the David Ross Fetzer Foundation for Emerging Artists (The Davey Foundation).
Connolly wrote that, "Severe suffering exceeds every interpretation of it while persistently demanding interpretation. Without suffering, it is unlikely we would have much depth in our philosophies and religions. But with it, life is tough – and often miserable for many." Shepherd's play, a tour de force of absurdism, capped a season influenced heavily by history and by the complex dualities of identities in stories that often are more enigmatic and mysterious than they are conclusive.
Not One Drop offers up profound questions of meaning and historical memory that target the process by which individuals pursue their own search for an inner "truth" with their experiences of a major event in their life. What Shepherd does so adeptly with the two characters (Aidan and Rowe) is the question that pops up repeatedly in one form or another: "If indeed it hurts then why would you do it?" However, Shepherd makes clear there is no conclusive answer to explain this. With the characters in Not One Drop, the audience begins to realize that neither Aidan nor Rowe will really ever be able to explain it. Yet, if someone does try to offer an explanation (for example, church, school, institution, teacher, mentor or any source of authority), the individual realizes that the answer is hardly a reason that can make any sense. It's a fantasy, a contraption, a device, an excuse, an apology for convenience's sake, etc.
In one exchange, Rowe tries to find out why their father couldn't stand to be in the same room with her. She says, "I'm surprised he didn't give himself a brain tumor with the way he bored holes into me with his stare. I bet his head was full of massive tumors. I don't even remember what color his eyes were." Aidan says they were brown while Rowe insists they were red. Aidan responds, "They looked red all the time because he refused to wear his glasses," and Rowe asks, "Because squinting makes the veins in your eyes more bloody?" Aidan remains steadfast. Rowe says, "I don't remember. His eyes always looked so blank and angry. I could hear him frowning at me in them." Aidan concludes, "You're too sensitive."
The play takes place in a postmodern playground set in the round, visually conceived in an unforgettable set designed by Dan Evans in his first Plan-B production. Rowe says people want "the real," to which Aidan disagrees: "No, because it turns out real is tiresome, and it looks peculiar and sounds stunted." The open-air playground set suggests no sovereign rules nor authoritative ideologies, creeds and standards are required.
Absurdism is appropriate. Suffering, pain and misery might provoke disgust, anger, confusion and shame but not one drop of these experiences should ever be lost or discarded. Every drop rejuvenates the individual who finds her own life and meaning in her new world that is not governed by institutions wedded to a 24/7 regime of inspection and mandated disclosure.
Not One Drop, which Rapier directed, unquestionably was one of the most demanding plays from the audience's perspective. However, the production sold out, as customary with many of the company's performances. "Our audiences shared two different experiences of art," Rapier explains. "People came up afterward and either said they loved it or hated it."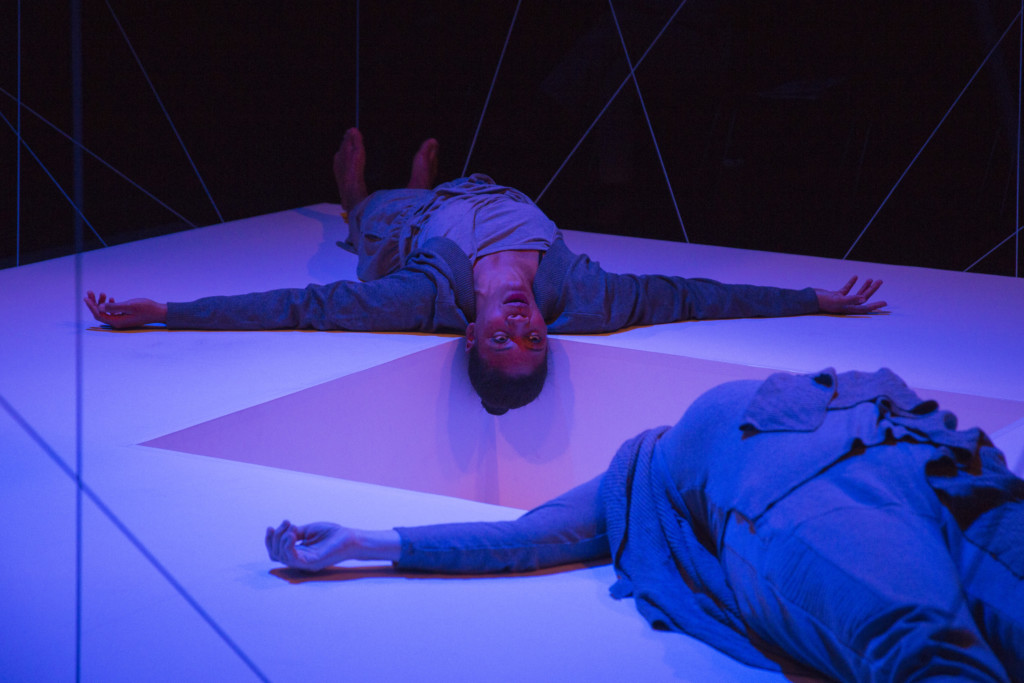 Shepherd excelled in producing a lucid and sincere script. The playwright has explained how she has embraced her own free voice in her own rebellion against the shallow interpretations passed off as solid gospels, doctrines and covenants. Latoya Cameron and Colleen Baum electrified the postmodern playground set, doing eminent justice to Shepherd's words.
The same contradictions that have made, for example, Icelandic singer and composer Björk so successful as an artist transcending the misery, disappointment and suffering of earlier experiences are behind Shepherd's inspirations. Like Virtue, Not One Drop is not merely a theatrical palliative but an earnest stage work with the epiphany of spiritual healing.