Tyler Stokes did not always want to be a chef. He was in business school planning a career in the stock market but fortunately for us foodies, he got derailed. Growing up on a farm in Star Valley, Wyoming, this culinary genius learned early on how to grow and raise food and the importance of knowing where what you eat comes from. He spent many days throughout his childhood in the kitchen with his mother and grandmother learning to cook, which he credits for his passion for creating great food.
"I got my first cooking job by chance when I was 17 years old working the pantry station at a fantastic 'made from scratch' restaurant in Logan, Utah when one of my parent's friends who owned a restaurant offered me a job," Stokes recalls. "I thought I would try it as it must be better than the construction jobs I was doing at the time. I loved it from day one and knew I would be doing it the rest of my life. I really looked up to the chef I worked for and it created the desire for me to own a restaurant one day and be able to help and mentor young cooks.  I loved the excitement of the kitchen, the creativity involved with everything we did and just making people happy. It helped that I was also good at it and excelled quickly and was promoted to sous chef at one of his new restaurants by the age of 19."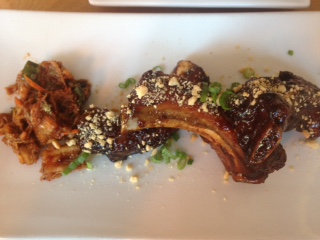 When Stokes was 21 he realized he needed more experience–and diversity–if he ever wanted to someday own his own restaurant. He moved to Park City and worked his way up the food chain as he bounced from the Game Keepers Grill to Executive Chef at The Lookout Cabin at the Canyon's Resort before heading back down to the Salt Lake Valley working at Lugano restaurant when it first opened. Those experiences introduced Stokes to a variety of cuisines as he learned from other chefs whose talents and creativity he admired. Stokes than tried his hand in the culinary food scene in Sun Valley, Idaho.
"I knew I wanted to open a restaurant and on a trip to Sun Valley, Idaho I decided I wanted it to be there," Stokes said. "I took an executive chef job at Globus which I did for four years while I planned my own project. It was a very critical time for me and one of my favorite times as a chef, I got to learn and grow in many ways that were essential in opening my own place. I opened Dashi in early 2011, which was a dream come true, it was an instant success in Sun Valley and I operated and worked on perfecting my craft there for three years. We decided we wanted to open in Salt Lake for many reasons, we wanted a bigger market, more room to grow and most of my family is here and I have young children. I plan on opening another place in Sun Valley once my kids are older as it's one of my favorite places on earth, along with Salt Lake City."
Stokes' current restaurant, Provisions, located in East Millcreek, is a place you want to go on a special occasion or just a Tuesday. The ambiance of the old home is warm and welcoming with its bright orange and white walls and dares you to linger, way past dinner. The kitchen is open so you can watch the master at work, as Stokes is almost always in the kitchen, but if you happen to come on a day he has off, you are still in capable hands. The contemporary American menu changes somewhat to accommodate seasonal fruits and vegetables, which Stokes sources locally. Although some items on the menu are a constant like the organic buttermilk fried chicken which is the perfect amount of crunch on the outside and juiciness on the inside. The menu also has some Asian fusion going on. The steamed buns with Berkshire pork belly and mushrooms are soft, rich and full of flavor and the wok BBQ Niman Ranch pork ribs, served with house made kimchee are both sweet and spicy with a unique flavor that hangs around for a bit.
"I get most of my inspiration for the dishes at Provisions from the seasons and from other chefs, going out to eat, traveling etc.," Stokes explains. "A lot of dishes just come together by looking at what just came from the farms and building a dish based of the things that want to go together. We try to preserve the integrity of the ingredients by not manipulating them too much but enhancing the quality of what we have. We always try to have at least one surprise ingredient on each dish to keep it interesting."
And Stokes has accomplished just that. The Niman Ranch pig's head, the five-spiced fried quail or tagliarini with braised rabbit might push culinary boundaries, but with Stokes preparing them, it's a brilliant opportunity to try something completely new.
"What I love most about the privilege of owning and cooking at Provisions is the people I get to work with and the customers that I get to interact with, meet and make happy," Stokes says. "I love to cook, I love to teach others to cook and I love to make people happy with food. I love making the staff a meal as much as cooking a tasting menu for our guests, we try to put love in all we do here."