Four commissioned world premieres – chamber music, jazz and two in dance – are part of this year's Utah Arts Festival. The Utah Review highlights each of the new works.
KATLYN ADDISON, JOSHUA WHITEHEAD DANCE COMMISSIONS, RUUDDANCES — June 21, 5:45 p.m., Festival Stage
For the annual dance commission concert at the Utah Arts Festival. Christopher Ruud always strives to present a concise selection of works spanning ballet's history from the classical, through the neo-classical and into the contemporary periods. Ruud, who retired earlier this year as principal artist and choreographer from Ballet West after a 21-year tenure with the company, decided the best way to achieve the programming objective for this year would be to offer two world premiere dance commissions for the first time on one concert.
Thus, new works by Ballet West artists Katlyn Addison and Joshua Whitehead will highlight the five selections in a program on Friday, June 21, at 5:45 p.m. on the Festival Stage. The program is staged by RUUDDANCES, LLC featuring the company performers as well as Ballet West Academy students and dancers of Ballet West's student academy and professional training division. Ruud, who has received two dance commissions from the festival, is the ensemble's artistic director, with dancers appearing, courtesy of Ballet West and Adam Sklute, artistic director.
Addison's new work, yet to be formally titled, comprises two vignettes and pas de deux in a four-member ensemble. Addison meticulously searches for the precise music to convey the emotional theme of her work. For example, in Ballet West's most recent spring choreographic festival, she set Hidden Voices to the great spiritual Goin' Home and deepened the musical connection's significance with perhaps Antonín Dvořák's most famous string quartet – the American (String Quartet No. 12 in F Major).
For her festival commission, Addison's first musical choice is Jeff Buckley's Hallelujah in an arrangement performed by the phenomenal young British cellist Sheku Kanneh-Mason. She still is pondering the musical selection for the second vignette but hints that music either by Talking Heads or U2 will be the likeliest choice. "Music for my dance always should mean more to me," Addison explains. "If I don't feel something. I stop and restart."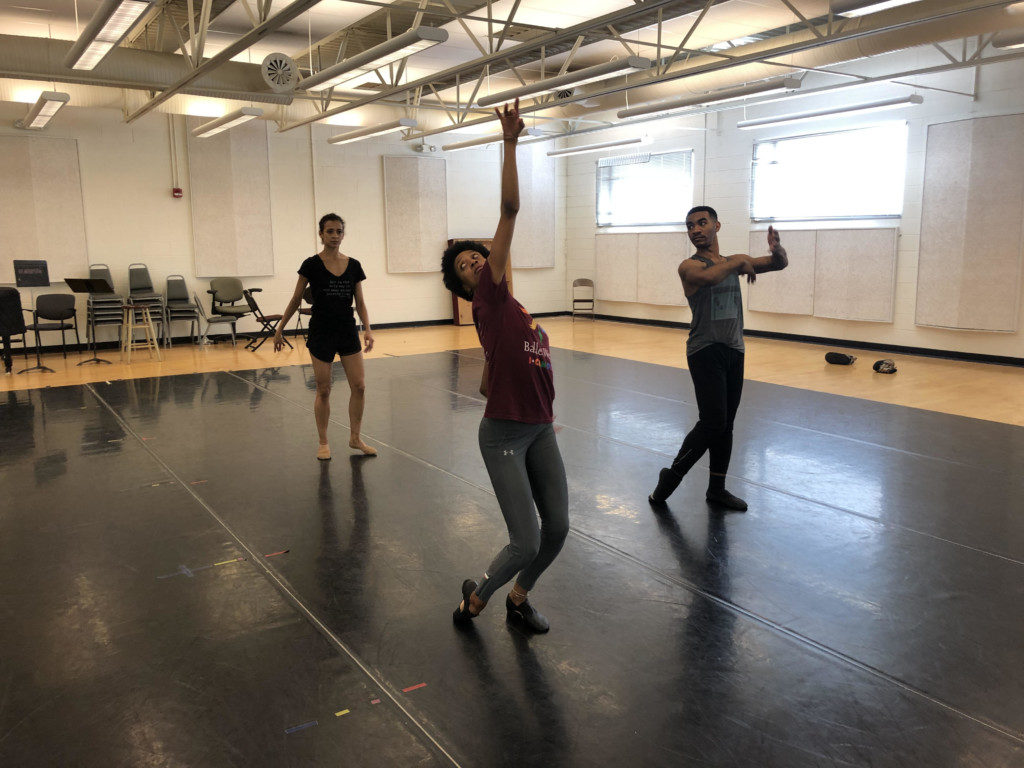 Addison says the vignettes in her work represent the emotional rollercoaster of relationships in contrasting moments of the most intimate and the most distant. Hence, the selection of songs is critical for her to find the most satisfying creative impact. It is a familiar, easily accessible connection as well for audiences to make. Couples in a romantic relationship often have music or a song that signifies their most intimate connections. However, if they break up and hear that song in a separate context, it reinvigorates those cherished memories. And, the person is conflicted and hesitates what to do. Should they reconnect or accept begrudgingly that the most intimate feelings are forever lost.
The dance movement Addison brings to the work encompasses all three periods: classical, neoclassical and contemporary, according to Ruud. Addison, who previously danced in Houston, joined Ballet West in 2011 and has steadily ascended the artistic ranks in the company, becoming first soloist in 2018.
Meanwhile, Whitehead's commissioned work for six dancers, currently titled Anim (which is Tagalog for six) is poised to be much different – an abstract composition leaning heavily on contemporary ballet and for which he composed his own music, a first for a Utah Arts Festival dance commission.
As with Addison, Whitehead also has been meticulous about finding the right music for his first formal commission as a choreographer. "I searched YouTube and other sites for the music I would consider using but my attention span was pretty short so the next day, I decided to do my own music," he explains.
His original idea was an ambient, spacious electronic score. "I really liked it for about two days and then I deleted it," he adds. It was an acoustic guitar cover of music from The Godfather movie that sparked his creative arc for the work. His revamped musical score includes bits of flamenco-style guitar and contrasts in rhythm and tempi that add textures and depth to the feeling of his work.
The ensemble in Whitehead's piece moves together as well as in solo moments, pas de deux, and duets for males and females. Without attaching a particular narrative, Whitehead prefers to let the audience add their own interpretations. Sometimes, the movement might proceed unpredictably, as he inflects it with a bit of hip-hop. He also is sensitive to letting the dancers' personalities come through so he has choreographed music and movement to highlight each dancer's unique strengths. In the duets, he playfully inverts expected roles with quicker tempi and movement tones alternating between sassy and spicy or elegant and subdued. Whitehead's holistic statement in this commission comprises his own original choices – dance movement, music and costumes.
A native of Portsmouth, Virginia, Whitehead came to ballet relatively late at the age of 18. He joined Ballet West II in 2010 and then Ballet West two years later and was promoted to demi soloist in 2016.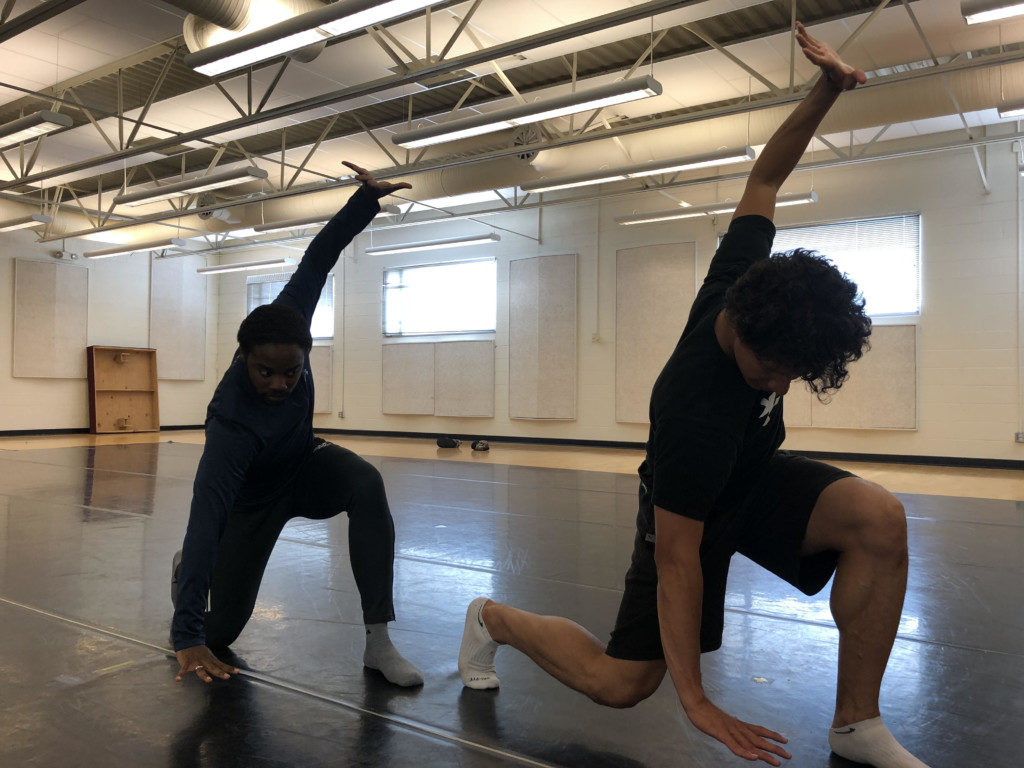 Ruud also has selected two popular selections from the Ballet West repertoire to be performed. The program will open with the Scherzo from George Balanchine's A Midsummer Night's Dream, danced by Ballet West Academy students – a perfect choice as the performance date coincides with the summer solstice. Balanchine set the ballet in 1962 more to the famous music of Felix Mendelssohn than he did to the Shakespeare play. The Scherzo epitomizes the realm of Oberon, king of the fairies, and the butterflies and insects buzzing about in his kingdom.
Following the premiere of Addison's work, Eliana Smith, Ballet West Academy student, will perform Ruud's Reaching Out. Following will be a gem that has been in the company's repertoire for 40 years – Lark Ascending, choreographed by former artistic director Bruce Marks, and based on the music of British composer Ralph Vaughan Williams. Performed by Ballet West trainees, the composition will feature the music performed live by students of the Gifted Music School. The concert will close with the premiere of Whitehead's commission.
Performers from Ruuddances include Sayaka Ohtaki, Jenna Rae Herrera, Gabrielle Salvatto, Chelsea Keefer, Kyle Davis and Hadriel Diniz.
Peter Merz, director of the academy, also will offer brief remarks about Ballet West's education program and its impact.
The festival's dance commission program was started in 2011 and has involved Ballet West every year.
SID RICHARDSON, CHAMBER MUSIC COMMISSION, GRAMARYE – June 22, 4 p.m., The City Library Auditorium
Sid Richardson's passion for modern literature is as deep as his love and his work in music. "I have many interests, but I tend to think my concert music has been largely influenced by modern literature," he says in an email interview with The Utah Review. "I have drawn inspiration from the works of such writers as Beckett, Céline, Anne Garréta, Proust, Rimbaud, and Nathaniel Mackey."
Gramarye, his latest work, will premiere at the Utah Arts Festival as part of the annual chamber music commission program, which has been a part of the event since 1991. Therefore, the setting of the free, public concert on June 22 at 4 p.m. in the auditorium of the City Library seems most appropriate. Richardson's work will be performed along with music by Luis Tinoco, Devin Maxwell and Neil Thornock.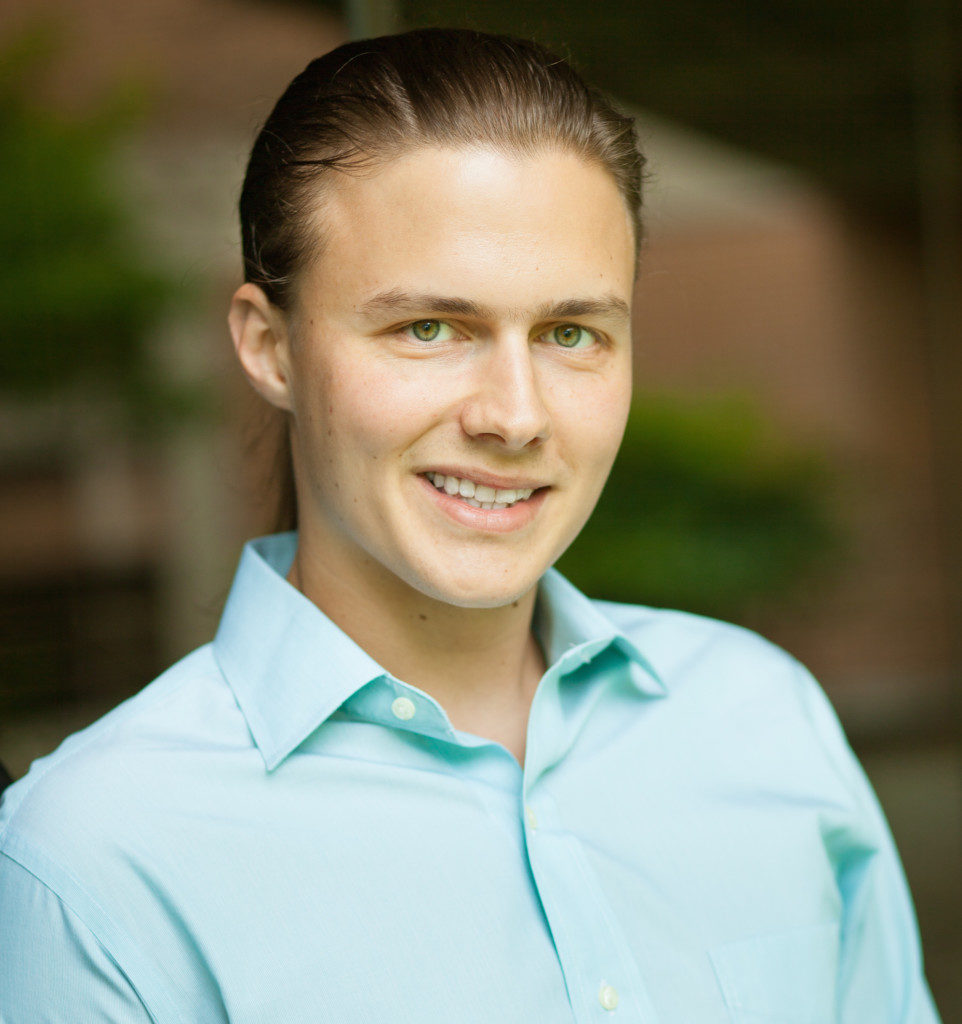 Richardson explains the title comes from a term that had much different connotations in the Middle Ages – occult learning, magic and necromancy. He adds, "Grammar is regarded today as an ubiquitous study instilled in us from a young age in school," but centuries ago, "knowledge of grammar was scarce enough to be considered a form of sorcery by the layman." Therefore, he says, "along with logic and rhetoric, grammar formed the core of the seven liberal arts known as the trivium."
Richardson is inspired by this mystical view with Gramarye, as he explores the variations of harmonic material in textures, of which each are "controlled by unique, sound grammars," while he weaves excerpts from texts into the musical architecture of this piece. "These include references to gramarye in the Towneley plays and Sir Walter Scott's The Lay of the Last Minstrel, he explains. "I do not intend these processes to be recognized and carefully followed by the listener, but rather I aim for them to lend the music an underpinning structure and personal meaning, which allows a metaphorical resonance with the source materials to blossom."
As for leveraging the full listening experience of this 12-minutework, Richardson encourages audiences to absorb the "sound worlds" in each section. "The exposition is especially important, in that it presents in a short amount of time the harmonic content of the entire piece," he explains. "From there, each subsequent section reworks the same harmonic building blocks into a unique structure or 'grammar.' Listeners should be attentive especially to the work's climax, in "which ascending gestures are interspersed with the crunchy chords from the opening." The climax ends with a bang on the gong and then segues into a "sparse, eerie coda."
The composition follows an instrumentation that has become customary for the festival chamber music commission: "Pierrot Plus (Percussion)" – that is, flute, clarinet, violin, cello, piano and percussion. "Within this framework, I chose to highlight the clarinet, which is specified as a Clarinet in A," Richardson adds. "This lends it a slightly huskier, darker tone, and afforded me the low C# a half-step below the low D on the Bb clarinet."
Listeners will want to focus on "that beautiful low note," in Richardson's words, in several spots in Gramarye, notably in the second minute and in the work's final chord.
Percussion instruments were selected for specific textural effects: bongos, tam-tam, vibraphone, and wood block, with vibraphone playing a central role. "I explored textures where the vibes function as a sonic highlighter, and also sections where it functions as a harmonic pedal or a canvas on which the other sounds unfold," he explains, adding that the latter is prominent in the climactic section, as the percussionist plays soft dyads with timpani mallets. A notable contrast occurs in the third section in a duet for violin and tam-tam that makes use of the gong's wide range of dynamics and harmonic spectrum. "Gongs have always fascinated me as a sound world unto themselves. I was glad to indulge my imagination in employing one in Gramarye," he says.
For Richardson, the idea of resonance is key to this music. "In my mind, resonance functions in this work as both a structural device and a metaphor–it serves as a form of punctuation in the grammatical sense, but also evokes the supernatural element of gramarye as magic," he explains.
Richardson's career and influences are indicative of the younger composers who have become more prominent in the festival commissions in recent year, an award sponsored by the Marriner S. Eccles Foundation. For his Ph.D., he worked with Nathaniel Mackey, the Reynolds Price Professor of Creative Writing at Duke University, writing Red Wind, which set some of Mackey's poetry to music.
"That experience consolidated several of my interests, namely ethnography, words, and musical idioms outside of 'classical' concert music like jazz, blues, and ragtime," Richardson adds. His musical tastes are wide and eclectic: Harrison Birtwistle, John Cage, Pascal Dusapin, Charles Ives, Kaija Saariaho, Kate Soper, Galina Ustvolskaya, Claude Vivier and Frank Zappa. Among his most recent favorites are Paul Hindemith's Kammermusik (which he says he finds "stunning in its blend of complexity and lyricism") and Duke Ellington's Sacred Concerts ("which I find to be some of the most deeply compelling American music").
Gramarye follows a creative impetus central to Red Wind and another work based on a Mackey novel – Bass Cathedral. He also wrote a piano work, as inspired by Samuel Beckett's play Footfalls. The work There is no sleep so echoes a major character – a woman pacing up and down the stage, as she recounts her slow withdrawal from life,
During his time at the festival, he hopes to catch many of the visual arts opportunities, especially sculpture, painting, and textiles.
JAY LAWRENCE, SALT FLATS…(AND SHARPS), SALT LAKE CITY JAZZ ORCHESTRA — June 21, 7:45 p.m.
Ever since Jay Lawrence left Reno more than 30 years ago, he has never looked back. In a music career that is approaching the 50-year mark, he has loved every minute of having Utah as his home base. He became a union musician at the age of 15. In the jazz scene, he is the utmost versatile musician – drummer, ethnic and orchestral percussionist, composer and arranger, educator, clinician, adjudicator, band leader, contractor and author. And, even with 16 grandchildren, he continues apace in a tremendous musical career.
It is fitting that his jazz commission for the Utah Arts Festival – Salt Flats…(and Sharps) – is a musical love letter for everything that he has appreciated in Utah. "Anytime I write anything from scratch, I always look for something different without it becoming antiquarian or a relic," he explains.
In expressing his appreciation for all of the spectacular and unusual natural elements of Utah, Lawrence incorporates the traditions of big band music and charts into this latest work. The commission conveys the open spaces, lots of fun memories and the freedom he has enjoyed in his musical career. He is going for a summer vibe in the music that the Salt Lake City Jazz Orchestra will premiere.
Lawrence says he takes a stream-of-consciousness approach to composing. He might, for example, play the notes for a potential trombone part and then explode that into bigger musical ideas and structures. It can be, as he explains, creating a graph of what the music will eventually be. The short composition follows a classic pattern with an introduction, melody, a restatement of the thematic material, a bridge and then the lifeblood of big band sounds – jams and solos, featuring the piano, trumpet, trombone and drum set.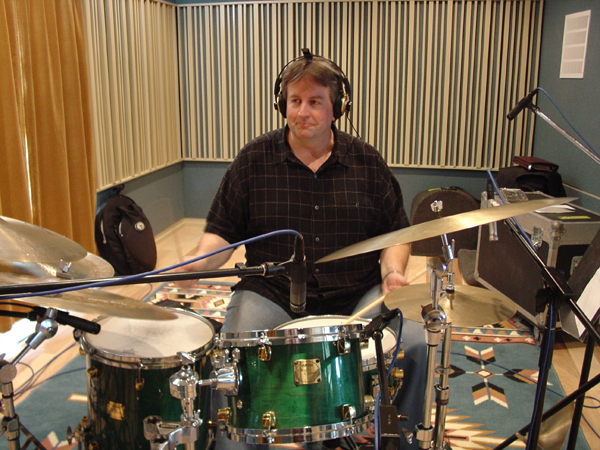 For varying colors and textures, he is using a whisper chorus, as well as different mutes for the brass instruments (hat mute, for example, for the trombone), the clarinet's woody sound and the metallic tones of flutes and saxes. He says the outcome is pulling disparate ideas that have been milling about for awhile into a single composition.
And, in rehearsals, the band apparently loves the musical patchwork quilt he has offered the musicians. Lawrence also emulates the creed of Duke Ellington, who often talked about writing music for people rather than the instruments. And, given the deep camaraderie he has established with the musicians who will premiere his latest work, Lawrence says he does the same thing, such as pushing lead trumpet Keith Davis to the edge of his abilities.
In his formative years, Lawrence cut his teeth on the music of Jimi Hendrix, Led Zeppelin and the Beatles and then groups such as Blood, Sweat and Tears before moving onto even brassier and brasher sounds. Soon, he leaped forward to jazz giants including Maynard Ferguson and the Count Basie Orchestra.
A member of The University of Utah music faculty since 1988, he has performed in concert with countless celebrities, major events, musicals and, of course, many of the jazz artists who are household names. His recording portfolio is just as extensive and he has credits for recording numerous film and television scores. Lawrence is the quintessential jazz musician who always seems to be in demand.