Many of Utah Arts Festival's special street theater attractions have been unforgettable. In 2014, Australia's Strange Fruit using a soundtrack with excerpts from Mozart to swing, acted out a universally approachable timeless story of a boy and girl in romance, expressing love, loss, jealousy and joy. However, the quartet of performers danced, flirted and delighted audiences with comic gestures while atop specially made flexible fiberglass poles reaching more than 15 feet high. For the 40th anniversary in 2016, the 'internationally acclaimed aliens' otherwise known as the Neighbourhood Watch Stilts International from the U.K. performed Les Oiseaux de Lux, a story about a flock of wingless birds who have the power to elicit even a good bit of laughter and amusement from the most stoic ego-focused individual in a festival crowd. Last year, BANDALOOP, which has expanded its international portfolio of vertical dance works to breathtaking new levels of artistic altitude, transformed the City Library's south-facing glass wall above the reflecting pool into a unique stage.
This year, festival organizers are reaching to the prehistoric era, as Close Act Theatre, based in The Netherlands, brings Saurus, a trio of large dinosaurs to entertain and 'confront' – good-naturedly, of course – crowds at several shows each day of the event (June 20-23, daily at 4,6, and 8 p.m.).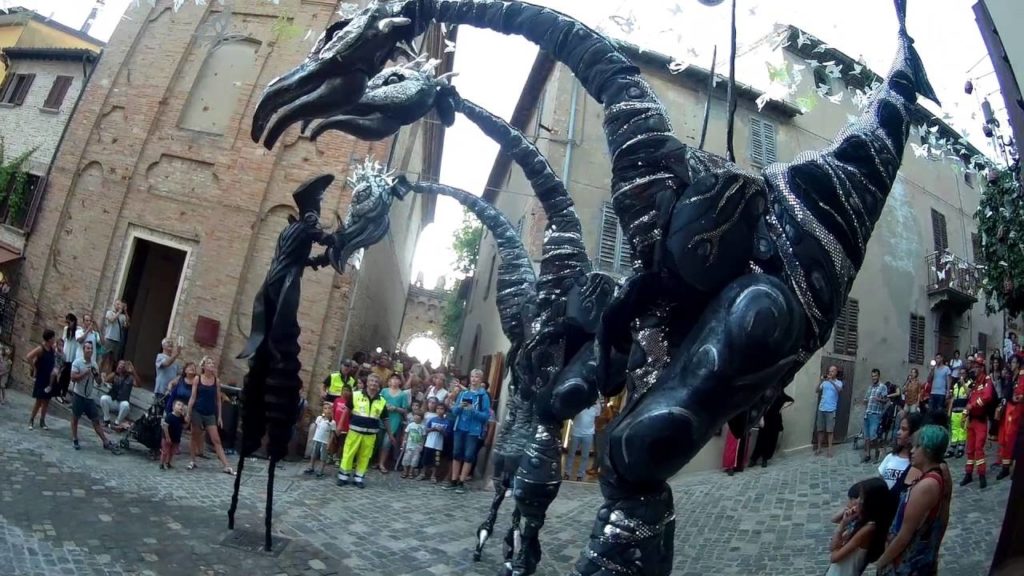 The incredible costume engineering and logistics of this theatrical act have been perfected over the last 15 years, as Saurus has been seen at major events around the world. Close Act Theatre, which has operated since 1991, is the creative platform established by Hesther Melief and Tonny Aerts.
The logistics are impressive. A Saurus stands more than 16 feet tall and more than 22 feet in length, as the performers move on stilts but are completely encased in these gigantic costumes that they are completely unrecognizable as humans. The costumes are so elaborate that they have sound installations inside, which provides the appropriate audio effects to make the experience seem even more realistic. However, the show's most impressive aspect of the show comes at the end when the costumes are dismantled and audiences can observe the elegant straightforward logistics of this theatrical engineering.
The Saurus dinosaurs, which appear to be a hybrid of velociraptor-like creature and a dragon from the Arthurian legends, amble through the grounds, occasionally leaning down as they gently touch the heads of festivalgoers. They will be accompanied by a volunteer dinosaur 'wrangler.'
In a Skype interview with The Utah Review, Melief, whose training was in graphic design and whose mother had an extensive background in street theater , says she and Aerts were inspired after watching numerous curious street theater performances, including an insect character on stilts.
Each show runs 30 minutes, a strenuous challenge for performers who must navigate on stilts with limited vision inside costumes with sound systems that weigh between 45 and 55 pounds. "It is a real workout for us," Melief adds, that hot, humid climates especially make them sweat profusely.
Nevertheless, the rewards of audience appreciation more than compensate for the strenuous efforts involved in staging the show. At first, the realism might stun children or even a few adults but then they warm quickly to the experience. Saurus should be a solid draw in Utah, given the extensive array of dinosaur exhibits at the Natural History Museum of Utah, which documents evidence of their presence in the area during prehistoric times.
As imposing as they appear on first sight, Melief says the show's purpose is to be playful and certainly non-threatening. Audience reactions vary from country to country. In Asian countries, spectators tend to be reserved and gentle, while those in South America are wildly enthusiastic at the appearance of Saurus. However, for Melief and Aerts, it is the end of the show that brings the greatest satisfaction, when the reveal shows that it was humans, not robots or mechanical manipulation, who moved in the costumes. In recent years, Saurus has performed at Omaha, Ann Arbor, Detroit and Breckenridge, Colorado.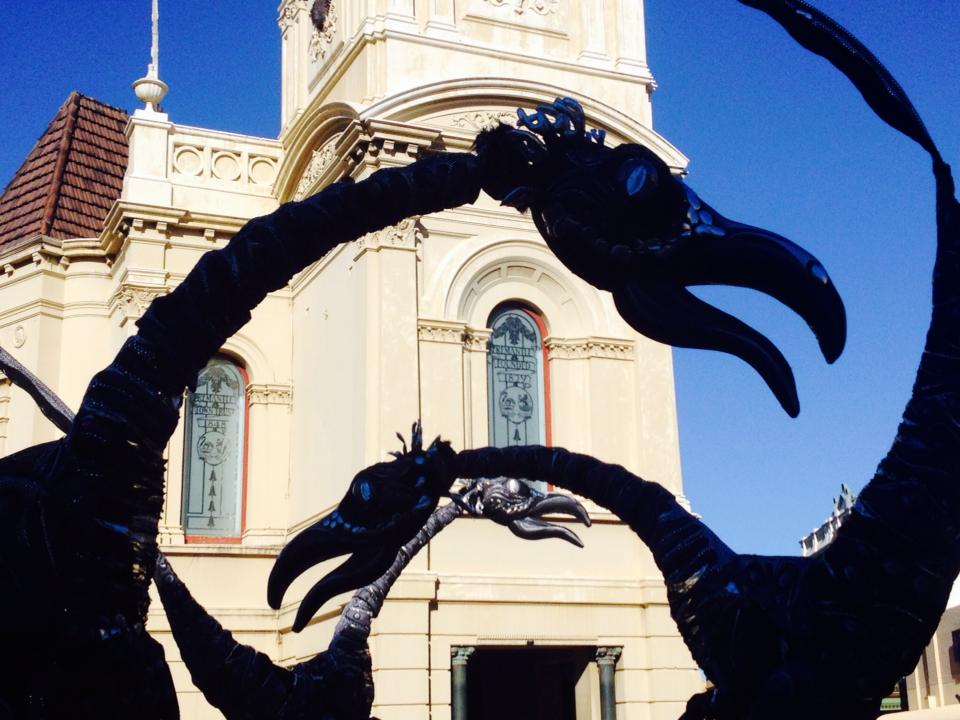 Saurus typically brings three to 12 'dinosaurs' for a show, especially using smaller numbers in the States, given the costs of shipping the costumes overseas. However, in Europe, there have been as many as 33 characters. In addition, Close Act has developed other productions, including Birdmen, Coloured Wings, and Per-Q.
Melief explains that Saurus is not just channeling our deep curiosity about dinosaurs but reminding us about a natural world where many species are dinosaur-like creatures that exist today and the responsibility to ensure they continue to exist. They include crocodiles, bird species such as the shoebill, the great flying fox that resembles a bat, oceanic creatures including the goblin shark, Japanese spider crab, large jellyfish and giant salamanders as well as raptors such as the cinereous vulture. Virtually every bird species can be traced to prehistoric creatures.
For more information about all events, see the Utah Arts Festival website. Ticket information can be found here.