Several major arts organizations in the Salt Lake City metropolitan area have adapted their programming and classes to streaming and interactive platforms. Initial responses and numbers of participants also have been encouraging, indicating that arts and culture are just as essential (if not more so), even as regular routines have been upended by the coronavirus pandemic.
The Utah Review presents a roundup of options, which emphasize smart innovations and manageable logistics. While many of the activities are free and open to the public, a handful require registration, a nominal donation, or modest fee.
PLAN-B THEATRE
Continuing through April 5, ending at 11:59 p.m. on that day, will be the free, public stream of the world premiere of Plan-B Theatre's The Audacity, written by Jenifer Nii, featuring April Fossen and directed by Jerry Rapier. This 70-minute production is a pinnacle of rare excellence in the Utah Enlightenment, as mentioned earlier this week at The Utah Review. Already more people have seen the stream than if they would have been able to attend a normal production run of live performances. Plan-B's website also has links to videos, all 14 Radio Hour episodes and the published anthologies of works by Utah playwrights that were premiered by the company.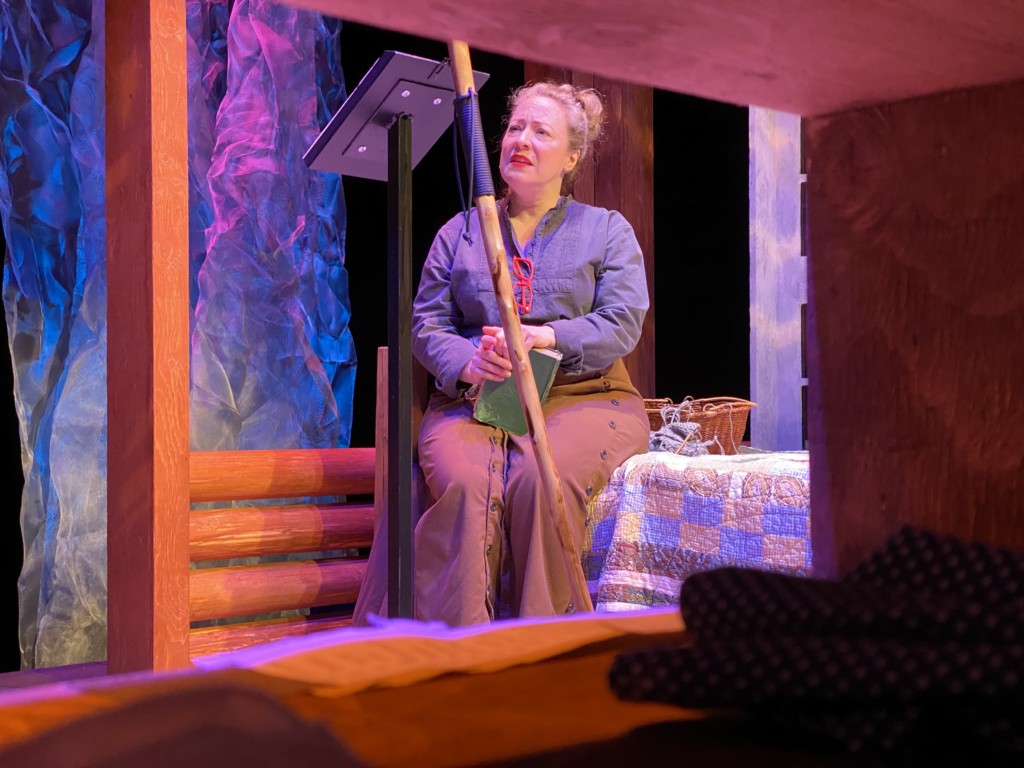 UTAH FILM CENTER
The Utah Film Center's pilot virtual screening on March 31, featuring a selection of short films by Utah directors in its Artist Foundry program, drew 310 participants. Replicating the format of its normal weekly screenings at the City Library auditorium in downtown Salt Lake City, the center will present live stream screenings hosted and moderated virtually by staff members along with streamed-in post-screening conversations with directors, local leaders and experts. Viewers will be able to chat during the film in an accompanying chatroom and ask questions during the post-film conversations via messages. The virtual screenings will take place on Tuesdays at 7 p.m., or as otherwise noted at the center's website. Films are still in the process of being confirmed, pending arrangements with distributors.
Among upcoming program offerings is a documentary about a subject that is especially pertinent, as everyone struggles with the shock of an economy that came to a ground stop when the coronavirus pandemic overwhelmed the nation. Waging Change, a 2019 documentary directed by Abby Ginzberg, will be screened on April 14 at 7 p.m., with the director and Saru Jayaraman, president of One Fair Wage, participating in the talkback after the screening.
The film documents the movement, led by women, to end the federal sub-minimum wage of $2.13 per hour. Women comprise two out of every three employees in tip-based jobs, along with workers with disabilities, teens and, in many states, those who are incarcerated. The film includes appearances by U.S. Rep. Alexandria Ocasio-Cortez and actors Lily Tomlin and Jane Fonda.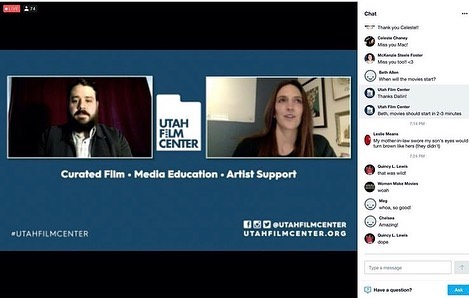 The film's visibility has expanded significantly, especially as the impact of the pandemic has paralyzed the restaurant and hospitality industry. The documentary received best of show honors in the Accolade Global Film Competition. One Fair Wage has established a workers' support fund while Restaurant Opportunities Centers United is providing direct assistance as well as gateways to other sources of financial help during the pandemic.
The center also has a guide on maximizing the live stream experience for home enjoyment. Some of the forthcoming screenings, which are being discussed, will be acutely relevant to the social circumstances being experienced currently. These include documentaries about people who had a positive impact on culture without leaving their homes, the inspiration of absurd times for creating absurd art and a French inspirational take on the International Space Station.
WESTMINSTER COLLEGE WITH UTAH OPERA, RED DESERT
At Westminster College, Katie Porter and Devin Maxwell of the Red Desert music ensemble have been engaged in an artistic residency, but they also have recalibrated their programming gears. On Friday, April 3, at 11 a.m., the School of Music along with Utah Opera will present a virtual Composer Chat with Lisa DeSpain, available on live stream at YouTube.
A native of Utah, DeSpain lives and works in New York City as a composer of musical theater, opera and concert repertoire. She also is known as an arranger of choral pieces from Broadway that are used in school choirs, including shows such as Hamilton, Once, American Idiot and Next to Normal. The first jazz composer to receive a Copland House Residency for her opera That Hell-bound Train, she also is working on Staggerwing, which will depict early women in aviation and their competition in a cross-country race, with librettist Rachel Peters, as part of a commission from Opera Kansas. For last year's celebration of the 150th anniversary of the completion of the Transcontinental Railroad, she composed a short opera No Ladies in the Lady's Book for Utah Opera.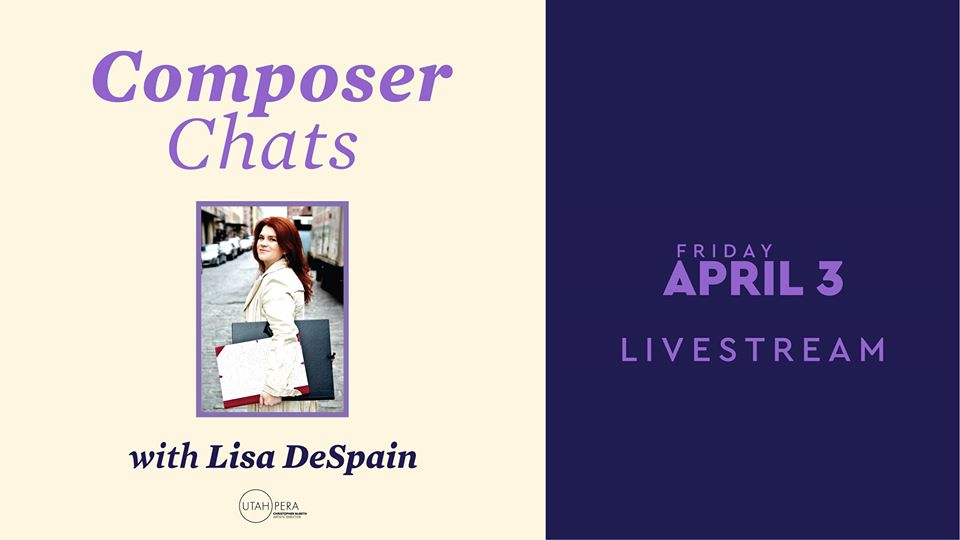 As part of its college artistic residency, Red Desert had scheduled a concert of large experimental works with local and Los Angeles musicians at Westminster on April 13 at 7:30 p.m.. As a replacement, Maxwell and Porter will do a live stream concert featuring a subdued, post-silence experimental duo set of works written for them. The program is expected to include the hour-long Averer Locale by Michael Pisaro, Turning by Michael Pisaro (a 20-minute composition piece), and several tableaus of Andre Cormier's duo for bass clarinet and drums including Émeraude. Platine. Hémérocalles and possibly some other selections. Final details have yet to be confirmed but information about the live stream link on April 13 will be accessible at this Red Desert page.
ENVELOP SLC
Envelop SLC, which is a branch of Envelop SF in the Bay Area, has become a popular venue for communal listening of recorded music in an immersive space with superior quality of sound. However, as the pandemic has erased public performances, Envelop has introduced Envelop Stream, an online platform for sharing live streams of their spatial audio events. The experience has been optimized to capture the similar quality of its physical performances and to accommodate the listener's standard headphones.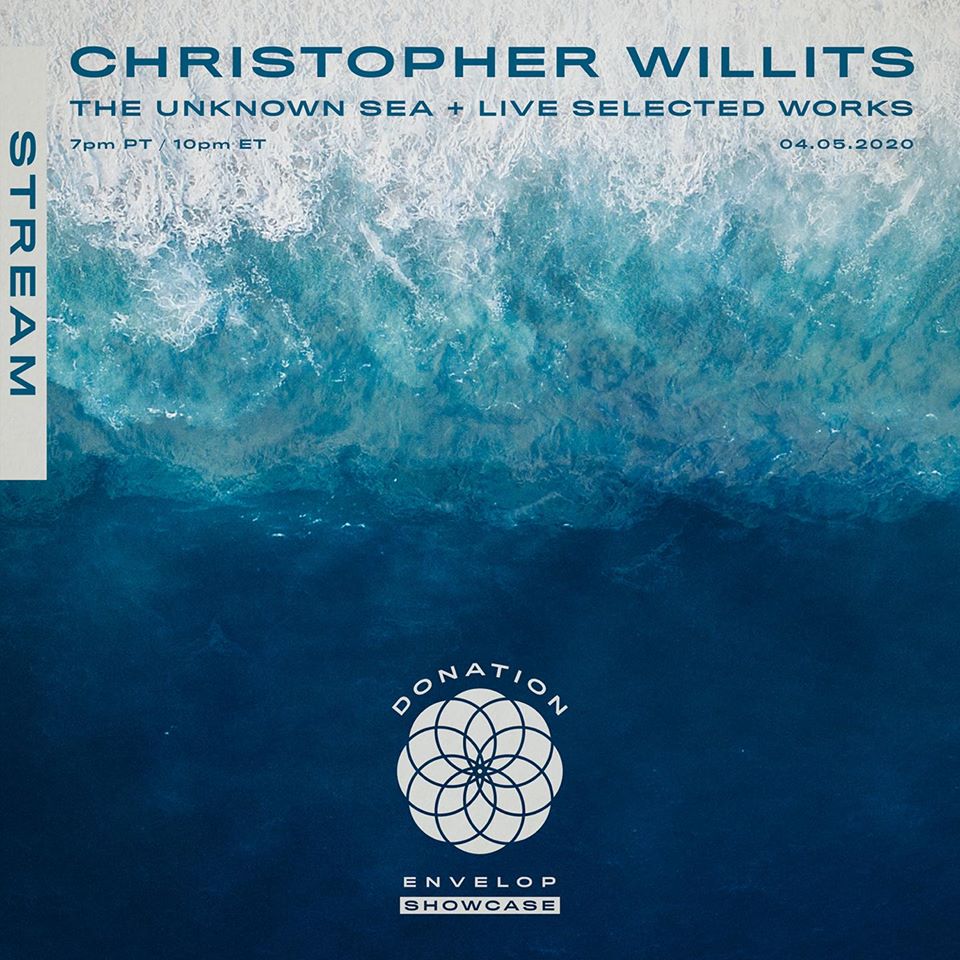 The next scheduled event is April 5, at 8 p.m. MDT (7 p.m. PDT), featuring Christopher Willits, who will present an extended version of an upcoming release The Unknown Sea.
The stream and other Envelope virtual events are open to any Envelop member who will receive an all-access pass. Upcoming Envelop Stream events will be $20 with occasional pay-what-you-want offerings.
Spy Hop Productions has launched its Rewired offering of free online workshops for students, ages 10 to 19. Each weekly workshop is conducted live, and connects students, Spy Hop mentors, and professional artists in film, design or music. All courses are accessible through any device with virtual or remote capabilities. In instances where software is required, participants can download the required elements for free. Each weeklong workshop combines live class time with links to tutorial videos that participants can watch at their convenience and use as a guide to create the project. At the end of each workshop, participants present their projects in a live session. For more information, see the Spy Hop website.
UTAH MUSEUM OF FINE ARTS
Although the Utah Museum of Fine Arts (UMFA) is closed through May 8 (even as dates may change at short notice), the museum staff has compiled various virtual art experiences that are available to the public. "Most UMFA staff are working remotely, though a very small crew of security and collections staff members are keeping an eye on the museum collection through remote and onsite monitoring," Mindy Wilson, UMFA director of marketing and communications, says.
Museum objects suffered no damage in the March 18 Magna earthquake, "a testament in part to the care we take in securing objects both upstairs in the galleries and downstairs in collections storage," Wilson adds.
A new online portal UMFA at Home encompasses behind-the-scenes stories from museum curators and staff, hands-on art activities for children and adults, and learning resources for teachers and parents. Curators, educators and communicators will update the content weekly, expected to occur every Friday.
Beginning Friday, April 3, the Holt/Smithson Foundation will offer Fridays at the Movies, presenting a moving image work by artists Nancy Holt and/or Robert Smithson on the Holt/Smithson Foundation's Vimeo platform, which will be made public every Friday between 3 p.m. and 11 p.m MDT. The first presentation will be Nancy Holt's Utah Sequences (1970), which is currently on loan to the UMFA and was on view in the modern and contemporary gallery before the museum was closed. Utah Sequences is scheduled to be on view at the UMFA through Aug. 2.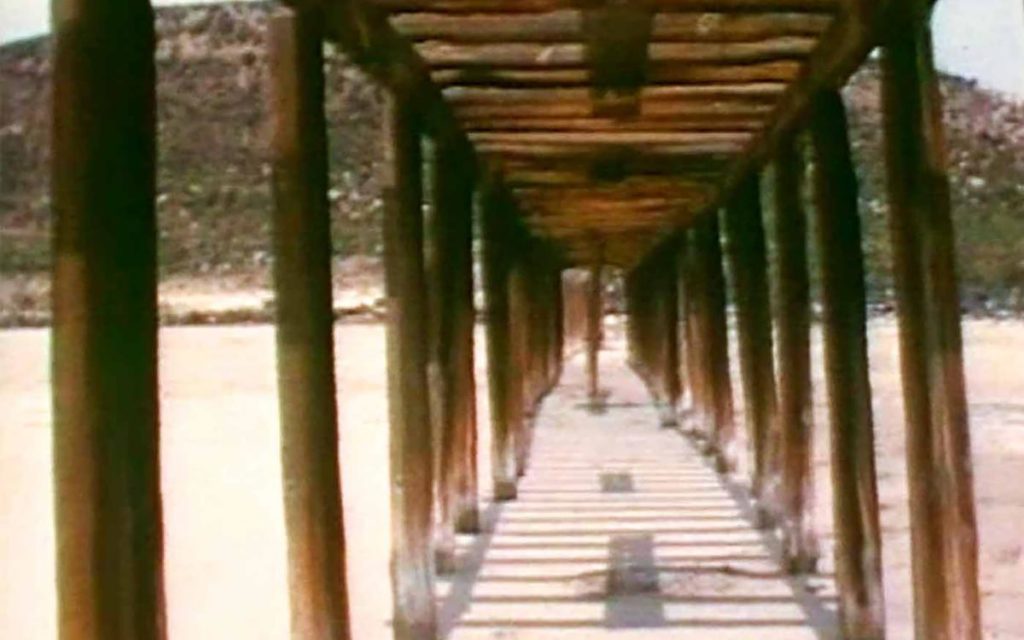 UMFA had planned to mark the golden anniversary of the Spiral Jetty earthwork sculpture by Robert Smithson with an April 18 birthday party but as the event has been canceled, the museum is hopeful that visitors eventually will see the exhibitions and artwork on view at the UMFA. At this time, the Spiral Jetty community gathering scheduled for Oct. 3 is still intact. UMFA staff is asking the public to send their stories of their own Spiral Jetty experiences (in words, images, video, etc.).
Prior to its closing for the pandemic, UMFA had opened twin exhibitions representing the museum's largest showing of Japanese art in its history. Beginning April 3, the museum will post to the exhibition page an online gallery of more images and wall texts from Seven Masters: 20th-Century Japanese Woodblock Prints, which is scheduled to close April 26. The second exhibition Beyond the Divide: Merchant, Artist, Samurai in Edo Japan is scheduled to run through July 5. Wilson adds, "We continue to develop and upload enhanced content to help share these wonderful exhibitions with visitors." For more information about these exhibitions, see The Utah Review feature from February here.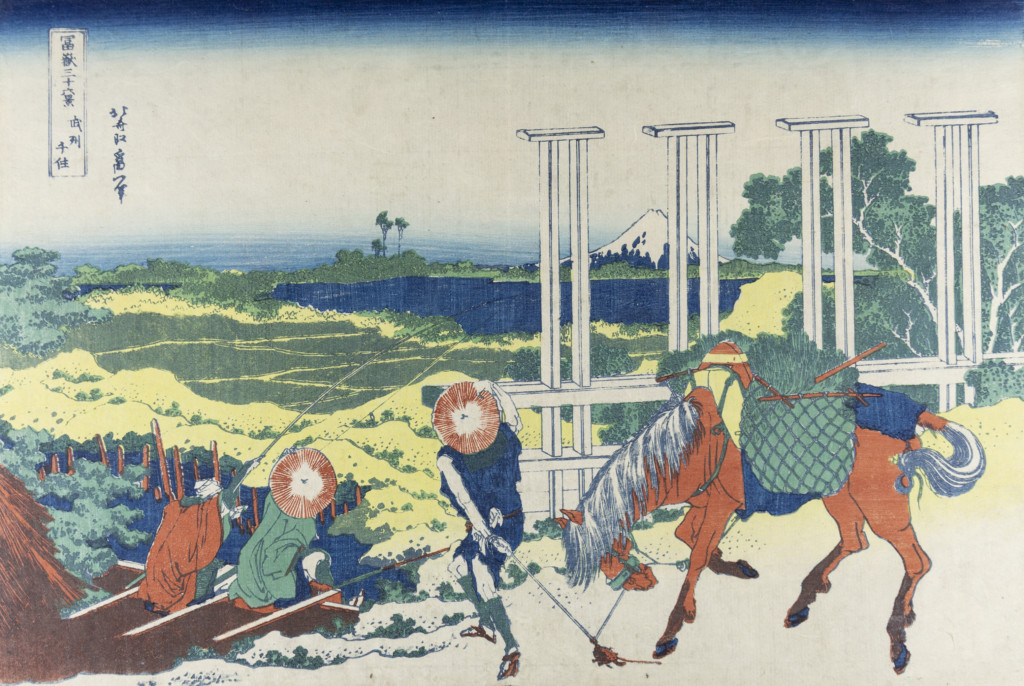 Other UMFA activities that are forthcoming include the popular Mindfulness program, which will be offered as a video series and incorporates meditation practices. UMFA also is assisting teachers in all educational levels by providing content such as virtual tour and online learning. The museum also publishes a weekly e-newsletter with updates on content and programming.
UTAH MUSEUM OF CONTEMPORARY ART
The Utah Museum of Contemporary Art's (UMOCA) education staff has designed Art Everyday activities for students at home, using common objects and art supplies. The projects, involving 10 steps or less, include Zine Making, Zen Doodling and Cave Drawings, which can be created using brown paper or a brown bag, along with crayons, pencils or markers. Short, simple instructions can be found at UMOCA here as well as its Instagram page stories here.
UMOCA also is continuing its Art Truck programming with 360 virtual tours, which can be viewed at the museum's website. A current Art Truck exhibition Work/Trabajo, an Audio-Visual Exploration of Effortful Lives comprises a series of photographs and audio interviews, created and curated at the Escalante Elementary School in the Rose Park neighborhood of Salt Lake City.
REPERTORY DANCE THEATRE
Utah's dance scene, which has been thriving with an internationally acclaimed reputation, came to a screeching halt in mid-March as the pandemic began to overwhelm abruptly the state. While it is not anywhere close to business as usual, Repertory Dance Theatre (RDT) has ramped up plenty of online community activities. Normally, RDT runs a bustling academy of dance classes at the Rose Wagner Center for Performing Arts, but as the schedule has been cancelled at least through May 15, RDT already has moved them online.
Classes are offered at "a pay what you can" rate, the proceeds of which will be used to compensate teachers. Classes are offered in ballet, modern, hip hop, Bollywood, jazz, prime movement and Afro-hop. RDT also offers online lessons plans for teachers, students and families to use at home and are available here, free of charge. The company has added more than 20 lesson plans.
In addition, with the permission of choreographers, RDT has expanded its online video library by uploading full versions of its repertoire. The content includes resources about the creative process for the dance composition as well as lesson ideas and discussion questions, although the videos also are intended for individual enjoyment and appreciation. RDT also is working with the Utah Education Network to share lecture demonstrations, student performances, and video content with teachers across the state.
RIRIE-WOODBURY DANCE COMPANY
Likewise, Ririe-Woodbury Dance Company is focused on ensuring that dance remains a vibrant experience to the community in their homes. Since March 19, the company's dancers have hosted virtual classes for children and adults twice daily via Zoom, the video communication software platform. Classes are currently made available until April 10 and will be hosted variously by Daniel Charon, artistic director; Ai Fujii Nelson, education director, and Drew Jaussaud, booking manager.
Classes are compact, such as Young Movers, geared especially for children, held daily at 11 a.m. and which lasts 15 to 20 minutes. The daily 5:30 p.m. class is for adults, and no experience is required, with various sessions covering everything from free movement to technique, toning and self-massage. The class runs 25 to 40 minutes per session. Class information also is available at Ririe-Woodbury's Facebook page and the company's website calendar.
While the classes are free of charge, Ririe-Woodbury is accepting donations graciously to support future education and performance programming opportunities. These classes also substitute for the normal school activities that have been supported by the Utah State Board of Education's Professional Outreach Programs in the Schools (POPS) budgeted grant. Other participating POPS organizations include RDT, Plan-B, Spy Hop, Utah Film Center, UMOCA and UMFA, among others.
"Coming together twice a day to dance with our community has been saving me. I've been surprised at the strength of the emotional connection through this medium. It's honestly one of the more beautiful experiences of my life," Melissa Younker, Ririe-Woodbury dancer, says. Similarly, colleague Megan McCarthy explains, "Hosting classes from my apartment has been fun and the best kind of challenge! I'm thoroughly enjoying seeing people join us online to try and stay dancing during this social isolation."
TORREY HOUSE PRESS
Torrey House Press, which in recent years has released an impressive number of nonfiction and fiction books representing a diversified range of voices for the environmental and conservation movements, has launched an online series That Thing With Feathers: Hope & Literature in a Time of Pandemic. The series will feature three new short posts weekly (Mondays, Wednesdays and Fridays), written by authors who have been published by the press.
A recent entry, for example, came from Karin Anderson, author of the novel Before Us Like a Land of Dreams, which captures the immediate relevance of trying to articulate coherently the impact of this extraordinary time: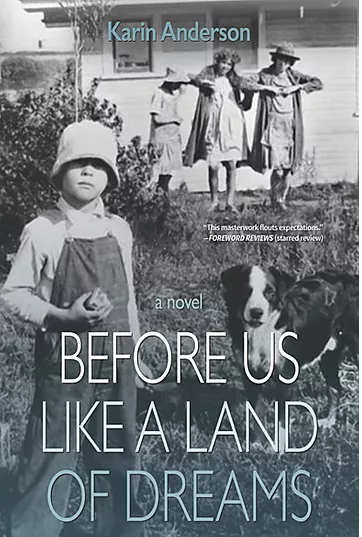 So many people, in this new season of fearful, unquestionably precedented return, will rise to the kind of love we can in better times forget is the definition of human culture. They do not ask for whom the bell tolls. My sister, a registered nurse, is a member of the Wasatch Front Infectious Disease Control team. She's on the front lines of corralling sheer anti-meaning into medical clarity, very literally risking her life. My university colleagues across the nation reach for their bewildered missing students across the mysteries of light and energy. The woman who rang up my groceries yesterday wished me well and sent me off with kind blessings.
Here we are, this week: separated in our homes, together on the planet, bound to the generations. I pass on to you the blessings of the grocery clerk.
SALT LAKE ACTING COMPANY
Salt Lake Acting Company (SLAC) has launched a community initiative We Got This, which highlights the stories coming from the community, an excellent concept as a cultural barometer for this unprecedented time. As the company's statement explains, "While the attention is usually on playwrights, creatives, and performers on our stages, we'd like to shine the spotlight on YOUR stories. Stories of the extremes you're living through, of acts of kindness, and resilience of the human spirit. We hope that when the time is right, through an artistic outlet yet-to-be-determined, that these experiences can provide hope and help us."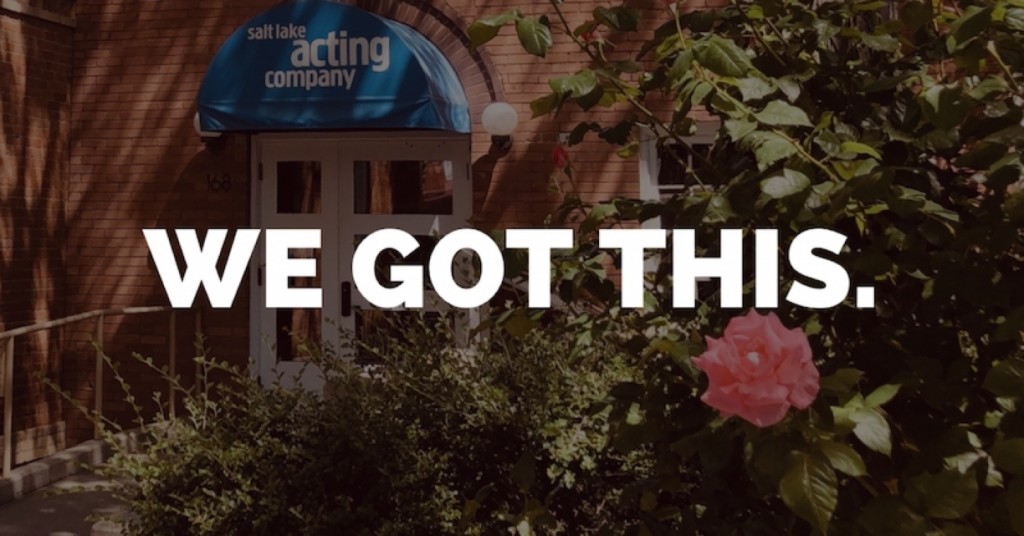 A signature example of a shared story was the following:
Our landlord knows we work in the arts and very generously offered to give us a break on rent for April. Because we're fortunate enough to remain employed when so many artists are struggling, we thanked him for his kindness and declined the offer but suggested he could donate the money to Utah Food Bank or another charity of his choice if he was so inclined. With all that's been going on, we forgot about the conversation until about a week later when we received a donation email receipt from the Food Bank. We are so grateful for people like our sweet landlord who practice unexpected acts of goodwill in uncertain times.
Submissions are being accepted through this SLAC form.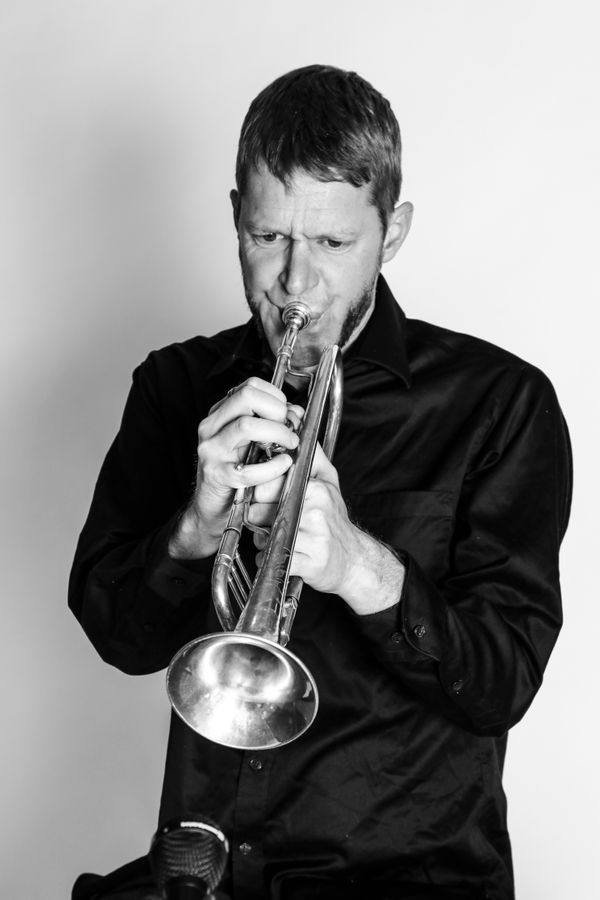 soundFORMovement
Michael Wall, who also is part of the Salt Lake Electric Ensemble, is well known among dancers and choreographers in the nation for composing music they can use in their work. His website soundFORMovement offers an impressive collection of resources. He has received numerous commissions for his music, including Ririe-Woodbury Dance Company, Ailey II and others.
Wall has made available a free downloadable album of 50 tracks, which can be used by dance educators and students license free in online classes or for student choreographic projects. This is immensely helpful for dance artists who now must work from home during the extended period of social distancing measures.
The Utah Review will continue to follow and update available online and streaming programs, as well as announcements about rescheduled events, contingent upon news about the mitigation of the pandemic's effects. Other local groups and nonprofit organizations are sorting through the logistics that would be most impactful for a virtual programming presence.
The Utah Arts Festival (UAF) announced on March 31 that it will postpone the 2020 edition of the festival to June 2021. In the interim, UAF staff will collaborate with the festival's venue coordinators to explore opportunities to support and promote arts activities, artists and the numerous nonprofit partners that participate in the state's largest multidisciplinary arts and cultural event. An announcement is anticipated in the next several weeks.