Many hosts dream of the perfect guest who is invited to visit their home. For the Repertory Dance Theatre, choreographer Danielle Agami and seven dancers from the ate9 dance company in Los Angeles are more than perfect guests.
During the morning hours, Agami and her dancers have been leading classes for RDT's SummerDance16, its annual two-week intensive workshop. Agami and her dancers also working with the company and she is choreographing a new commission that will be presented this fall at the opening concert of the RDT's 51st season.
"I've already been thinking of the theme of visit for the piece," Agami says in an interview. "Even though we are visitors, we are like hosts here in this collaboration."
For the opening class each day during the intensive workshop, Agami and her seven dancers from ate9 (the eighth could not attend because of an injury) have been leading participants in Gaga movement language, a relatively new development that particularly has served the more prominent storytelling aspects of modern dance.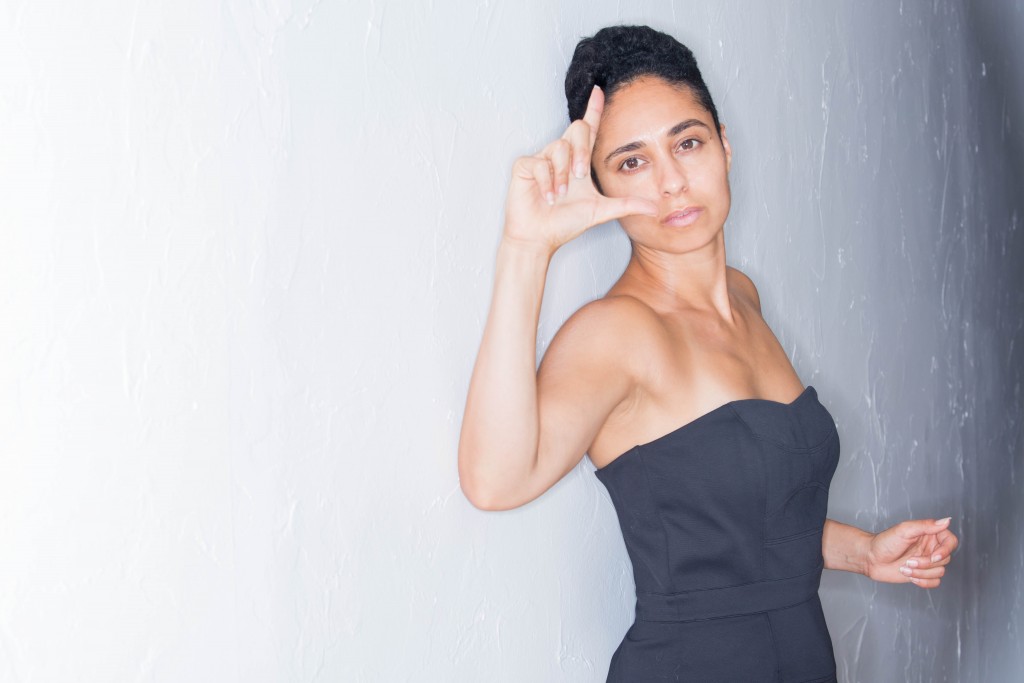 A thoroughly 21st century advancement in creative expression, Gaga was developed by Ohad Naharin, the artistic director of the Batsheva Dance Company based in Tel Aviv. Agami was with the company for eight years before coming to the U.S. in 2011, where she headed Gaga USA and then a year later, established her company ate9 in Seattle and then settling in Los Angeles.
"It is an egalitarian approach," Agami explains, adding, "because it trains us to be fully effective and efficient in our body movements as we communicate – in essence, talking through our eyes."
Naharin developed Gaga as a metaphysical way of coping with a back injury. For Agami, the most important objective of Gaga (she prefers speaking about this as a language rather than technique) is pleasure. "Dance enables joyfulness, and whether we're doing 30 or 300 performances a year, Gaga provides a fresh way to start every day and every new dance. It makes it possible for dancers to still work even when they are injured."
Agami's artistic expression in choreography focuses on the happiness and joy that a new dance composition can bring, even when it communicates and evokes a theme arising from tenser, darker events or moments. Naturally, self-awareness of one's surroundings and the emotions and reactions of people in those surroundings become handy sources of inspiration. "I enjoy watching a good soccer game," Agami says. "The situation is brilliant for its intensity and its playfulness. As a choreographer, my research covers many fields. I am interested in animal behavior. And, we travel a lot so that inspires us to create from a wide range of emotions – especially from the sadness and tension of conflict, war and death."
RDT's repertoire includes a popular Gaga composition – By The Snake by Noa Zuk, which joyously upends the social and gender conventions of couples dancing with an exhilarating score to boot featuring Israeli folk dance.
During their RDT residency, ate9 will perform Agami's EXHIBIT b (July 15, Black Box Theatre, 7 p.m., Rose Wagner Center for the Performing Arts), a work that premiered in 2015 and was commissioned by White Bird in Portland, Oregon. The work arises from the tensions, disruptions, and difficult ripples the ongoing Israeli conflict brings to the daily lives of the country's residents. Agami says the work suggests a convergence of the nostalgic desire to preserve tradition but also the explosive impulse to synthesize a new identity.
Indeed, it is an artistic statement of egalitarianism a representation of a collage of seemingly diffuse elements. Agami recruited music producer and electronic music composer Omid Walizadeh, who has worked with experimental and underground hip-hop artists in Los Angeles. Walizadeh remixes beats, synths, field recordings, and rare samples from pre-revolutionary Iranian vinyl records and cassette tapes, many of which were smuggled out of his native Iran by relatives.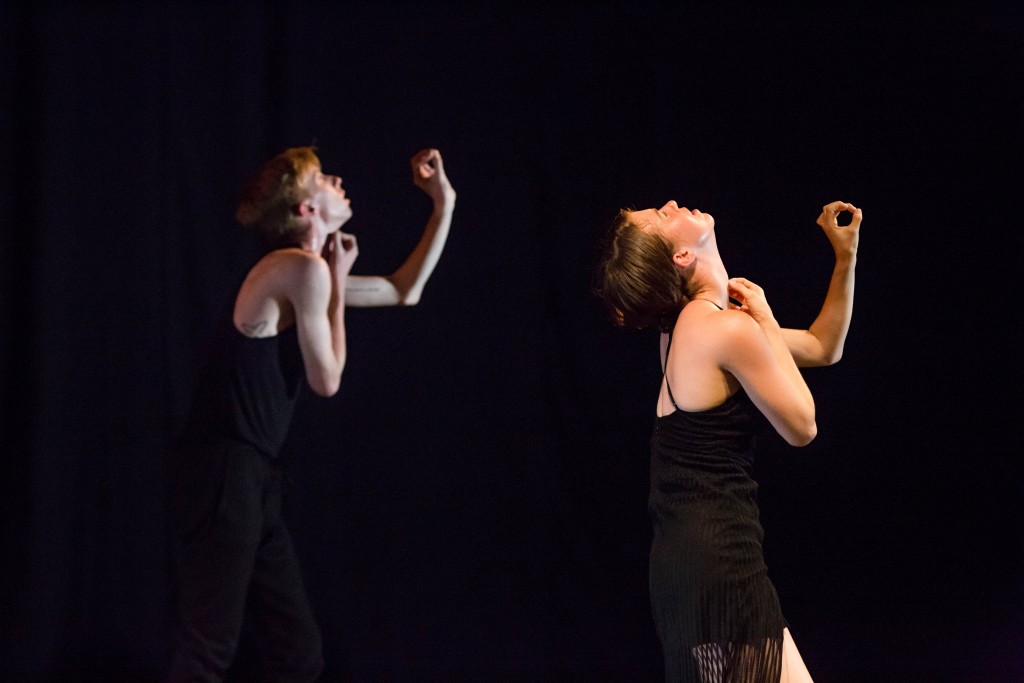 The ate9 company also will premiere Vickie, an intimate choreographed portrait of the dancer's experience.
There are significant similarities between RDT, the nation's oldest continuing repertory dance company, and ate9, a company that always is creating new work and which is just preparing to mark its fifth anniversary in the extremely competitive artistic landscape of Los Angeles. They both are focused on the community and how that inspires and shapes dance in educational venues as well as artistic performance platforms.
And, those similarities make this particular artistic residency, funded by an Arts Works grant from the National Endowment for the Arts, worth watching as a model of collaboration for dance companies. Normally, a choreographer from another company and perhaps one or two dancers might be invited for a residency but Agami, who does not like to leave her company back home, was open to maximizing the visit to Salt Lake City in as many ways as possible.
"We like to emphasize that even as we are a museum for the works representing the history of modern dance, we also are always commissioning new work," Linda Smith, RDT's artistic director and one of the founders, explains. "Sixty percent of our repertoire came from commissions, which says something about being contemporary and certainly indicating quite a range of what contemporary dance means today. And, that would include the Gaga movement language."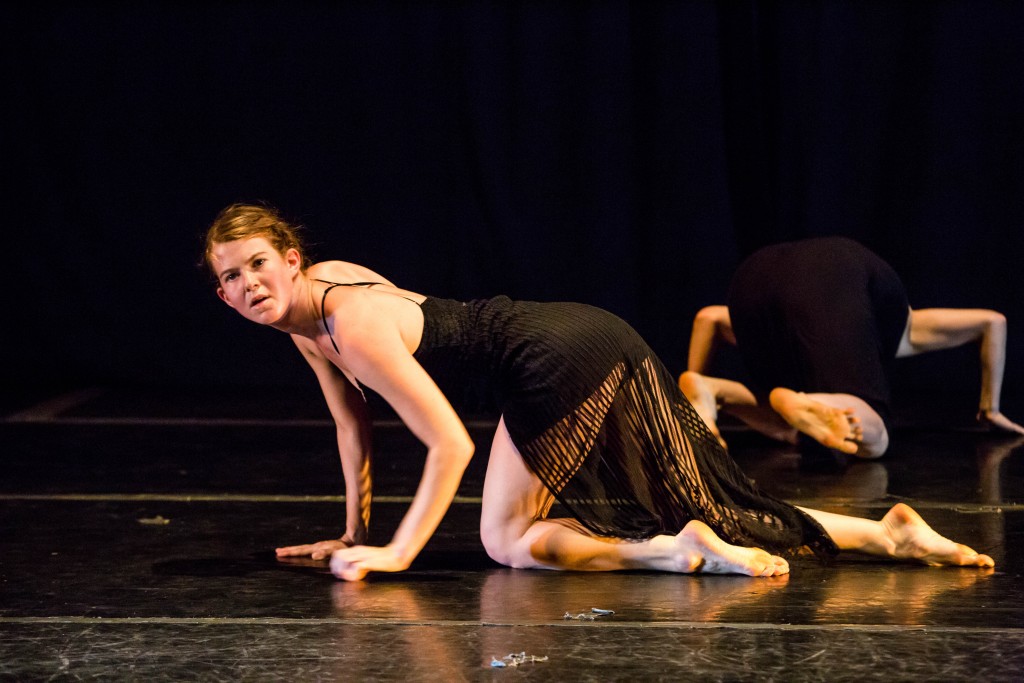 In leading a still-new company in a mega-sized metropolitan arts center that has so many performing arts companies vying for visibility, Agami is heartened by the prospects of longevity, as exemplified in RDT's legacy. RDT, which just completed its 50th anniversary season, was founded with a Rockefeller Foundation grant after many other attempts to create a repertory dance theater in the country had previously failed.
Expressing her admiration for what Smith has achieved with RDT, Agami says, "It does feel fragile but then there always is the excitement of creating new work and pushing forward."
The testimony already is evident regarding ate9's success. Much of the press in the Los Angeles area highlights the successful innovative artistry Agami and her company bring to the stage. In January, the company also was one of eight invited to perform in the New York festival for members attending the annual conference of the Association of Performing Arts Presenters.
For tickets, see here.