Friday's headliners for the Utah Arts Festival comprise a blockbuster lineup on the main stages with world premieres in two programs (click on previews for each program): the jazz commission concert with the Salt Lake City Jazz Orchestra featuring Alex Heitlinger, Andrea Miller and Chuck Findley (7:45 p.m., Festival Stage) and the dance commission concert with RUUDDANCES, LLC and artÉmotion (5:45 p.m., Festival Stage). Also, Samba Fogo, the outstanding Salt Lake City performing arts group of Brazilian samba dance, music and culture, returns to the festival, this being the first time on a main stage (9:45 p.m., Festival Stage).
The evening rounds out with three outstanding musicians – all with roots in the Deep South – representing jazz, blues, R&B and funk, also on various main stages, all of whom were interviewed by The Utah Review. They include:
Jarekus Singleton, 8:15 p.m., Amphitheater Stage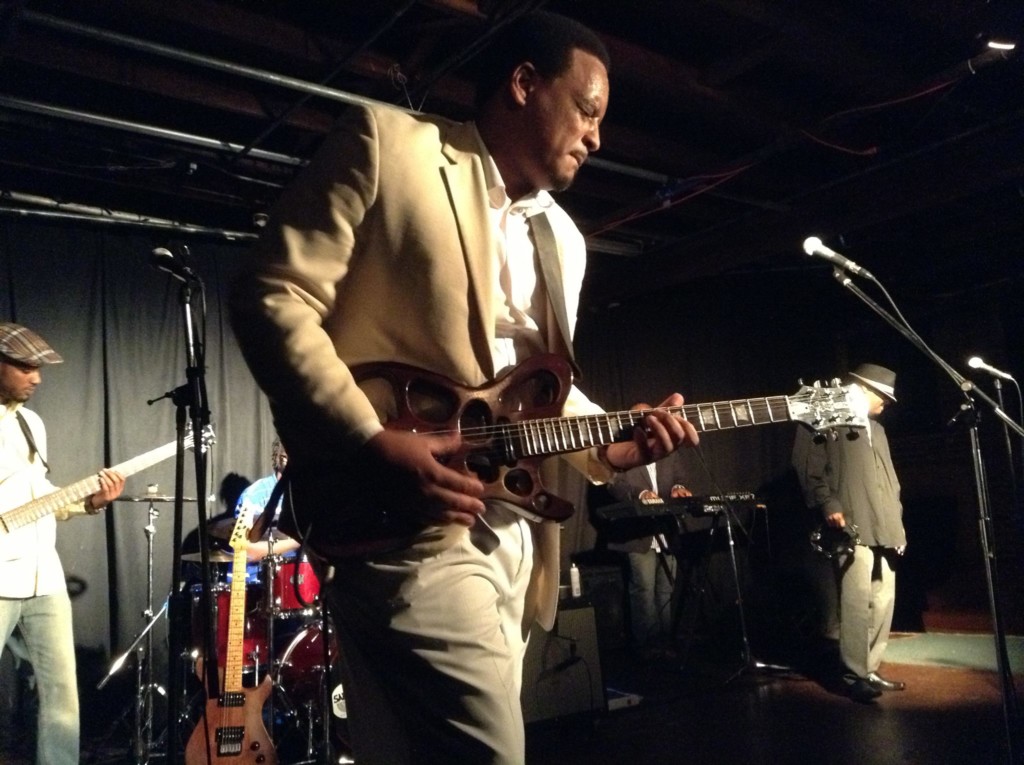 For young people of the millennial generation growing up in the Deep South such as Singleton, the blues was not necessarily the music their parents were listening to or performing in the household. Singleton, who was born in 1984 and was raised in Clinton, Mississippi was immersed in a family of musicians who played gospel and performed regularly at church. "My grandfather was an excellent musician," he says, "but then so were my brothers, cousins and two uncles. My mom played organ and everybody could play or do something in music. And, everybody worked hard at it so it could get pretty intense at times."
By age nine, Singleton was playing bass guitar and he considered his Uncle Tony to be among his greatest teachers of music. "He not only taught me the importance of having a good work ethic but also about the ins and outs of the music business." His uncle also introduced him to all types of music that included the blues but also featured great rap artists such as DMX (Earl Simmons) and Jay-Z, who was one of the first bona fide superstars of the genre as well as D'Angelo, who is a master of exploring so many different styles and genres in his music. There was country, the brilliant work of Stevie Ray Vaughn, R&B legends, James Brown, soul and funk that gave the young Singleton a truly well-rounded musical education.
In a 2014 interview with Mark Guarino of The Washington Post, Singleton said, "A lot of my white friends knew more about the blues than I did. Their parents educated them about it. But we didn't listen to that type of music when I was growing up. I kind of feel bad for my generation because we didn't have those people teaching us. But we have the responsibility now."
While Uncle Tony gave his nephew a priceless education in music, another uncle (Tim) was helping him develop his basketball skills, which Singleton says was his "first love and will always be." (He adds that if anyone could make a dream come true during his time at the Utah Arts Festival, it would be to meet Karl Malone and John Stockton.)
Singleton had hopes of joining the NBA, and he had a promising career as a college athlete, first at the University of Southern Mississippi and then at William Carey University in Hattiesburg, where he was named NAIA (National Association of Intercollegiate Athletics) player of the year. In 2008, he played for the overseas Sporting Fatoons professional team in Beirut and subsequently he injured his ankle during drills in advance of tryouts for the NBA.
Even while he was focused on basketball during college, music was never far from his mind. "I used my first scholarship check in college to buy music equipment," he says. "Music helped me escape a lot of personal pressures." In college, he also had written lyrics and music for rap. After his ankle injury and surgery, he recuperated at his mother's home and started earnestly on his professional music career.
He formed his own band in 2009, recruiting musicians he played with in church, and the momentum accelerated. A perfect picture of self-effacing humility, Singleton focuses on developing his artistry, barely even considering to mention the numerous awards he has amassed in a short time. He released his own album Heartfelt two years later, which attracted air play on many respected blues outlets, and in the following years won numerous regional honors as best blues musician of the year.
His biggest break came in 2013 at the International Blues Challenge (IBC) in Memphis, when Bruce Iglauer of Alligator Records in Chicago, the preeminent blues label in the world, scouted him and signed him to a recording deal. Singleton's Refuse To Lose attracted much praise from the most respected critics of blues after its 2014 release.
Since then, Singleton and his band have played at many major blues festivals across the country. And, in Singleton's first appearance ever in Utah, fans will have the opportunity to see one of the most promising and dynamic artists in the post-millennial generation of blues.
Niki J. Crawford, 9:15 p.m., Park Stage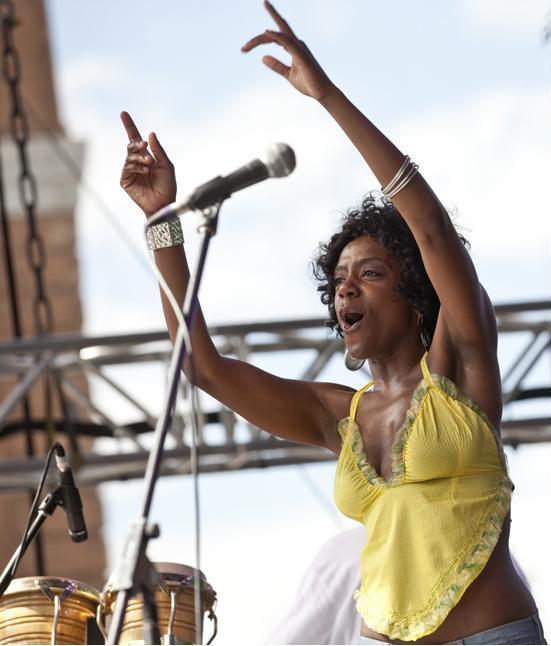 Crawford appears to be one of the most indefatigable musicians around, and her ample, lyrical voice accentuates her artistic commitment precisely. Her festival performance coincides with the release of a new album The Second Truth, which continues to exemplify her songs that blend elements of soul, funk and R&B.
She was born in Springhill, Louisiana, a town so small she says that "it would have a parade when they would get a McDonald's restaurant." Singing in church was her most important training experience, starting when she was just six years old. "I always have had a big, loud voice," she says, and her effortless handling of demanding vocals has made her a much sought-after artist, especially in the intense market of Los Angeles where many singers compete for the opportunity to perform with many of the best-known artists.
Crawford and her band have cultivated the CV that would be the envy of many artists. They have played with Carlos Santana, Snoop Dogg, Al Green, Sharon Jones & the Dap Kings, Aaron Neville, Macy Grey, Booker T Jones, The Roots, Galactic and Orgone. Festival appearances fill their tours, and she has performed on television and for films, more frequently as of recent. Her first big gig when she moved west to Long Beach, California was in a chorus backing Usher.
Combine Crawford's exceptional vocal technique where she makes the breaks in a song flow as seamlessly as possible with her enlightened embrace of all good things musical, when it comes to blues, soul, funk, gospel and R&B and one sees why she compels the audience's attention whether she is singing through and above the tops of her lungs or capturing the most honest, intimate moments of a torch song.
"With me, every gig and the audience deserves the same effort," Crawford explains, "whether it's the Montreal Jazz Festival before tens of thousands or a club in Sacramento with perhaps one hundred people."
Dexter Allen, 9:55 p.m., Amphitheater Stage
Born in the very small town of Crystal Springs, Mississippi in 1970 (with a population of barely 5,000), Allen was raised on a farm and his father and grandfather had major roles in the town's nondenominational church. "The family raised crops and livestock and our grandfather taught us how to survive," he recalls. And, like Singleton and Crawford, music in the church was his major influence as a child. "I started playing guitar before the age of 10 and I picked up the bass at 12," he says.
The young Allen joined his father's gospel group which was known as The Christian Travelers. Meanwhile, Allen also played for other groups, including those who recorded with a local label known as Talk of The Town. He taught himself, while he absorbed the experiences of playing music with his family and other locals.
"One of the first tunes I learned was the commercial tune for Campbell's Soup," he recalls, adding this cousins, uncles and other family members introduced him to legends such as Sam Cooke, James Brown and Otis Redding.
His biggest leap musically came in his 20s when he moved to Jackson, Mississippi and met Bobby Rush, one of the greatest blues artists in the contemporary area, and joined his band. Rush proved to be his most valuable mentor. "He taught me so much, especially in understanding how music is a business," Allen says. He also learned a lot about why blues musicians tend to live so long. "You never see a 98-year-old playing R&B," he adds.
Allen sees blues as an organic form of music. Blues' earliest traditions were established several generations ago in a life and environment that have changed dramatically so today's musicians of blues must bridge the gap, like in other styles and genres. "Garth Brooks doesn't sound like Conway Twitty," Allen explains.
Thus, Allen sees opportunities for today's young musicians to make new connections to the blues. This includes workshops in area schools organized by the Mississippi Musicians Hall of Fame, which have been helpful especially for at-risk youth in some of the state's most rural and poorest areas.
However, he says his greatest thrill has been introducing blues in workshops for children with autism. "The first time I was hesitant about it because it was so challenging, as I had no prior experience of working with autistic children or adults," he recalls, "but they were so incredible to work with and they had a beautiful instinctive way of interpreting the blues that enlightened everybody's perspective. Now, I look forward to doing the program two or three times every summer."
Other Friday performances include George T. Gregory Band (7:30 p.m., Park Stage), Joe McQueen Quartet (9 p.m., Garden Stage), Taiko BOOM! (8:45 p.m., The Round) and Dumb Luck (10:15 p.m., The Round).