I have a cousin who once subscribed to the "uglitarian" dining philosophy. I actually thought she had made that up but a quick Google search defines the term just as she did: one who eats only ugly animals—namely pigs, chicken and fish.
While in my heart I can completely get behind this philosophy because I think lamb and calves and bunnies are adorable, I am also a very satiated carnivore who loves those same animals for the delicious nourishment they provide.
Which leads me to: rabbit. I first ate rabbit several decades ago in France where it is a relatively common meat. It also isn't unheard of to see in rural areas of the United States where they have been hunted for generations.
Historically, rabbit meat has a number of gustatory advantages. It's a lean, high-quality protein that functions much like chicken in its ability to pick up flavors, although there can be some amount of gaminess if eaten wild. However, Provisions owner/chef Tyler Stokes cautions that rabbit is an easy meat to overcook and dry out too but when prepared properly can really elevate a menu.
Over the last six months or so, I've noticed a significant increase in the appearance of rabbit on the menus of some of Utah's finest dining establishments. In fact, rabbit looks to be the elk of 2016.
Here are some rabbit dishes now appearing along the Wasatch Front and Back.
Provisions
At Provisions in the Millcreek area, Chef Stokes says, "We've had rabbit on our menu from almost the time we opened." A current offering there is the braised rabbit tagliarini which has become a best seller since it made its appearance on the menu in January of 2015.
"I love using rabbit, it's my favorite white meat for its delicate flavor and versatility. We braise it for the pasta dish we have now and serve it in a broth made from the stock from the bones. We also had a foie gras and rabbit rillette on for a while which I like very much. The richness of the foie worked very well with the lean rabbit to create a perfect balance."
Stokes continues, "I think rabbit is coming back into style as people's eating habits are getting more open minded and adventurous. It's a very common menu item in Europe but has been slow to grow here. I'm excited to see many people using it and hope it helps people understand how delicious rabbit can be."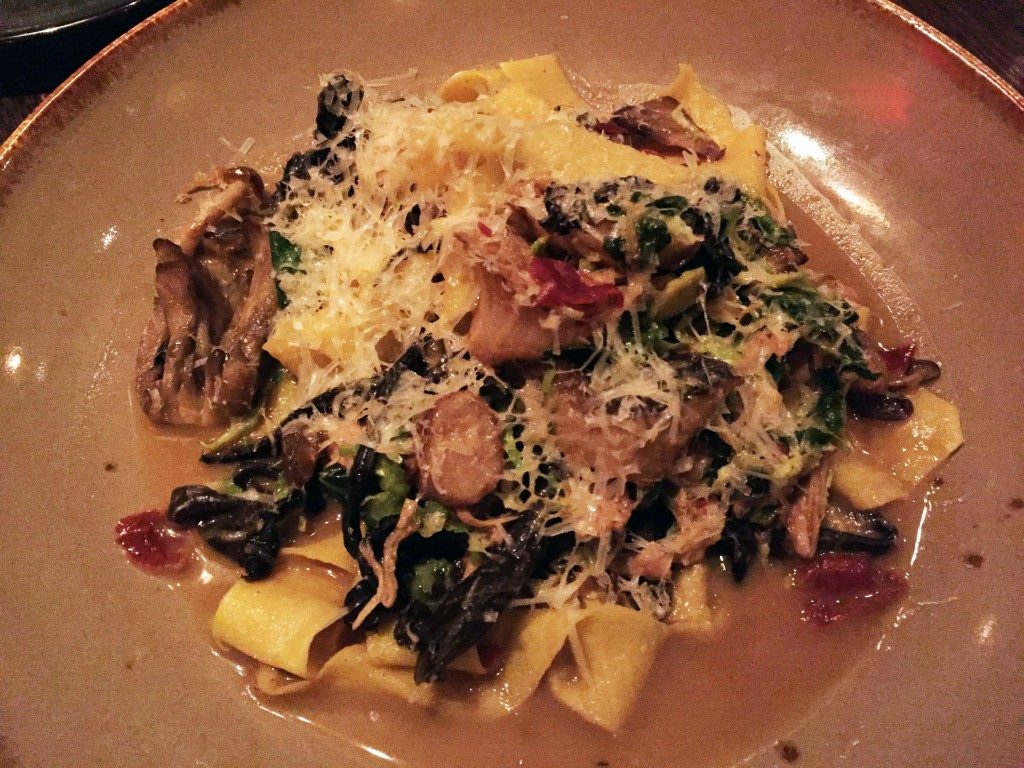 Tupelo
Over in Park City on Main Street, newcomer Tupelo made waves when it opened this past winter. Harking back to his southern roots, executive chef and co-owner Matt Harris recalls eating rabbit when he was younger and explains it is a meat he's always been familiar with but its sustainability has lead him to consider it more seriously.
"I'm always looking to find an alternative to mass-produced meat to lessen our carbon footprint and it seemed like a good choice. Rabbits are one of the most productive domestic livestock animals and produce more meat on the same feed/water as many other livestock animals, plus the meat/bone ratio is also higher. It can be raised on a grain-free diet, meaning it can be raised on entirely non-GMO feed." Tupelo primarily sources their rabbit from Devil's Gulch Ranch in California.
Harris opened Tupelo with a housemade pappardelle pasta studded with braised rabbit and crispy Brussels sprouts on the menu and when the restaurant reopens after shoulder season, Chef Harris says rabbit will definitely return to the menu—perhaps in a rabbit porchetta or as rabbit and dumplings.
"Rabbit is an excellent alternative to chicken and other game birds because its lean and it takes on flavor really well," he continues. "It's easy to work with—I can braise, sous vide and roast it."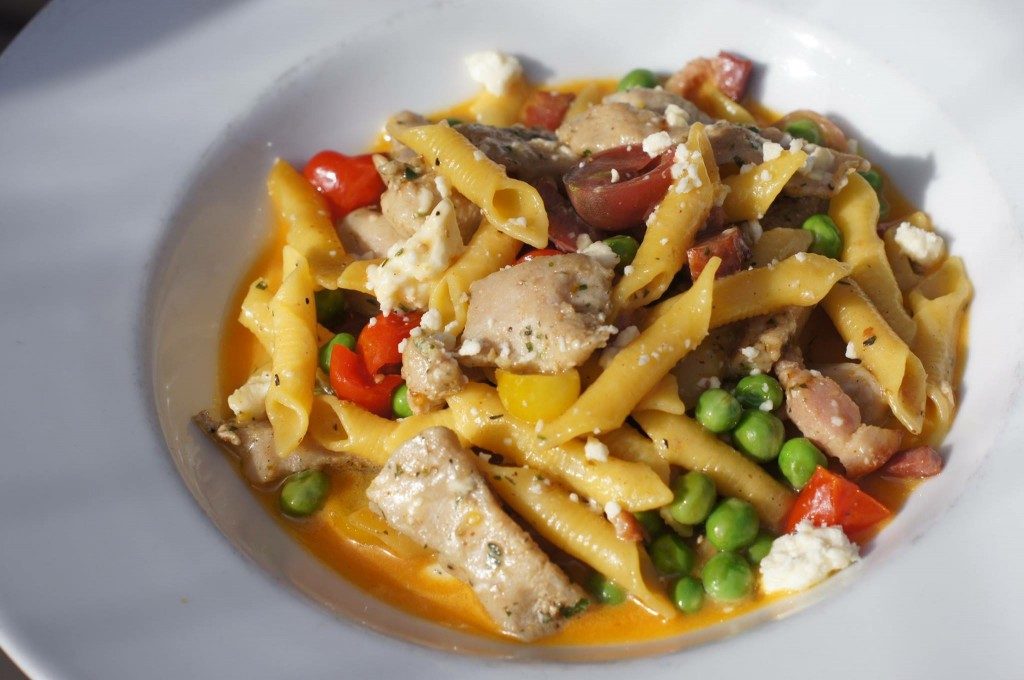 Log Haven
In Millcreek Canyon, Log Haven just released its summer menu and on it is a fennel-crusted rabbit loin paired with garganelli pasta, smoked pancetta, heirloom tomatoes, English peas, feta and a carrot broth.
Chef Dave Jones explains that he puts rabbit on the menu every few years as an experiment because other game meats do so well but so far it hasn't jumped off the menu and onto guests plates at record speed. "I know rabbit has always been big in Europe. Maybe rabbit is too close to our pets here in the U.S. I grew up with a pet rabbit named Earl."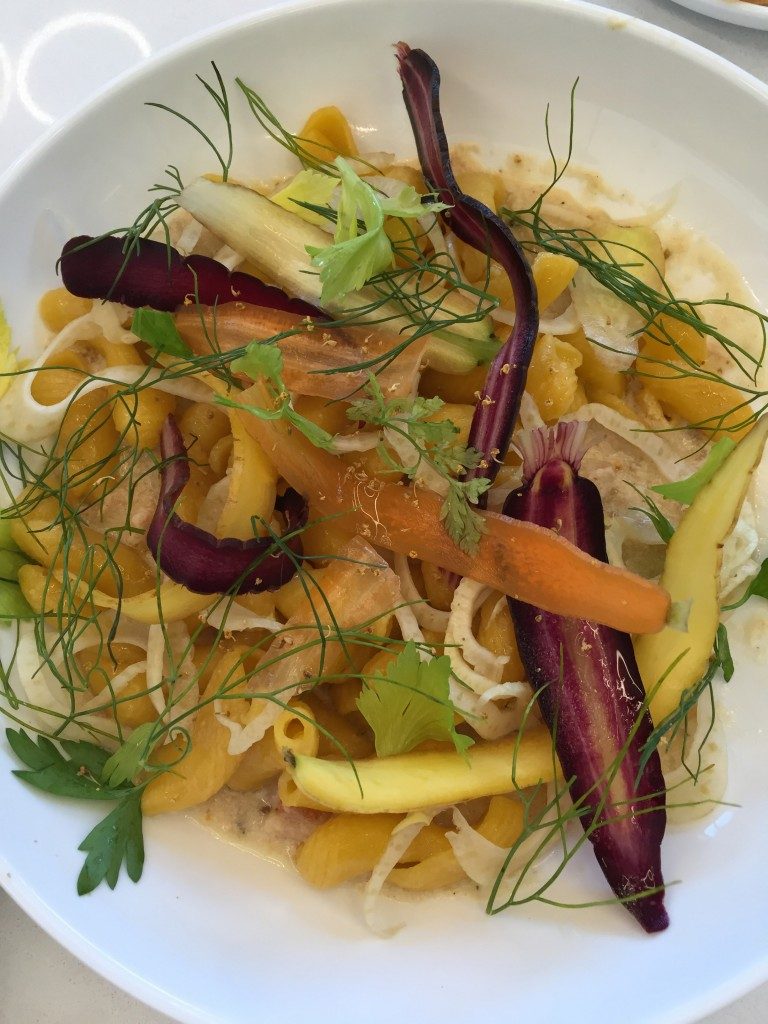 Stanza
Salt Lake's newest restaurant, Stanza (replacing Faustina in the same location), opens to guests with a carrot torchio with milk-braised rabbit, pickled fennel and carrot ribbons on the dinner menu.
Executive chef Phelix Gardner recalls his menu choice, "I picked rabbit for Stanza because it has several regional ties in Italy, with a lot of varied preparations and ingredients. For spring, I chose to braise it in milk and make a sauce by thickening the braising liquid with flour and olive oil. I wanted a light and delicate sauce that would work well with the crisp green flavor and sweetness of spring vegetables and herbs."
Gardner, who developing the Italian menu through travel, research and months of tastings, continues, "pairing the rabbit with a carrot-based pasta seemed like a logical and playful way of working something traditional into a new dish."
Gardner is currently sourcing his rabbit through Durham Ranch.