For math, science economics and more recently art history, the Khan Academy changed the rules by flipping the classroom and offering hundreds of videos online to students in more than 40 languages.
Something similar and just as exciting is happening in music education, an area that has been especially vulnerable to budget cutting by school officials and state legislators.
This wave of creative entrepreneurship has gained a prominent stage at the annual American String Teachers Association (ASTA) conference currently underway in Salt Lake City, where many of the more than 1,200 attendees are engaging with the entrepreneurial work of violinists such as Christian Howes and Mark Wood.
Committed to giving substance to buzzwords such as multiculturalism and participatory culture, Howes and Wood exemplify a new generation of music teachers who are flipping the classroom by rejuvenating the pedagogy with technology and ways to embolden students to improvise, arrange, mash up and compose their own music. And, at a time overshadowed by events such as those in Ferguson, Missouri and the tendencies to make some forms of cultural invisible, these musicians also are reaching to students – especially in economically disadvantaged areas – who otherwise might not have the opportunity to learn a stringed instrument or to follow the dream of working in the music industry.
Howes, a jazz violinist who also earned his degree in philosophy from Ohio State University, is finding a steadily growing audience for his Creative Strings Program residencies, of which nearly 60 schools already have taken advantage. "It's about helping young musicians embrace what is truly distinctive about their voice and to overcome the tendencies that make other musical cultures invisible," he explains. Today's generation of string players is unprecedentedly diverse – from fiddle to hip-hop to covers of contemporary pop and rock, as evidenced in YouTube videos, which Howes sees as an important element to be incorporated in the pedagogy.
Micro-improvisation and matters of performance psychology emerge as vital concepts in Howes' program in which he combines in-class activities with an online curriculum that includes more than 100 videos and lesson plans. Students also are offered free trials and scholarships are made available through corporate sponsorship, most significantly, Yamaha and D'addario.
For example, he demonstrates how easy improvising can be for student musicians – sometimes in as little as five minutes – by giving them 'chord stacks' from Pachelbel's Canon in D Major. Students can use these to develop new musical ideas in bluegrass, reggae, rock, Latin and, of course, classical. Other classes invite students to develop their skills in free improvisation and conducted group improvisation. Another introduces students to electric strings, loop pedals, and electronic effects.
For 12 years, Howes also has offered annually the Creative Strings Workshop and Festival in Columbus, Ohio, which has brought teen and adult stringed instrument musicians together for more than 20 live performances as well as breakout sessions to master improvisational skills for music-making. Yamaha, among the major corporate sponsors, provides electric violins, violas and cellos for participants who will practice improvisation in rock, jazz, fiddle, blues and world music.
Howes is staying in Utah through next week, making visits to area schools as well as the Summerhays Music Center in Murray.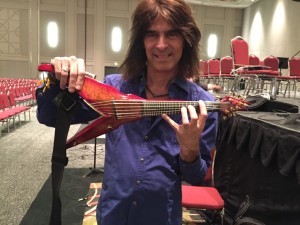 It also is no mere coincidence that Howes and Wood are seen as the violin world's versions of the great guitar man Les Paul. Howes worked with Les Paul for 11 years. Wood, dubbed by PBS as 'The Les Paul' of the violin, is a pioneer in making electric violins (Vipers), making his first instrument as a 12-year-old musician. Wood says the electric violin is the greatest advancement in a "wood instrument industry that essentially had not changed in 400 years." Musicians from all walks of performance styles and genres use his instruments including Judy Kang who performs with Lady Gaga.
Wood, also a founding member of the Trans Siberian Orchestra, incorporates technology into his 'Electrify Your Strings' program, which, like Howes, champions alternative styles, self-expression and improvisation. Wood's programs, now in their 15th year, are offered to 60 schools annually and the waiting list continues to grow.
He also has added in-depth technology aspects into his curriculum which shows students how to use software such as GarageBand and tools such as smartphones and tablet computers for music-making. Wood incorporates technology in novel ways, in which string orchestra musicians use rhythmic loops to develop good bow arm technique, and electronic drones to train their ears for better intonation.
Both musicians also maintain active performing and recording careers. Wood has performed with Lenny Kravitz, Celine Dion and Kanye West. Wood also has shared the stage with Billy Joel, Paul McCartney, Steven Tyler and Roger Daltrey. He also has performed at Carnegie Hall, Madison Square Garden and Lincoln Center.
Howes will perform Saturday (March 21) at 8 p.m. in the Salt Palace Ballroom ($20), one of several performances ASTA is offering to the public at reasonable ticket prices. He just released Southern Exposure (Resonance Records), his 13th album, with Richard Galliano, Scott Colley, Lewis Nash and Josh Nelson. The album features jazz music inflected with strong rhythmic and Latin elements, including influences from Argentina, Spain, Cuba and Brazil.
For the first time, the finals of ASTA's national solo competition, which includes a cash prize, will be live at the conference (tickets, $5) at 8 p.m. today (March 20), in the Center for the Arts: Abravanel Hall. The six finalists from across the country range in age from 16 to their early twenties after an extensive preliminary round of competitions in junior and senior divisions.
Jeffrey Solow, who chairs the competition, says the quality standards of performance and technique have been consistently raised every year as musicians are tackling virtuoso-caliber repertoire that once would have bedeviled some of the world's best known musicians of previous generations. "It's one of the best signs we have of our expanded and improved knowledge about how to make music education at an early age that much more effective," he explains.
Many of the competition's grand prize winners have gone on to distinguished careers including violinist Joshua Bell, who won in 1984, and DaXun Zhang, an internationally known cellist from Indiana University, who is a judge for this year's competition.
Tickets for concerts may be purchased at the Salt Palace in downtown Salt Lake City.