For 2023, Fear No Film at the Utah Arts Festival will have one program in animation, one program in documentary, two programs in narrative and one Kids! program. Here are the films that will be presented in those programs, which will be screened in the City Library auditorium:
Animated (Friday, June 23, 6 p.m., June 24, 8 p.m.)
From simple to experimental, this year's Fear No Film animation selections deliver compact narrative and thematic punches. A Guerra Finita (Once War Is Over) (Italy, Simone Massi) is a unapologetically blunt testament for abolishing war. With animation that reminds, but in a darker way, the viewer of the memorable video of the 1980s pop classic Take On Me by A-ha, this short poses the challenge that if we could abolish slavery (albeit a questionable point given that modern forms of indentured service still reek of slavery), then we should be motivated to abolish acts of war once and for all. The scenes are taken from decades of war ranging from World War II to the Six-Day Arab-Israeli War in 1967 and to the ongoing Syrian civil war.
Coming from a mesmerizing love of the joys of reading, Ana Morphose (Portugal, João Rodrigues) features a girl who dozes off while reading a book and finds herself in a different realm, where nature is governed by the contents of book pages rather than the laws of gravity and physics. The girl struggles to avoid becoming overwhelmed by the endless forest of book pages and find her own place of clarity and comprehension. As Derek Mellus, Fear No Film coordinator, notes, the film reminds him of the Coraline stories or his own boyhood experiences of discovering the magic in books such as C.S. Lewis' The Lion, The Witch and The Wardrobe.
Not for Me (Russia, Ivan Bondarenko) is a lovely hand-drawn piece of animation that evokes a elegant yet psychedelic experience associated with the Beatles's Yellow a submarine. Traveling to the countryside to pick mushrooms, a young man meets a woman and their momentary encounter ends up having a profound impact on him.
Pig (Netherlands, Jorn Leeuwerink) is about the strain of humankind's presence on nature and environment, effectively conveyed through the strange zeitgeist of a large group of animals who depend on a power grid that happens to be hooked onto the snout of lone pig that is asleep.
Experimental short films are quite prevalent in this year's festival slate and Tender Parts (U.S., Steven Subotnick) brings the debate about if art can be film and film can be art to fascinating consideration. It springs from a simple line attributed to 19th century Tennessee frontiersman Davy Crockett: "I didn't know which way home was, nor anything about it."
The Cat Got Her Tongue (Australia, Gaele Sobott) is an excellent rendering of performance poetry in animation, centering around an elderly woman who has been denied a loan. This film by Sobott, a director who is making her third consecutive appearance at Fear No Film, reflects her trademark for using animation in concise form to target contemporary issues of urgent concern. As she explains in her director's statement, "This older woman is seen as difficult, perhaps because she has run out of patience with oppressive and exclusionary structures and is less willing to play along. I hope the many pieces of her tongue carry her voice through the city and beyond to human and more-than-human species, and she finds her way by manifesting radical fury, humour and love." In 2021, her film Dear Rosa was about the apocalyptic impact of the Black Summer wildfires in Australia, while last year, Astroturf was an animated rendering of her spoken word piece about deserts in climate change: "deserts stalk the earth/at ever-increasing kilometers per year/annihilate soil that nurtures new growth/fill the girlchild's eyes with grit."
The Encounter (Russia, Aleksandra Krivolutskaia) is like Not for Me, relatively minimalistic in its animation. But, the style resonates with a bittersweet story about a young woman returning to her childhood home, which is now empty. The flashbacks remind her of her late mother and as much as she tries to resist becoming emotionally affected by those reminders, she eventually lets down her guard.
The Sprayer (Iran, Farnoosh Abedi) was nominated for best animated short last fall at the Austin Film Festival in Texas. It has a strong pop culture vibe in its 3-D rendering of a scene that seems apocalyptic, especially in reminding viewers of the Disney film WALL-E (2008). The story is about an army of soldier sprayers ensure no one can grow any plants, regardless of private or public spaces. By now, no one can even identify a plant and then a seed that is found in the dust piques the interest of a sprayer and may help to germinate a rebirth.
To Do (U.K., Saul Pankhurst) is a fine three-minute film that reflects on the culture of self-improvement programs and techniques, as the filmmaker seeks to follow an exercise of pseudo-mindfulness. The look and feel of this short of collages reminds viewers of the old Monty Python's Flying Circus animation and the audio track has a Lou Reed and Velvet Underground sensibility.
Documentary (June 23, 12:15 p.m., June 24, 4 p.m.)
The last several years of Fear No Film have seen a decline in short documentaries. In some years, there would be enough juried selections for two programs of documentary shorts. Nevertheless, this year's slate of five has quite a bit to offer.
La Calle Es Nuestra (The Power of Art) (Austria/Chile, Marco Meirone) is a richly packed source of how protests in Chile were fortified and expanded through the use of public art, performances and creative measures, which brought attention to Chile from cities around the world, which engaged in sympathetic protests as well.
The October 2019 protests were sparked by an increase of 30 pesos in public transit fare, along with efforts to give the country a new constitutional framework after the lingering legacy of dictatorships in Chile. While protests were initially organized by students, the movement spread through other demographic sectors and rode on other large questions about justice, wealth distribution and the problems of corruption and nepotism in the Chilean government. Despite efforts by government officials to squash the protests and, in particular, public art expression associated with them, the impact had been made.
Manhater (U.S., Alex Zhort) is a good example of the use of archival materials. The film is a digital remix of a time capsule when analog was the prevalent form — a 1997 VHS tape documenting a teenager's volatile message to a long distance lover.
In Nostalgia 98 (Venezuela, José Alejandro Quintero), the return to memories is more poignant for the director who left Venezuela three years ago because of the humanitarian crisis in his country to live in Montevideo, Uruguay.
While one might leave their homeland because of immense negative events and perceptions, the sensation of nostalgia is inescapable, even as one attempts to make good life in their new home with the hopes of capturing what had made them the happiest in their homeland before circumstances deteriorated. They realize that they may never be able to return to their homeland. As Quintero explains in his director's statement, "it is also an internal awakening because somehow his subconscious managed to materialise what he wanted so much, even if he has a different eye colour, voice pitch and even a different accent when he speaks."
Part of Me – Anuar Khalifi by Yasiin Bey (Spain, Jordi Esgleas Marroi) is a gorgeous cinematic ode of appreciation, as Bey (better known as musician and actor Mos Def) talks about how the art works of Spanish-Moroccan painter Anuar Khalifi carry deep powerful meaning for him. It is the sort of testament that any visual artist would dream of receiving from any individual who appreciates their work, regardless of whether or not they are a celebrity.
A directorial debut project, Wildblumen (Argentina, Migue Roth) touches on the subject of how beekeeping has been affected significantly by the use of petrochemicals to control weeds and pesticides. Adapting to these circumstances, a mentor and his apprentice explore ways to sustain their production of wild honey and to ensure that the art of beekeeping will carry forward to a new generation.
Narrative Program 1 (June 23, 4 p.m., June 25, 2 p.m.)
Baby Ant (Turkey, Derya Uygurlar) is an excellent directorial debut with strong production values behind and in front of the camera. An overwhelmed mother is preparing to visit her husband, who is imprisoned, but before the trip, she must complete sewing projects in order to have enough money to pay the attorney. Meanwhile, she must contend with a sister who insists that she attend a wedding celebration as well as her daughter, who wants to accompany her mother and see her father.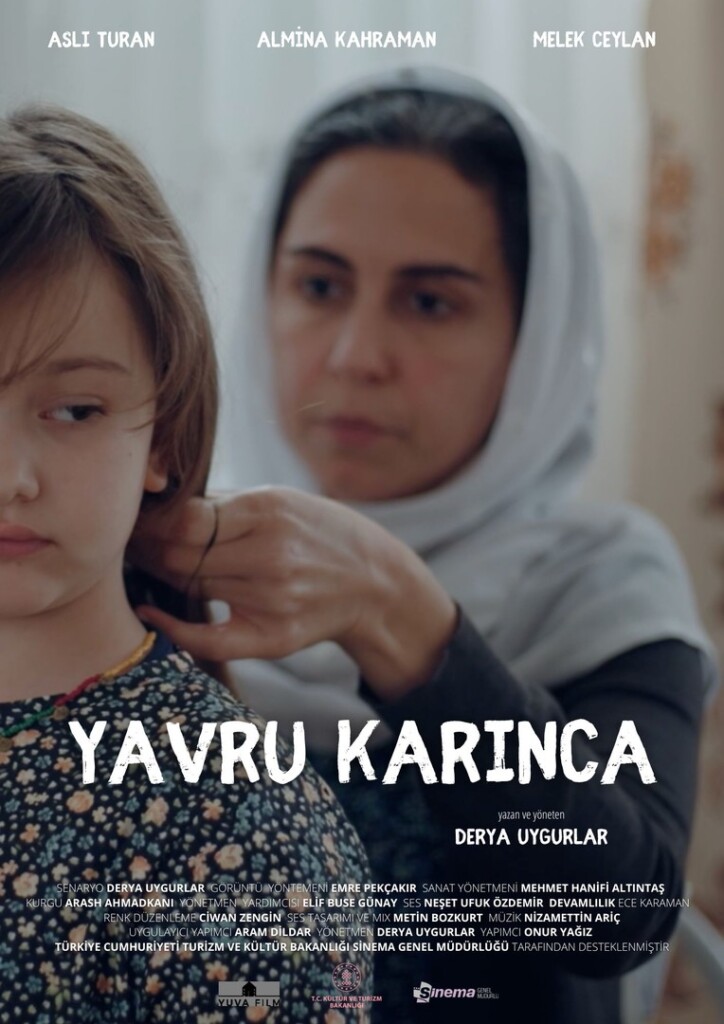 Fishers of Men (U.S., Chris Capel) might be one of the best candidates for a sleeper favorite at Fear No Film. Although Capel indicates he has not practiced Mormonism for the last two decades, he still remembers vividly his experiences as a missionary in Toronto. He decided that this film should be as accurate as possible to document what missionaries experience.
The film rings with authenticity, given its moments of earnest innocence, awkward interactions and brief moments of dark comedy. The prize for a successful missionary is to convert an individual and prepare them for their baptism into the faith. But, as many missionaries might attest to, the prize can be even more elusive than anticipated.
Let's Pretend This Never Happened (U.S., Zach Rubin) is a dark comedy that touches on the issues of school and gun safety in an unexpected eye-opening way. A new law requires teachers to carry firearms at all times but Linda is resisting. She brings her gun to school but without loading bullets into it. She does not follow maintenance requirements with her firearm. Now, she faces losing her job.
Salt Water (Venezuela, Paola Bohórquez) is a great example of how a narrative running less than five minutes can pack in the effective epiphany. Jhonaikel lives with his four brothers and his mothers in a cramped makeshift home in a periurban area. They are destitute and are barely able to survive on meager food supplies. The boy is resolved to leverage his rage and frustration into meaningful impact.
In her director's statement, Bohórquez explains the film was "born from a space where the society that inhabited it reflected completely disintegrated families, blurred roles and values, lives where the lack of education and resources absorbed all the aspects of daily life that we know as essential. How are these deficiencies capable of completely destroying the relationship of a family; how can these deficiencies cause a woman to completely lose the relationship she has with herself?"
Solidarity Day (Spain, Gabriel Gugigo Lopez) is yet another star in the stellar contributions by Spanish filmmakers for Fear No Film. Like Salt Water, this narrative delivers the thematic punch in a tight frame. A professional career man must complete a gesture of social duty and responsibility, as part of his company's Solidarity Day initiative. Despite his wife's hesitation, he invites a beggar, whom they pass by every day at a nearby corner, to dinner. It's a taut statement about the dehumanizing perceptions of homelessness. Note the differences in how dinner is served to him, such as boxed instead of bottled wine and the lack of a proper dinner plate.
Narrative Program 2 (June 24, 12:15 p.m, June 25, 4 p.m.)
Headdress (U.S., Taietsarón:sere 'Tai' Leclaire) is an excellent short comedic film which premiered at Sundance earlier this year. A queer Native American attending a music festival notices a white woman wearing a ceremonial headdress and they try to figure out the most impactful way to confront the individual with a comment that stings the hardest.
In a 2022 interview with Native Max Magazine, Leclaire explains the film reflects an experience that many native people have encountered. "My character retreats into their head to get advice from the various versions of themselves to figure out what to say to this person….There's professional Tai, which is the main character, queer Tai, goth Tai, bougie Tai, traditional Tai, and future Tai."
Nocturna (Moldova, Dima Stoianov) is a fine example of how directors can effectively shoot their films at night. The story is straightforward enough: a woman travels through a major urban center to find details and locate her daughter who has disappeared.
Spiricom (Spain, Rubén H. Pérez and Carmen Nogueroles) is a great example of the quintessential vibe and tone of these Spanish shorts where hilarious moments are subtle but properly placed in the narrative. At first, it seems that the woman's husband died of a heart attack but because of her familiarity with the workings of crime stories that are unsolved, she is now convinced that his death might not have occurred from natural circumstances. To prove her point, she goes online to order a kit that is similar to a Ouija board. The story quickly takes several twists.
Stains (Denmark, Sofia Krogh Grud) is an intriguing narrative about the internal conflicts artists face in choosing between controlling or liberating themselves in their creative process. This story brings forward questions about how artists deal with doubt about their expressive capabilities and struggles with cognitive blocks which arise while they are creating work. The artist in this film is struggling to complete a major work for an upcoming show and an argument with a fellow artist, she realizes how difficult it is for her to emancipate herself from her inner conflict.
The Highway Margin (Iran, Hossein Shoaiee) is a great piece of social commentary, leavened by subtle humor. The events in the film follow a domino effect. A woman decides to ditch her rideshare on a highway bridge and is shocked when a motorbike passes by and a guy steals her backpack and rips off her hijab. Frightened that the police will find her without proper head covering, which is a punishable crime in Iran, she notices that her white hijab is hanging from the bridge underneath her. When a soldier comes to help her, the comedy twists into a series of things that will never go right. The striking thing about this film is how despite everything that is happening, including acts of theft, the men's overriding concerns is about the fact that she does not have a proper hijab in public.
Kids! (June 23 and 24, 2 p.m., June 25, 12:15 p.m.)
Five Little Ducks (Jules Bianchi)
What could be more adorable than tiny ducks covered in felt and moving to a simple counting song suited to Sesame Street? The director discovered needle felting during the pandemic and crafted the ducklings to accompany a song by Kelli Welli.
Homemade Cookies (Greece, Nikolaos Kakonas and Calliopi Villy Kotoula) is the only film in the slate that arose specifically because of the pandemic. In Kotoula's directorial debut, this adorable short is about a girl who bakes cookies for her father.
Kind of Fishy (Norway, Aleksander L. Nordaas) is clever, with 3-D animation, representing fish in driftwood form.
Cat, Squirrel, T-Rex, Tiger (Germany, Julia Ocker) are four more installments in this perennial favorite, where each animation piece fits beautifully within a 3:36 timeframe. Ocker's Ant in 2019 took the audience award in the Kids program
Para Saber Que Tiero (To Know What I Have) (Hungary/Argentina, Katalin Egely) is unique because the focus on relationships is between parents and adopted children. The accompanying song is by Caticuénticos, an Argentine band which composed a chakarera to sing about this unique bond.
Robots Don't Tell Jokes (U.S., Kelli Caldwell) comes from a simple joke about the numerical digits zero and eight. An award-winning songwriter, Calli makes her directorial debut with this film. As whimsical and lighthearted as the film seems, Caldwell explains in her director's statement, "One day it dawned on me… wait, all these big brains are being paid massive quantities to create things that we basically treat like slaves? That's the goal?! 'Alexa, do this! Siri, do that!' We give them human names, but we don't even say please. I wonder what subconscious message that's giving kids." The short won honors as funniest music video and audience favorite at the Berlin Shorts Film Festival
Spuffies (Slovenia, Jaka Ivanic) is a crown jewel of animation for children audiences. Spuffies love jujube fruit and once they have eaten all of them, they march to the jujube grove, but they have to first navigate the mysterious forest.