One of Plan-B Theatre's most distinctive strengths is to produce work that compacts so many compelling layers of insights, meanings, and epiphanies into narratives that quickly move within a frame often lasting no more than 70 or 80 minutes.
With its latest edition of 'And The Banned Played On,' which played to a packed Jeanne Wagner Theatre in the downtown Rose Wagner Center for Performing Arts on Saturday night, Plan-B offered a thoroughly entertaining tableau of children's books that have been banned recently for various reasons, managing to cover a lot of territory in well under an hour and a half.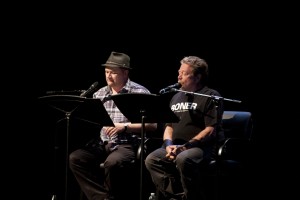 While the hosts, Bill Allred and Kerry Jackson of the long-running 'Radio From Hell" morning show (minus Gina Barberi who had another major commitment) on X96 (KXRK-FM), did yeoman's work introducing why each of the dozen selected books were targets of banning, the recitations, in many instances, emphasized just how profoundly valuable the canon of children's literature is to our culture.
As Maria Popova has written, these works of linguistic minimalism represent genius talent, such as A. A. Milne's 'Winnie The Pooh' (one of the books presented) and L. Frank Baum's 'The Wonderful Wizard of Oz.' With 'Winnie The Pooh,' as Popova describes, "beneath the cloak of innocuous irreverence lies an undercurrent of postmodern wisdom about the ways of the world that somehow sneaks up on you and catches you completely off-guard, only to deliver a powerful moment of reflection and illumination." And, in the 'Wizard of Oz,' Popova writes, "from moral imperatives to philosophical reflections to political plots, The Wizard of Oz offers a magic box of profound discoveries, buried in a playground of childhood whimsy."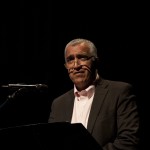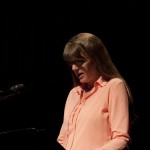 Overall, the recitations paid ample homage to the timeless value of the books with many heartfelt renderings. Salt Lake County District Attorney Sim Gill displayed an elegant understated manner in reading 'Anne Frank: The Diary Of A Young Girl,' as did Cheryl Cluff's reading from Katherine Paterson's 'Bridge to Terabithia. Hearing this Anne Frank excerpt, in particular, magnified the thematic importance of Plan-B's literary celebration and the voices, both fictional and nonfictional, who embody the storytelling:
"I'm beginning to realize the truth of Father's adage: 'Every child has to raise itself.' Parents can only advise their children or point them in the right direction. Ultimately, people shape their own characters. In addition, I face life with an extraordinary amount of courage. I feel so strong and capable of bearing burdens, so young and free! When I first realized this, I was glad, because it means I can more easily withstand the blows life has in store."
One of the most enthusiastically received recitations came from actor Anne Decker whose tantalizing tour de force reading of Dr. Seuss' 'Green Eggs and Ham' brought home vividly why Theodor Seuss Geisel will always be among the giants of children's literature. The book had been banned in California for suggestions of "homosexual seduction."
And, many of the elected officials – including Salt Lake City mayor Ralph Becker, Salt Lake County Mayor Ben McAdams, Salt Lake City Council member Stan Penfold, and Utah State Representative Carol Spackman Moss – generously entertained the audience. Among the most memorable renditions were Utah State Representative Rebecca Chavez-Houck's presentation of an excerpt from E.B. White's 'Charlotte's Web,' and Utah State Senator James Dabakis' gently mischievous performance of an excerpt from Roald Dahl's 'James and The Giant Peach.' Chavez-Houck apologized at the outset for a croaky voice that she described as sounding like being the sister of actor and playwright Harvey Fierstein, who is famously known for his own gravelly voice. She switched nicely in tone and voice among various characters.
Dabakis played up to the challenge of why the book was banned in Wisconsin because some school officials perceived a double entendre in lines which the spider speaks while licking her lips. He gained plenty of laughs as he relished the line: "The Spider (who happened to be a female spider) opener her mouth and ran a long black tongue delicately over her lips. 'Aren't you hungry?' she asked suddenly, leaning forward and addressing herself to James.
Utah State Representative Joel Briscoe, a former educator, did a polished rendering of the excerpt from 'The Wizard of Oz,' reminding us just how timeless the book from 1900 will always be.
Closing out the event was the presentation of 'That's Not My Name,' the final vignette which rounds out Matthew Ivan Bennett's 'Different=Amazing,' a 45-minute play about bullying which has been presented to more than 30 schools in and near the Salt Lake City metropolitan area. Actors Tyson Baker and Latoya Rhodes have handled all of the roles in the work, representing characters in third, fourth, fifth, and sixth grades. In this particular vignette, Rhodes portrayed Kissa, a fourth-grade immigrant girl who bullies a friend (the role of Patrick) played by Baker but then apologizes.
Rhodes and Baker were delightfully animated and authentic in performing voices that express vividly children's characters, smartly scripted by Bennett without burdening the dialogue with rhetoric or instructions that would throw off the harmony of the stories taken from actual experiences shared anonymously by children. Plan-B is in the midst of raising $5,000 to take the production to an additional 10 schools in the fall, according to Jerry Rapier, producing director.
'And The Banned Played On' proved to be a nice coda to one of the company's most artistically successful seasons ever. Rapier also introduced the lineup for the 2014-2015 season and advance tickets and subscriptions are now available here. For more information about Plan-B's new season, see this preview from The Utah Review here.