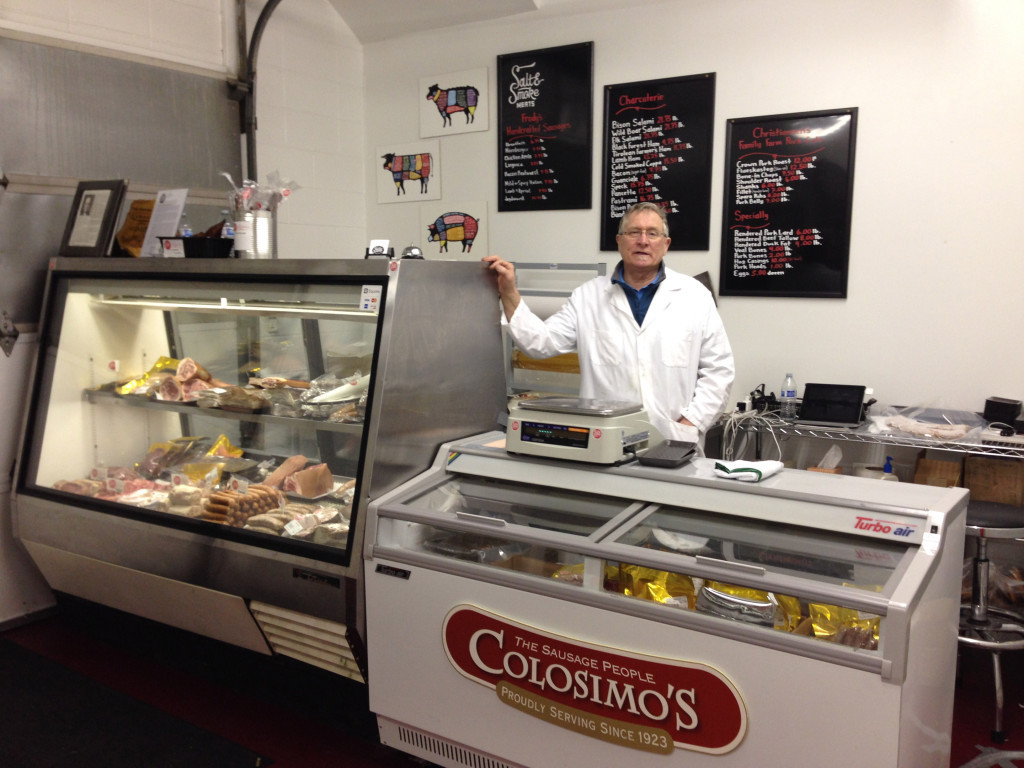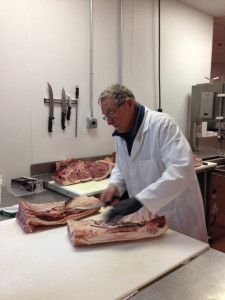 "Frody will be breaking down a pig on Friday," Cassie Little, sales manager of Salt & Smoke Artisan Meats, tells me.
It's my first chance to go behind the scenes of Frody Volgger's newest venture — a butcher shop focusing on heritage pigs, European-style sausages and specialty meats.
I'm to meet a photographer from The Salt Lake Tribune on location to get the final shots for my piece on pork belly, but I know there's more than just the belly of the pig to be seen.
To be sure, pork's popularity on the whole is skyrocketing, and Salt & Smoke Meats is supplying the continuing craze with beautiful heritage breed pigs raised by Christensen's Family Farms — in fact owner and farmer Christian Christiansen stopped by to talk hogs while we were there.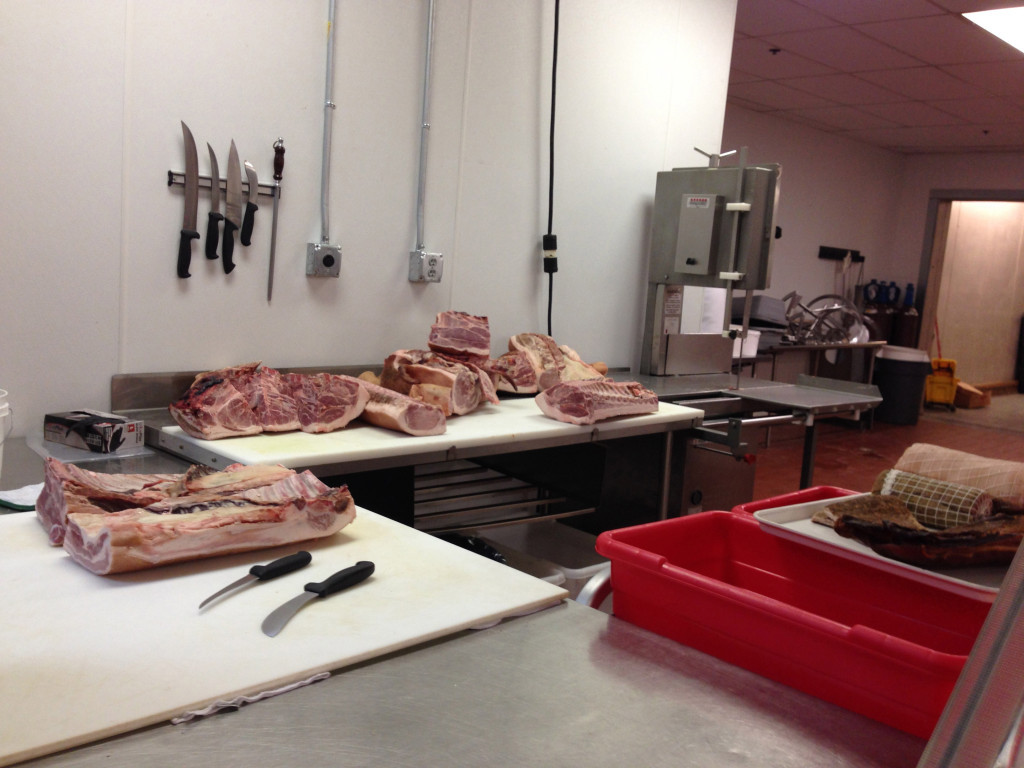 Back in the prep area, Volgger and his apprentice, Brent Petty, take less than five minutes to maneuver a whole pig through the band saw—giving them manageable sections to continue breaking down by hand into chops, belly, ribs and even feet.
From here, the pink meat with creamy fat will also become fruit-stuffed pork collar, porchetta, bacon sausages and the product I sampled when I walked in the door of the butcher shop—speck. "When I make speck, it's all skin on," Volgger explains. And the melt-in-your-mouth final product will convince you that no one has mastered speck more than Frody.
But there's also bresaola, smoked Canadian bacon, bacon-wrapped filets, pastrami and so many more delights coming from Salt & Smoke. Most importantly, it's all smoked, stuffed, cured and cut under the watchful eye of Volgger.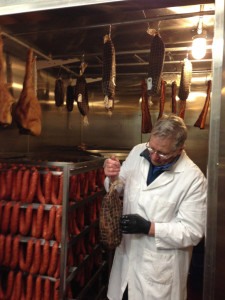 His passion for the craft is evident as he walks us through the curing room and checks the hanging meats as he talks. The smoker, he explains, can hold 300 lbs. of meat at a time. He details how the sausage-making equipment works. Fascinating stuff for food nerds.
Volgger has been a part of Utah's food scene since he arrived here in 1985 — first taking the helm of restaurants in Park City and Salt Lake City and recently as the crafty butcher with old-world charm and recipes to match.
With the exception of the select items in the butcher case at the front of the shop — space rented from Colosimo's Sausage in South Salt Lake during non-production days — most of Salt & Smoke's meats are already pre-sold to restaurants and other customers prior to production.
You'll regularly find Salt & Smoke's products at Pig & A Jelly Jar, Tosh's Ramen, La Caille, Em's as well as Sky Lodge, Provisions, High West, From Scratch, Canyons Resort, Riverhorse, Stoneground, Paris Bistro and Pallet.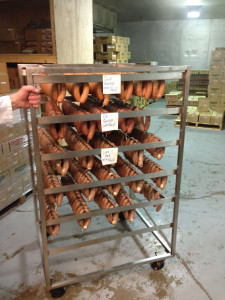 And don't forget the 400 pounds of sausages in 13 different flavors that Salt & Smoke makes each week for Beer Bar.
If you'd rather sample Salt & Smoke's meaty perfection at home, visit their shop on Fridays from noon to 5 p.m. and Saturdays from 10 a.m. to 2 p.m. You'll find an ever-changing selection of goods in the case but if you're looking for something specific, call ahead to confirm you can order it. They also sell farm-fresh eggs and Eat Moore Bread for a complete meal in just one stop.
And if you've got summertime party plans in the works, be the hit of the holiday with a custom-mixed order of sausages from Salt & Smoke. There's a 40 lb. minimum for a specially flavored batch or you can just mix and match from the case for a smaller gathering. (I'm holding out for the authentic blood sausage Frody is promising to make soon.)
Salt & Smoke Artisan Meats is located at 155 West Malvern Ave., Suite B, South Salt Lake. They can be reached at 801-680-8529. You can thank me later for that sample of speck.