At 21, in 2017, Aristo Sham was thinking about ways he could do multiple things. A decade earlier, just as he was entering his adolescent years, he already had won first prize in the Ettlingen International Piano Competition in Germany in 2006, and then the top prize in Salt Lake City at the Gina Bachauer International Junior Piano Competition in 2008. His fast start out of the gate earned him a spot as one of the featured subjects in a BBC documentary about gifted young people.
Sham, who is a native of Hong Kong, later went to London and then came to the U.S. His love of piano continued while he was studying at the New England Conservatory of Music but he also enjoyed studying economics at Harvard University. "I was undecided and trying to figure out my future but I realized then that I could not make it in music unless I dedicated myself fully to it," he said in an interview with The Utah Review.
"I wanted to take a step back and in college I did okay in a few competitions and not so okay in others," he said. "While I was listening to my peers, it clicked in me that I had the potential to be there."
Sham quickly went to work. In 2018, he returned to Bachauer — this time earning a silver medal in the International Young Artists Competition. The momentum snowballed quickly, with prize honors in other venues, including First Prize in the 2019 Alessandro Casagrande International Piano Competition in Umbria.
With a full head of steam in his international performing career, Sham returns to Salt Lake City this week to open the Gina Bachauer International Piano Foundation's 2023-24 concert season. Darkness Descends is the theme for his program, which features music by Handel, Schumann, Beethoven, Villa-Lobos, Chu Wang-Hua and Ravel. The concert will be Sept. 29 at 7:30 p.m. in the Jeanné Wagner Theatre of the Rose Wagner Center for Performing Arts.
"Bachauer has given me very important milestones in my life," Sham explained. "The first was in 2008 at the peak of my childhood and then in 2018 right after deciding in the previous summer to dedicate myself fully to music. I had a new mindset and I was fortunate and grateful to win the silver medal."
Describing his appetite for new repertoire as "voracious," Sham enjoys delving into learning a composer's set of works, as he said, "in becoming friends with them and understanding how their brain works and learning their language and technique."
This includes preparing to record Brahms' solo works, a composer he esteems for his meticulous intellectual approach. He also has worked on the corpus of Mozart piano sonatas and plans to dig further into Rachmaninoff's tremendous output.
Sham explained that the Bachauer concert, which will be the first time he is presenting this specific program, is built of two mirrored halves. The first half he describes as coming from the canon of Anglo-Saxon music, representing conventional cornerstones of solo piano repertoire and works that have been extensively studied by musicologists. The works include Handel's Suite No. 5 in E Major, HWV 430, with the final movement featuring the air and five variations on The Harmonious Blacksmith, Schumann's 3 Fantasiestücke, op. 111 and Beethoven's Waldstein Sonata (No. 21 in C Major, op. 53).
The second half mirrors these forms in contemporary expressions. They include two works not often heard in Bachauer settings: Heitor Villa-Lobos' Suite Floral, W117, and Chu Wang-Hua, Jasmine Flower Fantasia. Composed in 1918, the Villa-Lobos suite is exquisite in its understatement, which compels the listener to absorb the music's colorful complex rhythmic textures. Chu's work, composed in 2003, is based on a very well known Chinese folk song from his hometown in the Jiangsu Province. Astute listeners will recognize the melody, which Puccini used in Turandot. One of China's preeminent contemporary composers, he sets the Fantasia as a love story in a courtyard.
Sham will close the concert with a work that completes the Darkness Descends theme but also needs no introduction to Bachauer audiences: Ravel's Gaspard de la nuit, with each of the three movements based on poetry by Aloysius Bertrand. The final movement (Scarbo) is considered among the most difficult of any piece for solo piano.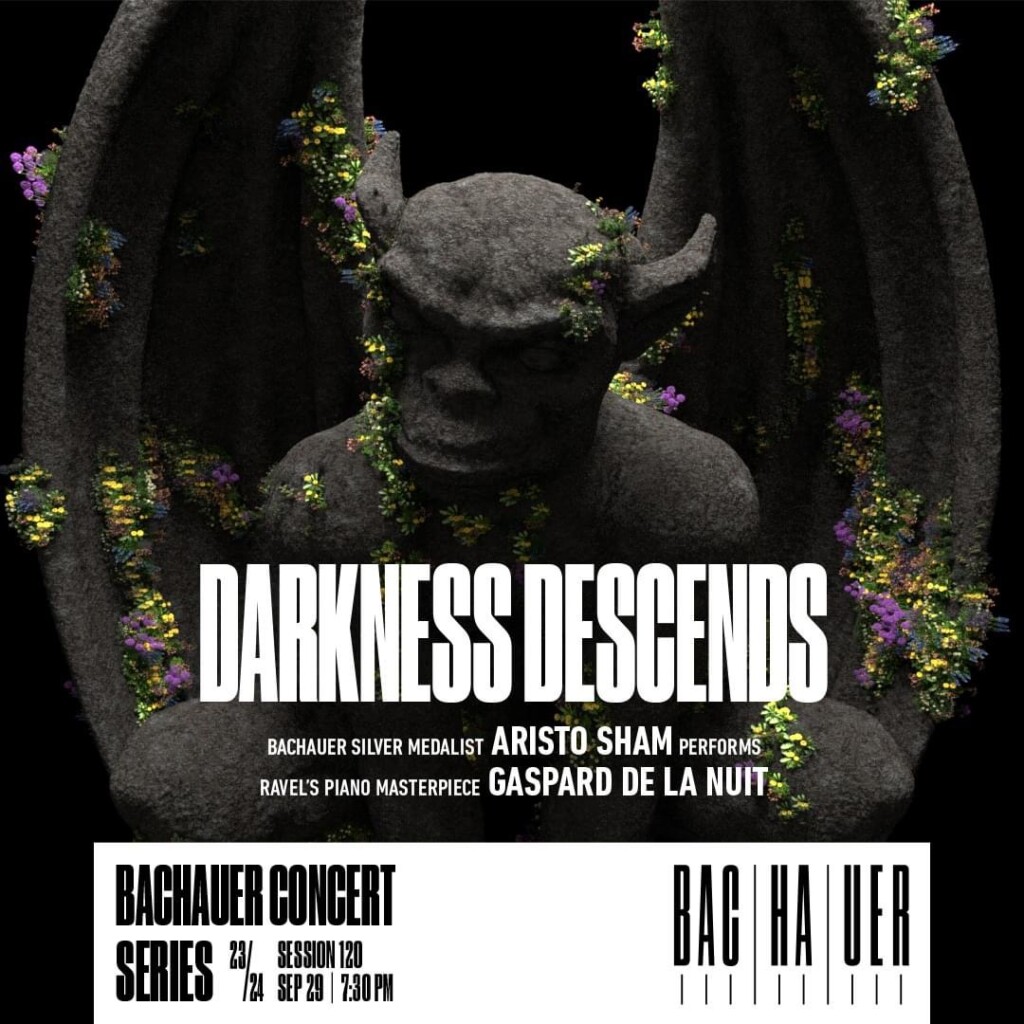 Three other concerts will complete the 2023-24 season. José Ramón Mendez, one of Spain's most sought after pianists, will perform on Nov. 11, with a program of works by Chopin and a second half featuring the music of Spanish composers Padre Antonio Soler (18th century), Isaac Albéniz (19th/20th century) and Enrique Granados (19th/20th century).
Angela Cheng, Bachauer Laureate and juror, will perform March 15. A Hong Kong native, she won the Gold Medal at the Arthur Rubinstein International Piano Masters Competition and was the first Canadian to win the prestigious Montreal International Piano Competition. She is on the Oberlin Conservatory of Music faculty.
Pasquale Iannone, who was one of the laureates at Bachauer in 1994, will close out the season on May 3. In addition to performing recitals, chamber music concerts and as soloist with orchestras around the world, he is a well known teacher with many students having gone on to win prizes at numerous international competitions. He will perform works by Beethoven, Chopin, Rachmaninoff and Moriz Rosenthal, a Polish pianist and composer who studied with Franz Liszt.
For tickets and more information, see the Bachauer website.