Following several weeks of a hiatus, performing artists of the Repertory Dance Theatre (RDT) are returning to full speed and for 2020's first weekend, most of the company is setting new short pieces to be performed at Emerge.
The concert, in its fourth year, fulfills in part a major component of the dance artist's contract for RDT. Since its founding 54 years ago, the company not only has dedicated its mission to preserving the historic canon of modern dance but also to create work to build a diversified repertoire. Many of the more than 100 RDT alumni have become internationally known choreographers and some have founded their own dance companies producing works that have premiered on the RDT stage.
Three performances of the new works are slated in the Black Box Theatre of the Rose Wagner Center for Performing Arts: Friday and Saturday, Jan. 3-4 at 7:30 p.m. with a Saturday matinee at 2 p.m.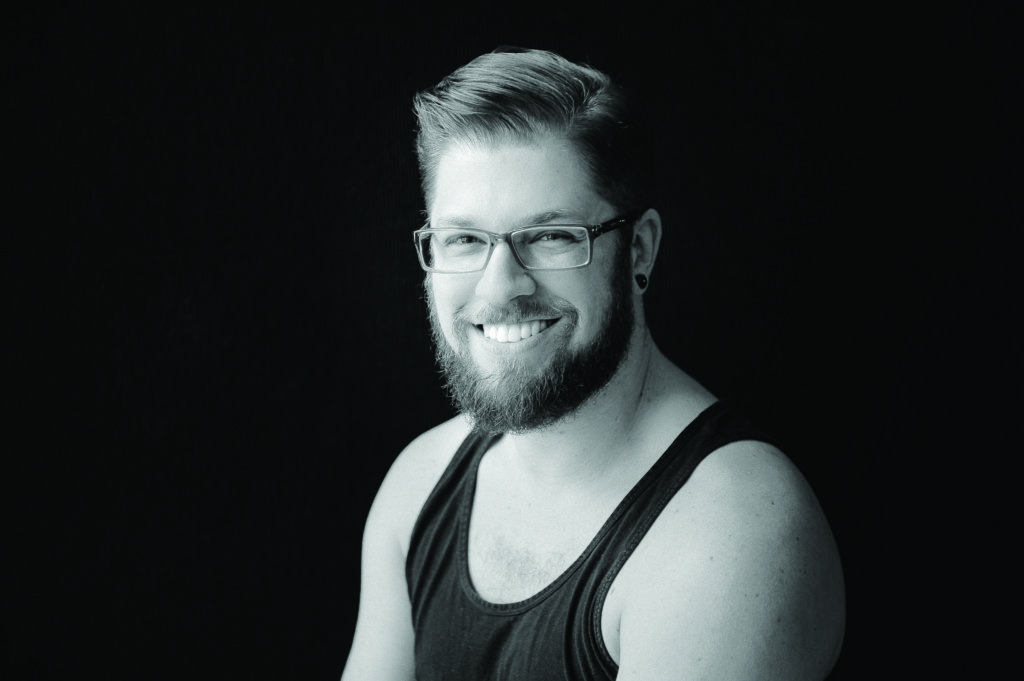 Works by seven RDT dancers (Jaclyn Brown, Lauren Curley, Daniel Do, Dan Higgins, Jon Kim, Megan O'Brien and Ursula Perry) will be joined by two pieces that Nicholas Cendese, RDT artistic associate, is setting for the concert, including a work for 15 local dance teachers.
Several RDT dance artists graciously answered questions via email about the experiences of creating works and the inspiration for their latest compositions: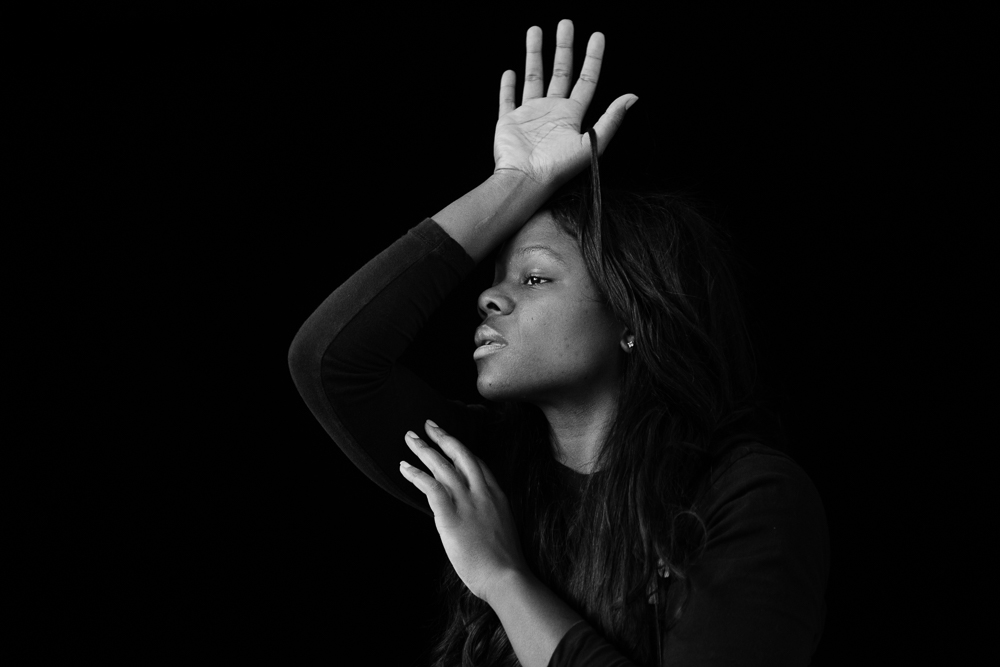 TUR: What is the impetus for this piece and what do you hope audiences will take away from the work?
Jaclyn Brown: The inspiration for this year's Emerge piece is my performer, Angela Banchero-Kelleher (Angie). This six-minute solo, entitled Indebted, is my effort to give thanks to someone who is my beloved mentor. In turn, I hope that the audience senses this transfer of gratitude. I hope they consider their personal lineage: Where did you come from? How did you get here? To whom are you indebted? It would be wonderful to take action on these feelings. Show gratitude to those who aided in your journey, and nurture those connections. Then, turn around and pay it forward to the next generation. I could never repay the debt I owe to her, but this is my effort to do so.
Lauren Curley: I wanted to take an opportunity this year to pay homage to my mentors and celebrate my relationship to classical modern dance. It is my hope that audiences will appreciate the solo for its simplistic beauty and relationship to the music. In a time where there is a constant cycle of overwhelming news and events, it was important to me to take the time to examine the beautiful things in my life.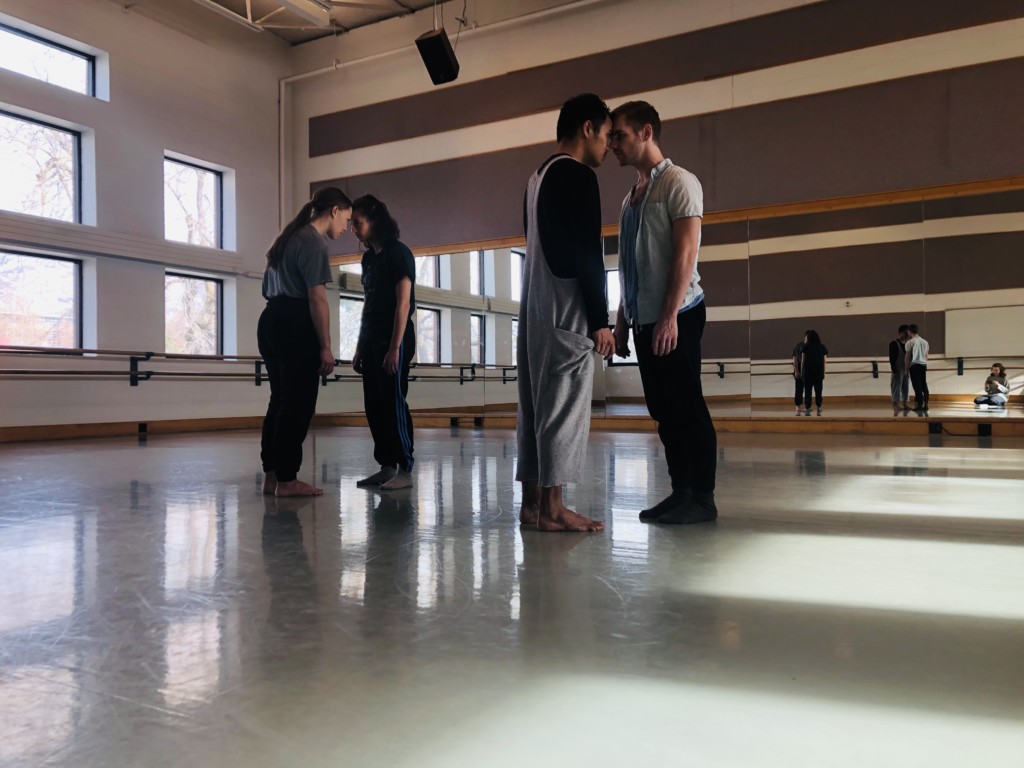 Jonathan Kim: This piece, titled until you are no more, draws inspiration from bittersweet endings. I hope the audience finds some echo or connection with their own experiences.
Megan O'Brien: My work titled ​Trick Mirror ​is a small glimpse into recovery. A visual representation of physical support and the clash between delusion and practical reality. Because of an autoimmune condition I have, this past May I went through a pretty big surgical procedure. This event left me in a bit of a standstill. Everything I was working on in my life had to be put down, and yet everything and everyone around me just kept moving forward. Over the past eight months I've gone from unable to stand/sit up on my own, to working and dancing again. While still recovering, there have been many things I have been doing to heal. Working on this piece is one of them. It explores the complexity of support and our need as humans to have support systems in our lives. It also involves the paradoxes of identity when going through a life altering event. It is both difficult and easy to let people in when you need help. When you do this there is a chance you may start viewing yourself in certain ways. When you identify with something so deeply for so long and then it is taken away from you with no certainty that it will return, the mirror of yourself can look unfamiliar. I remember laying in bed for weeks after surgery and having (what I call) delusions of myself dancing again. I would imagine myself running, rolling down a grassy hill, and swimming again. I would even start to imagine myself doing things I had never experienced before like backflips, grooving at a disco club or dunking a basketball. Those delusions of myself were something I could hold on to, even if they were unrealistic and seemingly ridiculous at the time.
This piece hopes to bring softness and support. We all need support in different ways at different times. I am not alone in that experience. When we have support we begin to see ourselves in others. Through this process these four people bring their own individual experiences with disruptive change. They represent unlikely strength, delusion, hope, magical joy, and freedom. It is a gift to be able to bring life's complexities into the work. It is a reminder that joy and pain can fit together or exist in the same place.
TUR: Who will be the dancers for your work?
Jaclyn Brown: Angela Banchero-Kelleher is my soloist this year. She is an RDT alum, my past professor from Utah Valley University, my mentor, and my friend. In my past Emerge choreography, I have stayed true to the theme of Family Ties, using my daughter and husband as my performers. This decision to use Angie feels no less familial. After meeting Angie almost a decade ago, she has never lost sight of me. She is a gifted performer, who I wish to celebrate at this time of reflection in my life.
Lauren Curley: My work is a solo developed in collaboration with Mikaela Papasodero, who also attended The Hartt School and is currently performing with multiple companies in New York City. We used a mix of improvisation prompts, video recordings of phrases, and developed the solo long distance over a period of several weeks. Mikaela also had additional rehearsal direction from Nina Watt (under whom we both trained at Hartt and who has frequently restaged Limon and Humphrey works on RDT).
Jonathan Kim: It is a duet for Kerry McKrackin and myself.
Megan O'Brien: A quartet, featuring Tyler Orcutt (dancer with RDT in his final season), and three remarkable freelance artists Bayley Banks, Haleigh Larmer and Mar Undag.
TUR: Briefly describe this work in terms of sections and the language /vocabulary of movement dancers will be performing?
Jaclyn Brown: The work begins with a recollection of memories. I sifted through old photos of Angie's time with RDT, selecting four photos of moments caught in time. We utilize these shapes, referring to her own lineage. My phrase work has been created from memories I have with Angie. They are moments I cherished…times when she taught me about the importance of using musical maps, showed me what folk dancing actually meant, and took my breath away with her radiant beauty in performance. My goal has been to crystallize these moments for us both, reminiscing on what has happened along the way.
Lauren Curley: The primary movement vocabulary that we worked with falls within a more contemporary derivative of the Limon technique. We used the body's relationship to gravity as the primary motivator to movement, choosing to rise out of gravity into lightness, or to succumb to its weight. We also explored the elements of suspension, rebound, fall, and recovery.
Jonathan Kim: This piece emphasizes musicality and utilizes a contemporary vocabulary. Two dancers move in parallel motion until the audience sees the fracturing of their relationship. It is not overwhelmingly sad or destructive; it simply is coming to an end.
Megan O'Brien: The piece represents the evolution of support in the beginning stages of recovery. At first when something happens, support is more immediate; sometimes even physically required. The beginning delicately shows the architecture of support, codependency and the necessity of it. Moving through portraits and tableaus, there is tenderness and care to the movement. As time goes on the need for support shifts and changes. Usually when this happens there is miscommunication, trial and error, and a bit of a physical separation as one learns to "walk again on their own." The more this happens the more independence one regains. A freedom that calls for wilder physicality, strength building, individualism in movement and an expression of all these complex feelings from the inside out. Freedom in the hard work of recovery, but also a delusion because they still have so much farther to go. Even when they reach this point, they are still with each other. The need just changes.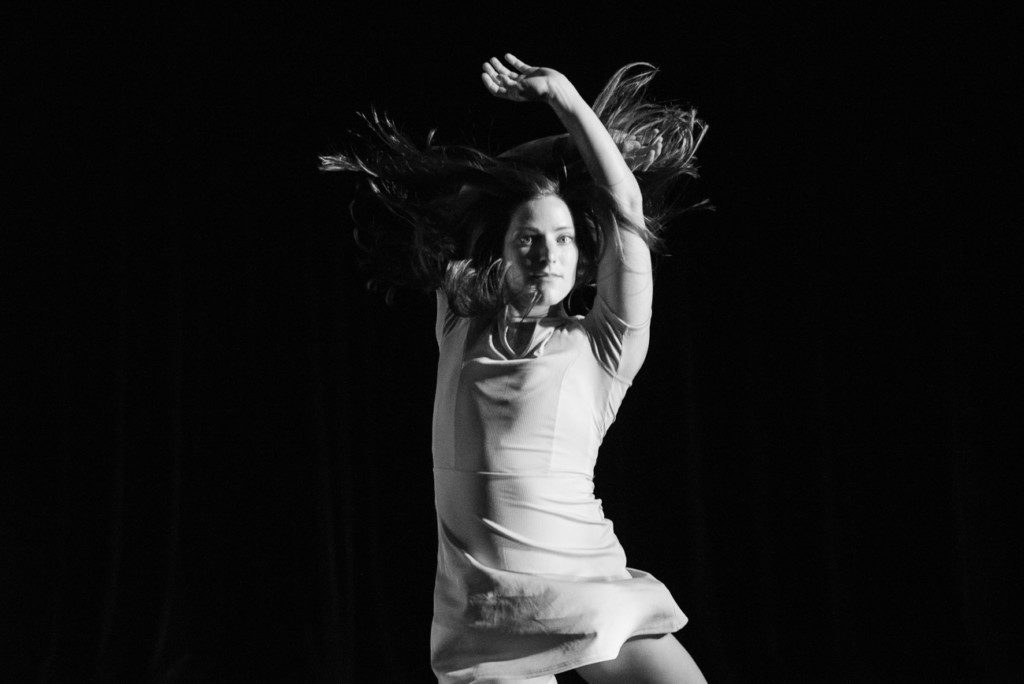 TUR: What music will you be using?
Jaclyn Brown: Day 5: Golden Butterflies by Ludovico Einaudi is a beautiful track that is split into two definite parts; both with a feeling of delicate drive. The classic mood created with piano and string instruments remind me of the classic way in which Angie moves.
Lauren Curley: The music is Roses by Jean-Michel Blais.
Jonathan Kim: It uses Over and Sprained Ankle by Julien Baker; No You by Kelman Duran and Mess Kid, and Hollow Crown by Isaac Gracie.
Megan O'Brien: I will be using magical sound effects and the melodic/harmonic sounds of Sam Shepherd. He is an English electronic musician and neuroscientist, who records and performs music under the name Floating Points. I'm being a bit secretive, so there also may be some surprise disco music in there.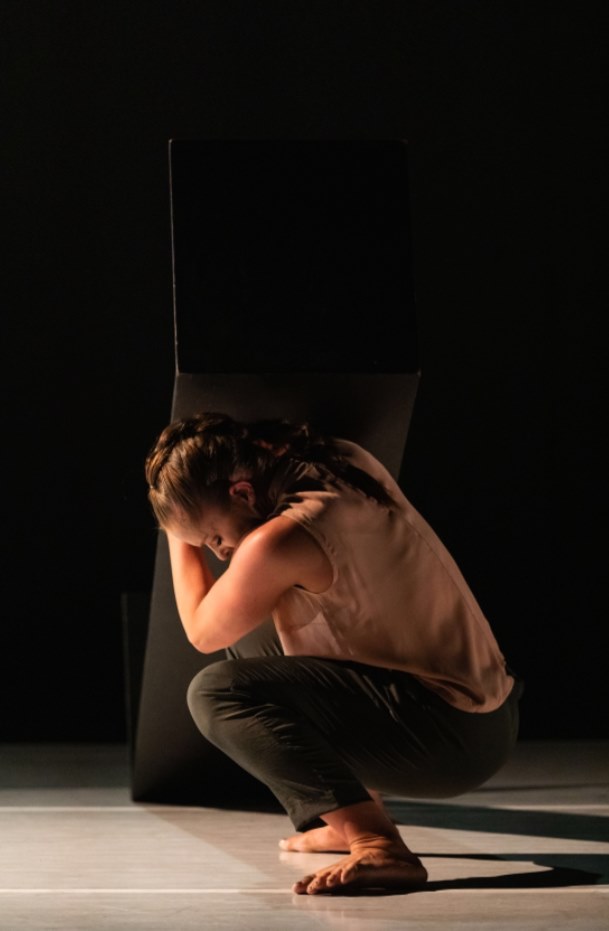 TUR: What of your RDT experience has helped you the most in preparing for Emerge?
Jaclyn Brown: Had it not been for RDT, I never would have witnessed this many choreographic processes at this point in my life. RDT is constantly inviting other artists in to generate new work right in front of our eyes. These experiences have helped me immensely in my own process. I have quickly learned what I do and do not like during the creation process. I've formulated my own opinion about how to collaborate with performers, giving them ownership of what they are doing while simultaneously honoring my initial vision of the work. Navigating the world between choreographers and dancers can be tricky, but being on the other side of the picture so often has informed my approach as a creator. Many thanks to RDT for nurturing both sides of our artistic growth.
Lauren Curley: The wide breadth of work that we perform at RDT is one of the most fulfilling aspects of dancing for the company, but it can also be one of the most challenging. In a lot of ways, continuously replicating other choreographer's movement helps me identify what qualities I am drawn to most as a mover. The freedom of having a performance to set aside other works and to focus on your own voice as a choreographer rather than as an artist is a wonderful opportunity, and we are so fortunate to have the chance to present ourselves to the audience in such a unique way every season.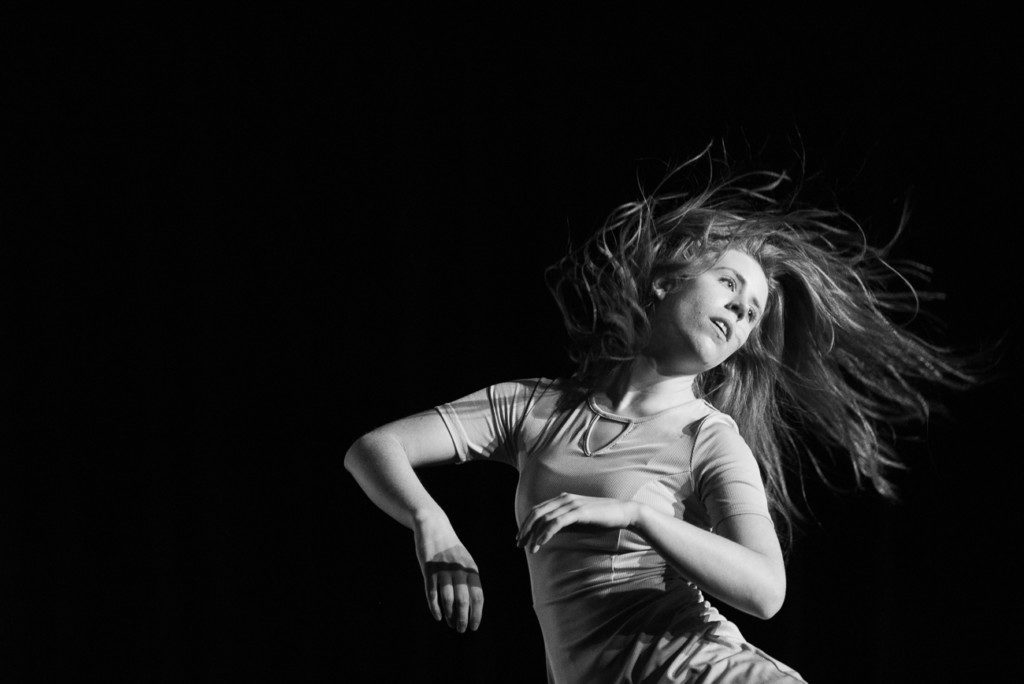 Jonathan Kim: This first year with Repertory Dance Theatre has been an amazing experience. I have learned pieces from early modern pioneers to contemporary choreographers, and this spectrum has helped shape my own choreographic approach. Specifically, the musicality present in Doris Humphrey and Lar Lubovitch's work and the physicality of Noa Zuk and Ohad Fishof have inspired me a great deal, among many others. I am thankful to be in a company with such a wide repertory that gives me a broad viewpoint on dance.
Megan O'Brien: RDT is a wonderful place of opportunity. To welcome me through a life changing event has been a big factor in the ability to use my creative voice to work through life's tough spots. I am trying to take bits and pieces from everything I experience. What I learn in while teaching in schools, in the studio, in the office and through little conversations. There is great mentorship and development that is happening. I feel humbled and grateful.
For more information and tickets see the Repertory Dance Theatre website.