Since The Utah Review started publishing in 2014, the emphasis on the Utah Enlightenment has dominated the coverage of what is new and original in the arts and culture landscape locally. Utah's natural beauty always has appealed strongly as a branding asset. But, as we have covered the arts and cultural scene, there is no question that when it comes to arts and culture, Utah has many strengths and on a per capita basis, the evidence confirms that the Salt Lake City metropolitan area is punching well above its weight (population) class.
Heading into 2020, several general characteristics can be identified with the Utah Enlightenment:
Independent and community theater companies, especially in Salt Lake City, are leading the walk when it comes to inclusion and diversity both in original work and casting.
Utah's dance scene is spectacular in every regard, with a national and international reputation. This includes ballet, modern and contemporary, ethnic, B-boy and hip hop, independent productions, education and children's programs.
Innovative productions organized by small performing arts companies excel not just in quality but also in demonstrating the positive impact of collaborations that maximize scarce and limited resources.
The Great Salt Lake Fringe Festival, setting records for attendance and ticket sales in 2019 at its venue in The Gateway, has consolidated its concept as a productive, compelling incubator for young and independent artists.
The level of musicianship has risen significantly across the landscape, and performers are setting benchmarks for demanding works especially from 21st century composers, notably including the efforts of NOVA Chamber Music Series, the Gina Bachauer International Piano Foundation and Red Desert along with the Utah Symphony and the distinguished leadership of its music director Thierry Fischer.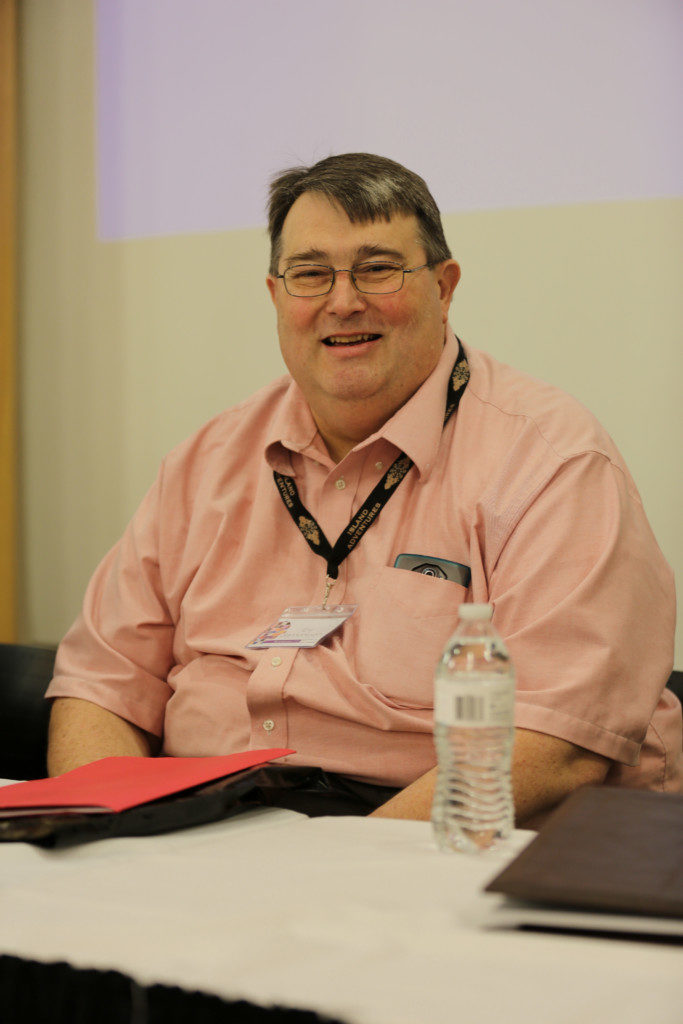 The Utah Enlightenment also lost a titan this year, when playwright Eric Samuelsen died in September at the age of 63 after a long illness. As The Utah Review noted in a tribute published earlier, he epitomized and clarified how this spiritually abstracted movement of creative expression arising from Utah's unique sense of place and meaning could be defined. Samuelsen did more than create extraordinary plays for the purpose of "art for art's sake." His plays elevated the contemporary experience – with the sum of its tensions, problems, conflicts, disappointments and crises – to an enthralling sensation of healing and empowerment.
The following are the top 10 moments of the Utah Enlightenment for 2019, as presented in no particular order.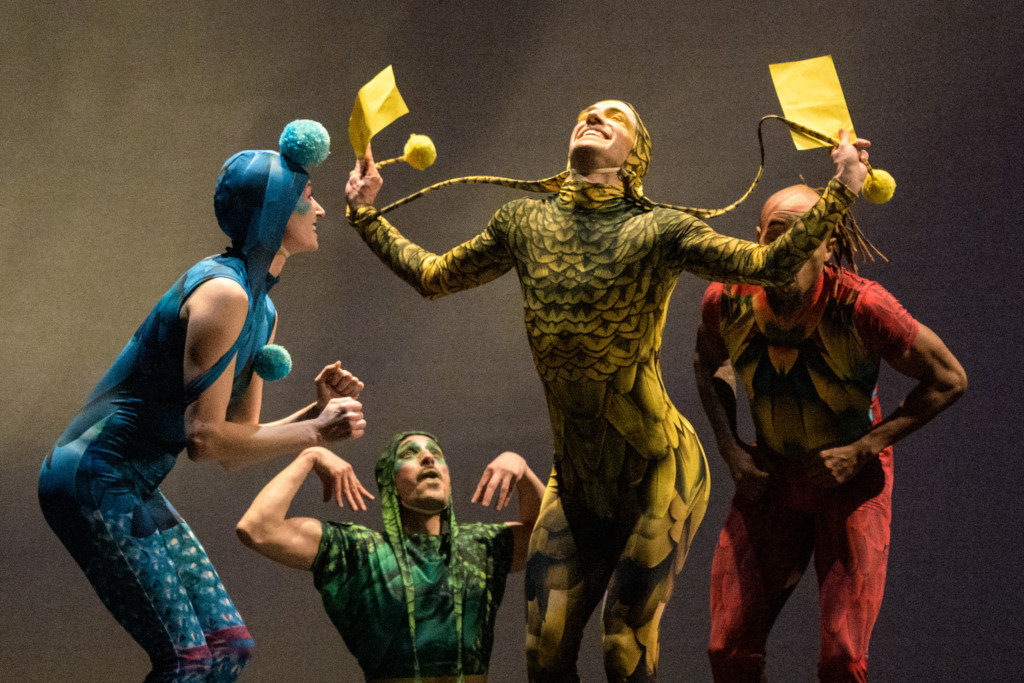 One of the strongest performing arts collaborations of the year occurred last winter with the Ririe-Woodbury Dance Company, the Flying Bobcat Theatrical Laboratory and the Red Fred Project in a work that evoked a vibrant, colorful, innocent, joyful, poignant and glistening landscape. For the Red Fred Project's young authors and their curator Dallas Graham, the live creature and ethereal things concert was like an animated film made full in flesh and character. It heightened the senses evoked in the stories created by their young authors, who have rare diseases and chronic illness and who are mentored by Graham. The young authors' creative voices are naturally poetic, full of innocence and vivid imagination. On stage, the six dancers were transformed into the bird characters of the Jolly Troop, joined by Robert Scott Smith, the narrator, who asked the audience if you could tell the world story, what would it be. Smith and Alexandra Harbold from Flying Bobcast guided the theatrical contributions to the production. The transformation was complete with the delightful costumes created by Jared Gold that accentuated dancers' pitch-perfect character movement and the musical score by John Paul Hayward. A reenvisioned version of this shimmering world of fantasy and innocence will be presented in Allegory, Ririe-Woodbury's winter season concert (Jan. 31-Feb. 1).
Julie Jensen is the most frequently produced playwright from Utah with her work being presented not just in the state but also nationally and internationally. For its season-opening production, Pygmalion Theatre Company presented Jensen's Two-Headed, directed by Fran Pruyn.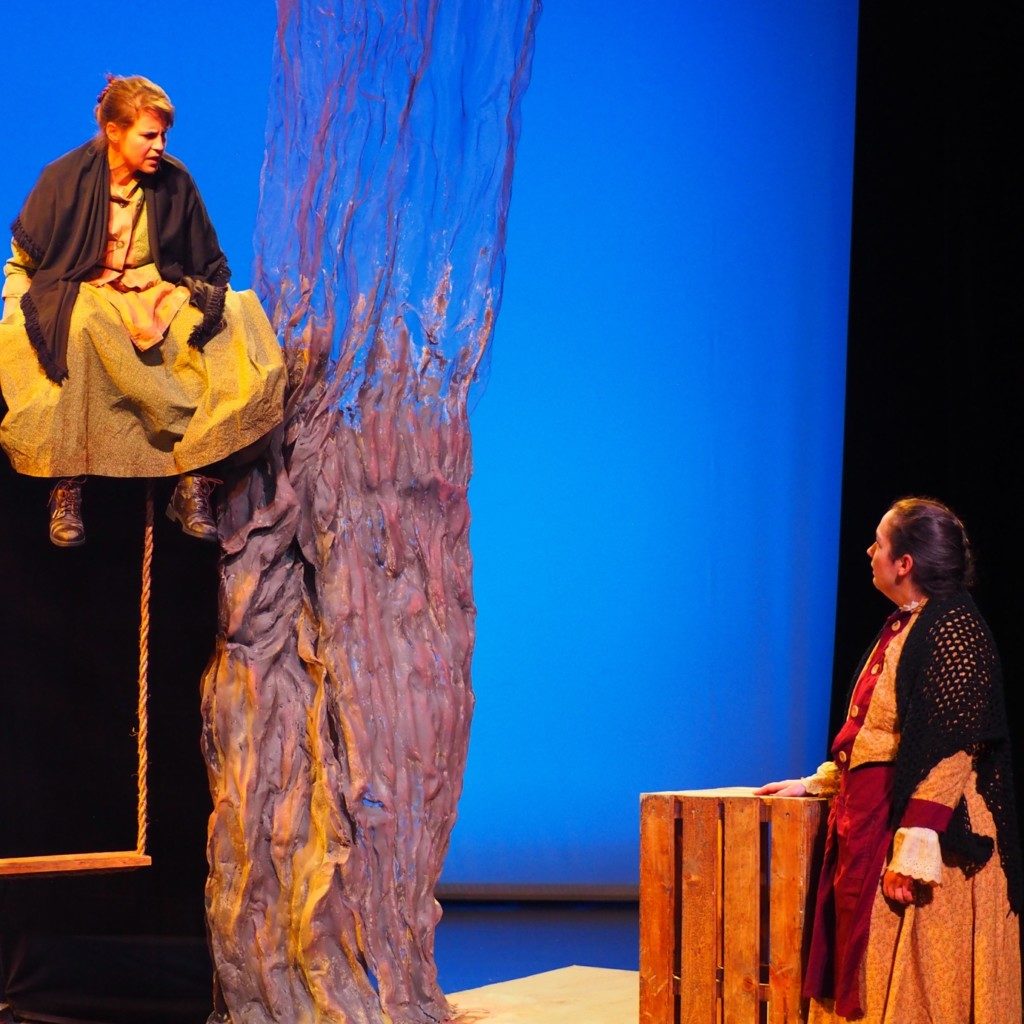 Written two decades ago, with previous productions in Utah as well as in other locations including New York City and the U.K., the play opens on the day in 1857 when the Mountain Meadows Massacre occurred. A decade after Mormons arrived in the Salt Lake Valley, a wagon train of 127 immigrants from Missouri and Arkansas were slaughtered in southern Utah by Mormon zealots. Seven were spared: all children. The specific reference to time anchors the play, as four decades pass through each scene and the memory of that horrific event is permanently etched in the minds of both characters, Lavinia and Hettie, who are 10 years old at the start of the play.
The production was stellar in every aspect and it communicated the poetic streams of Jensen's writing to maximal effect. Most importantly, Haley McCormick Jenkins as Hettie and Brenda Hattingh as Lavinia delivered dynamite performances, particularly in their subtle mannerisms that evolve as they move from the ages of 10 to 50 in 75 minutes.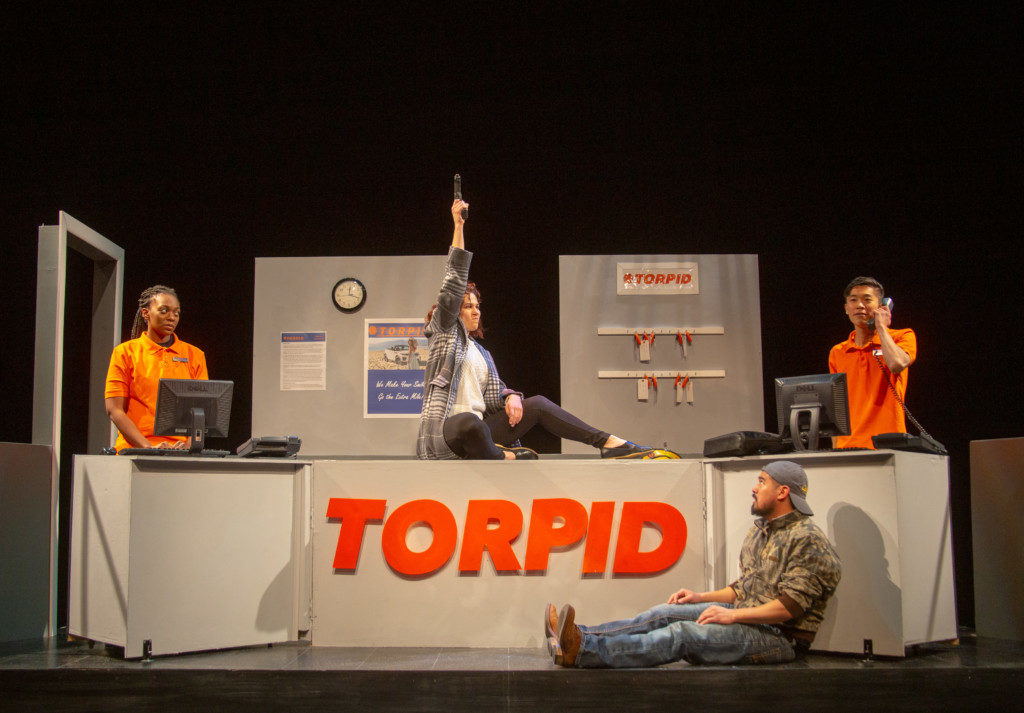 Plan-B Theatre's efforts in inclusion and diversity establish an undeniable position as leader in the artistic community. Two of this year's top 10 moments come from this extraordinary small theater company. The first comes from Olivia Custodio's short play Driver's License, Please, that premiered last season as part of …Of Color, featuring four short works by playwrights of color. A writer with natural comedic gifts, Custodio delivered the production's most audacious, ribald moments, riffing handily off the classically unpleasant experience of renting a car, the setup for a scene as women get justice for the wholly obnoxious behavior of a chauvinist male. Likewise, her short play Bombastic Blue with three characters in an underground shelter after a nuclear bomb attack brought roars of laughter in late August at the 8th annual Rose Exposed! show.
The second moment from Plan-B comes from this season's stupendous world premiere of Camille Washington's Oda Might. The play, with superb examples of subtle foreshadowing, commanded absolute attention from the audience. The simplest description is that Oda Might is about two black women sitting and chatting at a table in a therapy session at a mental health institution in New York City. But, listen closely. The session starts conventionally enough, reflecting the sensitive, careful research the playwright conducted to fortify the credibility of a superbly crafted narrative. There are subtle ripples throughout the play that shake our expectations about the characters—a brief moment of nonverbal frustration in reaction to a spoken line, eye contact or a raised eyebrow reacting to an unexpected utterance, the growing sense that a puzzle is nearly completed but still missing the most critical piece or two.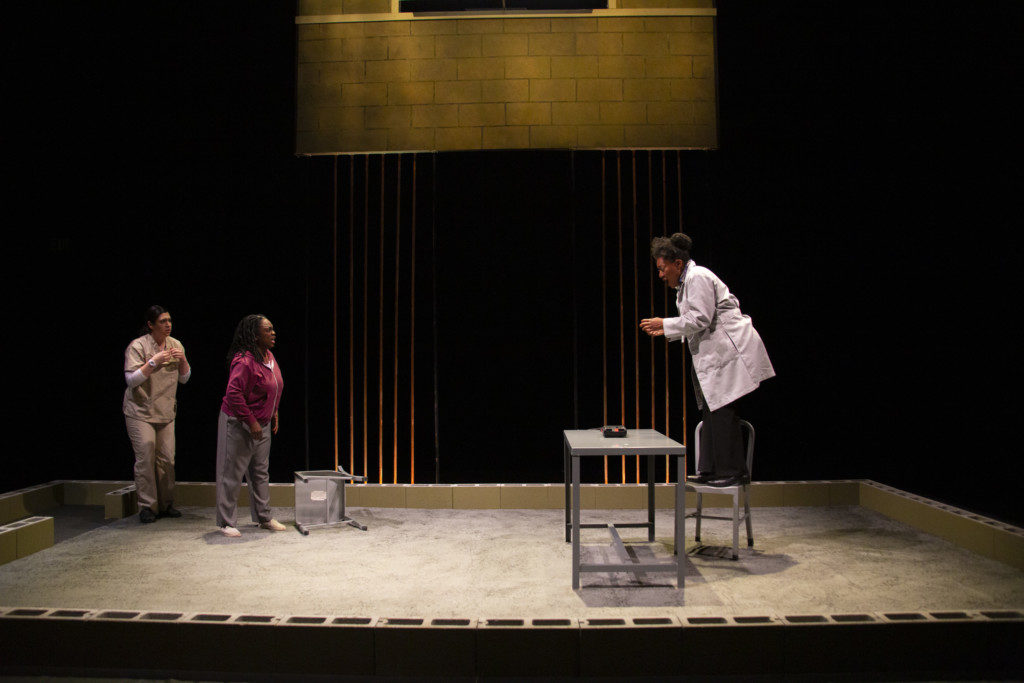 Washington's Oda Might confronts and takes command over the consequences of sadly familiar, condescending displays of casually tolerant inclusionary rhetoric and stereotypes that have engendered more negative than positive impact. The characters negotiate the narrative through the frequent intersections of contemporary culture, entrenched racism and black womanhood.
It is important to reiterate a point The Utah Review made earlier this year about Plan-B's …Of Color: "For a critic who sees the creation of art, in its broadest terms, as framing difficult questions that pull us out of our comfort zones, creative expression that is fearless in taking risks becomes the most meaningful to consider. In Utah, we put a premium on civility, politeness and gentility that tacitly signals restraint – and not just among conservatives but also many others of different sociopolitical stripes."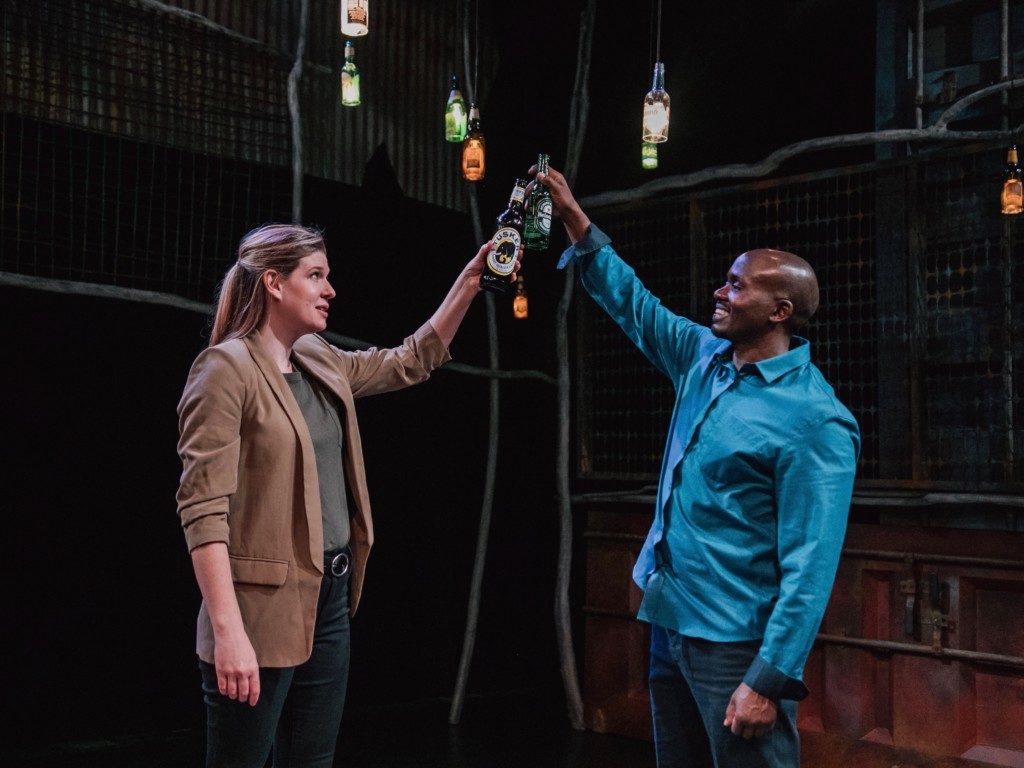 Likewise, Salt Lake Acting Company (SLAC) has advanced significantly the goal of inclusion and diversity. This season saw the premiere of Charly Evon Simpson's Form of a Girl Unknown, an outstanding work Tapped for a top 10 moment this year is SLAC's production Will Snider's Death of a Driver, with riveting performances by Patrick J. Ssenjovu and Cassandra Stokes-Wylie and directed by Alexandra Harbold.
Ssenjovu, a native Ugandan, was electrifying in his unquestionably credible portrayal of Kennedy. Stokes-Wylie equally was just as authentic in her role. The acting chemistry in this magnificent chamber theater piece was superlative.
Another top 10 moment came with the remarkable Sackerson theater company's production A Brief Waltz in a Little Room: 23 Short Plays about Walter Eyer. This play opened in the late summer and continues through December with sold-out performances.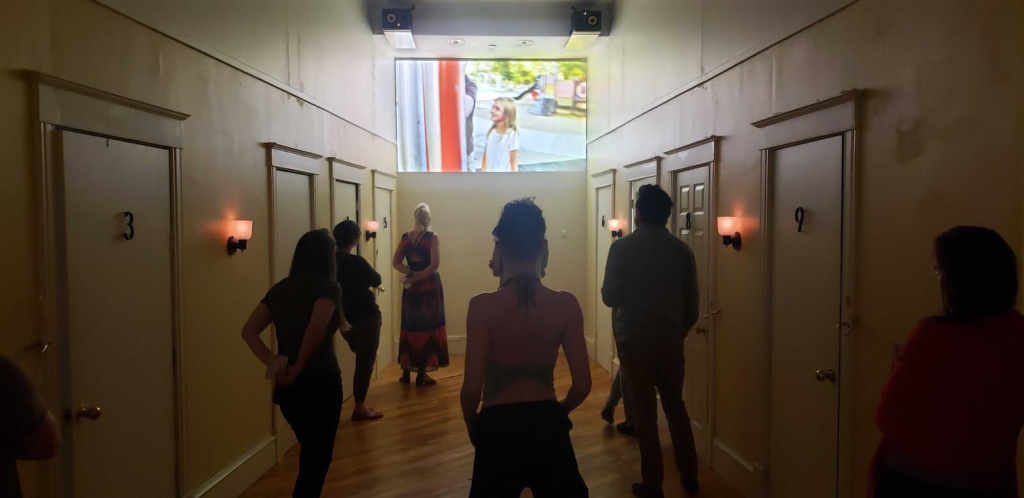 As The Utah Review stated in its review, the play is one of the most incisive renderings of the consequential meanings and impact of a sense of place in Utah. In breaking from practically every standard logistic of theatrical convention, A Brief Waltz presents the unorthodox opportunity – frankly, brilliant beyond expectation – to transform what has been destructively judged as and perceived to be a moral failure into an emancipating expression of self.
However, the most extraordinary part of this experience is that each individual is immersed and, in fact, steps into the realm of 'becoming' Walter Eyer, a forty-something Mormon man of familiar circumstances and conventional means but also who is embroiled in his own identity crisis.
The audience, limited to just 10 members for specific reasons that gives the performance its full spectrum of emotional impact, is introduced to Eyer (Robert Scott Smith) at the beginning with a short film projected on a wall in the back of the Urban Arts Gallery of the Utah Arts Alliance at The Gateway, the show's venue. The audience convenes together in only three brief instances: the opening, the entr'acte and the conclusion.
Playwrights Morag Shepherd, Matthew Ivan Bennett and Shawn Francis Saunders wrote the 23 scenes. It's a dance that all of us might engage in, at one time or another, particularly when a consequential event or life decision faces us. A Brief Waltz opens a door for each of us to confront the collisions of superficially bright surfaces and dangerous undercurrents in our own lives.
Sackerson excels at innovation. Having secured support from the Utah Division of Arts and Museums and the Salt Lake City Arts Council, the company will hold its inaugural Micro Immersive Theatre/Experience Festival in June.
Age, indeed, is just a number for the Repertory Dance Theatre (RDT). Now in its 54th season, the nation's oldest repertory dance company is as revolutionary as ever. RDT and Ririe-Woodbury enjoy international reputations and connections par excellence.
RDT's dance artists has delved quite successfully in the Gaga movement language, a specialty developed prominently by many Israeli-born choreographers. Danielle Agami, an Israeli native who directs the ate9 dance company that she founded in Los Angeles, has adapted the intense physical demands of Gaga movement as an effective story-telling device for dance. Agami returned last season to restage Theatre, a 2016 work.
In its restaged form, Theatre sizzled and dazzled, as the dancers relished Agami's new take on the work. As The Utah Review noted in its review: In the intervening three years, one senses how both choreographer and the ensemble have matured to make the latest interaction ever more meaningful and confident. Gaga is not a choreographic style but it reorients the dancers to push themselves to new levels of stamina and physical possibilities all while truly enjoying themselves. Theatre bubbled with clear portrayals of the characters who happen to be RDT dancers. Like Plan-B, RDT's leadership in the mission of inclusion and diversity has been revolutionary.
For a moment it appeared that the Red Desert ensemble, the duo project of clarinetist Katie Porter and composer/percussionist Devin Maxwell, was set to leave Utah for other venues to continue its pioneering efforts in showcasing contemporary music. Porter and Maxwell emphasize how new music actually is accessible and approachable and offers as compelling and enriching a listening experience as any other music. The duo, however, are still in Utah, thanks to an artistic residency at Westminster College's school of music.
Last spring, at a concert at the Utah Museum of Fine Arts, Red Desert presented a glorious jam session featuring the musical village possibilities in Salt Lake City. Porter and Maxwell gathered an assemblage of local musicians gathered for a performance of Terry Riley's In C masterpiece. As previously mentioned in The Utah Review, the work is "the global village's first ritual symphonic piece," as described by critic Janet Rotter. This Red Desert performance emanated with that precise spirit.
Salt Lake City has gained a unique reputation for one of Riley's most well-known compositions. In C is based on a concept with stunningly deceptive simplicity. Each performer works from sheet music with the same set of 53 short musical phrases that range anywhere from a half-beat to 32 beats. As with any traditional musical composition, each performer begins on the first phrase repeating it an undetermined number of times before moving on to the second phrase and so on. The work has been rendered marvelously on a combination of electronically synthesized sounds and tones accompanied by electric and acoustic instruments, especially in a highly esteemed recording by the Salt Lake Electric Ensemble.
The Red Desert performance grounded the work's sprawling soundscape with a cavalcade of acoustic touches. More importantly, it underscores the adventurous spirit that highlights Red Desert's educational and performing efforts this season. In the upcoming spring, the duo will premiere works that they have commissioned from various composers.
Last spring, just ahead of the Utah Pride Parade and Festival in downtown Salt Lake City, the inaugural Queer Spectra Arts Festival was held. Artists and speakers addressed the impetus and inspirations for the queer creative aesthetic – or, as one organizer described, the 'chicken-or-egg' question of which comes first when queer artists create. At a closing performance in the evening, featuring works by local and national artists, it was a good glimpse into the multifaceted nature of the queer aesthetic. The point was clear: there is no one stylistic definition for how queer artists and performers express their desires, presence or empowerment. The boundaries of their visibility can overlap into the larger mainstream or remain exclusive in a niche where perhaps an audience or community might appreciate the outcome more sincerely or genuinely than others.
One of the most memorable examples was A Politics of Desire, a literary performance by Alborz Ghandehari. He weaved aspects of desire and longing from various dimensions of his personal narrative based in Iranian roots: the revolution 40 years ago that brought about the Islamic Republic, his sexual yearnings, the experience of an immigrant now living in the West, regrouping from a loss of national identity and the pains of war and conflict. Ghandehari's gift was an elegant synthesis, which flowed so seamlessly that one truly could be awed by how within such a terse, concise frame he developed so many rich narrative textures..

Rounding out the list for 2019 Top 10 moments of the Utah Enlightenment is the Utah Museum of Fine Arts' fascinating exhibition titled Power Couples: The Pendant Format in Art that closed earlier this month. Curated by Leslie Anderson, who now is the director of collections, exhibitions and programs at the National Nordic Museum in Seattle, Power Couples featured 60 works representing 36 pairs, including several new acquisitions and a handful of works borrowed from other museums. Many of the works come from the UMFA's existing collections of European, American and regional art and 28 had not been seen since the UMFA reopened two years ago after major renovations were completed.
The concept of pendants for the exhibition was ingenious, as Anderson not only curated it to exemplify the representation of gender roles and social status but also to highlight art's potential intellectual, philosophical and story-telling powers. As mentioned in The Utah Review earlier, Power Couples was a first-class example of how museums can sharpen the relevant connections to contemporary audiences. Anderson's innovative approach invites exhibition visitors to a fluid, expansive conversation that dramatically shortens the distance between the past and the present. The pendants in Power Couples offer a mirror, allowing us to see the extraordinary history encompassed in this exhibition and connect it to our own complexities and in our own relationships. Anderson curated the exhibition so that contemplating the emotional and spiritual paradoxes, as they are displayed, is less intimidating and more accessible. The historical background and contemporary contexts are clarifying, invigorating and enlightening.
The exhibition underscored a thrilling year for UMFA, including the current showing of four masterpieces on loan from the Smithsonian and Art Bridges collections.