Major anniversaries always call for big celebrations. For an independent performing arts company, a golden anniversary not only demands an extravaganza but it also is a moment to highlight the triumph of resilience in demonstrating to the community that local cultural enterprises are indispensable for elevating the social conscience and inspiring others to join creative efforts.
This fall, Salt Lake Acting Company (SLAC) was slated to celebrate formally what will be its 50th anniversary. Of course, the pandemic has curtailed any large celebrations. Last September, SLAC started its 49th season on a momentum of excellence that gathered steam steadily throughout the first five months: a riveting Utah premiere production of Death of A Driver, the timely world premiere of Form of a Girl Unknown, an effervescent Utah premiere of a holiday children's show with Pete the Cat, and the adventurous Utah premiere of a "sequel" to the Henrik Ibsen classic, A Doll's House, Part 2. In March, the world premiere of Four Women Talking about the Man under the Sheet, by Utah playwright Elaine Jarvik, was about to occur when the pandemic shutdown cascaded throughout the country in just a few days. Like its peer independent institutions, SLAC came to a ground stop.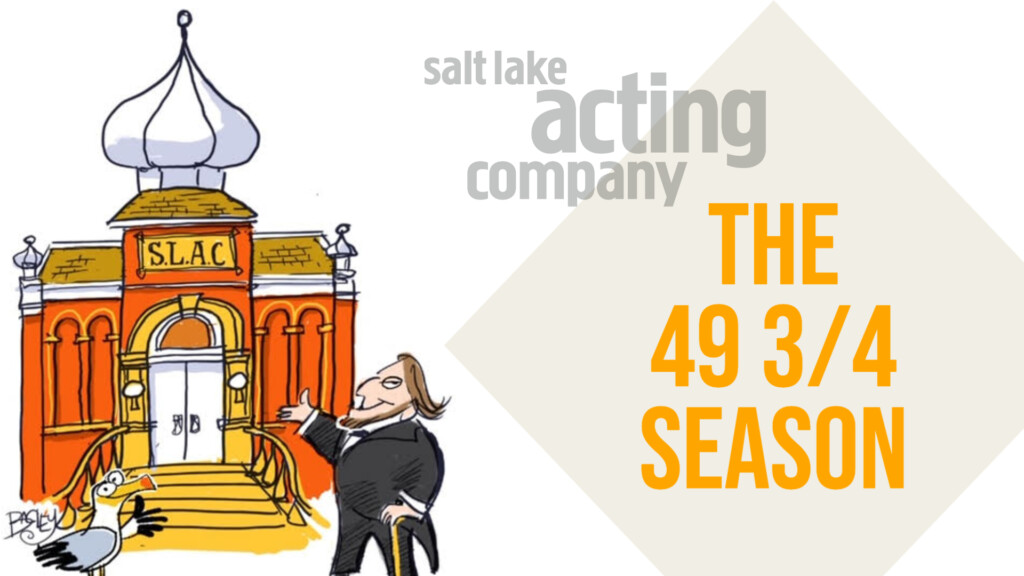 During the interim, SLAC has responded wisely, adjusting its artistic brand accordingly. The results are in the company's new season announcement, which also will defer the golden anniversary celebration to the future while calling this season 49 ¾. "We also feel that '49 3⁄4' is a fitting nod to the unique hybrid of a season we're prepared to offer our adventurous audiences," Cynthia Fleming, SLAC's executive artistic director, says in a press statement. "The year ahead of us is a chance for SLAC to do what it has always done best: rise to the occasion, adapt, and thrive in adversity. The past six months have strengthened and emboldened our team. We are hitting the ground running and are more determined than ever to propel Salt Lake Acting Company into its next 50 years."
The season is smartly curated. The first half's highlights include the company's entry into producing short films in-house, a streaming performance of a play based on the premise of a live online game show, the presentation of a production filmed four years ago that has been updated with an educational component for young viewers and a yet unannounced digital production (Feb. 3-14, 2021), which will be a Utah premiere. The second half of the season will include in-person and streaming performances of productions including the world premiere of Jarvik's play, followed in May with a National New Play Network rolling premiere production and then the 2021 summer premiere of #SLACabaret, which replaces the company's long-running Saturday's Voyeur with an immersive nightclub experience.
The schedule includes several productions being offered in a digital-only format, either as a free gift to season subscribers or a pay-what-you- can option for single ticket buyers. Beginning in spring 2021, all productions will resume traditional ticket pricing, but there also will be options for streaming or in-person attendance. Hopefully, the pandemic will have abated enough by then to resume live performances on a regular basis.
For its new digital in-house production, SLAC put out a crowdsourced call for submissions and selected 10 short film scripts for its series. The David Ross Fetzer Foundation for Emerging Artists is serving as SLAC's filmmaking incubator along with its streaming services partnership for the forthcoming season. On Sept. 18, the first film will be available for screening: a season welcome featuring company artists in Online, a musical parody of Little Shop of Horrors' Skid Row. Using Zoom technology, of course, the short emphasizes SLAC's deep musical strengths, with lyrics by Justin Ivie and direction by Fleming and Adriana Lemke. The films will be available at SLAC's YouTube channel.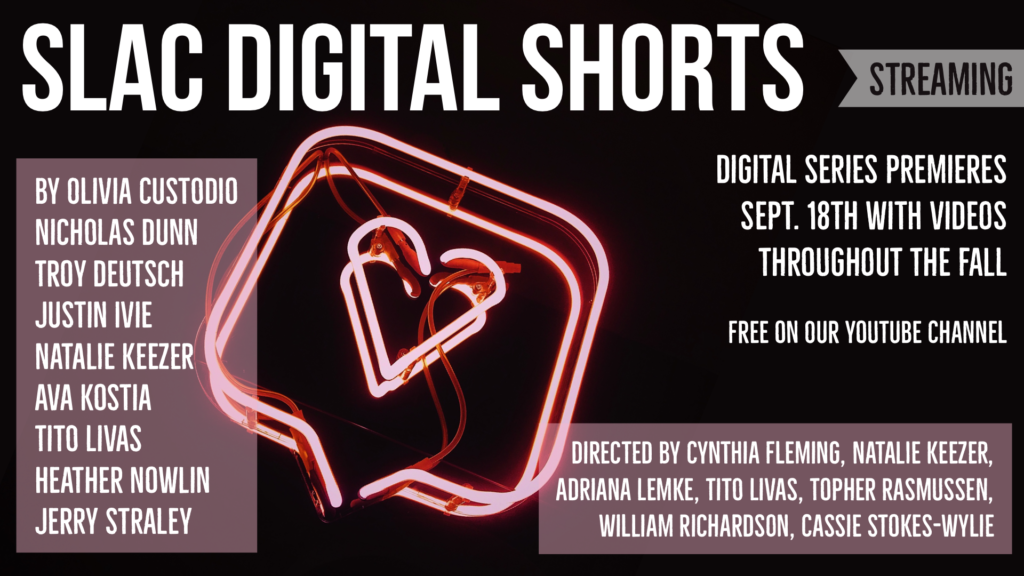 The second premiere in the digital shorts series comes Sept. 25 from actor, singer and playwright Olivia Custodio, who sets a rigorous benchmark for the other films. If It's Good Enough for Costco, directed by Topher Rasmussen, snaps with the peppery sass familiar in Custodio's writing. In the film, God (played by Annette Wright) assesses Her newest candidate for entry into the celestial system of planets—Jaxson, a Mormon father of seven (played by Eric Lee Brotherson) who whines annoyingly about his delightsome privilege. Wright's salty-tongued performance is good enough for atheists to reconsider their beliefs, if indeed there could be a Supreme Being like her. Custodio's God character has no patience for socially irresponsible individuals who refuse to wear a mask. God also cringes at the idiosyncratic Utah spelling of the man's name. The idea of God sitting at her office desk with a nameplate that reads "God" is a delicious premise. To say much more would be a disservice to this great short, which is worth watching more than once.
Other short films in the series, which will be rolled out in upcoming weeks, include Nicholas Dunn (Editing 2020), Troy Deutsch (Brown Bananas), Justin Ivie (final to be announced), Natalie Keezer (Joseph Smith in Quarantine), Ava Kostia (*BLEEP*), Tito Livas (Somebody Died, Beverly), Heather Nowlin (These Latter-er Latter Days), and Jerry Straley (Dial-A-Laugh). Each author received a $500 stipend for their short script and provided artistic input during their respective video's pre-production phase.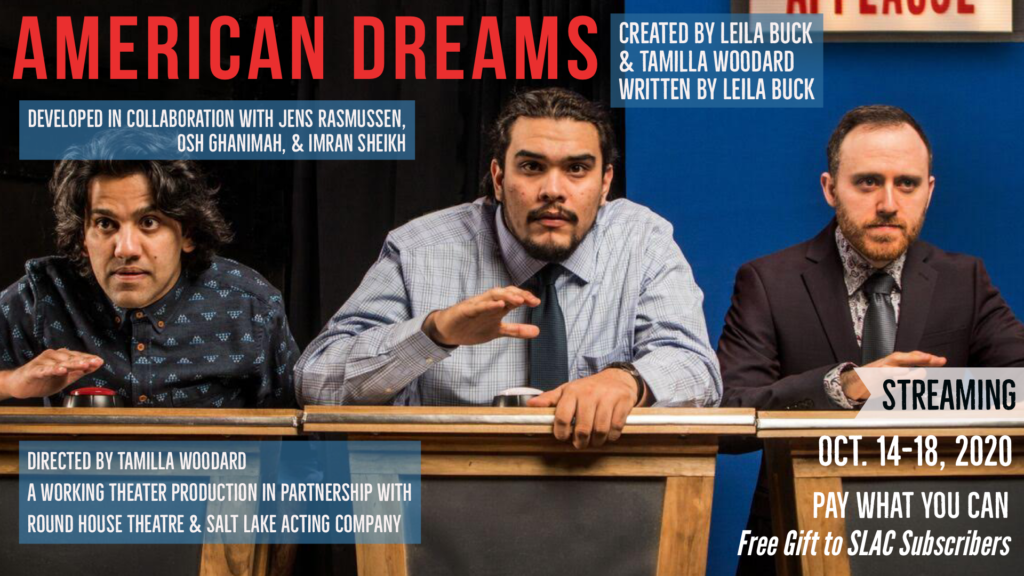 Focusing on an issue that certainly weighs as a major policy concern in the upcoming elections, SLAC will offer a virtual, interactive production of American Dreams by Leila Buck, from Oct. 14-18. Prospective immigrants compete in a live online game where audience members decide who will gain entry into the U.S. The show incorporates classic elements of American game shows including voting, instant polling and trivia. Directed by Tamilla Woodard, American Dreams is a production of New York's Working Theater in partnership with Washington D.C.'s Round House Theatre. The streaming production is free to SLAC subscribers as well as a pay-what-you-can basis.
The children's holiday show this year (Nov. 30 – Dec. 20) presents a film of a world premiere production from 2016, Climbing with Tigers, which also incorporates an educational component directed by Penelope Caywood. The original production, directed by Alexandra Harbold, involved collaborations with the Flying Bobcat Theatrical Laboratory and the Red Fred Project, directed by Dallas Graham.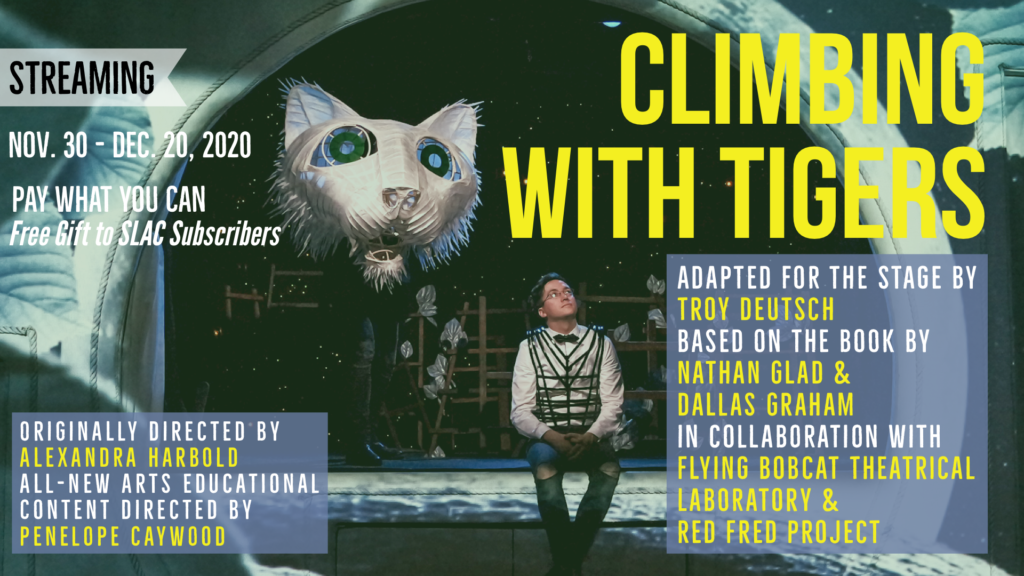 Graham, originally based in Salt Lake City, established the Red Fred Project, which gives children with rare diseases and chronic illness the opportunity to create a book, of which more than a dozen have been published. The first was Climbing with Tigers created by Nathan Glad in Utah, who has brittle bone disease known as osteogenesis imperfecta. The 64-page book features Blue, a small blackbird which has brittle bones, and once he makes new friends he embarks on an exciting journey with tigers and dragons. The book recently has been published as Red Fred's first book in Spanish with the translated title Escalando con Tigres. Troy Deutsch adapted the book for the stage production, of which many performances are targeted toward Title I K-2 graders throughout Utah. The streaming production also is free to SLAC subscribers as well as a pay-what-you-can basis.
A year after its originally scheduled debut, Four Women Talking about the Man under the Sheet, by Jarvik and directed by Jason Bowcutt, will receive its premiere in a run from March 24 to May 2, 2021. Jarvik, a former Utah journalist who has become a prolific playwright, explores the intersections of feminism and racism in the play, which is set in 1895, the day after Frederick Douglass has died and Susan B. Anthony appears to offer her condolences to the family. Jarvik's journalistic background serves her writing well, as she always manages to raise complex historical questions with an elucidating and fresh perspective that puts an incisive contemporary context on social issues and concerns. This will be SLAC's first production in the season with traditional season pricing and in-person and streaming options.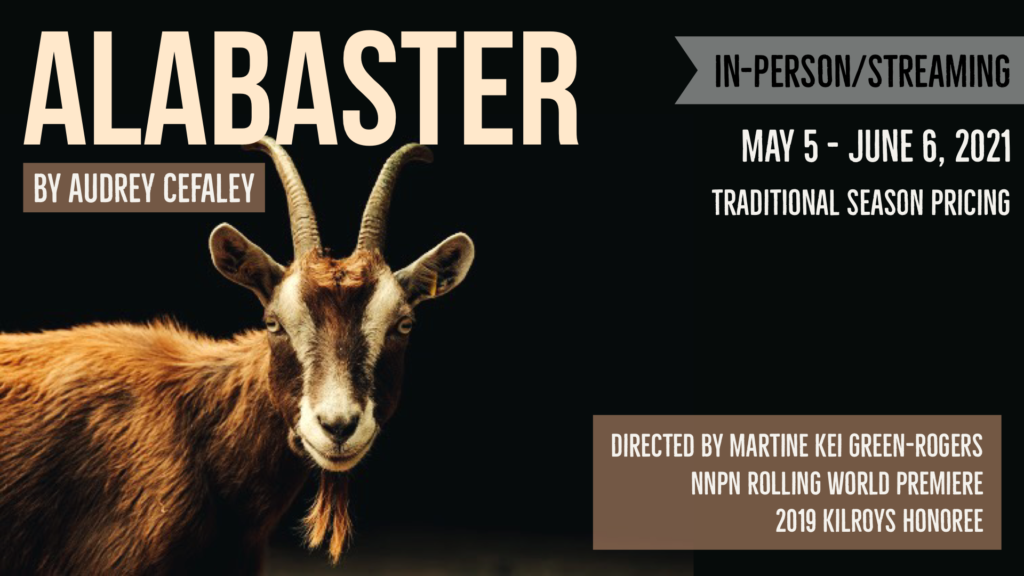 The second spring production will be Alabaster (May 5 – June 6, 2021), written by Audrey Cefaly and directed by Martine Kei Green-Rogers. Cefaly's play is part of a 10-city rolling world premiere, coordinated with the National New Play Network (NNPN), the largest such premiere ever for a NNPN work. Cefaly, an Alabama native who now works in the D.C. metropolitan area, sets the story, told in dark comedic tones, with an all-female cast in a northern Alabama town that just has endured a catastrophic tornado with numerous fatalities. This will be SLAC's second production in the season with traditional season pricing and in-person and streaming options.
Four Women Talking about the Man under the Sheet and Alabaster, incidentally, are on the Kilroys' The List 2020, which honors and advocates for gender parity and equity in the theatrical scene.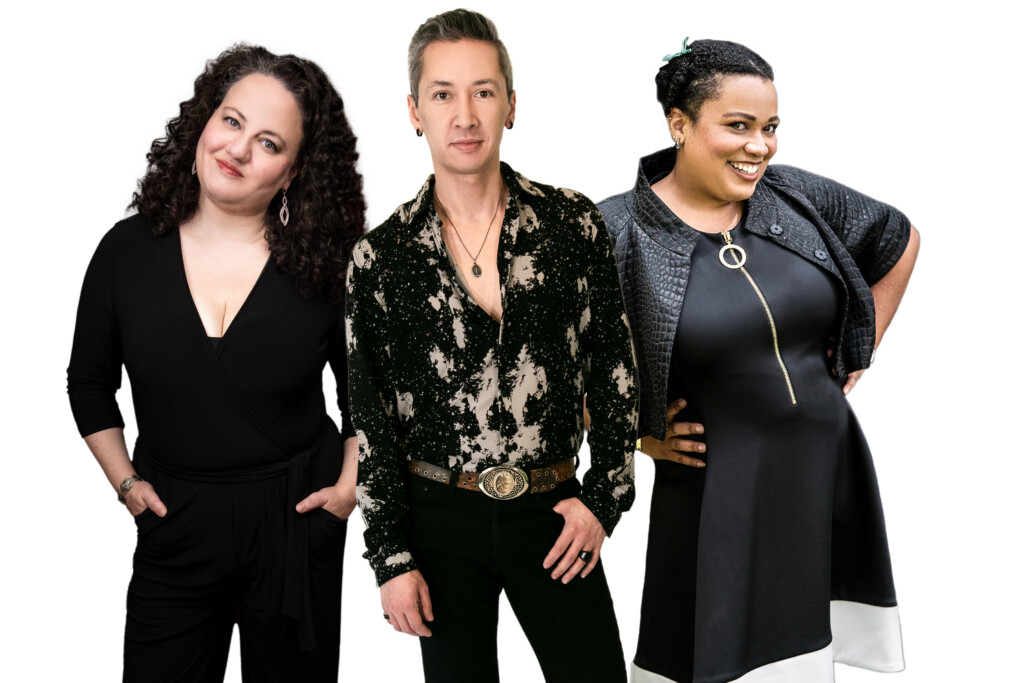 SLAC decided to retire its long-running Saturday's Voyeur, a Utah-centric political satire told through original songs, and in the summer of 2021 will premiere its new #SLACabaret, July 14 – August 15. Structuring it as an immersive nightclub show, SLAC has tapped a multifaceted writing team that includes Amy Wolk, a multiple award winner with honors from the Manhattan Association of Cabaret; Aaron Swenson, well-known Utah actor, performer and artist, and Green-Rogers, who is directing the Alabaster production. Fleming will direct the show, which will be available with traditional season pricing and in-person and streaming options.
Season subscriptions are available while single tickets will be announced at a later date. For more information, visit the SLAC website.