Last year's class of PitchNic short films, produced, filmed and directed by students in one of Spy Hop Productions' signature programs, added nicely to the 15-year totals of film festival appearances and awards for these projects. Winning the Utah Short Film of The Year prize at the 2018 Utah Arts Festival, the short narrative feature Dead Air (Steven Uribe, Carson McKinnon and Ryan Leader) was one of the most scenic short films a Spy Hop Productions team has produced in PitchNic. The film also screened at the All-American High School Film Festival in Harriman, New York and Provo's FilmQuest.
Meanwhile, Native screened at several festivals including the Harriman, New York event as well as the Sidewalk Film Festival in Birmingham, Alabama, and on University of North Carolina-Charlotte TV. An authentic expression of the Navajo Nation's cultural and sociological values, Native (Isaiah Woods, Annelisa Kingsbury Lee and Grace Riter) is an important positive example of how filmmaking can rebut misinformed and stereotyped perceptions about a community. And, Living Concrete (Zachary Spier and Brittney Long), a short documentary film about skateboarding focusing on an older generation of skateboarders who easily blend in with their much younger counterparts at the parks and cubes, also screened at the Harriman, New York event.
More than 90 percent of PitchNic films have made it to the film festival circuit and this year's quartet of student short films, the 16th edition of Spy Hop's program, promise to be among the ambitious ever produced. The films will be premiered Nov. 8 at 7:30 p.m. in the Jeanné Wagner Theatre of the Rose Wagner Center for Performing Arts. Each film runs between 10 and 15 minutes. Tickets are available at ArtTix and Spy Hop.
This year includes PitchNic's first bilingual narrative feature, Miguelito (Steven Uribe, Burke Harold and Jackson Espey), a story about a young man finding pride in his family's culture. Me and Michael (Bayleigh Elliott, Solana Hansen and Wiley Adams) is an experimental narrative short exploring emotional abuse and anxiety disorder through a young man's perspective.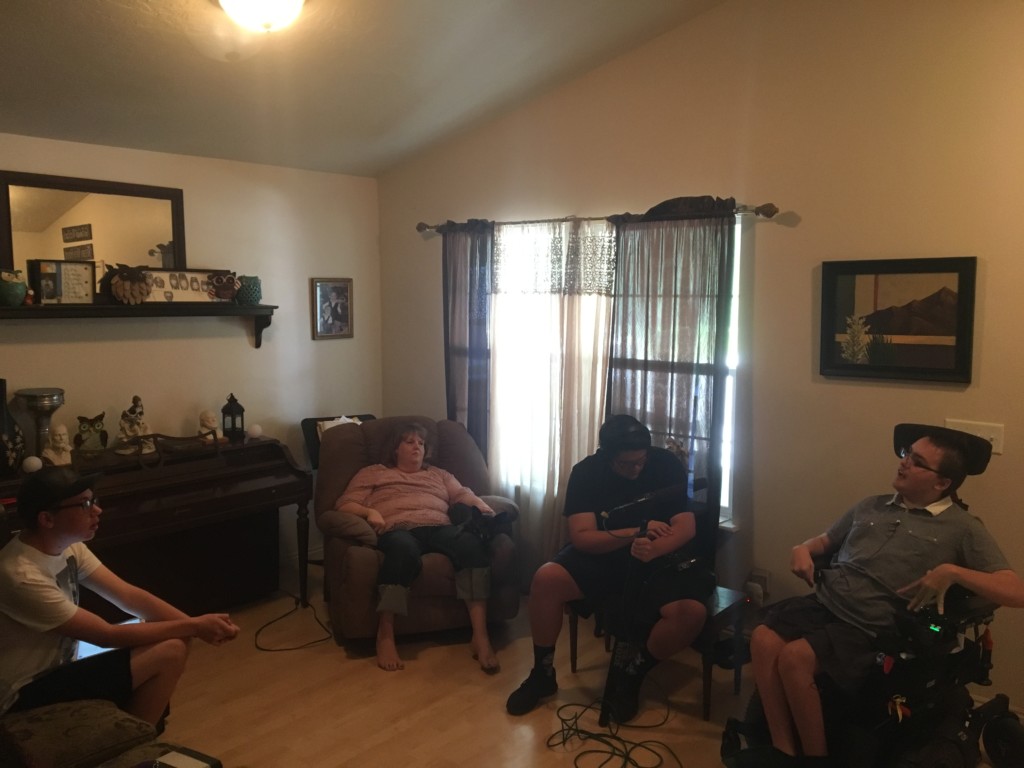 Likewise, the pair of short documentaries stretch creative nonfiction goals significantly for the young filmmakers, as they sought out interview subjects who typically would not agree to having their stories told so candidly on screen. Sanguine (Cade Langsdon, Jaimy Madisen and Jeff Morales) brings the stories of two chronically ill children forward but the focus is not on their medical conditions but on the pleasures, joys and hobbies that young people enjoy. I'm Human Too (Jonathan Landeros, Jaimy Madisen and Jeff Morales) couldn't be timelier, as it examines the implications of racism in two stories about immigrants in different sets of circumstances.
Sanguine Trailer from Spy Hop Productions on Vimeo.
In each instance, the premise for the film has come either through the director's own experiences or in a passion to elevate a story from its predictable expectations. Langsdon, a 17-year-old student at Beehive Academy, says that far too many stories about chronically or terminally ill children focus on their diseases and tend to become tear-jerkers. However, he and his peers wanted to highlight their two subjects in Sanguine as individuals who are not defined by their medical conditions. One is a six-year-old with kidney disease brought on by Type I diabetes, while the other is 18 with cystic fibrosis and cerebral palsy.
Finding subjects for the film meant overcoming several roadblocks, which represented concerns about privacy and parents who didn't want to exploit the medical conditions of their children. The team developed a list of questions they would ask their subjects, which helped to secure the stories for Sanguine. One came through a network of personal contacts while the other came with a physician's endorsement. Thus, Madsen says the film has a playful feel about it. "These kids' lives are more than the routine of doctor appointments and hospital stays," Langsdon explains. "They really enjoy super-normal things and it is easy to forget that they are more than illnesses they have."
I'm Human Too Trailer from Spy Hop Productions on Vimeo.
Making the subjects comfortable about sharing their personal experiences was just as challenging in I'm Human Too. Landeros, a 17-year-old senior at Highland High School who directed the film, and his peers selected two stories. One is Francisco, an undocumented immigrant from Jalisco in Mexico who has been in the U.S. for nearly two decades, who is joined on screen by his son, Daniel, who was born in the U.S. and thus enjoys birthright citizenship. The other is Vicky Chavez, the Honduran immigrant who has been living at the First Unitarian Church in Salt Lake City since January with her two children. Her requests for asylum have been repeatedly denied and she sought sanctuary to avoid being arrested and deported. Chavez's story has been covered extensively in the media, including a short film produced by KUER-FM's RadioWest video project.
Landeros says the intent is to capture the personal, human aspects of their stories which have been lost in the public debate about immigration, amnesty, asylum and sanctuary. At first, Francisco, for example, wanted to remain anonymous but he warmed up to the production crew and opened up. "People will see that Francisco bleeds red, just like the rest of us," Landeros says. In both instances, the focus is on the sincere, deep-rooted concerns of Francisco and Vicky for the well-being of their children.
Miguelito Trailer from Spy Hop Productions on Vimeo.
Uribe is one of the few returning PitchNic students to make a second film. After being a part of the award-winning Dead Air from last year, Uribe, a 17-year-old senior at Cypress High School, wanted to develop a story less about coming of age than about a young person's attachment to a family's cultural roots, regardless of all its quirks, idiosyncrasies and variances.
Originally, he imagined a story involving a white family, mainly because it might be easier to cast for the shoot in Utah. However, after struggling to find the right narrative arc, he settled on relying upon his own experiences in a Mexican-American family. And, incorporating the interactions between the grandfather and the grandson featured in the story meant that it also would have to be bilingual.
No one in PitchNic had attempted a bilingual film previously but Uribe, Harold and Espey managed to cast actors to meet the creative demands for Miguelito. This included Uribe's own grandfather (Harry Bidwell) who plays himself realistically as the grandfather character in the story. Likewise, the extras include family members and relatives. Once again, a young filmmaking team discovers just how much life and art reciprocally imitate each other.
Me and Michael Trailer from Spy Hop Productions on Vimeo.
Like Uribe, In Me and Michael, Elliott, a 17-year-old senior at East Hollywood High School, draws upon her own experiences in developing the narrative for the film. She says it is based on her experiences with emotional abuse and observations of her own father's anger. Working with her peers, Elliott explains the film incorporates significant images to represent what the main character must endure. These include television, masks and other elements that mark isolation or escape to a different world.
There is a nuanced horror aspect conveyed in some of the location shots as well as ambient music. That feel, according to the filmmakers, carries through in the cinematography handled by Adams, who counts David Lynch as among his creative sources of inspiration.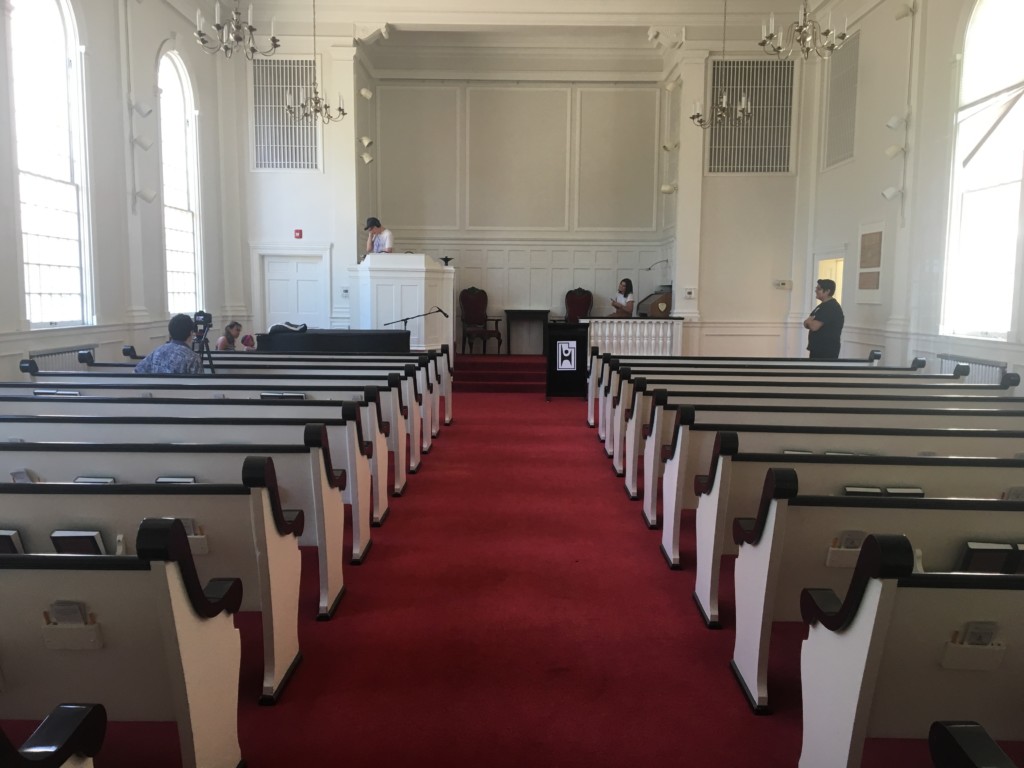 Paige Sparks, who is in her first year as the documentary mentor for PitchNic students, says the students astutely responded to the challenge of using documentaries to tell a story that is just as accessible as it would be in a narrative format. "These students have smart voices and they have their opinions but they also are so grounded, knowing they have the power to make a difference for the future." Colby Bryson serves as mentor for the two narrative short films.
For more information about SpyHop's Pitchnic program, see the web page.