The stories of Ana Popovic and Cee Cee James are persuasive cases about music's transcendental capacity as a universal language of communication. With careers gaining significant momentum recently, both women, who explore in their own ways the larger realm of blues and rock music, are bringing their super-kinetic performing styles to the opening night headliners' stages at the Utah Arts Festival on June 26.
Ana Popovic, 9:55 p.m., Amphitheater Stage
"I'm gonna hang around your door/show no fear for defeat/I'm gonna lay it all on the tableshow you who can stand the heat." – 'Can You Stand The Heat'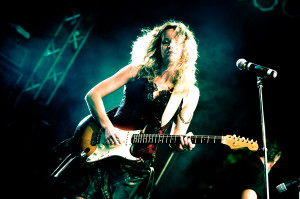 Popovic grew up in Belgrade (where she was born in 1976) and starting at an early age Popovic absorbed the sounds of her father's blues record collection. Listening to everybody including Bukka White, Albert King, Elmore James, Ronnie Earl, Albert Collins, Jimi Hendrix, Stevie Ray Vaughn, Eric Clapton and Robben Ford, with plenty of examples from the Chicago and Delta blues as well as many other American styles.
"We never listened to Serbian stuff," Popovic says in an interview with The Utah Review, adding her father would invite musicians over on the weekends for jam sessions. "It was his hobby," she adds.
Not everyone in her family, however, was attracted to the blues. "My younger sister, who became an architect, found a whole other music to listen to," she recalls. "My father never discouraged us to find other music that appealed to us. For me, the blues was right."
By her mid teens, inspired by the technical abilities of her father's friends, she had learned solos by Elmore James and Albert King. And, at the music conservatory in The Netherlands where she received her formal training, she broadened her musical palette with jazz and different streams of world music. "I took everything in because my mind was strong about what I wanted to achieve," she says.
Long before moving to her current home in Memphis, Popovic already was being acknowledged for her phenomenal fresh interpretations of the blues style. In 2003, she was the first European artist to be nominated for the W. C. Handy Music Awards, as Best New Blues Artist.
Today, she has rightfully reaped many honors for her dedication to a great musical art. She has appeared on the cover of Vintage Guitar, Guitar Player's Gear Guide and American Blues Scene. Virtually all of her recorded music, including the album 'Can You Stand The Heat,' appears in the top echelon of the Billboard Blues Charts. Popovic has shared headlining stages with B.B. King, Robert Cray, Buddy Guy, Robert Randolph, Jonny Lang and many others. This fall, she will join the fall circuit of the Experience Hendrix tour, performing with Black Crowes guitarist Rich Robinson, Eric Johnson, Doyle Bramhall II, Eric Gales, Mato Nanji and Stevie Ray Vaughan & Double Trouble's Chris Layton. She had performed with the tour this past spring.
She performed in her native city of Belgrade, which has become a dynamic center for rock and blues music along with a thriving independent film industry, in the same week when White Snake and Judas Priest performed. Her songs take heed of the potential to cross any cultural bridge with ease. "It's extremely important to tell the story simply in as few words as possible so that everyone can make the connection to the music," she explains. "Every time when I perform, I cross that bridge back to the wonderful feeling I experienced when I was 13 discovering the inspiration of the blues."
In 'Can You Stand The Heat,' the song from her latest album, which pays tribute to the musicianship of Albert King and Albert Collins, she is expressing what many fans and audiences have learned to appreciate: today's groove for blues can be welcomed to the mainstream without losing one bit of the classic integrity the blues tradition always has carried. Popovic plans to return to the recording studio in early 2015. Her last album, recorded at Ardent Studios in Memphis, features some of Memphis' most sought-after session players including John Williams on bass (Al Green), Harold Smith on rhythm guitar, The Bo-Keys on horns and Tony Coleman (BB King) on drums.
Cee Cee James, 8:30 p.m., Amphitheater Stage
"Now I'm a walkin' the Good Red Road/With each step showin' me the next/I ain't got no more desire to run/To any desert mirage shining in the sun now." – Blood Red Blues
It has been about 15 years since Cee Cee James made the momentous switch from pop and funk to blues and Americana roots. With Rob 'Slideboy' Andrews,' her husband and musical partner, she has extended a tradition which has its roots going back to Bessie Smith, Odetta, Big Mama Thornton and Billie Holiday and incorporating Janis Joplin and others such as Genya Ravan (Goldie), Aretha Franklin, and Tina Turner. While many liken her style to Joplin, James embodies a far more comprehensive range of musical influences than what drove Joplin's performances (undoubtedly impressive as they were), given her focus on writing original songs.
Cee Cee James also has reconnected to her own roots. "When I was younger, I enjoyed hearing the sounds of the old gospel in the Pentecostal church as much as I drew upon the sounds of soul and funk, Chaka Khan, Aretha Franklin, James Brown and others. It was a real feel and groove and I always wanted to capture that real feel," James says in an interview with The Utah Review. Taken together, her last two albums – 'Seriously Raw – Live at Sunbanks' and 'Blood Red Blues' – are formidably personal, passionately committed to inner appeal she explains is "doing what our souls tell us to do."
The proof is in the response, universally affirmed by critics, fans, festivals, music colleagues, and others. Most recently, James and her band, including Dave Melyan (drums), Andrews (guitar) and Doug McAlister (bass) were tapped as winners of the 2014 Britt Festival rising stars competition (Jacksonville, Oregon). In terms of airplay around the country for both radio and satellite streaming, James and her band are consistently in the top ranked slots. This fall, she will be touring in several stops in Europe, including Poland, where she has become wildly popular. James will also be making stops in The Netherlands, France and Germany.
In terms of her writing process, James, who is known for strenuously demanding performances, doesn't follow a strict formula, preferring instead to respond daily to what she says is "unending burning desire" in her soul along with the practicalities of sustaining a livelihood and paying the bills. A big part of her process is taking care of herself. "It's important to maintain the balance," she explains. "If I don't get enough sleep and I don't eat a balanced diet with organic and fresh food, then I suffer on the road. Likewise, she relies on a steady diet of spiritual readings, taking in the words not just of the saints and Western religions but those of Eastern spiritual philosophies.
James also is committed to major philanthropic causes including the National Alliance to End Veteran Suicide. Her second husband, a veteran, died of causes tied to expsoure to the Agent Orange chemical. "Veterans go through every possible type of the deepest fears in a short time that many of us would need a lifetime to experience," she says. Not only are many vulnerable to the impact of post-traumatic stress disorder but the U.S. Department of Veterans Affairs has published data estimating that 22 veterans die daily from suicide. She also works with charity events that are aimed at organizing concerts in a city for the purposes of raising money and awareness for a specific issue or cause.