The Utah Film's Center's 19th annual Damn These Heels Queer Film Festival, the longest running festival of its kind in the Intermountain West, opens Oct. 14, returning to its familiar weekend format of live screenings, extracurricular events, and an opening night party but also providing a separate streaming on demand option for patrons, which will be available through Oct. 23. The live events will be in a new venue: the Regent Street Black Box Theatre at the Eccles Theatre,
As The Utah Review had the opportunity to screen some of the films in advance (more about them later in this preview), several points emerge. Continuing a trend that was evident in last year's offerings, the feature narrative films are outstanding. In fact, this year's opening and closing films are both narratives, with a long string of international festival screenings and awards. Unidentified Objects, an indie comedy-drama fused with science fiction aspects, will open Damn These Heels on Oct. 14 (7 p.m.). Directed by Juan Felipe Zuleta, the film's principal characters are a frustrated, bitter gay man with achondroplasia and a free-spirted sex worker, whose paths cross in an unusual way. The Oct. 16 closing night film (6 p.m.) will be Wildhood, directed by Bretten Hannam, a Canadian production. It is a classic coming-of-age story, somewhat in the vein of Stand by Me, the earlier works of filmmaker Terrence Malick and even hints of the Academy Award-winning Moonlight. Hannam puts a strong imprint of their own style, by invigorating the narrative with many fresh elements. At its core, the film revolves around young principal characters who are reconnecting to their Mi'kmaw heritage and are discovering their bond of love. These narratives carry just as much appeal to broader audiences as they do to members of the queer community.

There are 10 feature-length films and a program of five short films in the live screening festival slate and six feature-length films for those selecting the streaming on demand option.
With extensive archival materials and other primary sources, the documentaries, as in the festival's most recent years, are strong additions to the impressive canon of queer cinema. The offerings signify the maturing grasp of historiography, as the films chronicle events, culture and individuals in queer history. They include a magnificently edited overview of the audacious work of filmmaker Pat Rocco, an ingenious presentation with actors reenacting the individuals of the 1950s and 1960s from case files in a gender clinic at UCLA, and a touching portrayal of Scottish cartoonist Gordon Shaw, who died last month. After being diagnosed with a brain tumor, Shaw created five comic books including Bittersweet, in which he illustrated and told his story about living with brain cancer.
Among the guest presenters at Damn These Heels will be award-winning choreographer Raja Feather Kelly, who has been in Salt Lake City to set a new dance work which the Ririe-Woodbury Dance Company will premiere at its January concert. In 2017, for Ririe-Woodbury, Kelly received a fellowship from the Princess Grace Foundation-USA to create Pantheon, a work inspired as a follow-up to Igor Stravinsky's The Rite of Spring ballet (1913).
Kelly will present Hysteria or Ugly Part 2 (Oct, 15, 6 p.m.), a multimedia and multidisciplinary performance piece featuring film and art installation. A good portion of Kelly's body of work has focused on pop culture's nuances, impacts and influences in the making of art and the shortcomings of labels to express holistically the experiences behind labels such as Blackness and queerness. Hysteria builds on an earlier Kelly work, Ugly, which, for example, was praised by The New Yorker for how Kelly conveyed the idea of ugliness as standing metaphorically for social erasure. Now, with Hysteria, Kelly has plumbed deeper to get at the core that started with Ugly.
In a 2017 interview with The Utah Review, Kelly talked about contemplating contemporary pop culture and what, if any, good virtue can be gleaned from the sacrifices many seem eager to make in achieving celebrity status, even if it's a fleeting moment in social media or reality show. Kelly mentioned that just a single day separates the time of his birth from the death of Andy Warhol (who died at the age of 58 in 1987). But, this bit of trivia is far more significant, considering how the choreographer's work has developed. While Warhol obviously has influenced the underpinnings of Kelly's choreography, it also reminds that just as John Cage's philosophy about music, sound, place and environment has girded the making of new music in the 21st century, Warhol's contributions in the visual arts have directed pop culture's evolution and the ideal that fleeting, instantaneous celebrity is within the reach of anyone's hands, deliberate or accidental.
"In college, I became obsessed with Warhol," Kelly says in an interview with The Utah Review. "I watch a lot of TV, movies, and social media and I constantly study it and dissect it," he explains, adding "that these experiences shape my blueprints and devices for choreography." During a rehearsal for Pantheon, he talked briefly to the dancers about enjoying ritualistic movement. He imagined a MTV show about rituals with reality actors participating in confessionals. One mentions how "awesome" rituals are and another complains that rituals are boring and "so overdone" – spot on in tone in what most MTV reality shows reveal.
Kelly also will lead a workshop (Oct. 16, 10 a.m.), described as, focused on the "methodology Honest Reactions To Imaginary Situations … as an approach to creating and performing that above all relies upon; centers and fights for truth."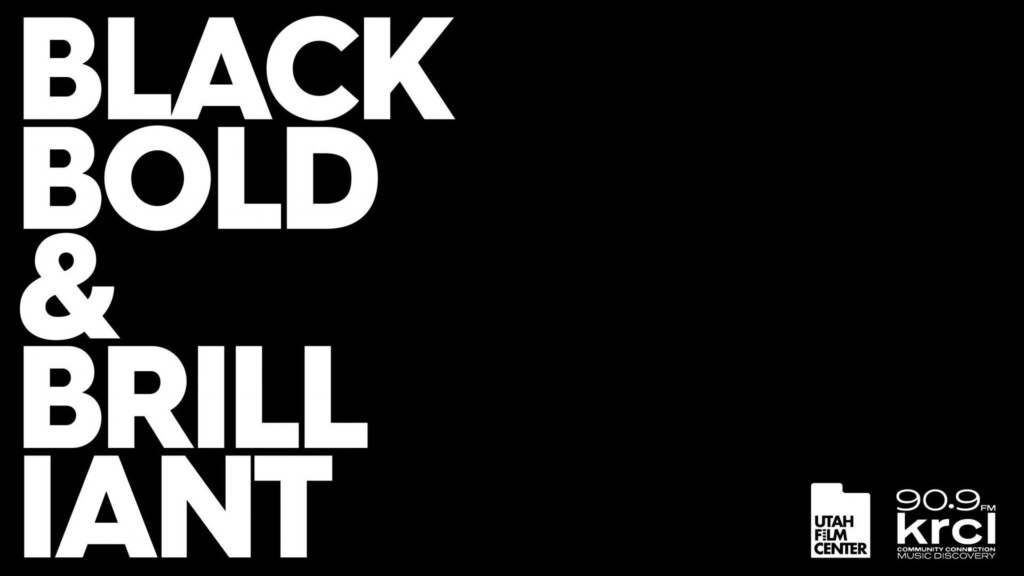 A panel discussion (Oct. 15, 4:30 p.m.), Queering the Lens Edition, led by the locally based Black, Bold and Brilliant team will discuss the current state and the ascending popularity of queer, trans and BIPOC cinema not only in indie film and art house theaters but also as hits at the mainstream box office.
Noting that there were more than 200 submissions this year, Jeff Paris, festival program director, says it was sometimes difficult to select films because with the festival's new primary venue, there were not as many programming slots available as in previous years. The 2022 slate is about 40% smaller than last year.
"But the festival's principal strategy has remained the same, even if it is carried out in a slightly different way," Paris says. Not only do the films run the gamut in the LGBTQ+ spectrum but also there are a good number of films where directors and producers have pushed and flexed the boundaries of genre categorizing a nd story treatment, which is evident in both the narrative and documentary offerings.
Paris adds that many of the films selected easily rose to the top for the screening committee, including the opening and closing night narrative features. Incidentally, at one point, Wildhood was being considered as the opening night film before the programming committee decided to slot it as the festival's closing offering.
Paris, who served on the board of the Ririe-Woodbury Dance Company, says that Kelly was a serendipitous opportunity for the festival. The choreographer has been working with the company dancers on a new work, which will be premiered in January. And, Kelly has demonstrated many ways for performing arts groups to incorporate film and video into their work, extending the possibilities behind the tradition of filming performances just for archival purposes.
LIVE SCREENING PRESENTATIONS
In Unidentified Objects, Zuleta deftly weaves a blend of genre elements that make the cogent epiphanies clarifying for its viewers, even as the ending leaves open the door for audiences to interpret as they see relevant to their experiences. The excellent cast offers credible character portrayals throughout the film. Winona (played by Sarah Hay) is desperate to borrow a car from her neighbor Peter (played by Matthew August Jeffers) for a road trip from New York to a remote wilderness area in Canada. At first, the prospects of her trip materializing appear impossible and improbable. Peter is a bitter dwarf who has isolated himself from the world in his New York apartment and Winona is struggling to make her case convincing enough. And, as viewers discover, the stakes are that much more difficult when Winona reveals the reason for the trip is an extraterrestrial encounter at her destination where she expects to be abducted—a fantasy that Peter finds totally incredulous.
The tensions rarely abate during the course of their road trip. The minor characters they encounter include cosplayers who seem to be always arguing and challenging each other and some strange survivalists, among others. There are several surreal dreamlike sequences plucked from science fiction tropes, including an alien cop who interrogates Peter on the roadside. But there also are many humanizing moments that lift up through this weird, eerie haze and reveal the personal grief and trauma both characters confront. Ultimately, these strangers who otherwise would never have met, much less embarked on a road trip heading into a remote area of Canada, learn a great deal about reciprocating empathy. The fear of isolation appears in surprising forms.
Indeed, watching Unidentified Objects, the feature-length debut of Zuleta, who has Colombian roots, may remind viewers of how the director was inspired by Spanish-language films he watched during his formative years, such as Y tu mamá también, Children of Men, and The Devil's Backbone. More significantly, Zuleta, as he explains in his director's statement, says, "I knew that we wanted to tell the story of a little person after realizing there was this huge, incredible pool of performers with dwarfism who rarely got the chance to play nuanced lead roles on-screen. At a human level and at a creative level, that kind of representation is important."
Jeffers, born with a form of dwarfism so rare that it was initially only referred to as "Matthew's Disease," initially declined the opportunity to take on his first role in a feature film. He had been cast in off-Broadway productions and television series including The Marvelous Mrs. Maisel. Jeffers, in a prepared press Q&A statement, says he grew up in a "conservative bubble" and attended a Jewish day school, where he learned about the many different meanings and ways of being the "other." As for Unidentified Objects, he says, "Nothing is ever simple. I mean, I knew I was attracted to women. So one of my biggest concerns taking on this role was being artificial about Peter's sexual orientation. But throughout filming, I realized that if someone is able to strip away the innumerable heteronormative walls that society has built up over so many years? If they are able to access a moment of true individuality and vulnerability? Then they can experience love (sexual, emotional, etc.) toward any human being. Being able to step into Peter's shoes has been one of my great life privileges so far."
In Wildhood, which became the feature-length offshoot of their award-winning short Wildfire, Hannam, who is two-spirit, non-binary Mi'kmaw, matches the natural beauty of the story's Canadian production location with an exquisitely rendered romantic story involving Lincoln (played by Phillip Lewitski) and Pasmay, who is two-spirit (played by Joshua Odjick). Lincoln, a teen with a short fuse, can no longer abide the abuse of his white father and once he discovers that his father lied about his mother being dead, he escapes, taking Travis (his non-Indigenous half-brother) (played by Avery Winters-Anthony) with him. Once they meet Pasmay, the trio embark on the trip to search for Lincoln's mother.
There is plenty of impetuous tension at first and there are moments when Lincoln's furor threatens to derail the road trip. But, Pasmay also is patient and empathetic about Lincoln's circumstances. At first, the chemistry of romance is subtle but eventually even Lincoln's half-brother recognizes that Pasmay is definitely interested in Lincoln. But, the trajectory of the budding romance also is complicated by Lincoln's struggle for his own identity. Pasmay's presence is not just about Lincoln's sexual discovery but also about reclaiming and returning to the roots of their Mi'kmaw heritage and ancestry. There are many instances in the film where the suppression of the Mi'kmaq identity is plainly evident.
But, Hannam adroitly produces the intersections involved — queer romance, the efforts to preserve Indigenous identities and culture, the separation of families — to create an elucidating and edifying narrative. Wildhood was filmed in traditional Mi'kmaw lands, the Annapolis Valley in Nova Scotia. One of the film's most beautiful moments is when Pasmay is teaching Lincoln how to dance. Hannam unites these dimensions with impressive effect.
In a 2021 essay Hannam wrote for CBC Arts, the director explained, "At its heart, Wildhood is a Two-Spirit story … [T]here is more than a binary, more than a rigid system of categorization. That transformation is part of it, but it's also more than that; there is movement, fluidity, and becoming. Growth. In this circle, gender and sexuality exist in many forms, shifting and moving without restraint. Two-Spirit identity extends deep in the earth and the roots below and upwards to the sky, clouds, and seasons. It's more than a label that expresses gender and sexuality (even as it does both) — it is a many-faceted identity that includes aspects of spirituality, emotional reality and experience, and cultural knowledge. Two-Spirit is an identity as rich and varied as the animals and plants that surround us."
Last year's Damn These Heels lineup produced several outstanding documentaries of archival activism, including Cured, No Straight Lines: The Rise of Queer Comics, P.S. Burn This Letter and Raw! Uncut! Video!. This year's festival schedule extends that trend. Pat Rocco Dared (Oct. 15, 10 a.m.), featuring LGBTQ documentary filmmaker Charlie David and co-directed by Bob Christie and Morris Chapdelaine, stands to be a potential audience favorite. Rocco, a pioneering filmmaker of gay erotica who had an astute knack for viral buzz long before there was digital media, is given a well-deserved portrait of the impact his legacy in queer cinema established. Fortunately, the directors were able to get Rocco on screen as a primary source, before he died in 2018 at the age of 84. The conversations that David, a Toronto-based filmmaker, has with Rocco and his lifetime partner David Ghee at their home in Hawaii demonstrate how late in his life, Rocco still had not lost one bit of his prowess for promotion.
A talented singer, Rocco came out in the 1950s at the age of 17 and eventually found his place in show business, making connections to celebrities including comedian Phyllis Diller. But, it was his unrestrained filmmaking that truly put him in the chronicles of entertainment history. Distinguishing between porn and erotica, Rocco caught everyone's attention with the 1968 film A Very Special Friend, a love story that became the first U.S. theatrical release to show a same-sex kiss on screen.
Rocco's appreciation of old-fashioned romance propelled a series of erotic, playful films, which in their unashamed portrayals of nudity and affection generated controversy on their own. At a time when sexual liberation became a cause among the many that animated protests in the 1960s and 1970s, Rocco stood out in front with glee and poise that delighted followers and confounded critics. His films were raw, hardly stylized in terms of technique but there also were numerous films that became documentaries and valuable archives of the sexual liberation and queer rights movements.
His work is now cataloged at the UCLA Library's Film and Television Archive. One of those films that Davis features in the documentary and is discussed by Whitney Strub, a Rutgers University-Newark historian, is Meat Market Arrest. Rocco is like a journalist on live television, narrating the events of a police raid at a Los Angeles gay nightclub. Long before mobile phone cameras became useful in documenting law enforcement abuses, Rocco understood the power of the movie camera in capturing, for posterity, events, attitudes and behaviors that would become vital for chronicling the history of the movement. But, Rocco did not stop there, as he returned several days later to document the full nude dance, as evidence that it was not obscene or pornographic but that it rose to the standards of being valued for its artistic merit. To boot, an excerpt shows Rocco discussing the pending court cases with the Meat Market's attorney and the dancer.
Rocco feared nothing in his filmmaking. His 1969 A Breath of Love stands out for how he engineered the logistics to film a fully nude man cavorting on a stretch of the heavily traveled Los Angeles freeway. Furthermore, he shot as a followup, How to Shoot a Nude on the Freeway, mainly because he had forgotten to snap publicity stills from the first time. Rocco also was a public relations genius, as he notified the local NBC News affiliate ahead of time to cover it and a crew showed up to cover it as part of their news coverage. That same year, he made a film of a gay couple enjoying the day at Disneyland. The film Disneyland Discovery was never screened in public, because of legal threats from the amusement park's attorney, but the original is now in the UCLA archives.
Framing Agnes (Oct. 15, 8 p.m.), a documentary by Chase Joynt which premiered at Sundance this year, intrigues for how the director uses actors to recreate in a novel talk show format contents from the case files of individuals who were part of Harold Garfinkel's ethnomethodological research of gender health identity at UCLA in the 1950s and 1960s. One of those was Agnes, a transgender woman whose name is a pseudonym. Plainly, Agnes had lied to Garfinkel to obtain medical care and access to surgery— an act that reverberated by essentially neutralizing the importance of other case studies.
The feature-length documentary was expanded from an earlier short, which Joynt also directed and was based on the archives of Garfinkel, who died in 2011, and his colleague Dr. Robert Stoller. Sociologist Kristen Schilt had worked with Joynt to organize the archives. Agnes came to the clinic in 1958 and she revealed that while she had been born a boy, she noticed female sex traits had developed during puberty. Medical testing confirmed that she was not intersex and her appearance seemed to confirm that she was female. While the investigation continued as to whether or not Agnes would be approved as a candidate for surgery, she sat with Garfinkel for interviews that would become the basis for the first published sociological case study of a transitioning individual in a U.S peer-reviewed publication.
Garfinkel and Stoller were interested in the sociological dynamics of passing for a specific gender identity. But, why Agnes' particular story has stood out for decades is that eight years later and after being approved for surgery, Agnes confessed to the researchers that, as Stoller recalled, "she revealed that she had never had a biological defect that had feminized her but that she has been taking estrogens since age 12." Because Garfinkel had featured her case, and not the other eight gender nonconforming subjects, in his published research, he and his colleague had to recant their findings. So, while Agnes' story is framed anew in the documentary, Joynt clears the path to feature the stories of the other subjects whose case studies offer a much broader spectrum of experiences about their lives as gender nonconforming.
Joynt, who plays Garfinkel as the host of the simulated talk show, interviews Agnes and other subjects, who are portrayed by trans actors. The film looks sharp in its black-and-white camera technique and the period setting is credible. Damn These Heels audiences may remember one of last year's offerings, No Ordinary Man, directed by Aisling Chin-Yee and Joynt, which chronicles the life of jazz musician Billy Tipton, whose female birth sex was not revealed until after the musician's death in 1989. In that film, there are scenes of Black trans actors reading lines as if they are auditioning to play the role of Tipton.
In Framing Agnes, receiving nearly equal time on screen on as the actors portraying the individuals from the case fields is Jules Gill-Peterson, a professor of transgender history at Johns Hopkins University. Gill-Peterson guides the audience toward comprehending the historical significance and context of the UCLA clinic as well as the contemporary attention given to Christine Jorgensen, who in the 1950s became widely known as the first U.S. citizen to have the surgery. While the context is helpful, the film leaves the audience wanting to hear more about the contents of the case files of the subjects other than Agnes. The film has received several major honors, including Sundance's NEXT Innovator Award and NEXT Audience Award.
The life and work of Gordon Shaw form the emotionally moving foundation for Long Live My Happy Head (Oct. 16, 4 p.m.), a BBC film directed by Will Hewitt and Austen McCowan. Shaw had always created his comic books as autobiographical but once he was diagnosed at the age of 32 with a low-grade brain tumor, he turned his art toward creating illustrated stories that he believed would help other patients and the effects and stresses of the extensive treatments and chemotherapy.
When the filming began, Shaw's condition was mostly under control and he had found love with Shawn Puller, an American arts administrator from Bath, Virginia. Their relationship, which began in 2017, had thrived even as both dealt with the realities and practicalities of being separated by thousands of miles. Shaw's medical condition involved risks of dealing with seizures or other emergencies during long distance travel. Puller's career obligations also made it difficult to find alternatives to relocate and find comparable work. And, then the COVID-19 pandemic hit, complicating matters even more. But, Puller arranged a surprise virtual party on Zoom to help celebrate Shaw's 40th birthday.
In 2021, as it became evident that Shaw's tumor had progressed to the worst pathological scenario as a glioblastoma, Puller traveled to Scotland and the two were able to celebrate Christmas together. Puller stayed with Shaw, who died on Sept. 11 at the age of 42, a decade after the initial diagnosis.
The film is a meticulous portrait of a gentle, loving, compassionate man whose art, as featured in the film, adds depth to understanding what was going through Shaw's mind as he sought the best way to express the feelings surrounding his illness. Shaw personified the tumor as a combative antagonist named Rick in the book Bittersweet. Shaw never shied away from the multiplex of feelings he experienced during his illness, which included shame, guilt and sadness. Among all types of cancers, brain tumors are the leading cause of death for individuals in Shaw's age group. The film was completed in time so that both Shaw and Puller could see it. In an interview with Pink News, Puller talked about the emotions he experienced in watching the scenes of Shaw living in lockdown during the pandemic: "When I start talking about it, it clutches at my throat …  Watching him in isolation was traumatic, and it brings back instantly the frustration and the fear of the pandemic and not being able to come and be with him… To just feel the weight of his isolation, it haunts me. He had to live that alone."
Other films slated for live screenings at the Regent Street Black Box include The Beach Of Enchaquirados (Oct. 15, noon), a 2021 documentary from Ecuador directed by Iván Mora Manzano, featuring Vicky, a trans fishing entrepreneur, who has found a remote spot in a coastal area, which is surprisingly affirming and accepting of the freedom to exist and thrive as one hopes to be. Breaking the Ice (Oct. 15, 2 p.m.), a narrative dramatic feature from Austria directed by Clara Stern, is about Mira, the captain of her ice hockey team, who tries to balance her life with family demands and crises. Please Baby Please (Oct. 15, 10 p.m.), directed by Amanda Kramer, is about a couple who witness a murder and find themselves on a path toward exploring emotions and sexual identity in an most unexpected way.
A program of five short films, featuring selections from Spain, Australia and the U.S. will include the short We're Here by Melahn Atkinson, a Utah filmmaker (Oct. 16, noon). Finally, given the recent hoopla surrounding the new gay rom-com Bros, festival organizers are bringing back a 2004 rom-com Saving Face (Oct, 16, 2 p.m.) directed by Alice Wu, featuring a young Chinese-American surgeon and her girlfriend who is a dancer. Meanwhile, the surgeon's mother has been kicked out of the family home by her grandfather because of her unwed pregnancy. That film premiered at the Toronto International Film Festival and had a solid festival run before a limited theatrical release.
STREAMING FILMS ON DEMAND
Patrons will have the options to screen any or all six films on the streaming video on demand offerings. Boylesque (Poland, directed by Bogna Kowalcyzk) revolves around Andrzej a/k/a Lulla La Polaca, who has performed in drag for the longest time in Poland. Preparing for his eventual death, Andrzej is planning aspects of his funeral, including having his cremated ashes buried in an elegant urn in the shape of a stiletto shoe. Yet, Andrzej continues performing, mainly for Pride parades, private parties and nightclubs and still hopes to have one last romantic interest as he uses a dating app.
Mama Bears, directed by Daresha Kyi, focuses on individuals who have connected through private Facebook groups and who fight for equal rights and ensure the world is safe for their children, even if means losing friends, family and members of their faith. My Emptiness and I (Spain, directed by Adrián Silvestre), tells the story of Raphi who moves from France to Barcelona, in the hopes of realizing her fantasy about finding a prince and starting a traditional family. But, she works in a call center in Barcelona, struggles with dates that often turn embarrassing, and is diagnosed by her therapist as having gender dysphoria. This film is the narrative follow-up to Sediments, Silvestre's creative nonfiction film about six transgender women, as they travel to a small town in León. That film was screened at last year's Damn These Heels.
Neptune Frost (Rwanda, directed by Saul Williams and Anisia Uzeyman) is an Afrofuturist, sci-fi punk musical that's a visually wondrous amalgamation of themes, ideas, and songs. The film takes place in the hilltops of Burundi, where a group of escaped coltan miners form an anti-colonialist computer hacker collective.
Park View (directed by Tab Ballis) explores a case that has been shrouded in mystery, revealing the life of one woman, and the religious, legal, and media responses to the aftermath of her death. The film leads viewers on a journey of understanding, from a horrific murder in Wilmington, North Carolina, to the validation of our common humanity.
Travesti Odyssey (Chile, directed by Nicolás Videla—who by night is better known by his stage name Amnesia Letal) emerges from a 2019 decision by the Chilean government to raise the costs of using public transport and the protests of that move. It was during this turbulent period that Cabaret Travesía Travesti was performed for the final time. As well as being entertaining and hilariously funny, this radical show was razor-sharp and extremely political. Scantily clad, wearing sky-high heels and dazzling make-up, Maraca Barata, Anastasia María Benavente, and Amnesia Letal gave short shrift to power structures and a historical legacy that marginalized the trans community, making it a target for often-deadly violence. The film also examines how the group fell apart, due to personal differences.
For tickets, passes and more information about Damn These Heels, see the Utah Film Center website.