"Legend, lore, mystery, romance and even murder." That is the opening sentence in Linda Wommack's recently published book Growing Up with the Wild Bunch: The Story of Pioneer Legend Josie Bassett. "This rugged, tough-as-nails, small-statured lady moved to a new homestead on Cub Creek in Utah, where she would struggle to survive for the next fifty years," Wommack continues. "During this time, Josie became one of the most noted frontier women in the region, gaining a reputation as one of the toughest in the West. When accused of cattle rustling, Josie hired the best lawyer and fought the charges. After two trials, the sixty-two-year-old lady was acquitted of the charges."
The women in the Bassett family lived extraordinary lives that belie the romanticized, exalted, masculine myth of the Intermountain West pioneer era, which thankfully is being untangled by a growing number of fresh creative voices in the Utah Enlightenment who have done their historical research. They have rescued critical details from arcane, obscure depths, reclaiming stories that were integral to staking out life in new territories.
Entering that worthy canon is Plan-B Theatre's forthcoming world premiere of Jenifer Nii's The Audacity, a solo show for actor April Fossen and directed by Jerry Rapier.
Originally, the play was set to close out Plan-B's 29th season with the customary 10-performance run at the Rose Wagner Center for Performing Arts, beginning March 26. However, as the COVID-19 pandemic has necessitated unprecedented measures for social distancing and all entertainment ventures have been shuttered temporarily, the eminently agile company is dealing with the unusual circumstances.
The Audacity will premiere as a streaming video production, beginning March 28. Ticket holders will receive a link and password for exclusive access to the stream March 28-31. Then, from April 1-5, the production will be open for streaming to the public and it will be free.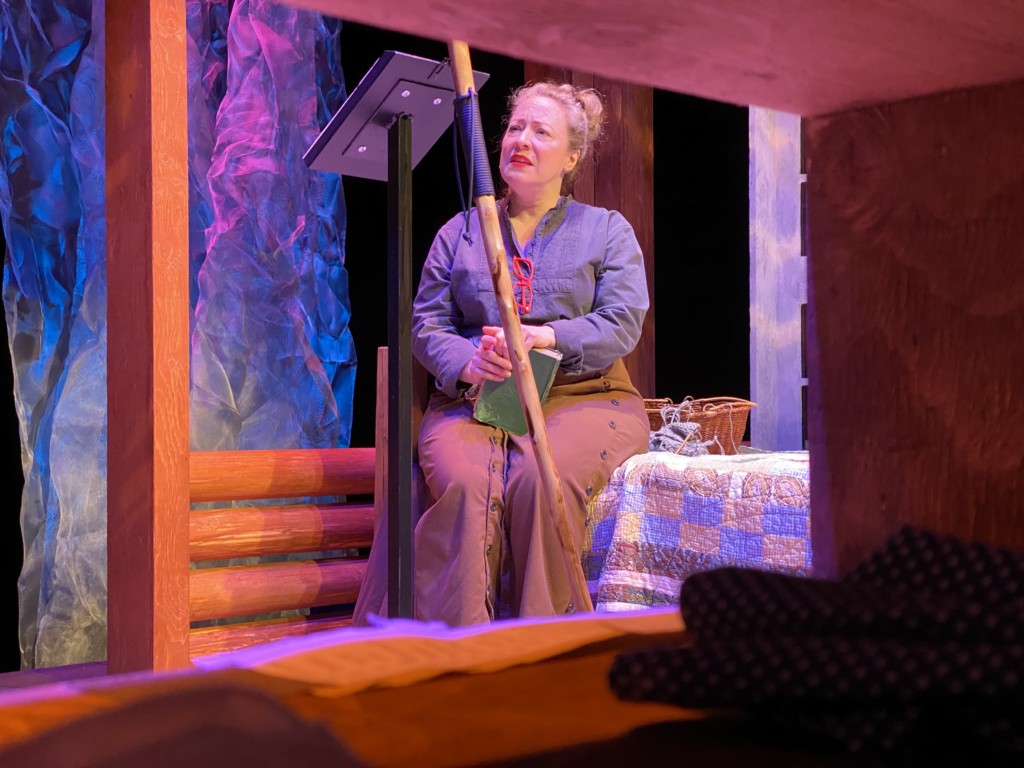 Rapier, in a statement, explains, "We want to assure everyone that we have followed every COVID-19 protocol since March 13. Since then, we have experienced two building closures (pandemic and the 5.7 earthquake on March 18) and only held six rehearsals, none with more than seven people in attendance, all observing the recommended six-foot distance. We were only able to pull this off because The Audacity is a one-woman show, Fossen is an actor without peer, and the design team had the show pretty much complete by March 12."
Plan-B's shows for one actor comprise a unique standard of excellence in the company's impressive repertoire of original works by Utah playwrights. In 2004, the company gave the first fully staged production of Leslea Newman's A Letter to Harvey Milk, which also was toured in Frankfurt, Germany. In recent years, Matthew Ivan Bennett's Eric(a), Eric Samuelsen's The Kreutzer Sonata, and Matthew Greene's Good Standing went on to performances at The United Solo Festival in New York City, after their Salt Lake City premieres.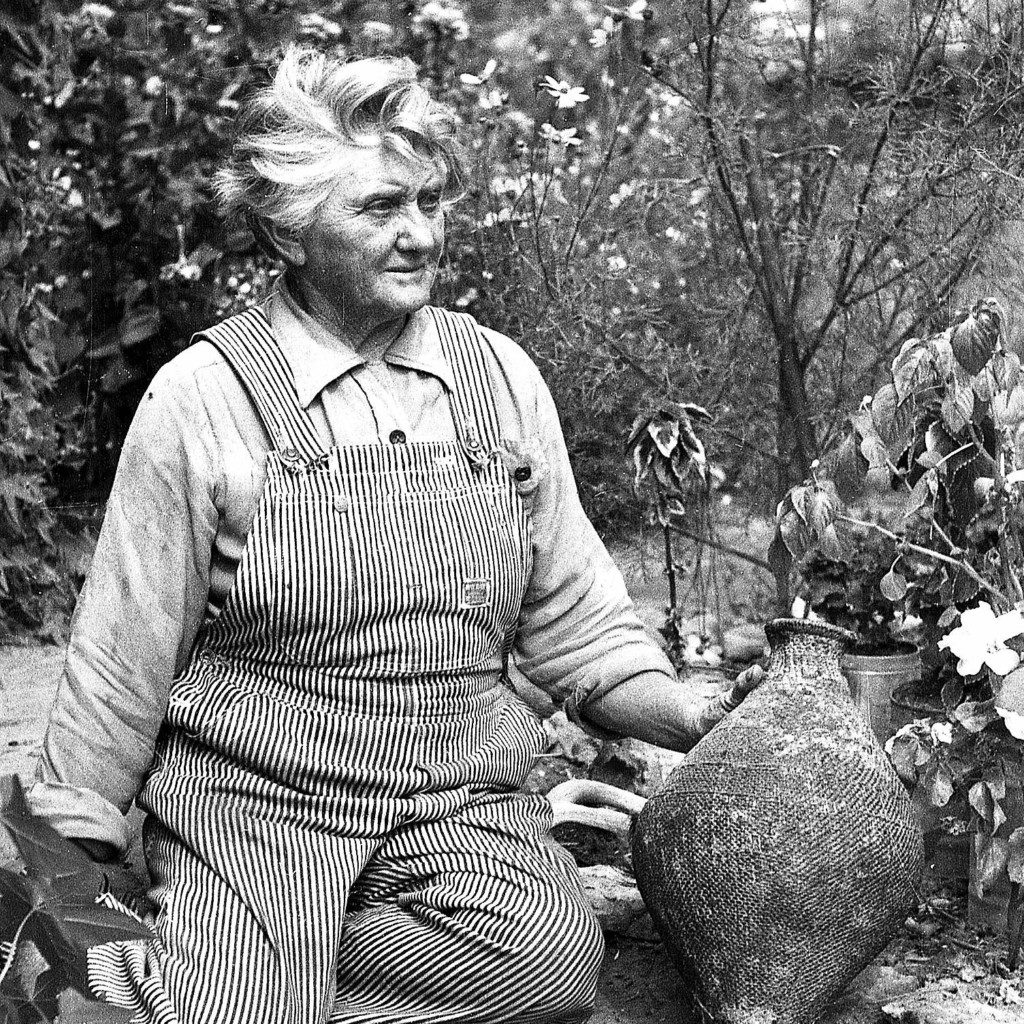 The Audacity epitomizes Plan-B's quintessential strengths by combining Nii's versatile gifts as a playwright who achieves remarkable success in various story forms with Fossen's command as a dramatic actor who has brought compelling, sincere interpretations in some of the company's most memorable performances.
Nii, in her eighth play with Plan-B, extends the one-actor possibilities in The Audacity to distinguish it from its predecessors in the company's repertoire. The six characters Fossen portrays range from the 19th century to today. Three are based on historical research: Josie Bassett (from her forties up until her 90th year); Ann Bassett, Josie's sister who earned the moniker of 'Queen Ann' (from middle age to her late seventies) and Elizabeth Bassett, mother of Josie and Ann (in her thirties). The other three are fictional but reflect the historical contexts of their narrative time and place: Dottie, a straight-talking friend who went hunting with Josie; Rosalie, a Mormon transplant from Boston and wife of a stake president and lawyer who successfully defended Josie against the cattle rustling charges, and Christine, a middle-aged professional who has stopped at the historic site in the Dinosaur National Monument in northeastern Uintah County where the Bassett cabin is located.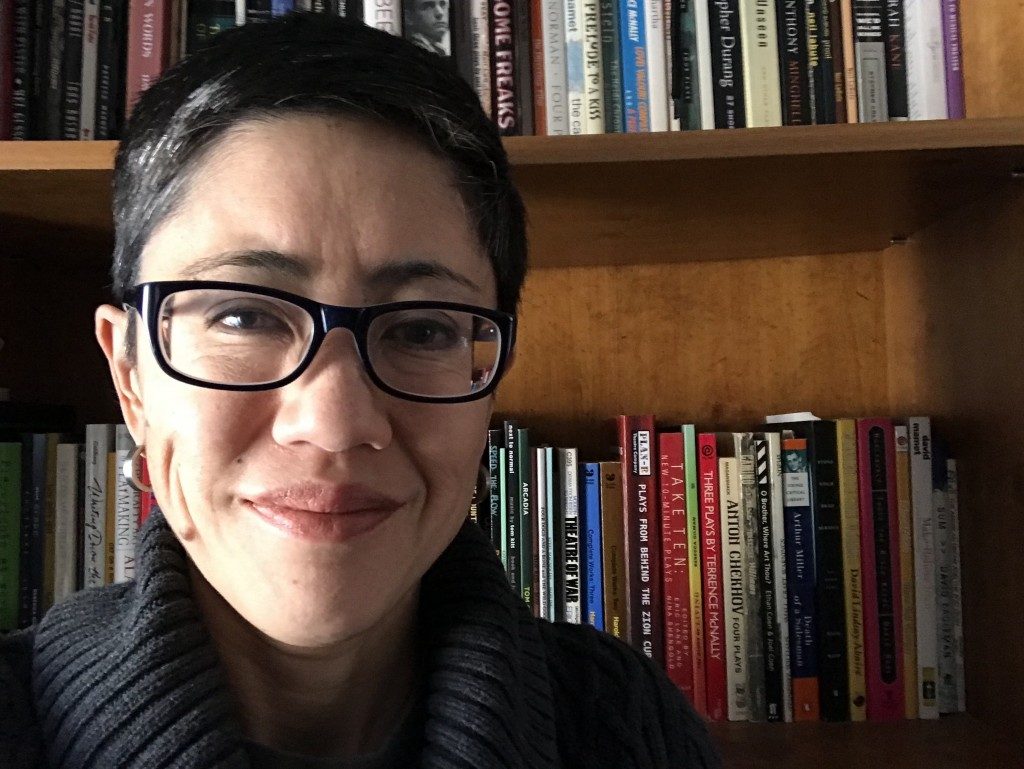 In its broadest strokes, The Audacity is about timeless resilience of the women who created their own roles and identities in the unique pioneer space of the Intermountain West and those who continue today in their careers and leadership. The Audacity reminds us that pioneer's resilience is as dynamic and relevant as ever, as Christine confronts the realities of her own life and career. Nii's writing emphasizes that history is not just enlightening but also empowering for women who confront the formidable challenge of overcoming the patriarchy of political, social, economic and professional realms.
When Rapier approached Nii to write the play, she says that she didn't know anything about Josie Bassett or her family. Nii, who also works at the Salt Lake City Public Library and has changed careers several times in her life, says she immediately went into "the rabbit hole" to do her research. In every Nii play, there is scrupulous attention to capturing the rhythm, syntax and diction of a particular time and space. Writing for Fossen, Nii zeroes in on the actor's strengths for dialect, cadence and linguistic features to embody the switch back and forth from one character to another, along with body movement and gesture.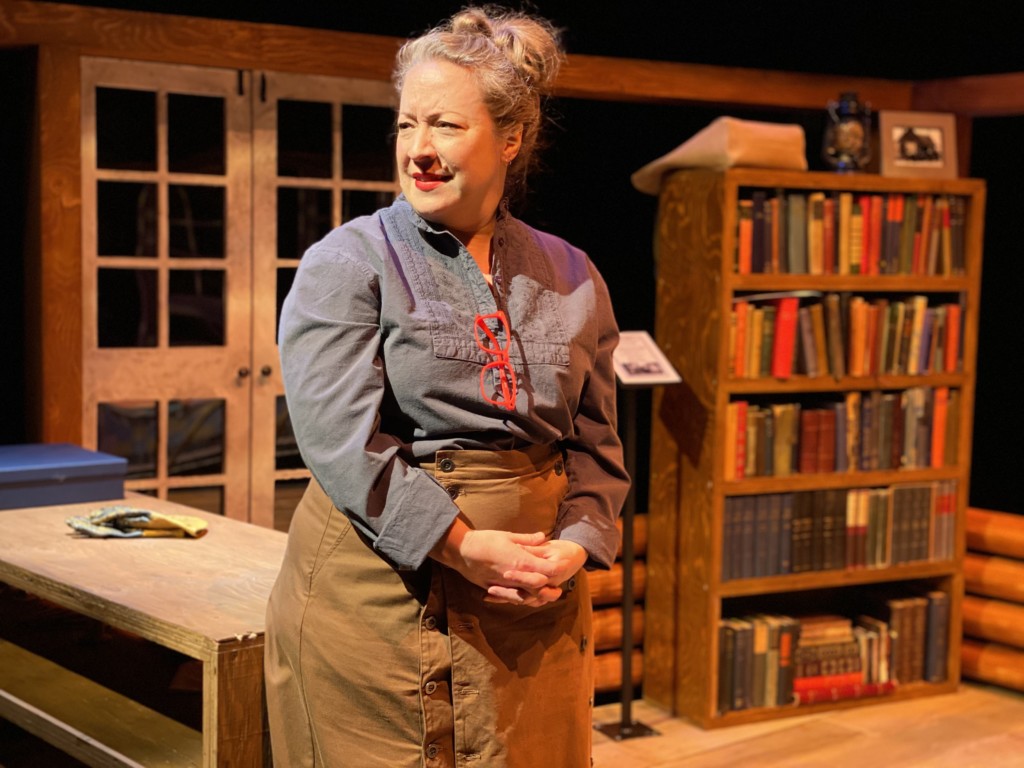 There is a prolific body of books, articles and archival materials about Bassett's life. Bassett, who was born when Ulysses Grant was president and died during Lyndon Baines Johnson's first year in office, sat for oral history interviews late in her life. A photo essay featuring her cabin was published in the January 5, 1948 issue of Life magazine. On the cover of that issue was Pakistan's first prime minister (Liaquat Ali Khan), taken just shortly after the nation gained its independence following the Partition of India.
Bassett's life encompassed so many dimensions, as Kerry Ross Boren, who conducted an oral history with Bassett in 1960, recalls. Boren says that Bassett had two sides: "one being that of an articulate and cultured lady, and the other, a hardened and tough pioneer woman, extremely independent and capable."
Much, of course, has been made of Bassett's rendezvous with Butch Cassidy. She was married numerous times. After one of her husbands died in 1914, Bassett was ordered to appear at an inquest, on charges that she murdered him. As Boren notes, "Josie arrived, gun on hip, and packing her Winchester. She was absolved of any guilt in the death – the official verdict was 'death by self-inflicted poison' — suicide." When Boren asked about the incident, Bassett replied, "I drove my first husband, Jim McKnight, out of the house at the point of a gun and told him never to come back. Let's just say that some men are harder to get rid of than others."
About that cattle rustling trial, Bassett said, "I put on a frilly print dress, and sensible shoes, and had my hair done in a domestic roll at the top of my head. I looked like a petite little middle-aged housewife as I stood before the judge. Putting on my best serious face, I said to him, 'Your Honor, do you seriously believe that a little old lady weighing only 100 pounds could kill and butcher out even one beef cow by herself, let alone a dozen or more? If you can believe that, then I guess you will have to find me guilty."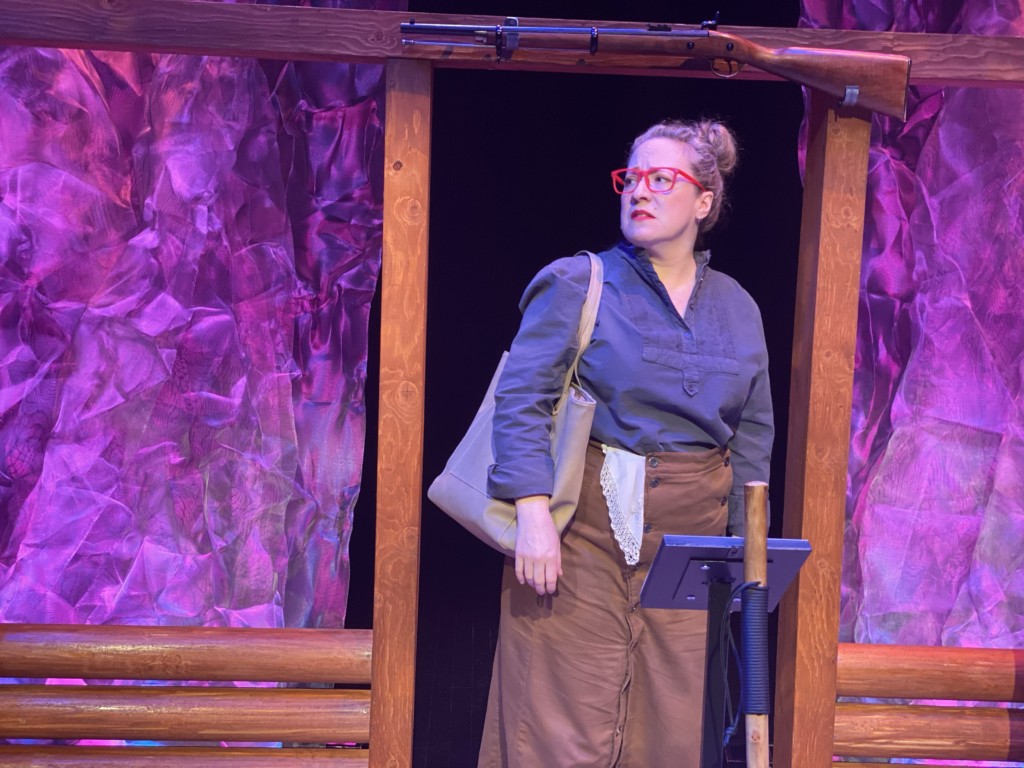 In her customary masterful way of synthesizing historical details without losing the dramatic momentum of her writing, Nii weaves the stories of Bassett as well as those of the sister and mother into the epiphany defining moments arising from Christine's circumstances. Meanwhile, the play's many shifts in historical time are signaled clearly. The thematic parallels between the historical and contemporary periods are evident and lucid.
The Bassett women thrived in an environment that was occupied predominantly by men. They were as fearless, if not more so, than their male counterparts, as evidenced in Nii's script. Elizabeth recollects when they moved west from Arkansas, "Fortunately for Herb and me and our marriage, my husband is an excellent teacher, and I am quite a determined student."
Her daughter Ann says, "I know why THEY call me 'queen.' What else would they call a woman who has a mind and a mouth and a gun, and isn't afraid to use all three?" Teaching her son, Crawford McKnight, how to shoot, Josie says, "Hand me that gun now, and listen. You are the best boy, you know that, right? Now I want you to remember this: if you want to be the best man, you can stand to learn a lot from a woman."
Meanwhile, in the 21st century, at Brown's Park, nearly 240 miles east of Salt Lake City, Christine faces her own challenges. She is trying to fortify her armor in a predominantly male career environment. Specializing in forensic accounting, she is named the first woman partner in her new employer. She realizes that regardless of any other consideration, she always will be judged as having to be at least twice as good and competent as her male peers. And, even then, the margin never seems enough. Amidst the fanfare of the firm's announcement welcoming her as the new partner, she recalls being asked, "What did you DO to become the first woman partner? What does your womanhood BRING to the firm? What does it MEAN?"
Likewise, the fictional character of Rosalie presents a thematic connection that Nii addressed in Suffrage, a Plan-B production from 2013, which also featured Fossen. Suffrage, set in the 1880s in Utah, is about two plural wives in their household which is under siege by federal troops. With their husband imprisoned, the women are coping with the circumstances of keeping up their household. The wives differ in perspective: one is traditionally bound to the patriarchy of their Mormon faith while the other is excited about the territory's suffrage movement.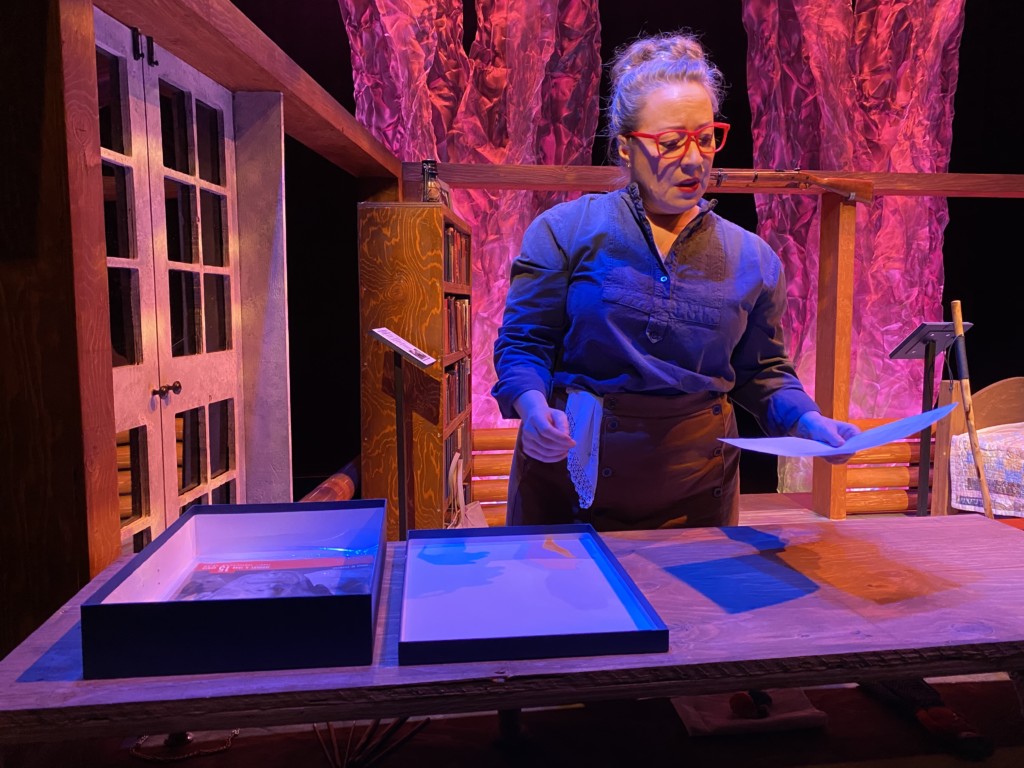 In The Audacity, Nii reminds us that Utah's spaciousness, at one time, seemed most conducive to a tolerant, even affirming, co-existence of pioneers who just happened to choose different paths to find their own means and purpose. Rosalie, who has befriended Josie, says, "We're not so different, Josie, you and me. You laugh, and I know what you think of us, we who presume to call ourselves 'saints.' Cloistered, backward, prudish – a herd of new lambs. But there's beauty in faith. And strength that comes from belief. Or hoping to believe… That, I wish more people might see."
In the play, the set design is inspired by the cabin that is part of the historic site in Uintah County. However, as Christine absorbs and contemplates the experience of her random stop in one of Utah's most remote rural areas, the cabin is no longer an anachronistic museum. It becomes a living and breathing sanctuary of personal renewal.
The material circumstances of the struggles the Bassett women encountered, along with the relatable experiences of two fictional characters (Dottie and Rosalie) undoubtedly are different for Christine in the 21st century. However, the challenge of being accepted on unconditionally equal terms is as sharp, urgent and profound for women today, especially amid the impact of a global pandemic. Indeed, we all could learn a lot from the women whom Nii brings to life in The Audacity.
For more information, see the Plan-B Theatre website.