Unlikely couples are a staple of great literature. Take Benedick and Beatrice in Shakespeare's Much Ado about Nothing, who constantly battle each other and then, of course, Beatrice commands Benedick to kill his friend to demonstrate his passion to her. In the genteel Victorian era, we have Elizabeth Bennet and Mr. Darcy, who appear in Jane Austen's Pride and Prejudice. The early encounters between the two are hardly the Victorian stereotype. The man is blatantly rude to Elizabeth and attempts to thwart the relationship of her sister and his best friend. And, then Elizabeth responds by befriending Mr. Darcy's personal enemy.
Of course, by the end, in both instances, love brings the respective pairs together in anything but perfect ways. Two wrongs can end up being right even if the outcome is so messy as to defy any clear algorithm of the human experience.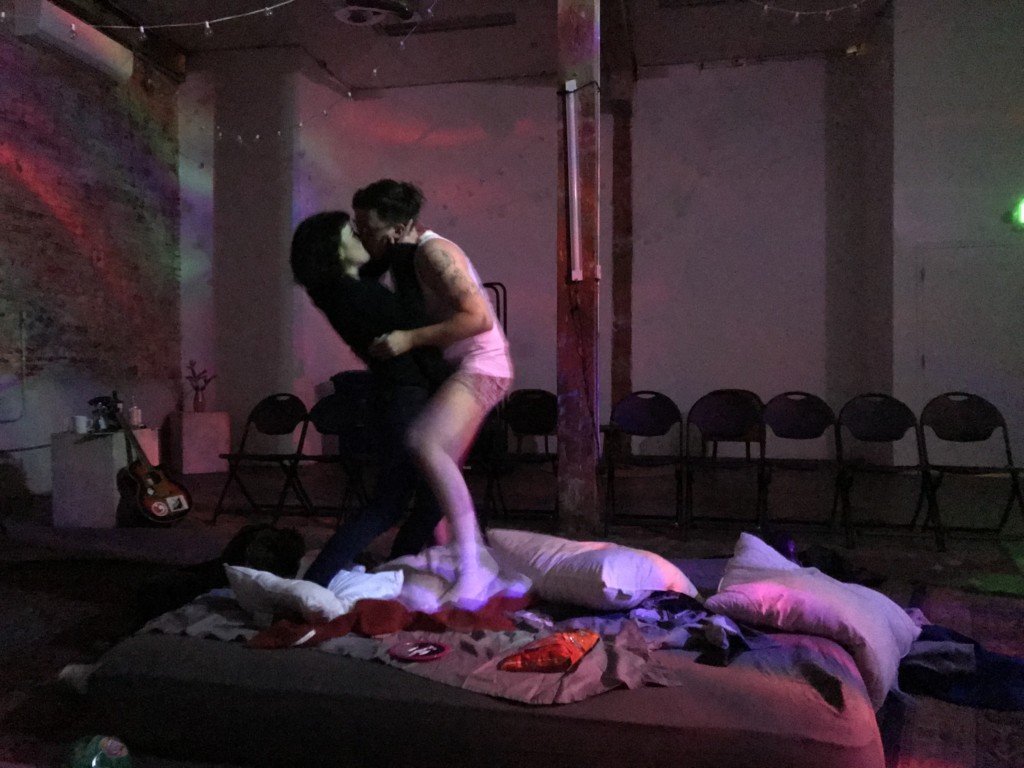 In Anatomy of Arithmetic, a play by Whit Hertford presented in a Utah premiere production by Riot Act Theatre, Ratio a/k/a Tucker Vincent and Mouse are the unlikely couple. Considerably older than Mouse, Ratio is a self-described brilliant ("world-breaking") mathematician and a musician whose brashness also is a mask. Mouse is a balloon artist who aspires to take her work from the commercial realm to the level of gallery art installation. Both have plenty of bad habits and rely on drugs. Hertford's script, written several years ago when he was in London, is a raucous, razor-sharp anti-love reflection hitting the common denominator expectations that Mario Vargas Llosa says always has been at the heart of literature's greatest expressive powers.
The performances earlier this month put a decisive exclamation point on Riot Act Theatre's series of recent boffo productions, which included The Aliens, a play by Annie Baker, and Mopey Wrecks, Hertford's outstanding adaptation of Anton Chekhov's Three Sisters. Riot Act offers a no-holds-barred, no-proscenium theatrical brand that exudes gripping performances from its actors.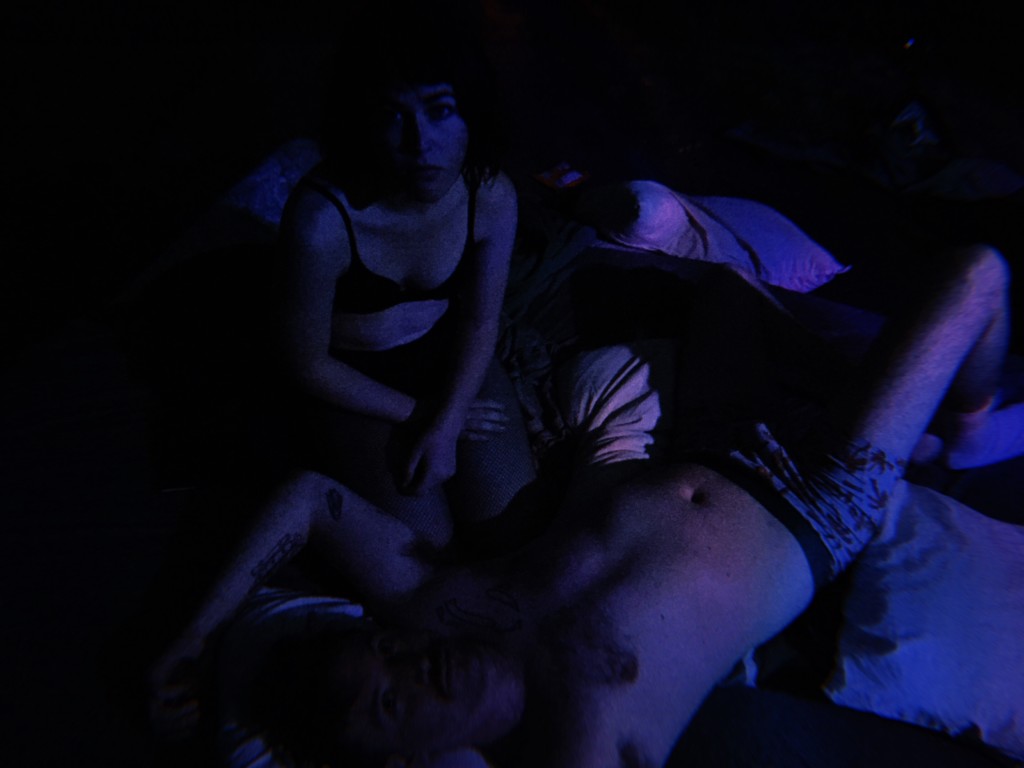 For Anatomy of Arithmetic, Austin Archer and McKenzie Steele-Foster overwhelm the converted space in the downtown Ember SLC facilities with their uninhibited interpretations of Ratio and Mouse, respectively. In the second act, Andy Rindlisbach and Allie Russell complete the first-rate ensemble as Prince Ulysses and Enigma, who were part of the former, failed relationships, respectively, with Ratio and Mouse.
In the appropriately cacophonous opening, Ratio is hyper, sweating, clad in a tight-fitting pair of sexy boxer briefs, as he mimes scribbling lots of mathematical equations, variables and symbols on an invisible 'mainframe,' a white board with erasable marker. Mouse is clad in stockings and lingerie on a mattress with the covers thrown haphazardly and trash strewn about the low-rise bed. In the script, Hertford envisions Mouse as resembling actors Jean Seberg and Anna Karina, who were stars of the French New Wave cinematic movement and became the muses of some of the period's most prominent film directors in France. Steele does emanate the free-love heroine aura at many points in the play, convincing in evoking the right pallor for the character. Archer achieves an intriguing resemblance to the sort of not-so-secure porn star character one would have found in the brilliant Boogie Nights film, which Paul Thomas Anderson directed in 1997.
Even as they fight, bicker and brutalize each other verbally, Mouse desperately seeks to validate her presence as Ratio's muse. She suggests a book about numerology, which Ratio snorts at as belittling his discipline. Indeed, both can deliver rhetorical punches. Mouse says, "Your numbers don't talk. They don't say shit, feel shit. They're nothing. And yet, they're the most important to you." Ratio counters, "They are very much alive. More than you. Each number has a personality of its own." He then rattles off a sequence of numbers and their significance (12 is "upright, conscientious, intelligent," 13 is a "loner, a shady character who won't think thrice about breaking the law to get what he wants," 10 is "simpleminded, a bland figure who always does what he's told").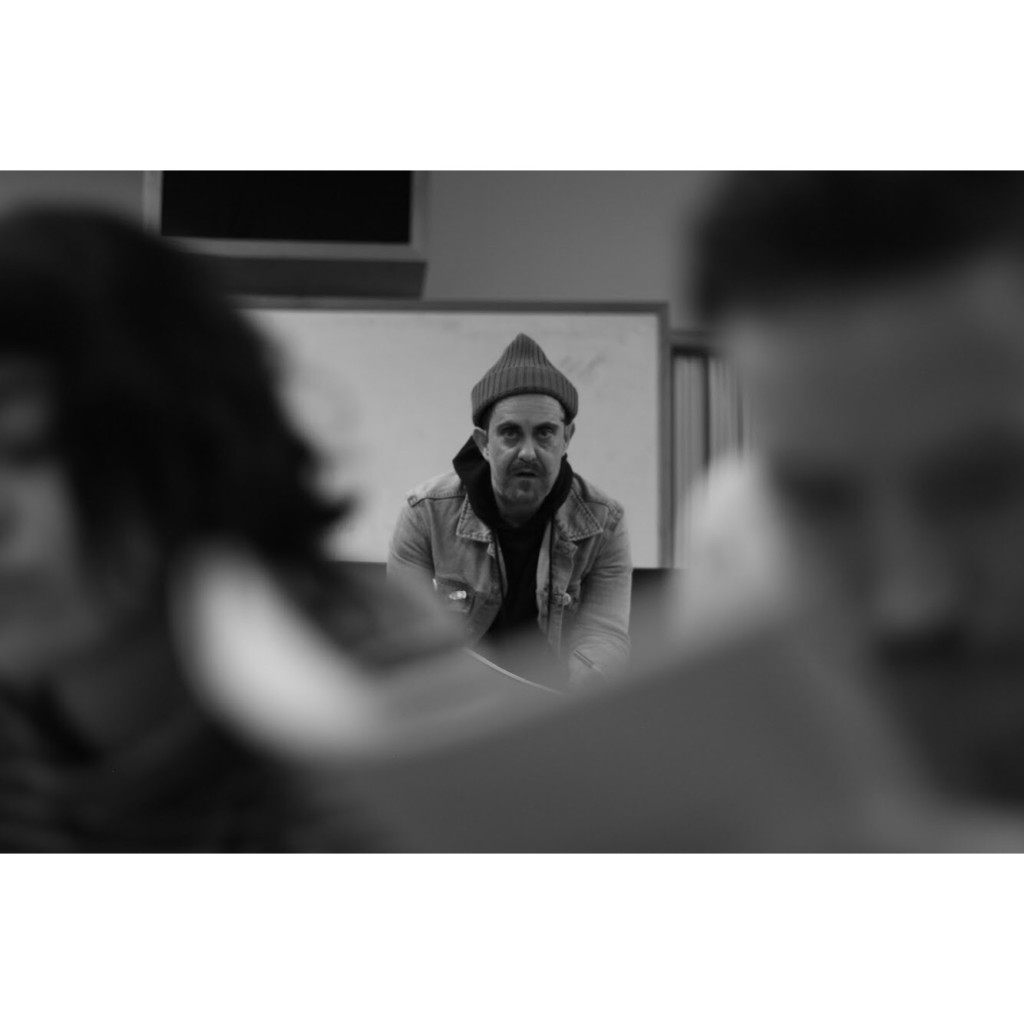 Mouse tells him, "It's a wonderful penis when it doesn't remind me of you." Meanwhile, Ratio tells her that "we are each other's drug." Mouse asks if she is a function, to which Ratio responds "the best kind." The chemistry and timing are so tight between both actors that it is hard to imagine the production was prepped at a quick pace of just nine rehearsals.
Whenever Ratio is confronted with questions that demand letting the shield down and exposing the real vulnerabilities that are clarified so well in the second act, he immediately retreats to the dispassionate practice of scribbling his feelings in mathematical terms on his invisible 'mainframe.' During one sequence, we learn more about how their relationship came to be. Ratio wanted a woman who shared his love for numbers. Mouse is pretty brutal, telling how she ignored her parents to be with a liar – "this older weirdo, who stalked me on the internet, and was this magnificently irrational junkie – an insane person to choose to date – and that they needed to accept that and me and you and us. Whether they like it or not. I did that. Because I care."
Ratio believes there is an algorithm about their relationship that could be proven but "it's currently an unsolvable problem." Ironically, he criticizes Mouse for running away from her problems and becoming an emotional fugitive. This unleashes the most unrestrained, even humiliating, exchange between the two. In this play, dark comedy is welcomed as a salve by the audience and properly so.
It is that unstinting exchange that moves the discussion away from arithmetical terms, as the couple search to solve their 'math' problem in the second act. Believing they can isolate and negate the variables of their past demons, they decide to "lure the lambs in for slaughter." Both pick their worst exes without informing each other who is their ill-fated selection. They lure their targets with expectations of dinner (as Ratio explains, "a little double date. And then, and then, well, we kill them").
Prince Ulysses is Mouse's ex-lover and best friend to Ratio, while Enigma is Ratio's ex-girlfriend. Both characters are prototyped stylized hipsters. They have been kidnapped and are now being subjected to an emotional kangaroo court proceeding. In their feverish pursuit for rationalization and emotional legitimacy, Ratio and Mouse make stunning discoveries about each other and, ultimately, themselves. Ratio tells their victims how long he has striven to solve this essential equation of humanity, explaining that "because love and all that shit it's fucking hard, and in the case of you two, it can really fuck people up. Like you did to us."
Riot Act Theatre presented Anatomy of Arithmetic as the second half of a bill featuring encore performances of its summer production of The Aliens. Anatomy of Arithmetic is an invigorating tonic. Its unrepressed tone, occasionally caustic, is balanced beautifully with an earnest desire that moving beyond ambivalence and accepting that love can never be perfect are possible, even when there are moments when the relationship is going off track.