It's the most wonderful time of the year when dozens of Utah's finest restaurants converge on Solitude Mountain Resort for an afternoon of great food, fine wine, local beers and fantastic live and silent auction items at Taste of the Wasatch. All proceeds go to fight hunger in Utah.
Over 50 of Utah's top chefs, restaurants and bakers will gather at Solitude for the annual Taste of the Wasatch event from noon to 4 p.m. Tickets for Taste of the Wasatch are $90 for General Admission and $125 for Reserved Seating (entry at 11:30 a.m.), if purchased in advance. Tickets can be purchased online at www.tasteofthewasatch.org. Taste of the Wasatch is open to adults 21 and over only.
All of the chefs participating in this year's event have been working hard to wow attendees with their delectable offerings. Here's a sneak peek at what you'll be tasting if you're planning to attend the culinary event of the season on August 2, 2015.
Avenues Proper Publick House: Beet salad; chicken liver mousse
Bistro 222*: Bacon-wrapped pork tenderloin, 3 berry gastrique, sweet potato puree
Cena Ristorante: Heirloom tomato panzanella with fennel vinaigrette and ricotta salata cheese
Chaia Cucina Catering: Chilled cauliflower and white chocolate bisque with roasted cauliflower relish and mint oil
Copper Kitchen: Fresh mozzarella, heirloom tomatoes, pickled cherries, pumpkin seeds, Thai basil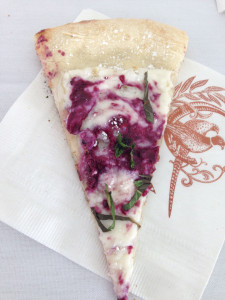 Current Fish & Oyster*: Cured Utah trout with citrus, smoked almond, avocado, crispy pita, green harissa dressing
Deer Valley Resort: Seared peppercorn crusted Ahi tuna, Asian greens with orange sesame vinaigrette; house-made cracker, finger lime caviar and vertical garden micro cilantro
Del Mar al Lago: stuffed potato croquettes
Feldman's Deli*: Pastrami Rueben fritters
Finca: Finca paella with house-made Clifford Farm pork sausage and local vegetables; avocado gazpacho
Franck's: Caramelized Wagyu sirloin, lavender hoisin, Utah corn pudding, compressed blueberry, togarashi peanuts, fingerling potato chips, radish, baby coriander
Garage on Beck: Fried Mormon funeral potatoes
Grand America Hotel: Ahi Poke salad; grilled pineapple with avocado and crème fraiche
From La Bonne Vie: Assorted macarons
Harbor Seafood and Steak*: Snake River Farms beef tenderloin carpaccio, local chèvre cheese, vertical garden micro greens, caper- cornichon mustard relish served on a crostini
La Caille: Monkfish with serrano ham stewed peppers
Les Madeleines: Gelato Éclair – Valrhona Guanaja 70%
Liberty Heights Fresh: Kale and quinoa garden salad with basil tahini dressing; Rockhill Creamery Wasatch Mountain Gruyère with Amour Spreads
Lydia's Locals*: A selection of Utah Local favorites, from sweet to savory. Featuring: Moore Bread; Amour Spreads; Lick'd Pops; Heber Valley Cheese
Meditrina: Fresh ricotta apricot compote crostini
Porch*: Meatloaf balls with tomato balsamic glaze
R&R BBQ*: Brisket taco with sweet BBQ sauce, feta cheese, coleslaw and tomatillo sauce; Smoked Saint-style riblets with R&R's secret championship competition sauce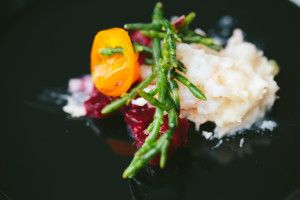 Red Iguana: Braised beef cheek tacos; pork belly tacos
Riverhorse on Main: Butter poached lobster, cherimoya, grapes, sweet wine
Sage's /Vertical Diner: Truffle cashew chèvre
Salt Bistro at the Leonardo: Goat cheese crème brulee with braised pork, red wine mushrooms and micro herbs
SLC POP: Aerated zabaglione, caramelized white chocolate milk crumb; local summer fruit and surprises
Solitude Mountain Resort: Bison mini taco, Deer Valley blue cheese, fire-roasted tomato salsa
Stoneground: House-made pasta salad with Barolo, pecorino and basil shell pasta, heirloom vegetables
Taqueria 27*: Grilled pineapple and wild shrimp ceviche in crisp corn tortillas
The Aerie: BBQ pulled pork with black pepper biscuit, High West whiskey red onion jam
The Annex by Epic Brewing*: Summer fruits velouté, burrata cheese and cured Berkshire hock
Tea Sandwich; pastrami cured salmon, roe and lemon butter, capered cucumbers, Moore's pumpernickel
The Blue Boar Inn: Poached shrimp pasta salad
The Glitretind at Stein Eriksen Lodge: Duroc fatty pork ribs with charred rosemary, Peach Love and chimichurri
Trio: Smoked chicken crostini, housemade ricotta, agro dolce peppers
Tuscany: Sweet and spicy lamb riblettes, charred local corn, garbanzo bean hummus
Wasatch Brew Pub: Tuna tartare–Orca Bay tuna, fresh avocado, jalapeño, chives and soy vinaigrette on crostini
DESSERT BOOTH           
Chocolate-covered strawberries
Birdie's Bakery: Mini frosted almond sugar cookies
Christina's Cakes: Carrot cookies with orange frosting
Deer Valley: White chocolate and raspberry mini cheesecakes
Sugar House Baking Co.: Mini sweet croissants
Tulie Bakery:  French macarons: cassis, Earl Gray, lemon, passion fruit, raspberry and salted caramel
Stein Eriksen Lodge: Magic Bars; brown butter blondie bites; lemon raspberry spritz cookies
Trio/Current: Bailey's ice cream sandwiches; Campari ice cream sandwiches
Salt Bistro: Tiramisu whoopie pies
Pallet Bistro: Tri-colored carrot cake, cream cheese mousse, carrot cream and candied carrots
Cameron Bailey & Enrique Ferrini:
Cake batter confetti cookies
Peanut butter coconut cayenne cookies (GF)
Mini chocolate orange pot du crèmes (GF)
* indicates new restaurants participating this year