Less than two years after taking the gold medal in the Salt Lake City finals of the International Artists Competition of the Gina Bachauer International Piano Foundation, Changyong Shin will return to perform works by Beethoven, Chopin, Ravel and Granados in a recital that promises to remind audiences why Shin took the top prize two years ago.
The South Korean pianist took top honors in four international piano competitions within a two-year period. In addition to his 2018 gold medal at Bachauer, he won top prizes at the 2018 Rencontre Internationale des Pianistes Prix Zygmunt Zaleski in Paris, the 2017 Seoul International Piano Competition, and the 2016 Hilton Head International Piano Competition.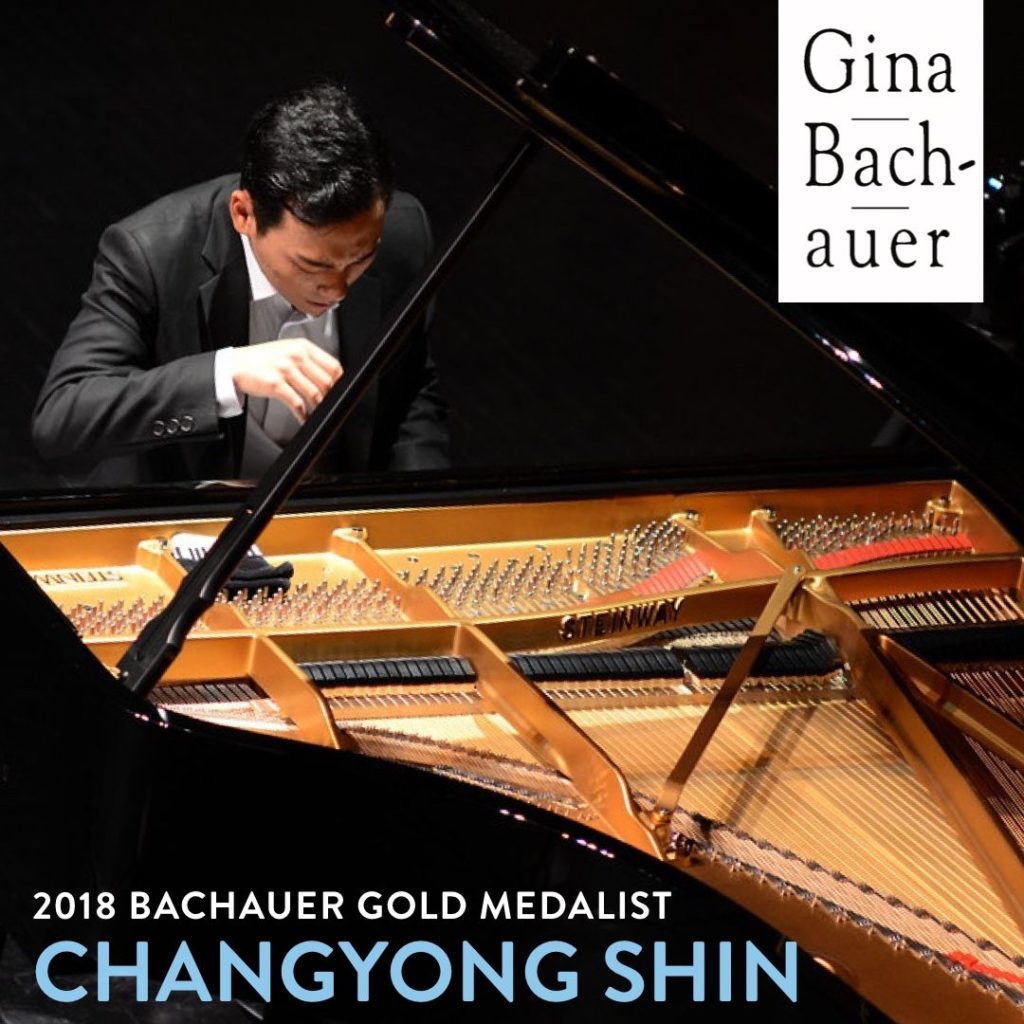 Shin's recital on March 13 at 7:30 p.m. at the Rose Wagner Center for Performing Arts fulfills one of the major Bachauer prize commitments. With an eclectic assortment highlighting his immense range not just in technical execution but also in colorful textured interpretation, he will perform one of the first works from Beethoven's final period, several pieces emphasizing Chopin's capacity for intense whirlwind flourishes, a Ravel work that many agree is among the most complex for solo piano and a selection from Granados that highlights the Spanish composer's madrileñismo character. Kary Billings, Bachauer's executive director, says Shin's selections for this recital will play wisely to the talents that earned him the gold medal.
At 27, Shin's performance portfolio is expanding rapidly since his 2018 win with appearances in recitals, chamber music concerts, and as a soloist with orchestras in South Korea, Italy, France, the U.K. and across the U.S. This includes an appearance at Carnegie Hall in New York City. He came to the U.S. nine years ago after studying in South Korea's most prestigious conservatories, taking up his collegiate work at the Curtis Institute of Music under Robert McDonald. After completing his master's degree at The Juilliard School, just one month before the Bachauer finals in 2018, he has continued his studies in Juilliard's Artist Diploma program, also under McDonald.
Shin will open with Beethoven's Sonata in A Major, op. 101, which the composer completed in 1816 and is cited often as the work beginning the final period of his creative output. As Barry Cooper, the English musicologist and a frequently cited Beethoven scholar, has noted, the composer's intentions of completing the work were complicated by health problems his nephew experienced after Beethoven took him into his household along with his own which left him bedridden for a while.
Representing the transition from classicism to Romanticism, this Beethoven sonata is marked more for its lyricism and deliberate unfolding of delicate emotional character, notably in his use of contrapuntal figures, than it is by keyboard pyrotechnics. In fact, the A Major Sonata presages the next piano sonata Beethoven composed, which significantly ramped up the complex challenges for the soloist–the Hammerklavier, a work that another young South Korean pianist (Chi Ho Han) performed with Bachauer three years ago.
Shin will offer four Chopin selections, including two Mazurkas (A Minor, op. 59, no. 1 and A-flat Major, op. 59, no. 2). He also will perform the third of the composer's four ballades — Ballade No. 3 in A flat major Op. 47. The emotional character of this selection pairs nicely with the Beethoven sonata Shin will be performing. As Yevgeny Sudbin describes elements of the work, this Ballade exhibits "remarkable flamboyance, with extroverted multi-octave arpeggios issuing into joyously rambunctious passage work over large swaths of the keyboard."
Just as spirited but also with even more technical bravura than any of the aforementioned works slated for the recital is Chopin's Scherzo No. 4 in E Major, op. 54, the only one the composer wrote in a major key. It is perfect for setting mood as spring unfolds in Salt Lake City.
Shin will bring the audience fearlessly into the 20th century, first with Ravel's Gaspard de la nuit (subtitled Trois poèmes pour piano d'après Aloysius Bertrand), M. 55,  which was completed in 1909. Perhaps one of the best descriptions about the work comes from a non-musicologist, Alexander Eccles, who wrote, "When pianists think of Gaspard de la nuit, their hearts stop. Ravel's masterpiece, as famous for its depiction of Aloysius Bertrand's poems as it is infamous for stunning virtuosity, is like a realistic dream, a lucid world of darkness and terror evoked through refinement and detail. Ravel brings to life Bertrand's poems using a new and forward-looking technique, a classical form, and a vast knowledge of keyboard composition to convey the likes of mermaids, monsters and corpses."
Finally, Shin will offer Los Requiebros from Goyescas, a piano suite that Enrique Granados completed in 1911. Inspired by paintings of Francisco Goya, the music is not specifically related to a single painting as it is to the Spanish ethos being represented in the artist's body of work, which was created in the late 18th and early 19th centuries. This piece evokes the value of gallant conduct in a romantic relationship, as captured in elements of the jota dance.
Tickets for the concert are available at the Bachauer website.