This year's Artist Marketplace at the Utah Arts Festival continues a trend of the last seven years as being the strongest in terms of diversity, quality, use of media and originality in aesthetics and technique. The total of 167 includes seven returning awards winners. Of the 583 artists who applied to be in this year's event, 160 were selected: 53 from Utah and 107 from outside of the state. More importantly: 55 are making their first appearance at the marketplace (one-third of the entire list) and 34 have never applied before to participate in a juried exhibition.
Among the artists featured are last year's award winners, who automatically were selected for the 2016 event. They include:
Sandy Murphy, jewelry, Colorado Springs, Colorado (Booth 15) – Best of Show 2015, Sponsor Jury Award
Murphy recalls in her artistic statement how as a child in Johannesburg, South Africa, she enjoyed trying on her mother's jewelry, which she said was a beautiful collection of treasures with a variety of design, texture and color. Her passion for artistic jewelry expanded through her formative years, even as she studied and worked in marketing and public relations. Like a surprising number of artists who are selected to be in the festival's marketplace, Murphy eventually moved to a full-time art career after working in another professional field. As she explains in her artist statement:
My unique design vocabulary encompasses a wide range of techniques and influences: organic shapes and textures; smooth sinuous lines and curves juxtaposed with angles; tribal African designs and motifs; rich texture and dimension; the contrast of metals like the sun and rich African soil – all products of my travels and experiences.
Robert Hall, photography, Lehi, Utah (Booth 13) – Best of Show 2015, Gallery Association Award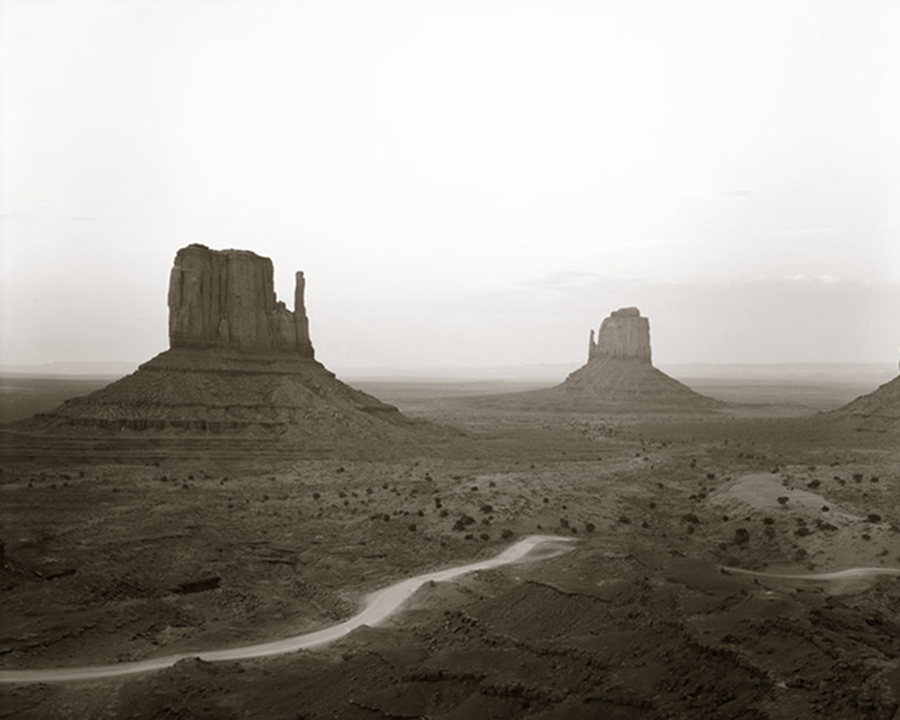 Hall, who was trained as an engineer, admits that it has both helped and hindered his work as an artistic photographer. As he explains in his artistic statement, it has been "helpful because there's no better training for developing a repeatable process, quite helpful in photography, but a hindrance when it comes to the creative side. That's why I've liked using alternative processes and film types like infrared, hand coloring and lith printing, these are tools that help me be creative."
Following the approach of Ansel Adams and Edward Weston, Hall uses large-format cameras and then contact prints the negatives — usually in 810 and 1220 format — before printing the images by hand with platinum, palladium, silver and gold. Indeed, the finished work has a distinguished archival look. As an engineer, he has taken enthusiastically to using infrared film in his work. "Art helps us see with new eyes what we knew was there but never really recognized," Hall explains in his artistic statement. "I photograph not to record or document but rather, to capture and hold, just for a moment, the essence of something greater that exists within a scene."
Natalie Wall and Kellie Murphy, fiber, Salt Lake City (Booth 153) – Best of Show 2015, Artist Marketplace Award
Outstanding examples of Salt Lake City's growing community of enterprising artists who have a keen sense of finding an effective balance between aesthetics and function in their work, Wall and Murphy have forged a background that parallels nicely their formative experiences in art – Murphy had extensive formal art education while Wall's appreciation for art came by way of her parents' successful career as art. The two found their aesthetic muse working with top-quality leather and incorporating semi-precious stones that bring forward an ideal combination of colors and textures in their design. Natural elements of the world dictate the form of their customized bags, including trees, flowering plants and warm, rich earth tones.
Moss Shacter and Patricia Geach, 3-D mixed media, San Juan Capistrano, California (Booth 36) – Award of Merit 2015, Sponsor Jury Award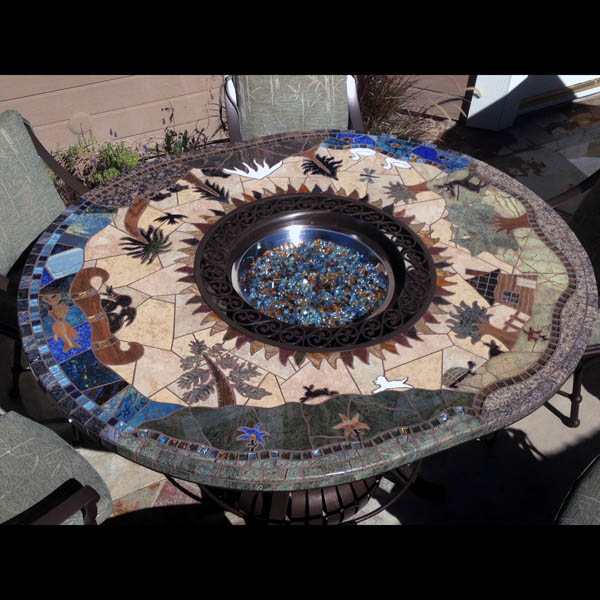 For 15 years, Shacter's enterprise Surrounding Elements, based in southern California has been a leading designer of custom, mosaic tables with interchangeable centerpieces that use natural granite and fine porcelain. The distinct advantage of their pieces is that while others use concrete for table tops and then cover them in tile, they use natural granites and porcelain tiles to finish the tops with a unique design in each piece. The iron frames also are covered with weather-resistant Hardie backer board which is then painted and eliminates the exposure to moisture. The artists also have designed fountains as well, which follow the same strict standards for durability and artistic appearance.
Jake Buntjer (Mister Pauper), 3-D mixed media, American Fork, Utah (Booth 167) – Award Of Merit 2015, Artist Marketplace Award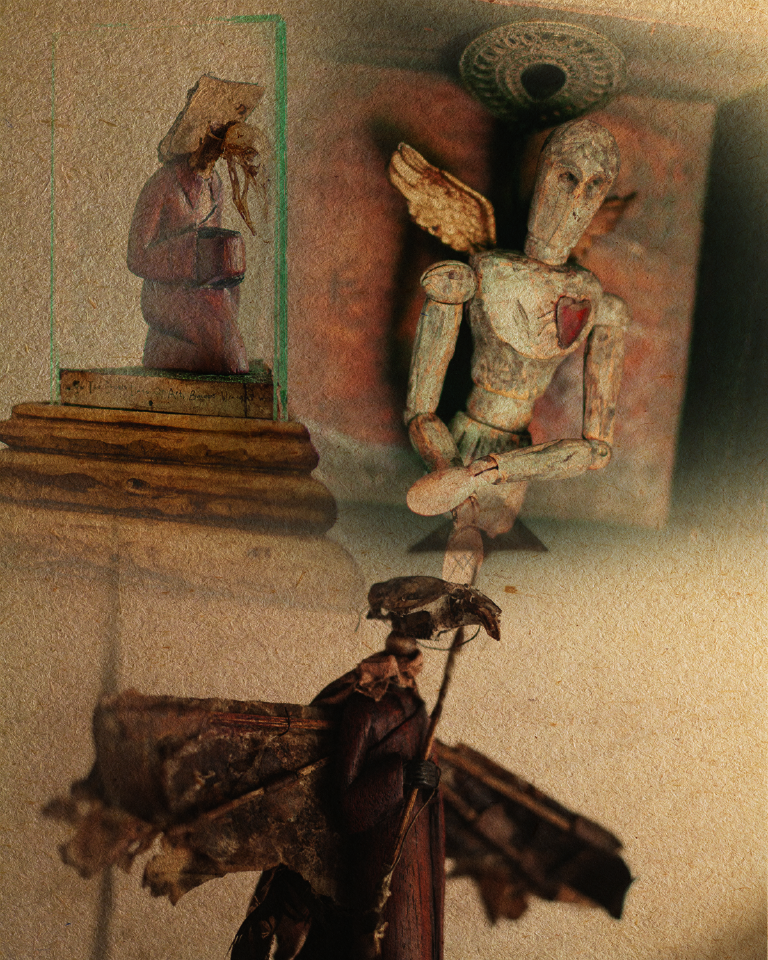 Last year, Buntjer was one of 55 new artists who made their first appearance at the Utah Arts Festival and his work drew a good bit of justified attention. Buntjer's art conveys fragments of the life story of Mister Pauper, an artistic persona echoing his own experiences. There are several significant themes in his work, especially in the form of redemption, refreshed connections and renewal of love among family and those closest to him. Buntjer, like the persona of Mister Pauper, collects and re-purposes throwaways – often broken oddities at antique shops that no longer are functioning – into new pieces that recover their relevant, instructive, and enlightening meaning. As an interview in The Utah Review at last year's festival with the artist revealed: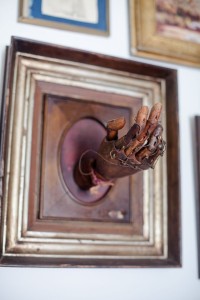 Art, however, emerged quickly as his soulful redeemer, especially as he welcomed the opportunities to use his art to tell stories. "Art allows us to discuss the things we normally cannot talk about politely," he says. His works, which emerge from objects and discarded items he collects with relentless yet focused obsession, readily convey all sorts of meanings, often left freely to the viewer's own interpretation. There is whimsy but there also is darkness in some of the cheekiness of the works. And, there can be the subtlest essence of pain, disappointment, loss, and the struggle to be validated but, that again, is left more openly to one's idiosyncratic interpretation. "It is a weird draw to odd objects, especially dead ones that no longer are used for the function they were intended for," he explains. "I collect everybody's little throwaways, such as every screw and pipe section my grandpa collected. This is the lifeblood of materials for my workshop with wall-to-wall shelves packed with objects. But, I should stress that it's organized chaos."
Chris Bodily, graphics/printmaking, Salt Lake City (Booth 5) – People's Choice Award 2015,
Bodily's work in illustration began in high school when he wrote a comic zine using the pseudonym Hatrobot and featuring a character who had a birthday cake for his head. He originally had planned to pursue taking his character to animation during his college years at Southern Utah University but decided eventually to go for graphic arts and printmaking while keeping the Hatrobot as his artistic persona.
Bodily's work has been visible in many venues, including comics, wall murals and posters commissioned for Reddit's local headquarters as well as art for various local publications. In addition to being the resident artist for the Hive Galley, Bodily has taken his turn at improvisational comedy as well.
Bryan Schultz, wearable art, Kenosha, Wisconsin (Booth 28) – Award of Merit 2015, Board member Award –
For more than a decade as an artistic entrepreneur, Schultz has gained a great deal of festival visibility for his company Obscure Belts, which he launched after earning his master of fine arts degree in sculpture from the University of Wisconsin at Milwaukee. He elevates the common belt buckle into elaborate functioning art objects with a patented design in which the buckle is latched to a belt using an adjustable sizing stud that does not damage the leather with regular use. The buckle and stud can be readily changed according to one's waist size simply by simply unscrewing and moving the stud to a different hole.
Schultz's belts are made with one solid leather piece from materials he obtains from a long-time tannery in Milwaukee. He cuts by hand each leather strap and then sizes the belt according to a customer's physical specifications. Most of his belts are made from standard smooth finished materials of black and brown leather. He also works with ultra-distressed finishes of Rough Rider leather, often in grey and brown tones.