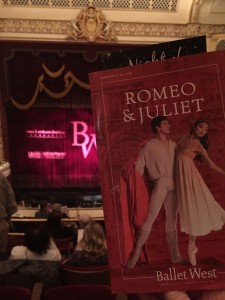 The February performance of Ballet West is historically a romantic production and this year's premiere of John Cranko's version of Romeo and Juliet is no exception.
Most will be familiar with William Shakespeare's telling of the long-standing feud between the Montague and Capulet families and what happens when young lovers from each family (Romeo and Juliet) fall in love with each other.
Ballet West is just the fifth American company to perform this rendition which Artistic Director Adam Sklute explains has, "quickly become a benchmark for all productions created since."
Ballet West Executive Director Scott Altman writes, "of any of Shakespeare's resplendent works, Romeo and Juliet begs to be adapted for ballet. No other art form can convey the universal feelings of the human condition—full of beauty and bitterness—like ballet."
Those who love dramatic productions filled with lavish costumes and elaborate sets—in addition to a cast of more than seventy—will delight in any of the remaining performances of this run.
From choreographed group sword fights with rapiers clinking in unison to multiple heartfelt pas de deux by Beckanne Sisk (Juliet) and Chase O'Connell (Romeo) who are in fact a romantic couple in real life, the drama and passion flowing from the stage is palpable. Sisk exuded innocence while O'Connell achieved tender moments while lifting a lock of his love's hair.
Romeo's sidekick, Mercutio, played by Christopher Ruud, nearly steals the show in some scenes—a convincing portrayal of a Shakespearean foil—requiring strength and wit.
Equally impressive is the musical score of Russian composer Sergei Prokofiev, written in 1935, and preformed by the Ballet West Orchestra and conducted by music director Tara Simoncic. Most recognizable is "Montagues and Capulets," also known as Dance of the Knights, in Act I which heightens the intensity of the events as the performance continues.
Although strong on theatrical elements, this version of Romeo and Juliet does lack in classical ballet itself—choosing to focus more on character development instead of movement. It also serves up an unexpected close to a story that audiences are traditionally familiar with when the performance ends at the deathbed of Romeo and Juliet.
Performances of Ballet West's Romeo and Juliet continue this week including today through Saturday. Visit https://balletwest.org/events/romeo-and-juliet for additional details and to order tickets.