The 2016-2017 JazzSLC concert season launches on September 9 at Capitol Theatre. Some of the best in the business are on the docket this season.
JazzSLC is a non-profit concert series that is produced and funded by the GAM Foundation. Gordon Hanks and Michael MacKay founded the GAM Foundation in 1994 in an effort to increase awareness and garner appreciation for our jazz community. Since its inception, the GAM Foundation has produced more than 200 concerts and featured more than 500 of the finest jazz artists from around the world. In addition, The GAM Foundation has contributed more than $1 million to the music departments of local middle schools, high schools and universities that participate in their jazz education outreach program. Taking their commitment to budding jazz artists a step further, GAM donates 200 concert tickets a year to local schools with active jazz programs so that students can see first-hand some of the jazz legends that come to Utah. Due to the GAM Foundation's generous contributions to the jazz community and beyond, the organization has received numerous awards including the University of Utah's "Excellence in Music" award, the Governors "Special Award" in arts and KUER's "Voice of Jazz" award, just to name a few.
This season's talented lineup includes:
Dianne Reeves, September 9
Back by popular demand, Dianne Reeves brings her breathtaking virtuosity, improvisational prowess and unique jazz and R&B styling's to the JazzSLC series. A winner of multiple Grammy Awards, her latest is the 2015 Grammy for Best Jazz Vocal Album. Reeves has performed extensively with the Lincoln Center Jazz Orchestra and Wynton Marsalis, who said of Reeves, "She has one of the most powerful, purposeful and accurate voices of this or any time."
Monty Alexander Trio with John Clayton and Jeff Hamilton, October 17
In a career spanning five decades, pianist Monty Alexander explores the worlds of American jazz, popular song and the music of his native Jamaica. He has performed and recorded with artists from every corner of the musical universe. Joining his trio is legendary bassist John Clayton and drummer extraordinaire Jeff Hamilton.
New York Five, November 19
A JazzSLC exclusive performance featuring five of the most talented musicians alive: pianist and composer Renee Rosnes, drummer Lewis Nash, guitarist Russell Malone, saxophonist Houston Person and bassist Peter Washington.
Michel Camilo Trio, January 7
The artistry and virtuosity of Michel Camilo bridges the genres of jazz, classical, popular and world music. A brilliant pianist and composer, he flavors his tunes with the spice of Caribbean rhythms and jazz harmonies. To see him perform live is to witness the energy of a tropical storm being unleashed on 88 keys.
Sean Jones Quartet, February 4 (Rose Wagner Theatre)
The remarkable composer and trumpeter Sean Jones is a consummate musician with a rich tone and brilliant articulation. Former lead trumpeter for the Lincoln Center Jazz Orchestra, Jones has recently joined the Berklee College of Music's faculty as the Chair of the Brass Department. Performing with the quartet are pianist Orrin Evans, bassist Luques Curtis and drummer Obed Calvaire.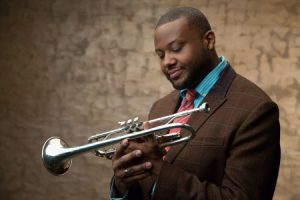 Stacey Kent, March 20
With her bright, alluring sliver of a voice and darting musical tongue of flame, Stacey Kent has few of the traits commonly associated with jazz singing. Yet her lightly swinging delivery, curt phrasing and attraction to Brazilian bossa nova makes her a jazz singer reminiscent of the much-missed Blossom Dearie. Stacey's new album Tenderly is a return to the Great American Songbook.
Gerald Clayton Quintet, April 29
Hailed by The New York Times for his "huge, authoritative presence," pianist and composer Gerald Clayton has established himself as a leading figure in the up-and-coming generation of jazz artists. Joining Clayton are Dayna Stephens (saxophone), Ambrose Akinmusire (trumpet), Kendrick Scott (drums) and Harish Raghavan (bass).
Marsalis New Orleans Jazz Jam, featuring The Uptown Jazz Orchestra, May 22
Under the direction of trombonist Delfeayo Marsalis, and anchored by Dirty Dozen Brass Band founder Roger Lewis on baritone sax, the Uptown Jazz Orchestra performs blues and standards that combine riff-playing, spontaneous arrangements and the New Orleans second line groove.
General admission tickets are available by calling 801-355-ARTS (2787) or by visiting www.artsaltlake.org